The Best Camper Van for Dogs
"The fact that my roof air conditioner can run for eight to 12 hours is so amazing. Not only am I super comfortable in my van, but also my dogs are really safe."
OCT. 25, 2022 | BY INGRID SCHNADER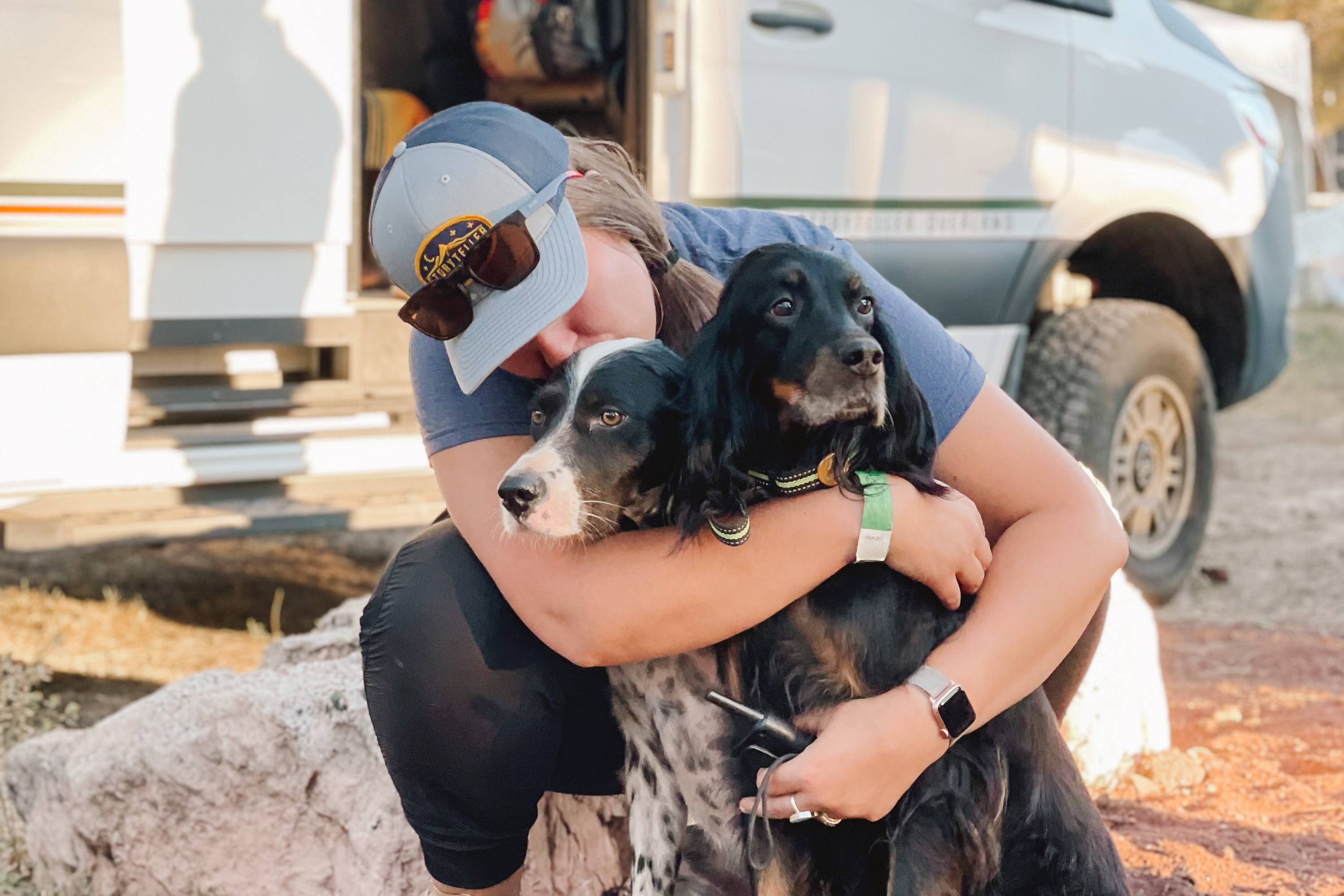 If you're looking for the best camper van for dogs, your list of van requirements might look like this:
Has air conditioning.
Has a space for dogs to sleep.
Has space for dog gear + all of your stuff too.
Emma and Jason Walsmith
began searching for a dog-friendly van that would support Jason's music and touring career in June 2020. The pandemic had canceled all of Jason's gigs for the next year, and the Walsmiths were realizing that life wouldn't be getting back to normal anytime soon.
They got an idea to play socially-distanced outdoor shows and purchased a Storyteller Overland Classic MODE as their touring vehicle. They called it the "
I'll play anywhere man
" tour, and with their two pups (Pepper and Potter) in tow, they played shows as small as six people (due to CDC regulations) all across the country at backyards, ranches, rooftops, front porches and more.
Now, the Walsmiths have a
MODE LT
and have added another pup (Fritz) to the family. Emma Walsmith spoke to Storyteller and explained what makes Storyteller Overland the best camper van for dogs.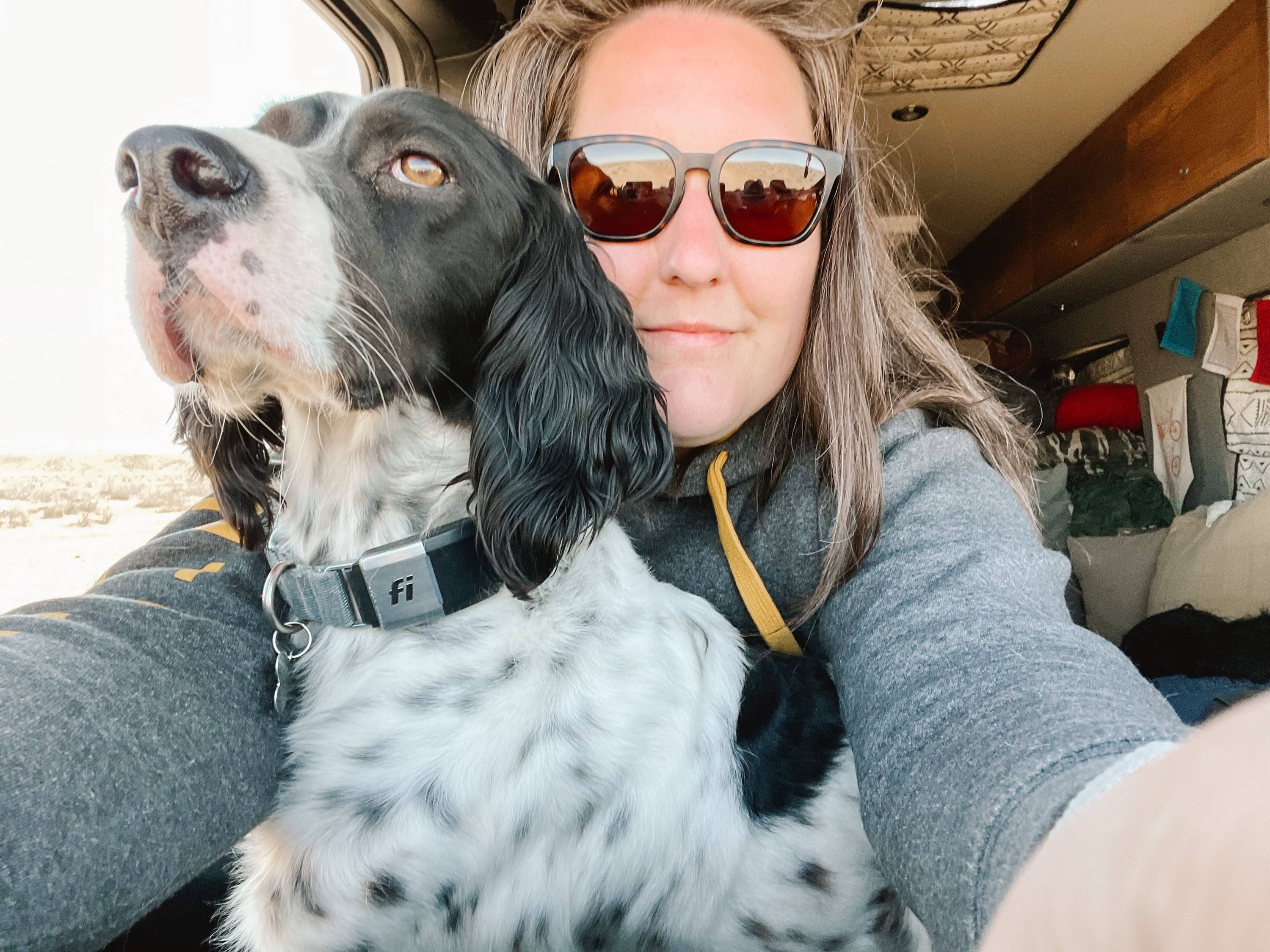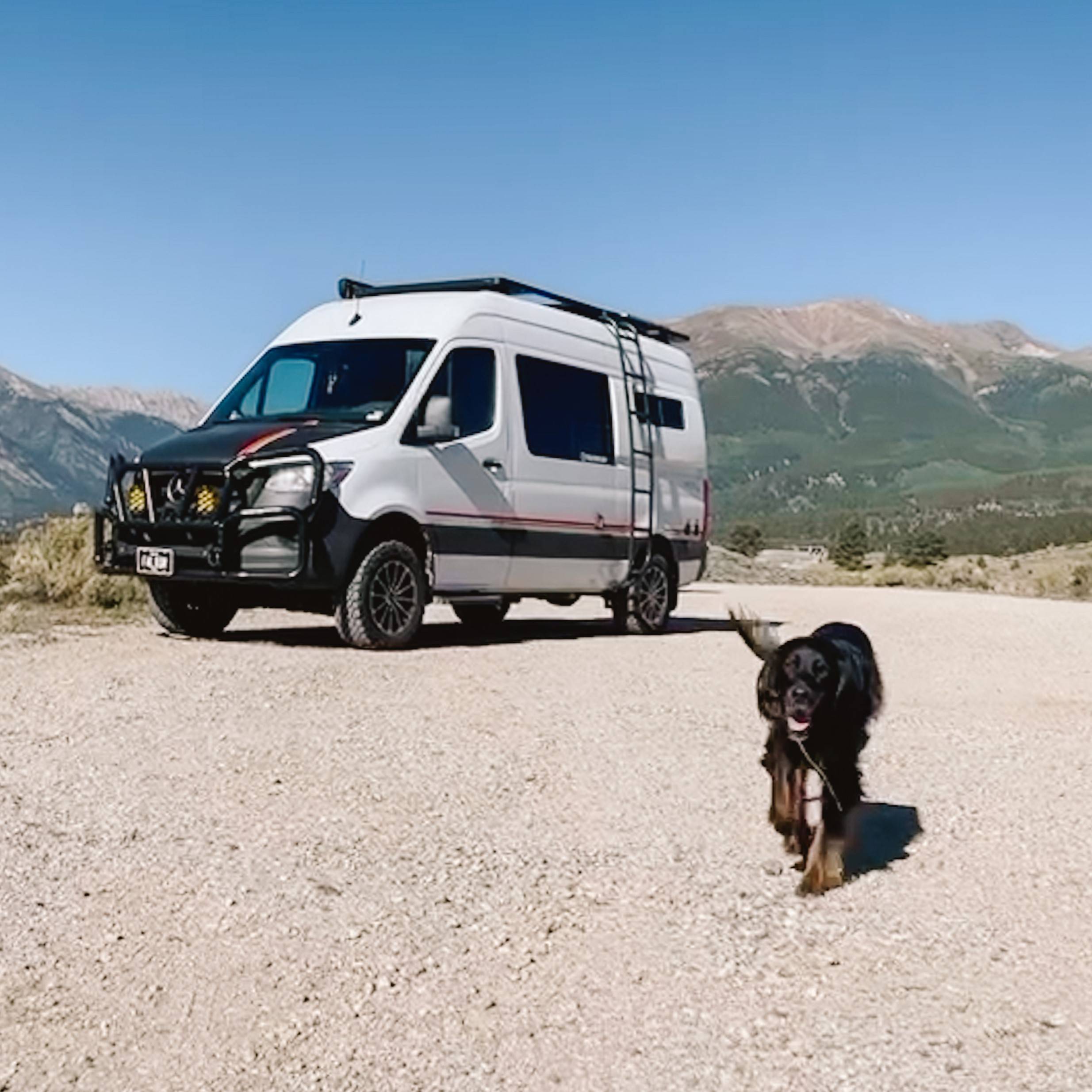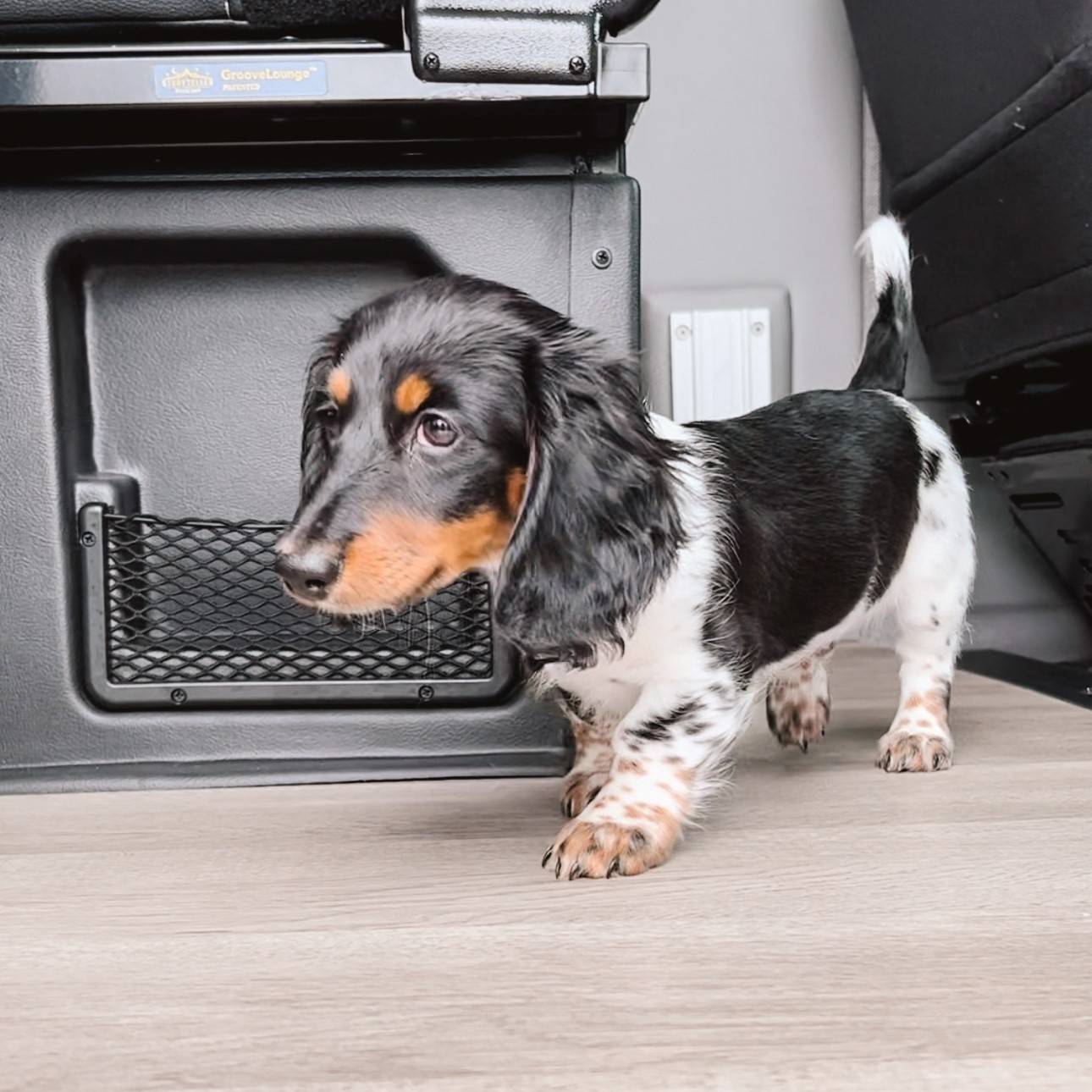 The best camper van for dogs needs to have all-day heat and air conditioner.
Storyteller's air conditioning keeps your pup at a comfortable temperature all day long.
From Emma: "The fact that my roof air conditioner can run for eight to 12 hours is so amazing. Not only am I super comfortable in my van, but also my dogs are really safe. And we have really put it to the test. I have parked out with no tree coverage at all at an expo where we had to be away from the van for up to 10 hours, and my dogs enjoy sitting in their van at a cool 72 degrees with their music playing. I'll stop by every few hours to check on them, and sometimes they just look at me like, 'No, we don't want to go outside, it's nice in here.'"
All Storyteller vans are also insulated with Havelock wool, and Emma said that's also huge for climate control and keeping the animals safe.
Many people ask Emma how she makes sure the AC is still running and that nothing has failed. She said she uses the
Waggle pet thermometer
, which uses cell service to communicate the van's interior temperature to Emma's phone.
She sets parameters on the app, so she gets a text, email and push notification if the temperature inside the van reaches 50 degrees or 78 degrees. Because the van is so well insulated, that temperature is a true temperature.
It's just good peace of mind, Emma said. It also helps her ensure her van systems don't freeze during the winter months (they use their van year round and don't
winterize
the systems).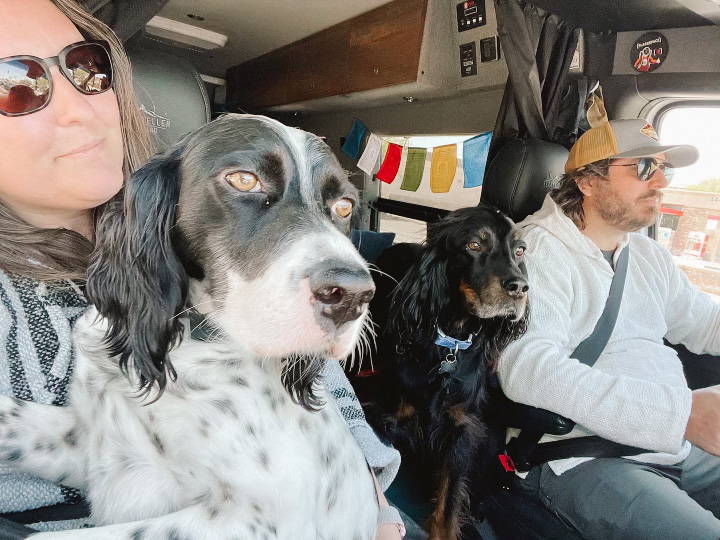 Between the GrooveLounge and the garage, there's plenty of space for your pups.
A lot of people ask Emma if it's comfortable to travel with dogs in a Storyteller.
"My joking answer, but I guess is in all seriousness, is that the GrooveLounge is for dogs," she said. "It's the best couch and comfortable space for my two dogs, who are 48- and 32-pounds, so they're medium-sized dogs. They're just so comfortable there and can travel 10-hour days with us and can just chill out on the GrooveLounge – it's plenty of space for them to spread out while we're in the passenger and drivers seats."
The GrooveLounge is Storyteller's trademarked convertible backseat, twin bed, couch, lounge area. You lift up the back to access the shower pan; you can lay it down to comfortably sleep an adult or a couple of dogs; and you can also put it into "drive mode" and strap in two passengers or even a baby's car seat.
Its flexibility and comfort is what makes the Storyteller stand out for Emma when traveling with dogs.
"I've traveled with dogs in everything from a Land Cruiser, a Toyota Tacoma, a Lexus GX460 – those were all fine, but this is next level. They're comfortable and content. And if they're comfortable, then we can drive a lot further and be a lot safer. We're not trying to mitigate concerns from them while traveling a long distance."
"This is next level. They're comfortable and content. And if they're comfortable, then we can drive a lot further and be a lot safer."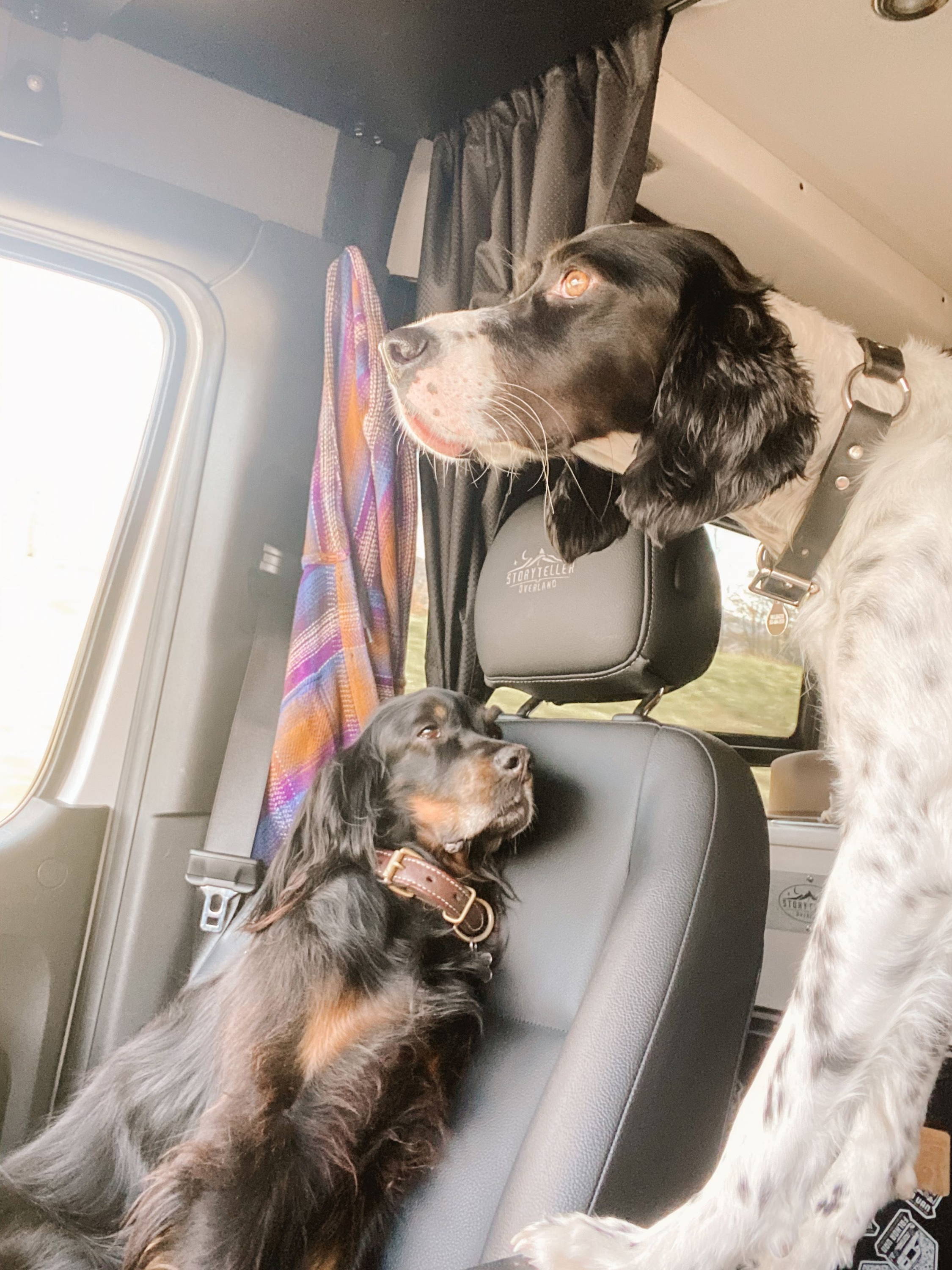 Not only is the GrooveLounge a perfect dog bed – the Walsmiths have also modified the van to include two custom dog crates thanks to Jason Vigil at Canyon Adventure Vans.
In the garage area (under the bed), they have a Garage Storage Solution plus a new
ly added dog crate with two gates: one that is accessible from the van's rear doors and one that can be opened to the interior galley.
The Walsmiths wanted to create a separate space for their puppy, Fritz. Canyon Adventure Vans created a custom kennel below the GrooveLounge (behind the driver's seat).
"I love the fact that Jason Vigil was able to integrate what the dogs might need in a really clean lines kind of way," Emma said. "Everything he builds is to the quality of what Storyteller builds."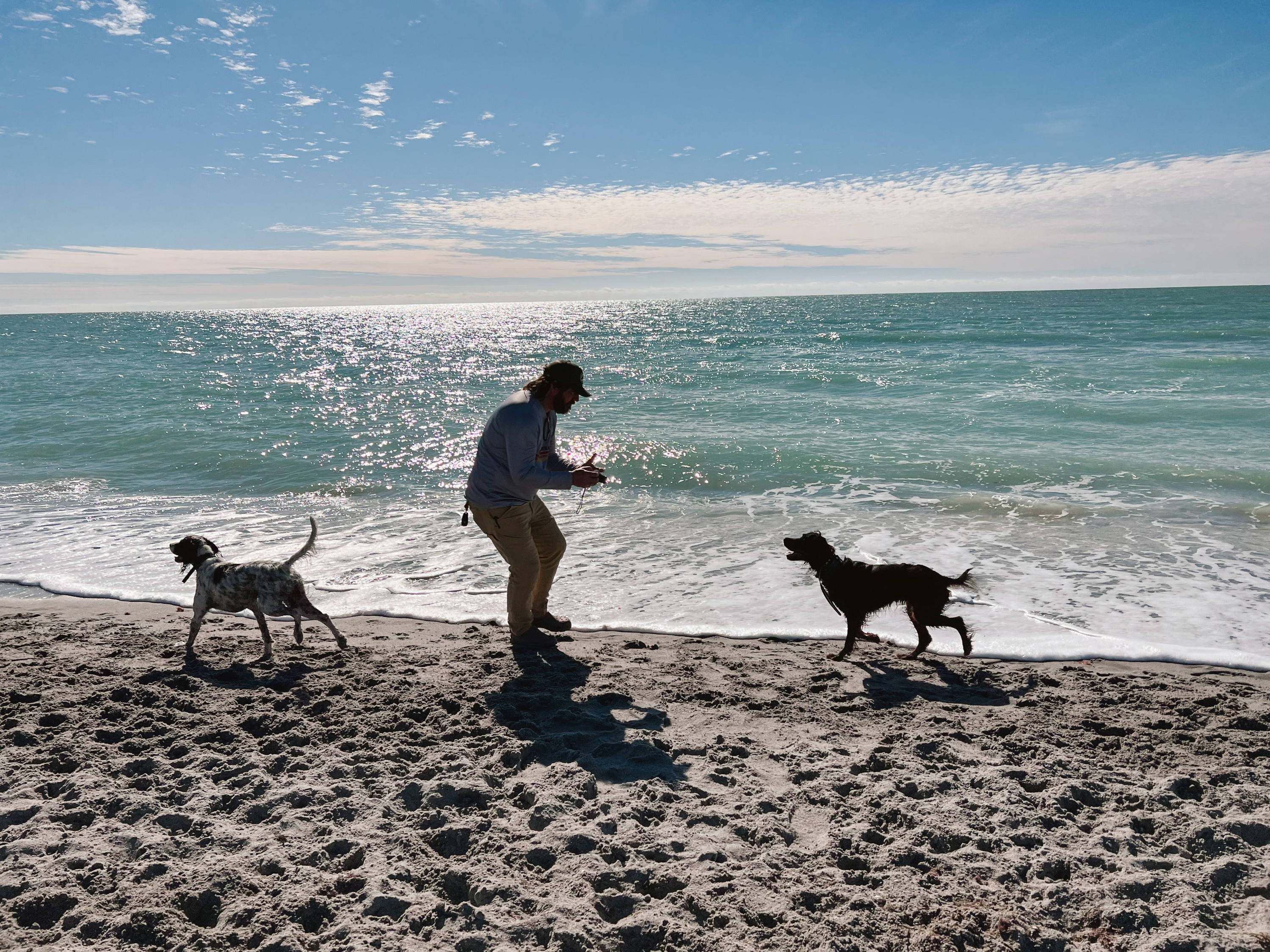 Because of Storyteller's flexible layout, you'll have enough space leftover for your gear, too.
Since Jason is a traveling musician, the Walsmiths have a lot of music gear. And if they're spending a lot of time on the road, they're practically living in the van too and have lots of personal items that also need to be organized and tucked away. Not to mention the dog gear, food, bedding, etc.
But with Storyteller's flexible layout, you're never limited by your vehicle.
They use their garage storage system to tuck away most of their gear and still have space under the bed to tuck away Pepper and Potter if needed. The guitars stay on the bed while they drive, and then the guitars can sit on the driver and passenger seats when they sleep.
For larger gigs or times when they're traveling for a longer haul, the Walsmiths hook up their Rustic Mountain Overland trailer and put some gear in there. It doesn't even feel like you're pulling a trailer, Emma said.
All Storyteller vans also have a
usable roof space
. While some people store gear here, the Walsmiths use theirs as a patio seating area thanks to the Upper Deck Seating Solution from Canyon Adventure Vans.
"When I first saw the umbrella up on Jason Vigil's van in Logan, Utah, at an Adventure Van Expo, my first thought was, 'That's ridiculous,'" Emma said. "But once I climbed that ladder, I thought, wow. This is a whole new usable space on a 144" wheelbase. It's like having a beautiful front porch you can sit at your house."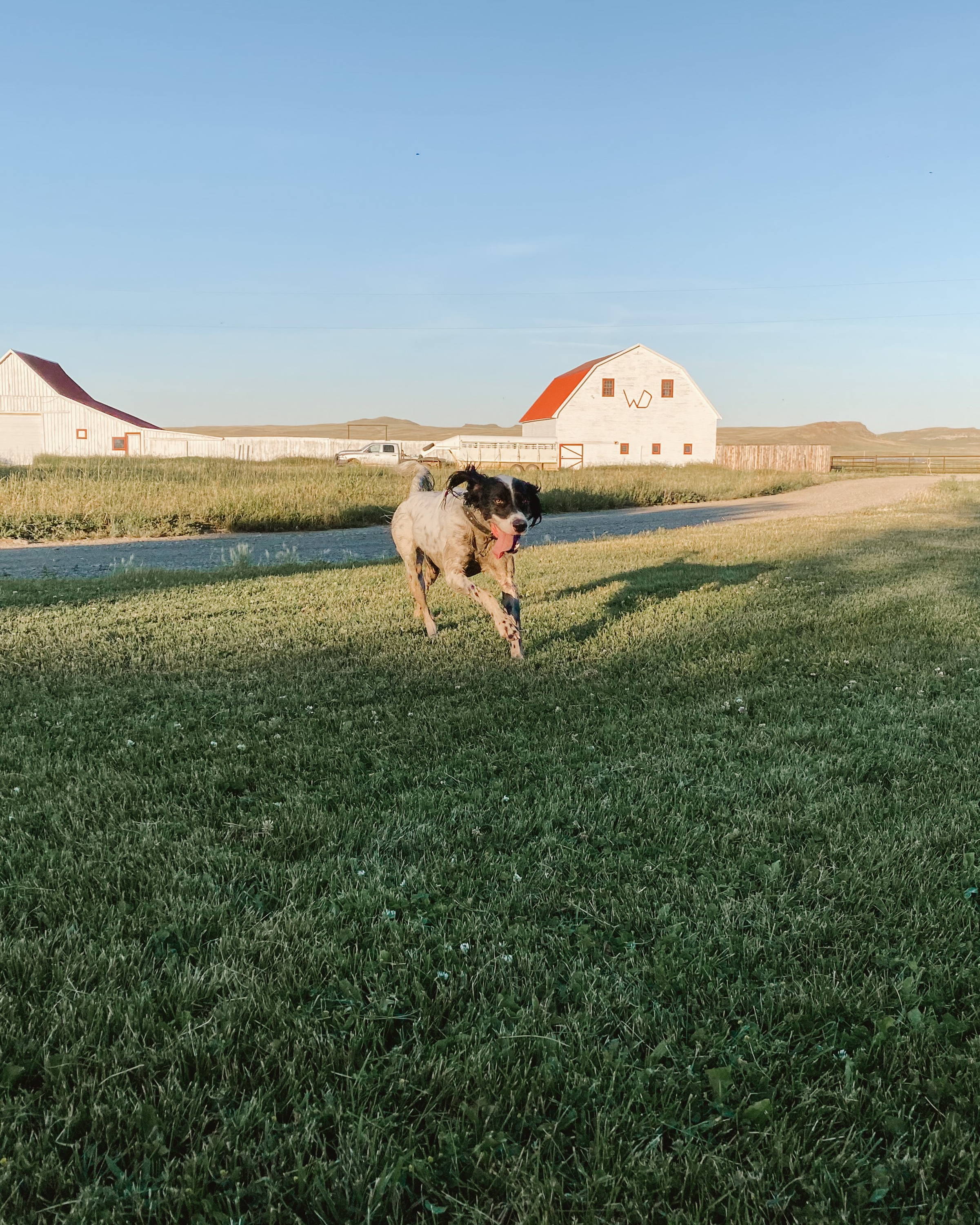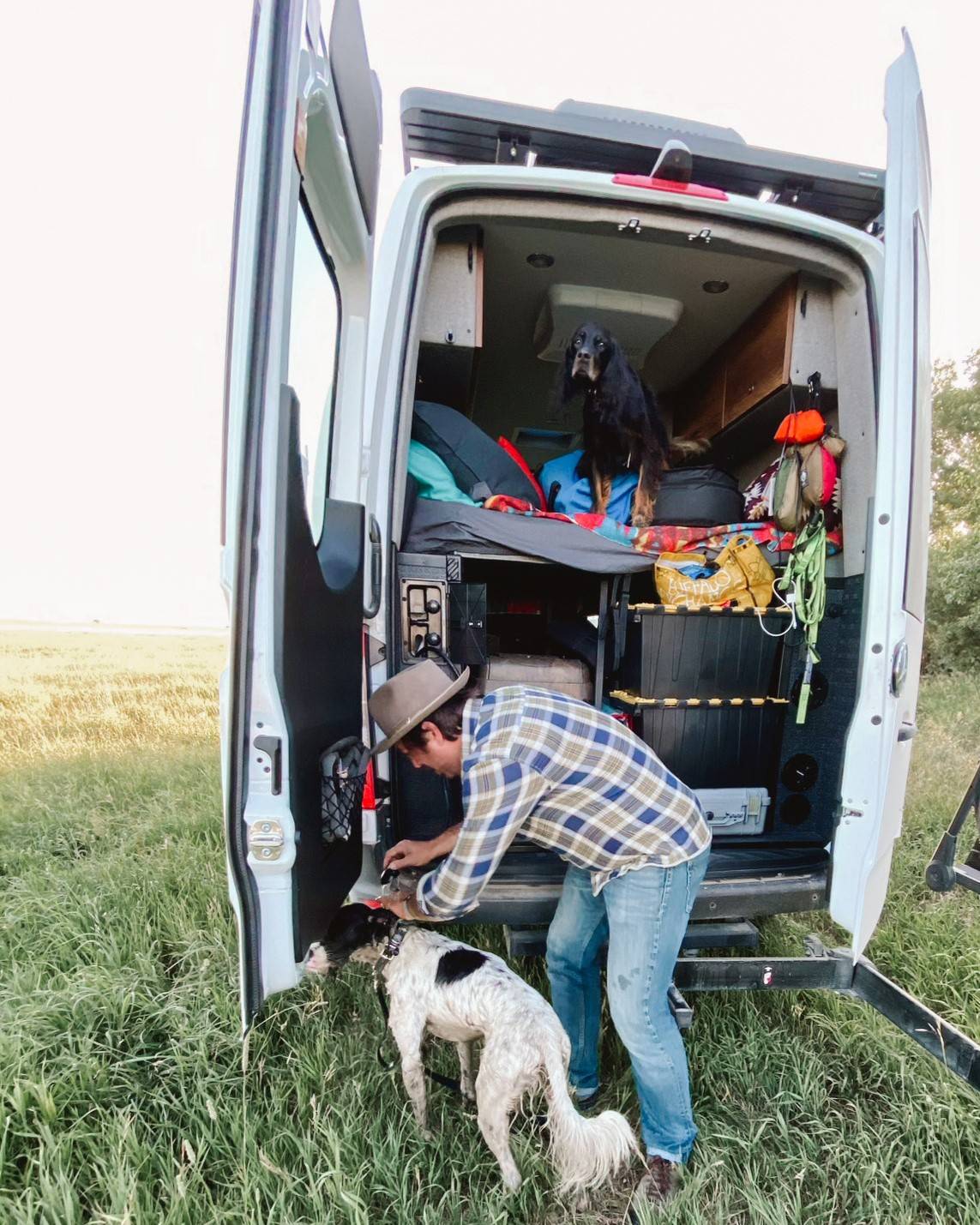 With the best camper van for dogs, you'll make better memories with your furry best friend.
During the "I'll play anywhere man" tour, they had a stop on a friend Bill Donald's ranch in Montana. Emma asked if she could let the dogs run and if they should be on a leash. Bill said that anywhere the dogs run, it will still be on his property, so she could let them run free.
"Potter ran, and ran, and ran," Emma said. "He would just come running past us and not slow down for like an hour and fifteen minutes. He was jumping in the tall grass, chasing all sorts of birds.
"Finally when he came back and was beyond tired, he just passed out. He had been in all the mud he could find and was so gross. He was having the best bird-dog time of his life running around on this property with no cares whatsoever."
They drove the van to a beautiful prairie at the base of a mountain. While Pepper, who was clean, sat on the bed, Jason gave Potter a bath there using the exterior shower.
"We laugh that after he had the most magical experience of his entire life, it was capped off with the realization that there was a shower," she said. "He looked so defeated. But it was awesome because he got to have all the fun in the world, and then we cleaned him off, tucked him into the van, and got to play a show. And it was beautiful.
"It's one of those things where that sort of stuff wouldn't have been an option if we were still traveling in our other vehicles. We didn't have a shower, alternative power and air conditioning solutions in our other vehicles. But with our Storyteller, we have everything we need to go park on a vista and let our hunting dogs run for an hour and then keep going. That's one of my favorite initial memories of realizing this van thing is going to work."
Interested in dog camper vans for sale? Tell us a little about yourself & we'll be in touch!