5 Tips For A Successful Vansgiving
Visiting family and making 10 different side dishes is hard enough in a house, so there are a unique set of challenges when you decide to spend Thanksgiving in a van.
But for those of us who love the joys and freedom that come with vanlife, the thought of spending turkey day in a van is pretty tempting.
Read these tips and tricks from fellow vanlifers to ensure a delicious meal and stress-free Thanksgiving.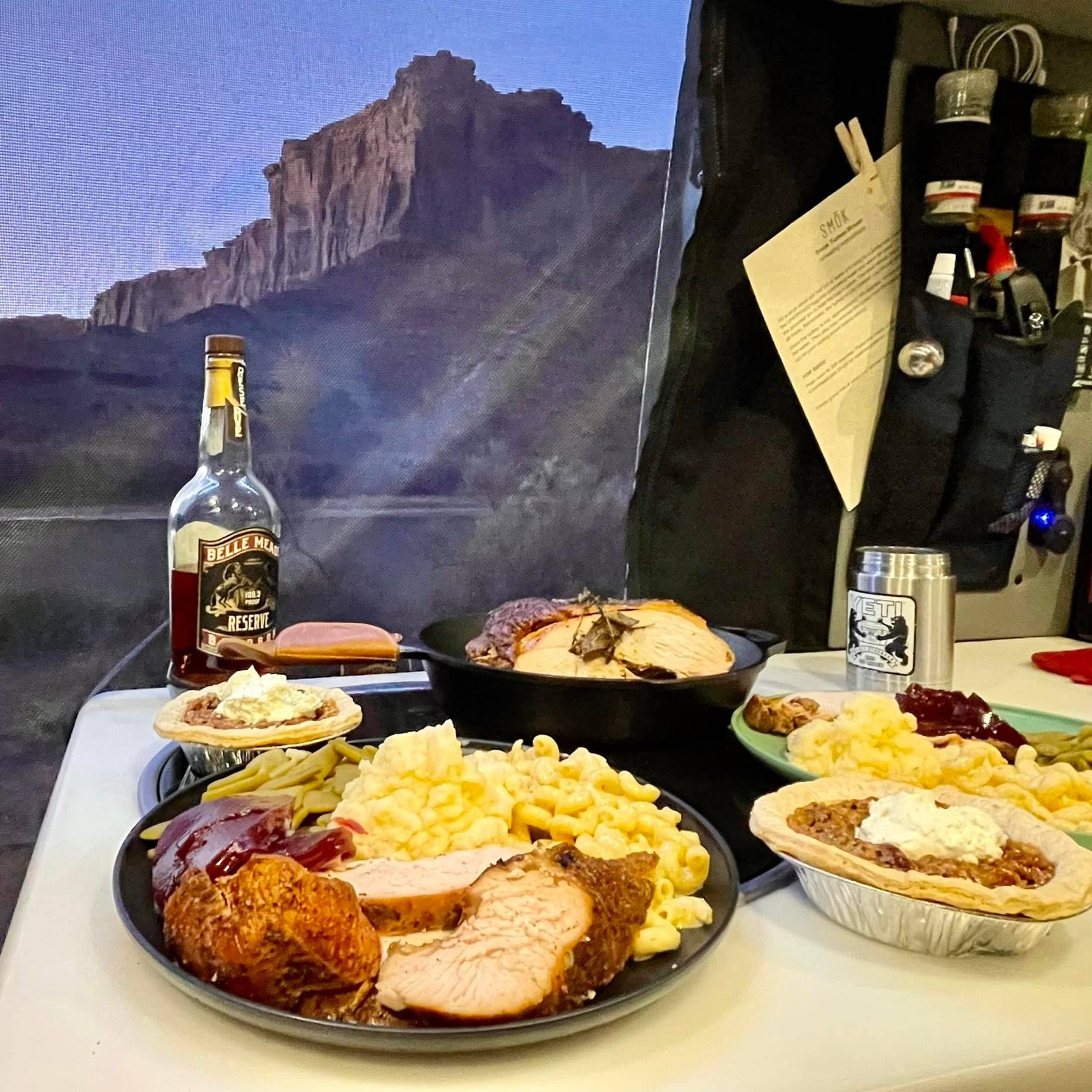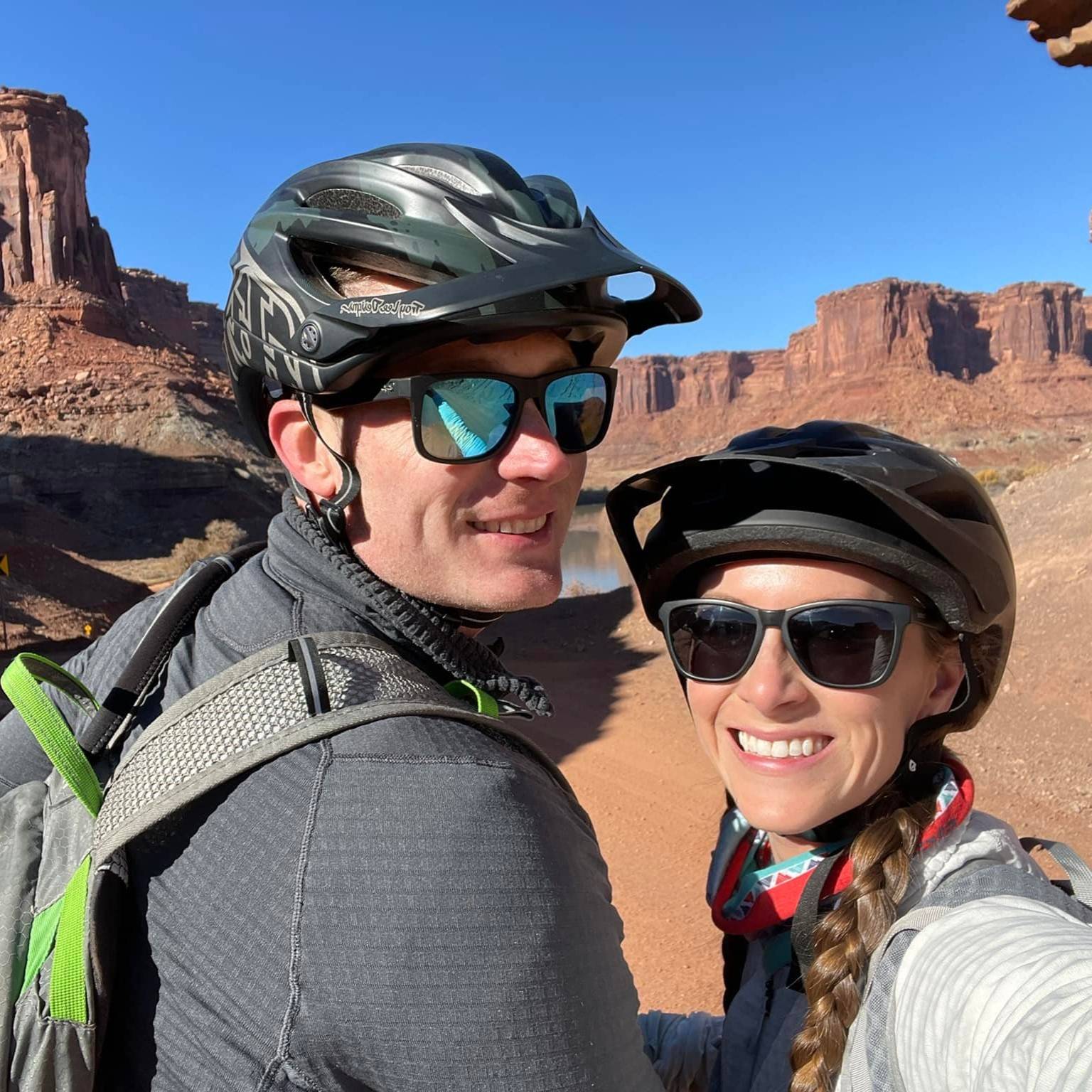 1. Prepare your meals ahead of time.
Sam and Patrick Sleeper traveled to Moab, Utah last year for Thanksgiving.
"We definitely wouldn't have been able to have a delicious thanksgiving meal and cozy warm bed without this van," Sam said.
Their meals were mostly prepped at home, so all they had to do was heat things up in the microwave and induction cook top.
"
Having the van made the holiday pretty special and unique as we felt very at home, at the bottom of a canyon camping. It was perfect November weather so we were able to do some mountain biking and hiking before having a bomb, transitional Thanksgiving meal."
As an added bonus, t
he spot they camped at was apparently a BASE jumping landing spot. They watched people jumping off the cliffs all afternoon while they cooked dinner.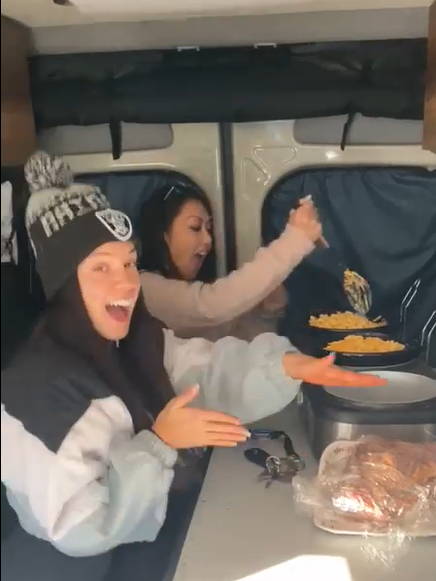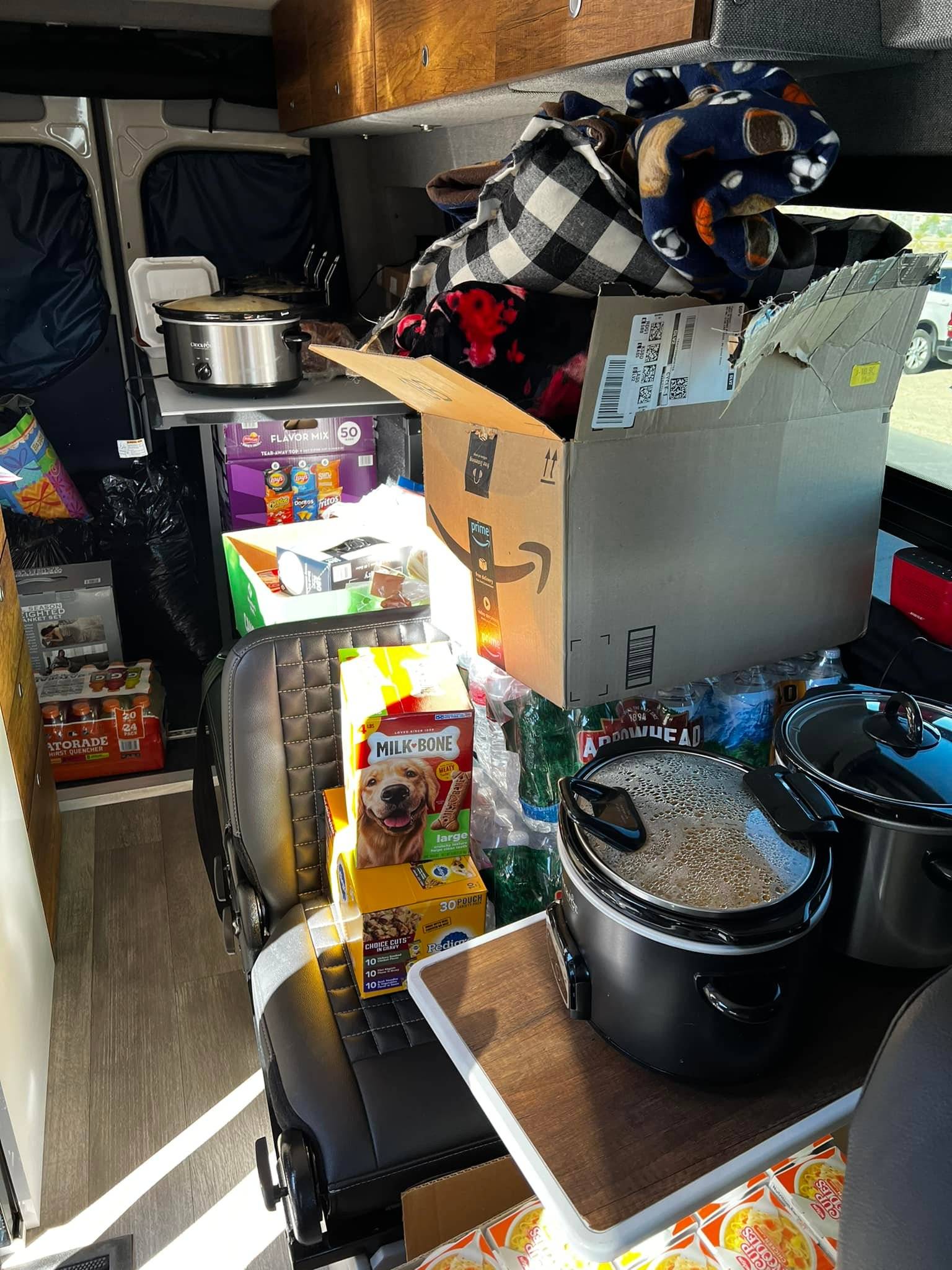 2. Use slow cookers and pressure cookers.
Kayden Phan bought her Storyteller van right before Thanksgiving, so the first thing she did was gather a bunch of her friends to cook homemade hot meals for the less fortunate. Now it's become a tradition she does every year.
To make as much food as possible, Kayden and her friends plug in multiple slow cookers throughout the van. They make mac and cheese, gravy, ham – any hot meal that makes you think of Thanksgiving.
"We have a whole line of people and Crock Pots in the van," she said. "We definitely made use of the power system."
As you can see in the photo above, they also get a ton of donations, including food, clothes, blankets and more.
"The whole goal of mine is to use the van for good," she said.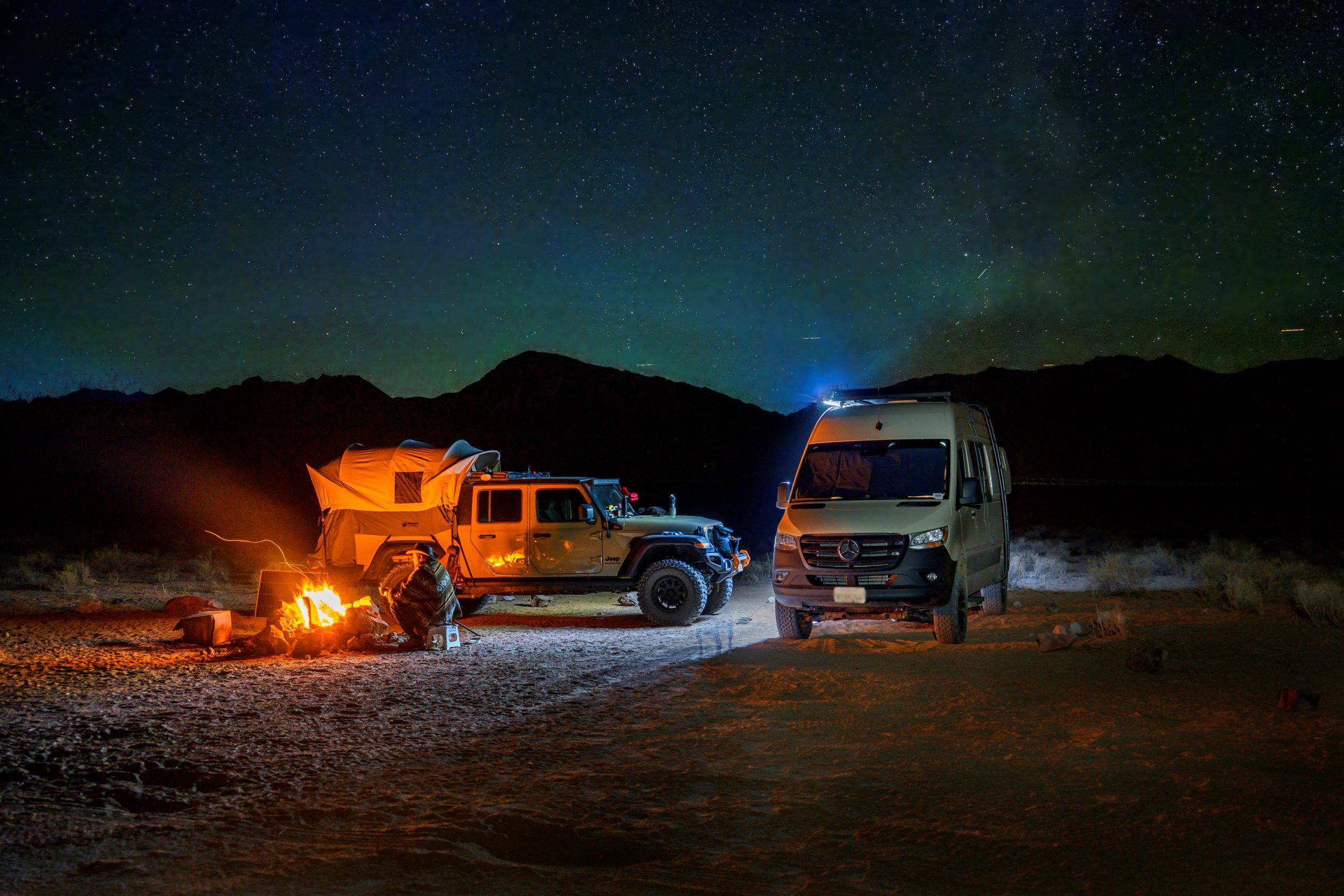 3. Check the weather before you go.
November is known for being cold, and even though you'll be warm in your van, your friends might not be.
Classic Owner Peng Shi met up with his friend Nik and his 1.5-year-old baby last Thanksgiving in the Eastern Sierra. Peng slept in the Classic, while their friend and his baby slept in their truck camper and tent.
"We were all hanging out in the van on the GrooveLounge chatting, and we didn't realize how cold it was getting outside," Peng said.
It had gotten so cold that at 1 a.m. on the first night, Nik had to pack everything up and find a hotel for him and his baby. Peng was fine in the van, but it was too cold in Nik's tent.
Their original plan had been to continue driving up north, but with it being the holidays, they didn't want to try their luck with hotel reservations if it got too cold again. So instead they traveled to Death Valley and met up with Peng's sister, Jing.
Peng, Jing and Nik are all from other countries and don't celebrate a traditional Thanksgiving. But they still ate well throughout the trip, including steak, salmon, fried rice, creamy spinach pasta and more.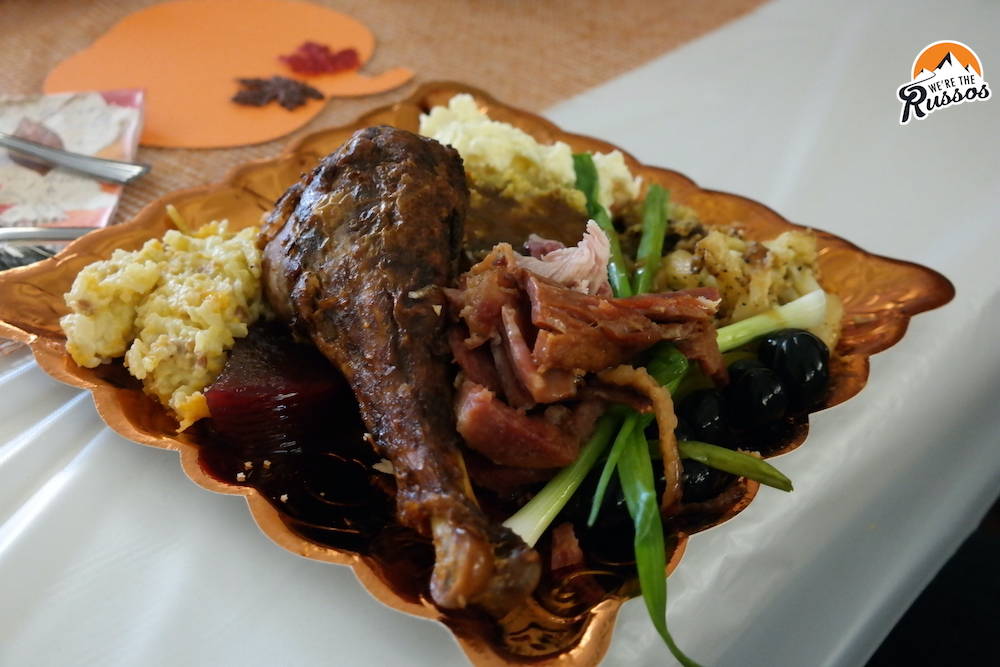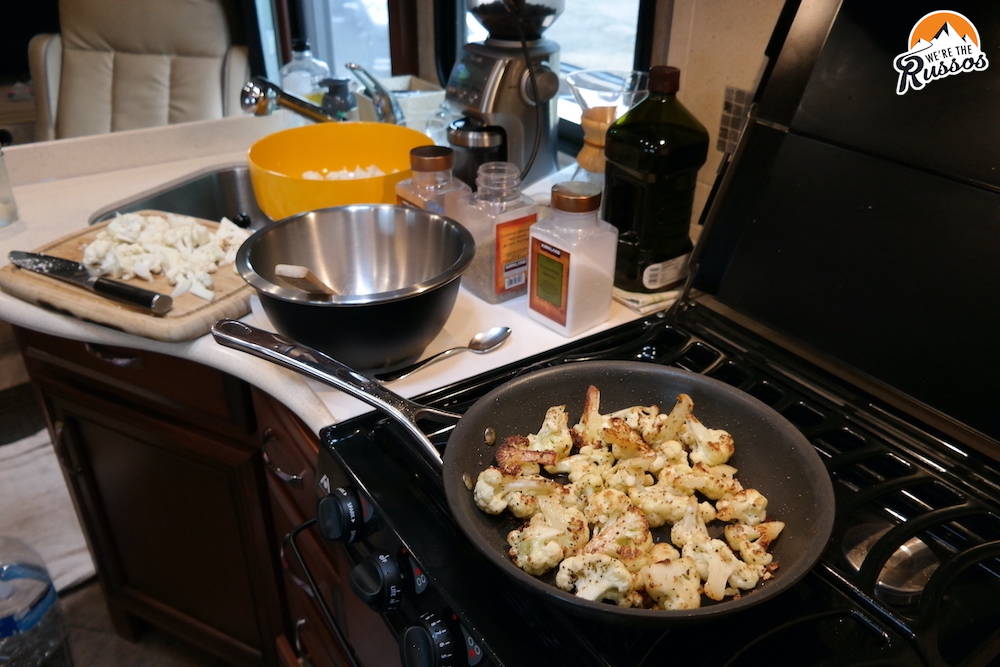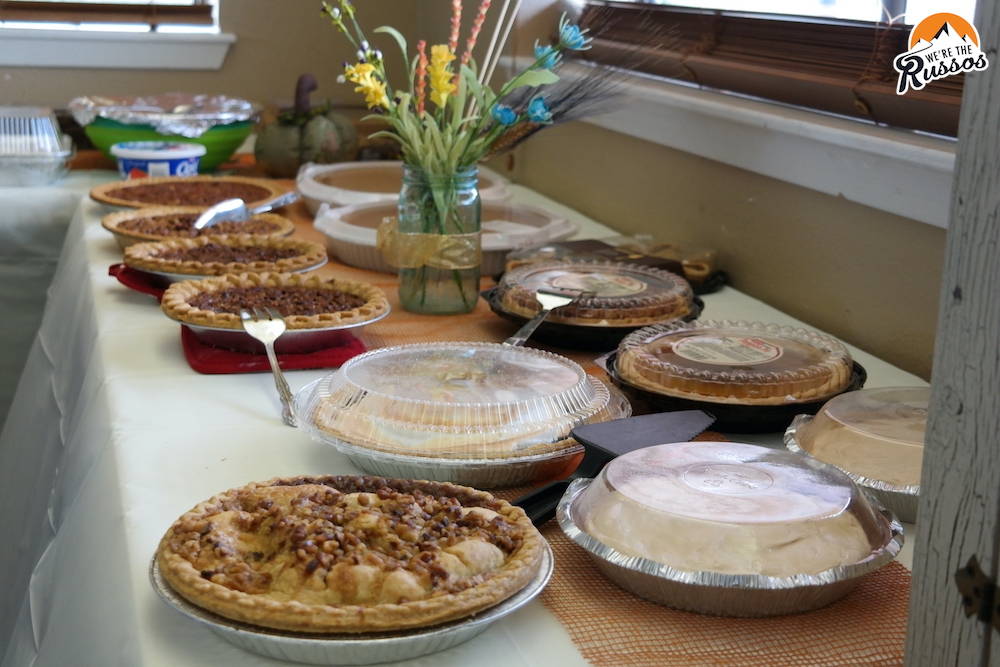 4. Have a potluck with other campers.
Joe and Kait Russo own a MODE LT, but their first Thanksgiving on the road was in 2015 in an RV at a campground in Texas.
That Thanksgiving, they took part in a giant potluck with all the other campers. The feast was hosted by the campground – the only rule was you had to bring something to share with others.
Spaghetti and Cauliflower is a family recipe brought over from Italy by my father's side of the family. It's the one dish that he was always in charge of making in our house. Growing up, I'd always watch and get yelled at for trying to grab a piece of cauliflower while my father was mixing everything. Eventually I'd seen him do it enough and learned to make it myself. Anytime we serve spaghetti and cauliflower for people, they love it. It doesn't matter if they hate cauliflower, everyone loves it. For this occasion, I decided to skip the spaghetti and double the amount of cauliflower I used, turning it from a meal to a side dish. Voila!
At the potluck we really enjoyed ourselves and met some nice people. It was the first time I'd ever had smoked turkey and was in love with the Cajun version they had. Of course, it was from H-E-B. As far as the side dishes were concerned, the cauliflower was the first to go. People loved it and kept coming back for more until all that was left were a few small pieces of garlic. After a few trips to the dessert table Kait and I had to roll ourselves out of there. I'm full just thinking about that meal!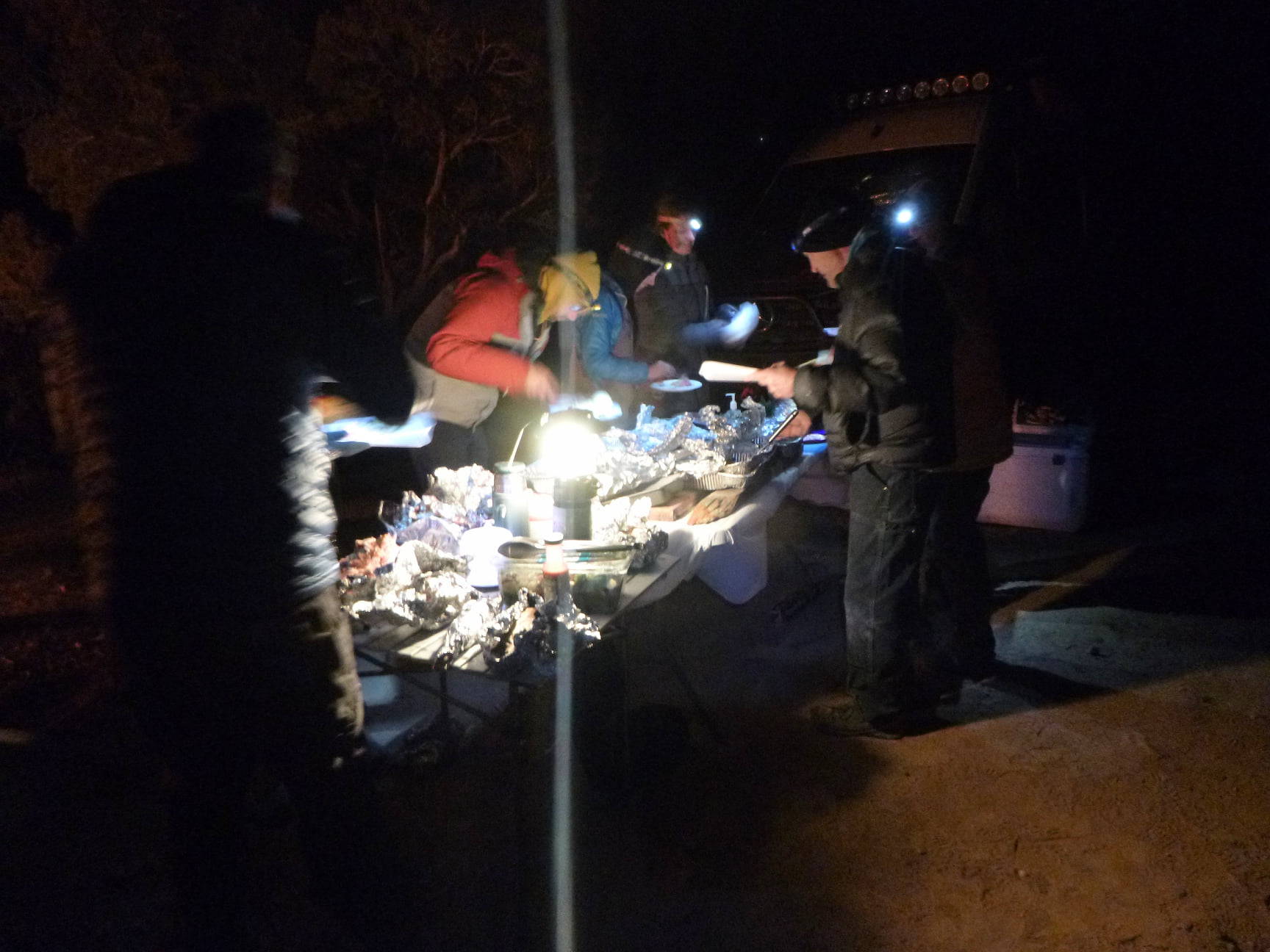 Another way to make more food without being limited by a van's small space is to step outside and take advantage of the campfire.
"We are rock climbers and we spend every Thanksgiving in the desert, rock climbing and cooking amazing food over the fire and buried in the sand," Tom said.
The group enjoyed a campfire-cooked Thanksgiving feast, as seen dimly in the photo above.
We at Storyteller Overland are all about spending time with the ones you love, whether that be your family, your community, or strangers you meet at a campground. We hope this Thanksgiving that you find a way to Live Free, Explore Endlessly, and Tell Better Stories! Happy Thanksgiving!
– Team Storyteller