Transitioning to full-time vanlife: Lessons learned
SEPT. 9, 2022 | BY INGRID SCHNADER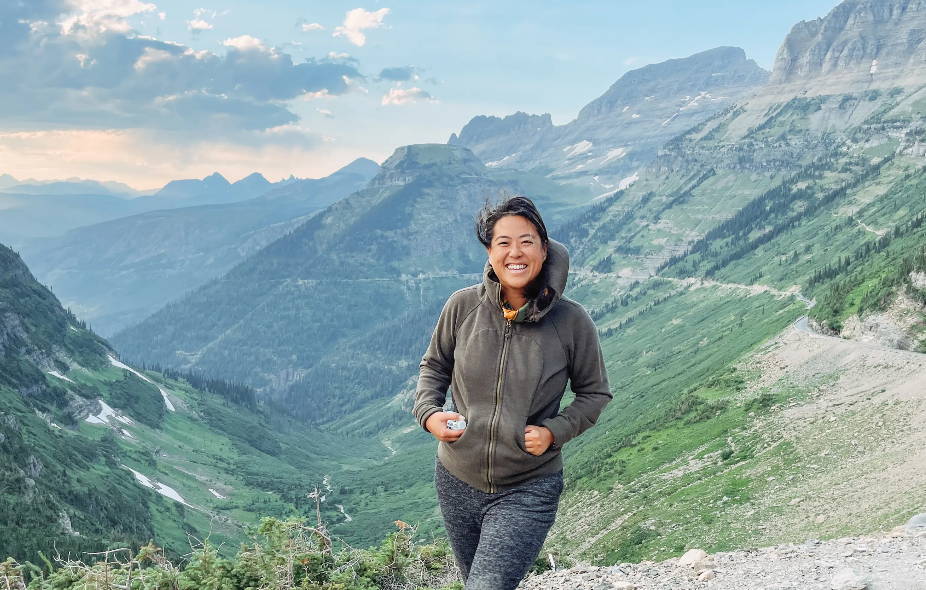 After being on the road full time for two months in her Storyteller Overland Stealth MODE, Emily Pan has a piece of advice for new full-timers: plan a little bit in advance before you head out full time.
For the entire few weeks that Emily was transitioning to life on the road – finding a renter for her house, downsizing her possessions – she wasn't able to take her van on smaller trips. So when she pulled out of the driveway to hit the road officially, she had way too much stuff and no idea what she was doing.
The breaking point for Emily came after a 700-mile day from Wisconsin to South Dakota. She left temperatures in the high 70's in Wisconsin, but 10 hours later in South Dakota, the temperature broke 100 degrees.
Feeling totally overwhelmed and thinking she had made a mistake, Emily burst into tears.
"'I messed up, I went too far south," she said to herself. On top of it all, it was getting dark outside and she didn't know where to camp. And her dog was sick from the heat and life on the road.
"I think the point of all this is to plan it out a little bit better. Plan it out a couple of days, especially when you're new. Or go with someone who knows what they're doing. I'm learning all this in the Walmart and Cracker Barrel parking lots, and I'm not sure what's safe and what's not safe.
"But the hardest thing was that change of weather. I hit that hundred degree weather and I was like, wow. It was just panic."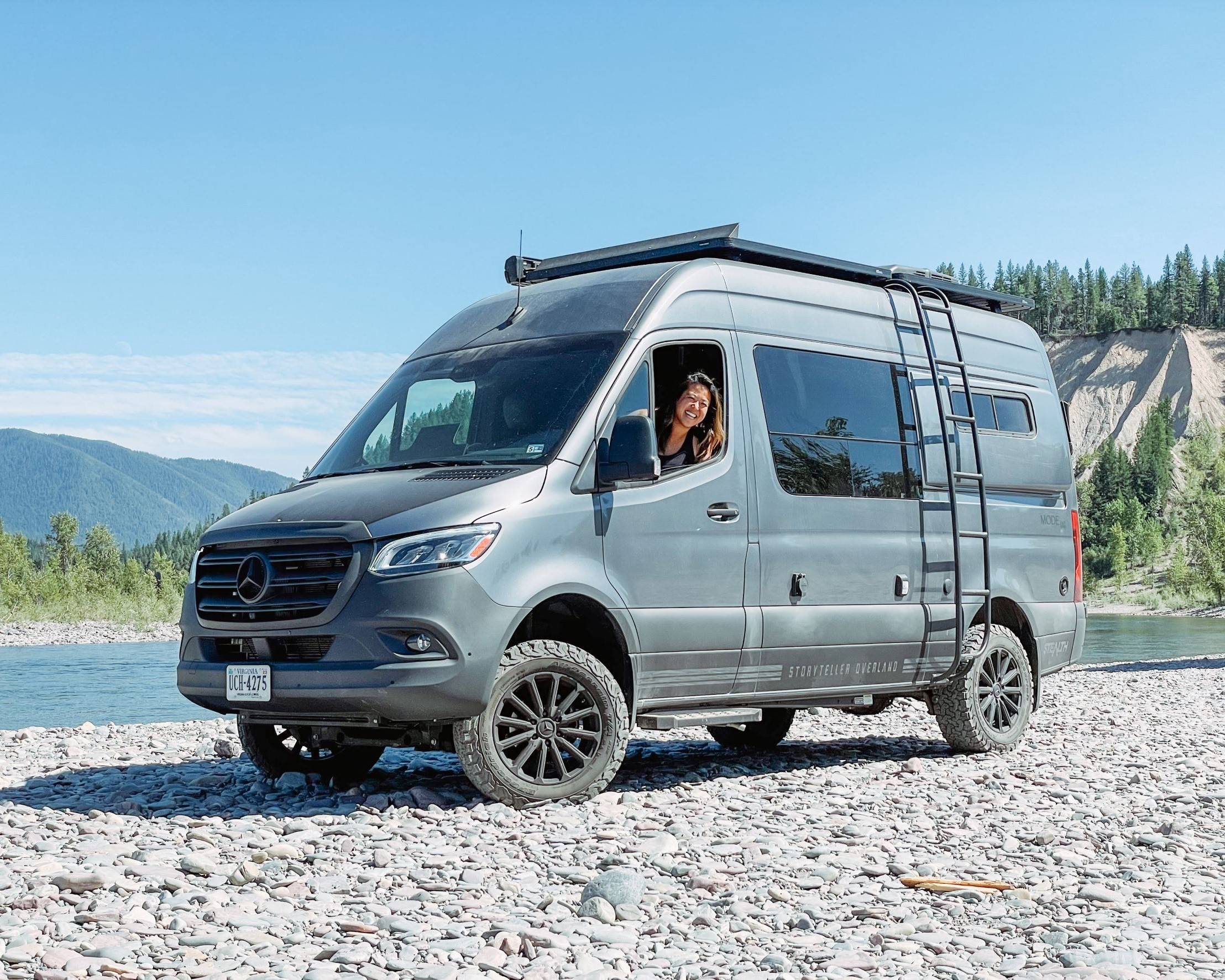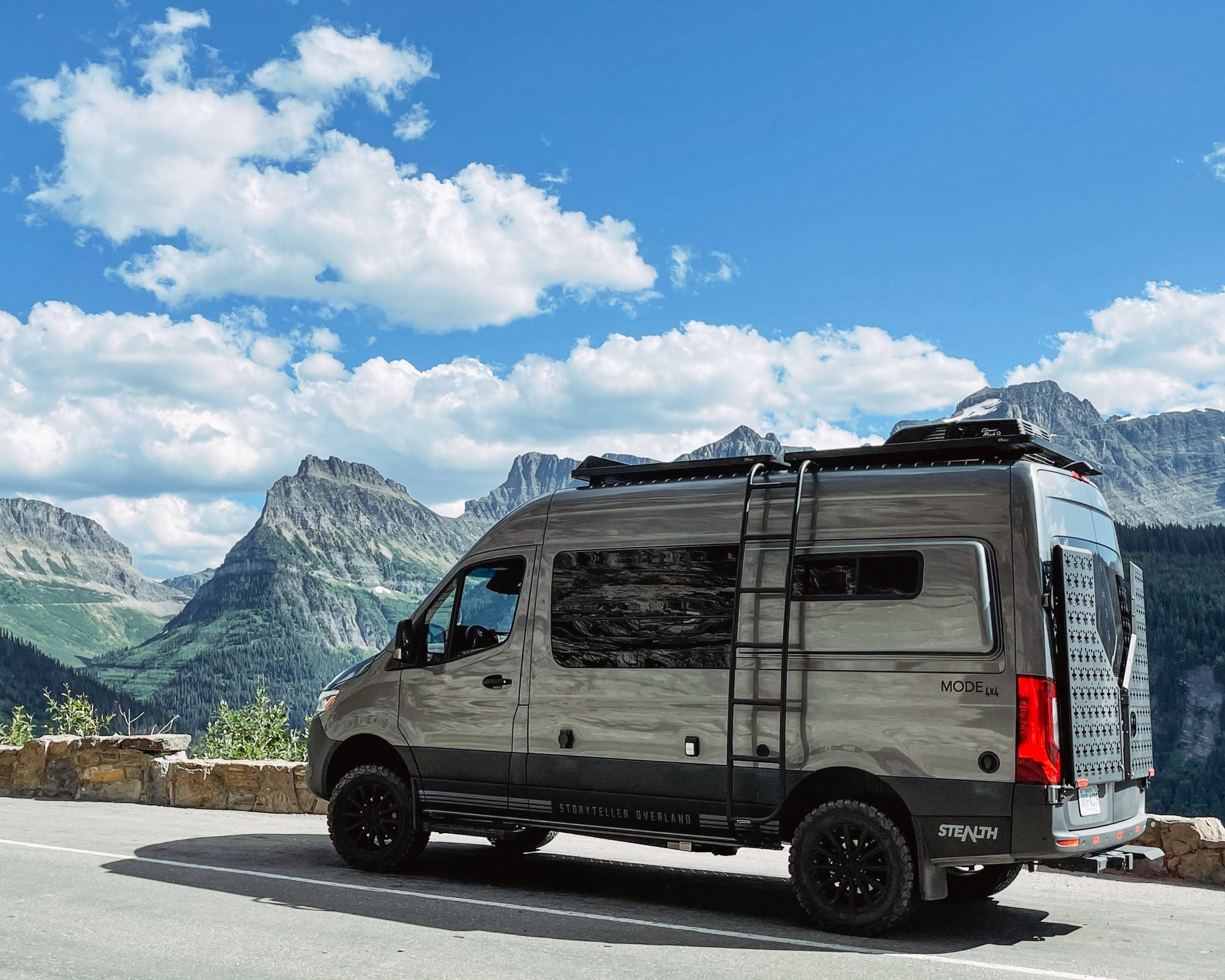 Emily has wanted to do #vanlife since 2021. She originally looked at custom builds, but one huge barrier to that method was that Emily would need to pay up front. With Storyteller, Emily was able to finance with 10% down and now pays $1,200 a month plus gas. She also wanted something she can insure and that has a warranty.
She finally got her Stealth, named Voorhees, on Friday the 13th in May 2022. She was able to keep her job at an architectural lighting rep agency and works full-time on the road.
What she didn't realize, though, was that working 40 hours a week and using her Starlink for internet – all while needing air conditioning in warmer climates – would be a huge power draw. And after a long day of working, the last thing she wanted to do was go on a long drive to recharge the Volta power system.
With a few tricks along the way, though, she's now learned how to work two and a half days without needing to drive at all.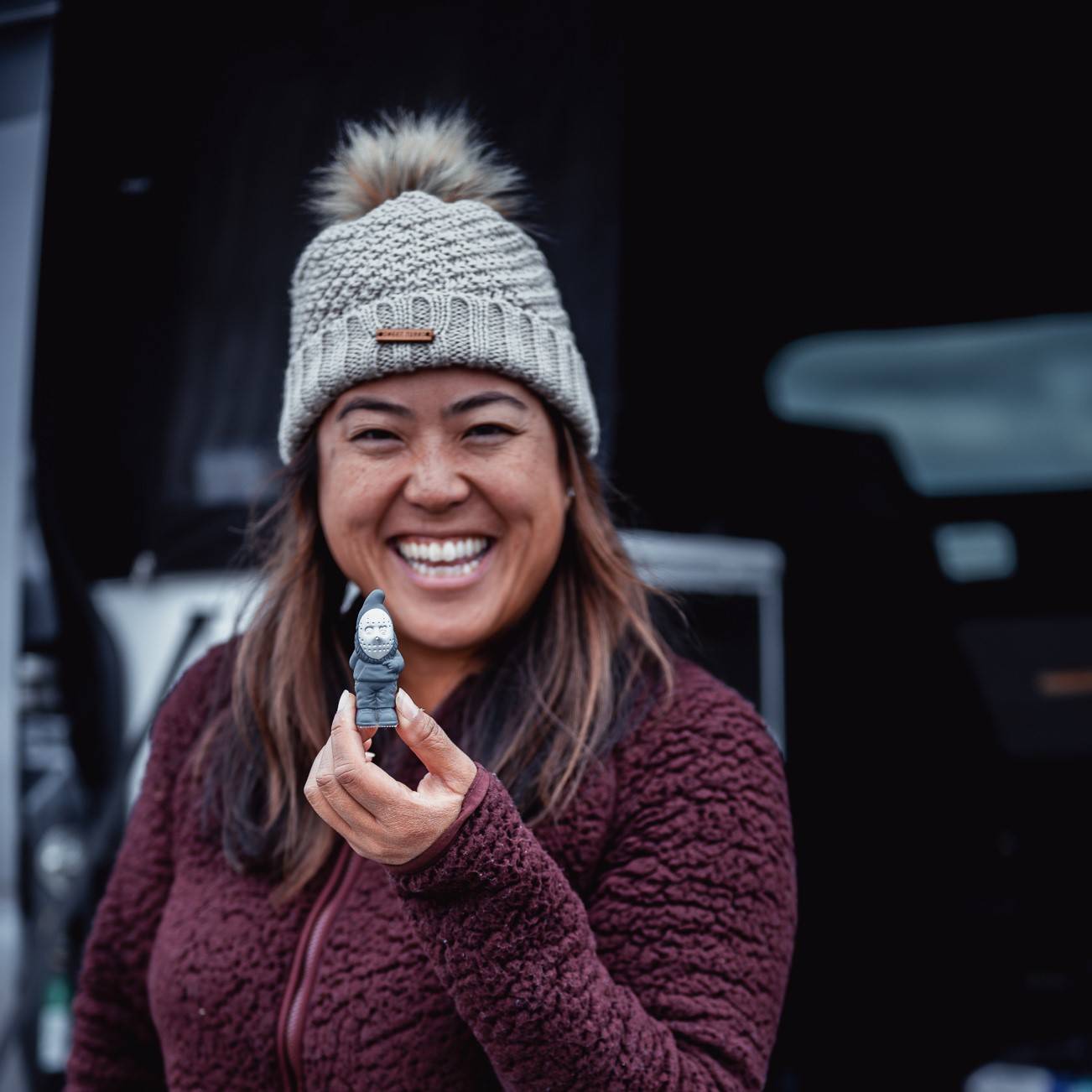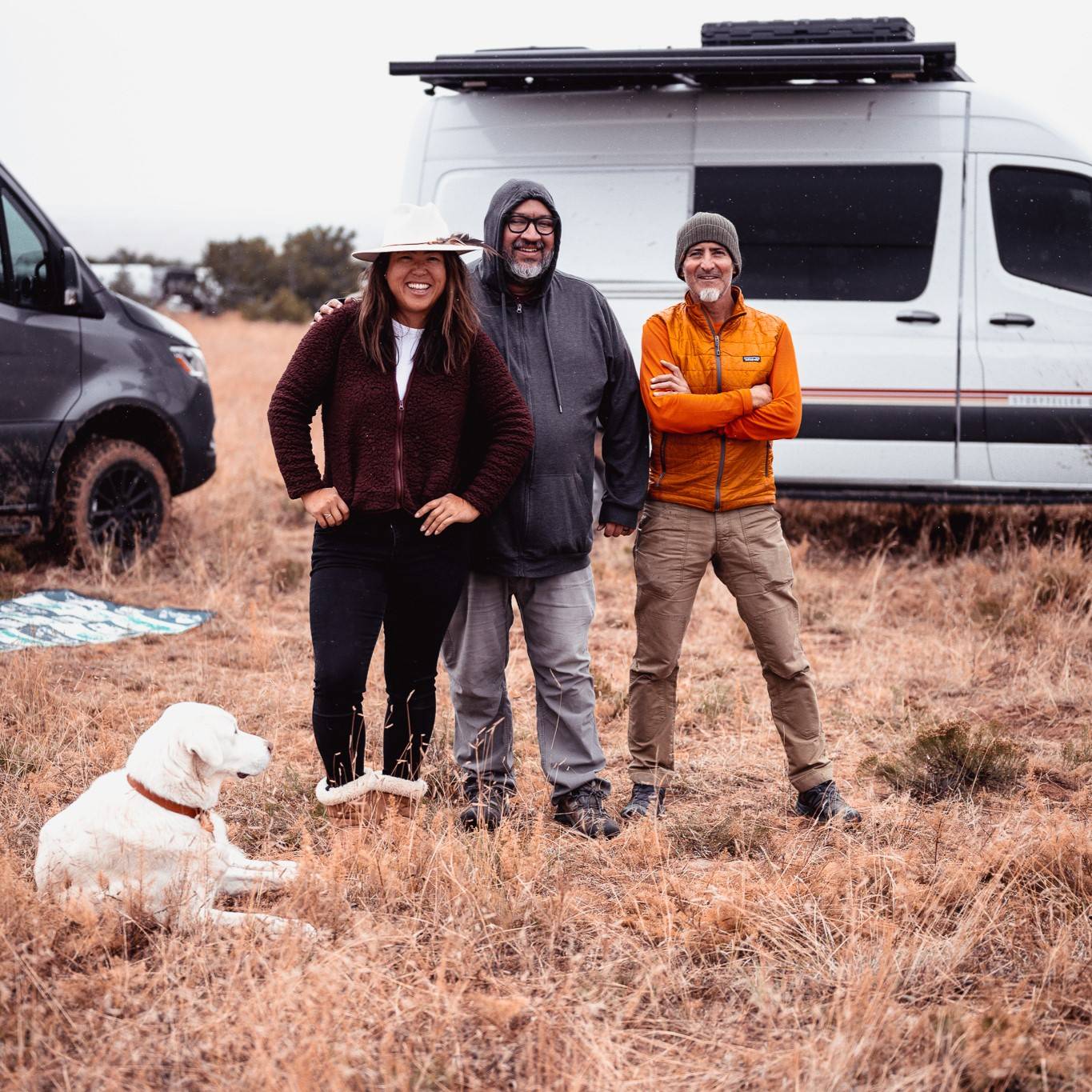 First, Emily got a ceramic tint on the front windshield to keep the heat out. Then she learned how to maximize airflow without using air conditioning.
"You have to close everything. Turn on your vent and blow air out, just past medium speed. Then you open the sliding window back by the bed – not any of the front windows. This will suck the air in through that window and pull cool air across the entire van.
"It only works up to a certain temperature – if it's too hot, it's not enough! But it's the best way to get air flow for the energy usage."
She also had to get rid of a lot of stuff to get organized. She met her friend at Glacier National Park, and together they went through all of Emily's things, one by one, asking the question, "Do you really need this?"
"We had this huge pile of stuff I was giving away, and we were asking, 'Who needs a selfie stick? Who needs all these spices?' We made all sorts of friends on that beach."
She also bought an exterior storage box from Owl Vans and decluttered her garage. Now, her 100-pound dog Kuma sleeps there.
"So now I'm super lean, I've got air flow figured out, I've got the mods done," she said. "I think just being as lean as you can is important."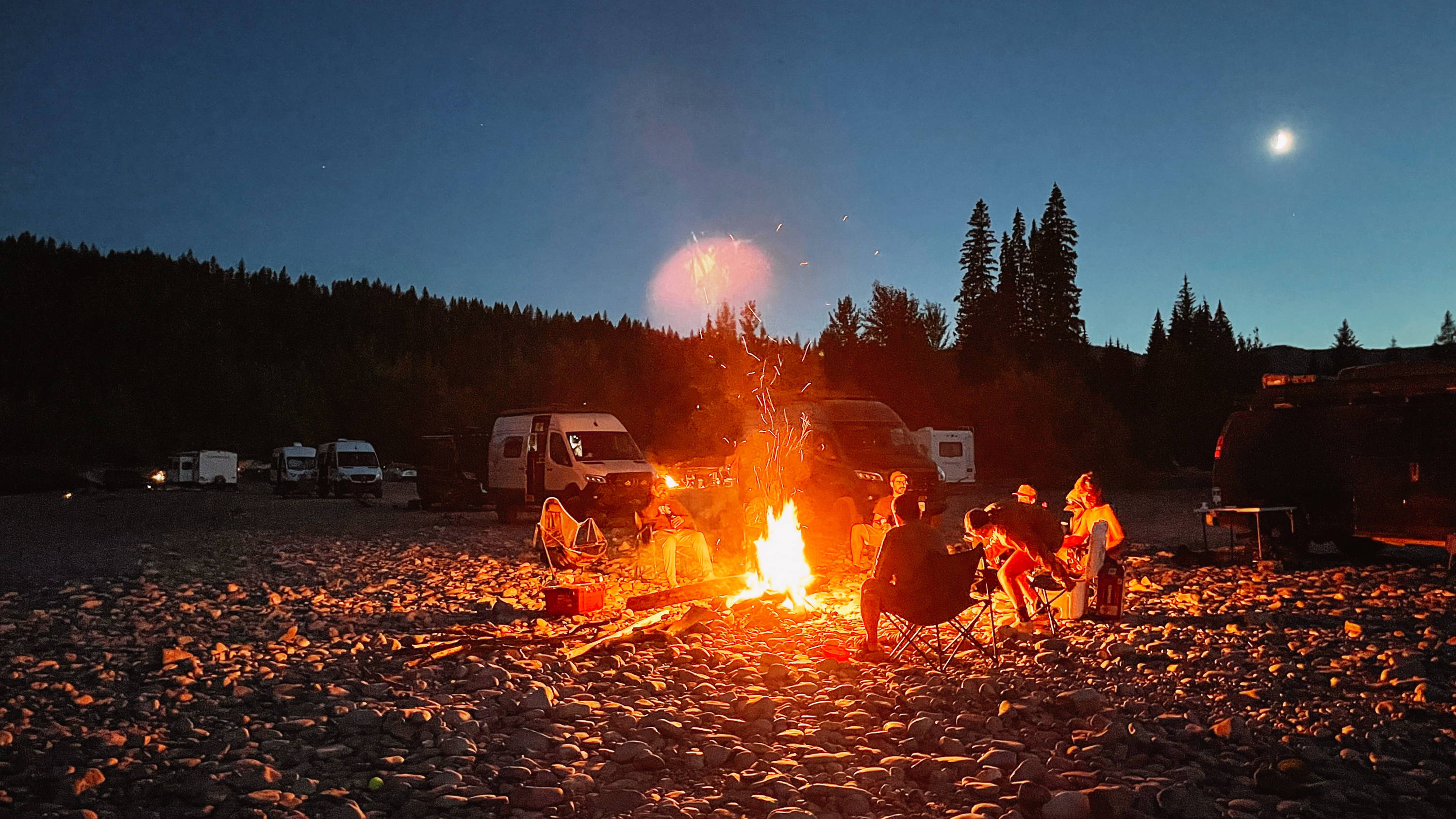 "Everyone wants to do something that they're not doing. Then they see that you're doing it, and they thought they couldn't do it. I always take the time to tell people that I'm a normal person."
The first month was the hardest for Emily. But once she got in the groove, it got better and better. Now two months in, she says she's so glad she stuck it out.
"Everyone's like, 'Oh, you're so brave.' But getting in isn't the hard part – it's staying in. There were two times where I was almost ready to give up, and that's the part I'm proud of.
"But I'm glad I stayed in it, because now I'm on the other side of that. You gotta get through that hump, you gotta lean on your community. If I didn't have friends who were in it, I wouldn't be able to bounce questions off people. It's working out more and more. A month ago I wasn't this happy."
Meeting new people is her favorite part of the adventure. "I went to Seattle to meet up with a friend, and she goes, 'I think you've met more people this week with your van than I've met in my three years here.'"
Someone else told her that her van was like her superhero cape: it's something they can see that opens the door for a conversation, and then she encourages them to try new things, too.
"Everyone wants to do something that they're not doing," she said. "Then they see that you're doing it, and they thought they couldn't do it. I always take the time to tell people that I'm a normal person. I talk to them about financing. It's been awesome pouring back out to people who aren't in this yet."
Follow along with Emily's adventures at @vanlifevoorhees on Instagram.