Meet the Founders of Storyteller Overland
Three co-founders of Storyteller Overland share the company's origin story, philosophy and more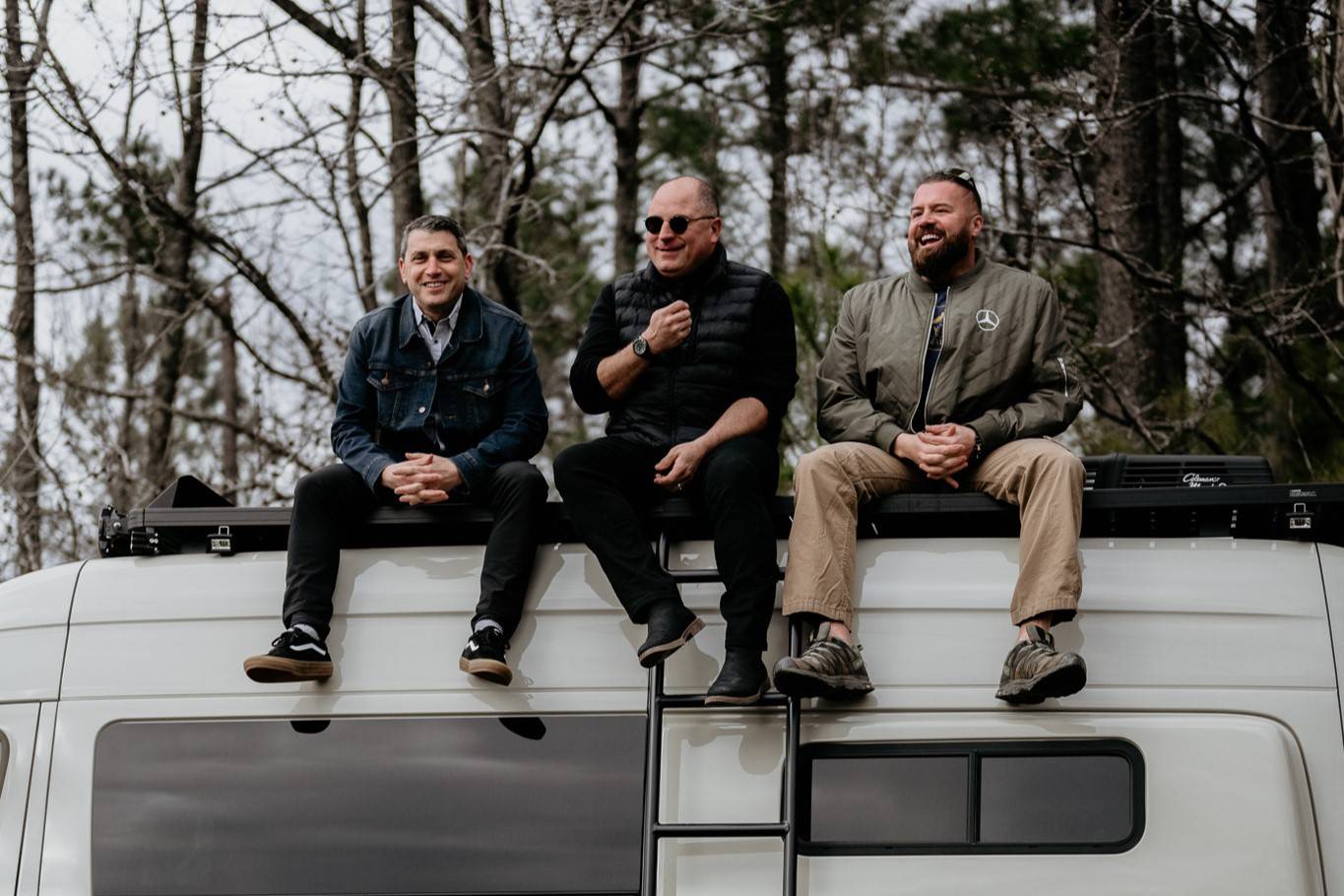 Featured on the April cover of Birmingham Lifestyle Magazine, three of the Storyteller Overland founders (Jeffrey Hunter, Lee Conn, and Andrew Cooley) share how they created Storyteller and how their philosophy continues to shape the company today.
Read the full article below!
Along for the Ride: How Storyteller Overland Built a Thriving Community of Adventurers
Article by Denise K. James
For Americans, the road trip is indisputably iconic. It weaves a stronger fabric among family members, close friends, college roommates and, well, pretty much anyone who is up for an uncharted adventure. A handful of years ago, three Birmingham locals realized that they shared belief in the power of adventures – as well as many other beliefs about what life and fulfillment should look like. Today, Jeffrey Hunter, Lee Conn and Andrew Cooley are the co-founders of Storyteller Overland, a camper van company known for building lasting communities.
Headquartered right here in Birmingham, but with dealers and happy campers from coast to coast, Storyteller is more than an elite adventure vehicle — it's a philosophy that life is made to be lived.
Jeffrey Hunter, Storyteller's CEO, has been in the custom vehicle industry for more than a decade. While his previous partnership was certainly successful, he always had the feeling that something was missing. In his perspective, success is not simply about profit; it's about creating meaning and purpose. "The business I was in at the time focused on luxury clientele — but as interesting and cool as it was, it was not satisfying," he shares. "It lacked the sense of community and the core values that now inspire Storyteller and inspire me personally."
Jeffrey initially met Lee Conn, the company's COO, when Lee became Jeffrey's customer while shopping for a custom Sprinter van. It didn't take long for the two to hit it off and start trading ideas. "Jeffrey and I became fast friends. We have a lot in common about how we treat others, how we feel about business and our general approach to life," Lee says.
Later, the two met Andrew Cooley and decided he might make a good third partner for their still-incubating business. One day, they invited Andrew to Moe's BBQ in Birmingham's Lakeview neighborhood and interviewed him – and, as luck would have it, their hunch had been correct. "When I met with [Lee and Jeffrey], Lee grilled me with 21 questions and finally said, 'I like this guy,'" Andrew remembers, chuckling. "That's when Jeffrey told me about his vision."
That vision, according to the three founders, was not just creating a custom camping van that exceeded expectations, but also harnessing and growing the network of people who share a love for the open road. They knew happy travelers were already encountering each other along the way, having conversations and making memories — and had been for years. The mission of Storyteller would be to raise awareness that the network exists and to create goodwill across the entire United States.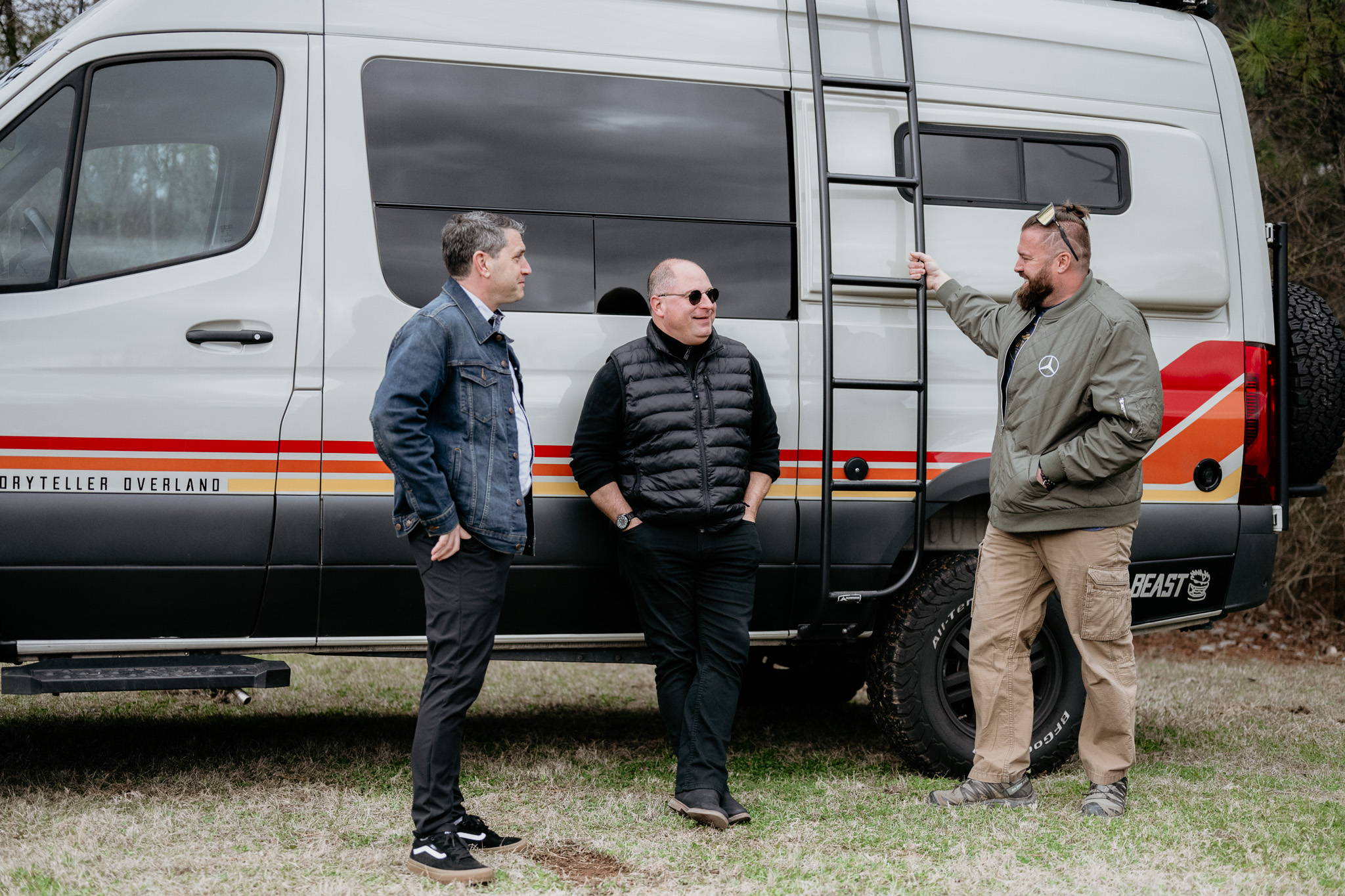 Andrew, who is the company's CRO, knows this network firsthand. As head of the sales department, he's on the road at least two-thirds of the year, ensuring Storyteller's partners in the business are satisfied and upholding the collective mission. When he was asked by Jeffrey and Lee to be the third partner, he knew it was partly because of his dedication to customer service and skill for increasing revenue – however, it was his alignment with their vision that actually sealed the deal. "The crazy thing is, I've had all these ideas in my head since I was 20 years old, and Lee and Jeffrey believed in me to let me execute them," Andrew says. "This is the first time in my life where I feel like I'm surrounded by people who can take an idea and bring it to the market in the best way possible."
Storyteller Overland hit the market (or shall we say the road) in early 2019 with two prototypes: one on the Mercedes Benz Sprinter and one on the Ford Transit. The three founders had agreed to focus on camper vans rather than RVs. "The van community was underserved, with unmet needs, and we felt we could focus time, talent and creativity and come up with solutions for them," Jeffrey says.
The fledgling company was unveiled at the Salt Lake City RVX, a convention sponsored by the Recreational Vehicle Industry Association. Things moved quickly after the debut, just as they had the months prior; Jeffrey, Lee and Andrew had unknowingly timed their new product to the COVID-19 pandemic. Not only did people need vans, they hungered for fresh air, community and the great wide open.
"I think there's been a shift of people wanting these experiences," Lee muses. "Our initial vision was to create a community of travelers and van lifers and have them rally around the vehicle itself as a platform for their outdoor lifestyle. Our customers are doers, not observers. They are loading their vehicles with fishing rods, bikes, boats, camping gear — they go out there and do the thing!"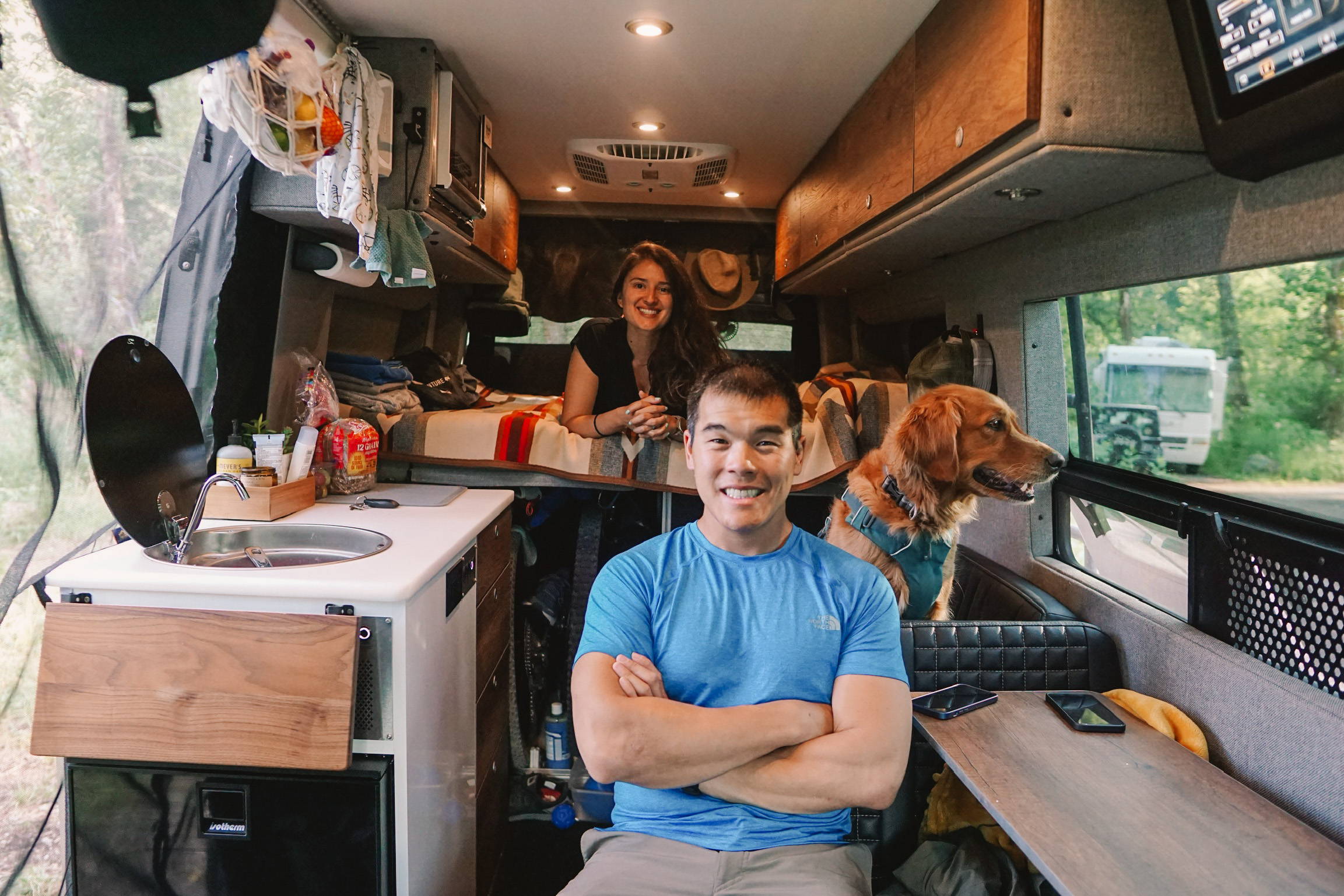 Nick, Mal, and their dog Charlie
Colorado-based couple Malorie and Nicholas Vuong are a testament to this. Before owning their Storyteller Overland vehicle, the two would regularly go on journeys in a custom-built Sprinter van – which, Malorie explains, was better suited to shorter trips. Then, a few years ago, when the Vuongs were on a balmy trek across the Southeast, they realized they wanted something a bit different. "We were in Charleston at 9 p.m. along the waterfront, and we were washing dishes and sweating," Nicholas recalls. "Mal even asked if we could go to a hotel!"
The couple already knew they were planning to take some longer trips, and they'd overheard glowing reviews about Storyteller. "Everyone talked about the quality being great, and they had cool designs," Nicholas says. "We knew we needed something with more power and energy, and we found out that Storyteller offers a really powerful battery system."
As you read this, Nicholas, Malorie and their first-generation goldendoodle – "He actually does shed, so we're always using gas station car vacuums!" — are wrapping up a life-changing, year-long sabbatical, which they spent living happily inside of their Storyteller vehicle. Not only do they have everything they need inside the van — from an indoor shower that they can store when not in use to a full-size bed to an induction cooktop — but their trusty Storyteller holds all the accessories for their active lives. "We love our van because we can keep our mountain bikes and outdoor 'toys' inside," Malorie says.
Furthermore, Malorie and Nicholas agree the unique community surrounding Storyteller vans is not just a myth – it's something they witness and value on a regular basis, both for friendship on the road and for troubleshooting. "We've met a lot of people on our journey who do van life either full-time or for short trips, and everyone does it differently," Nicholas comments.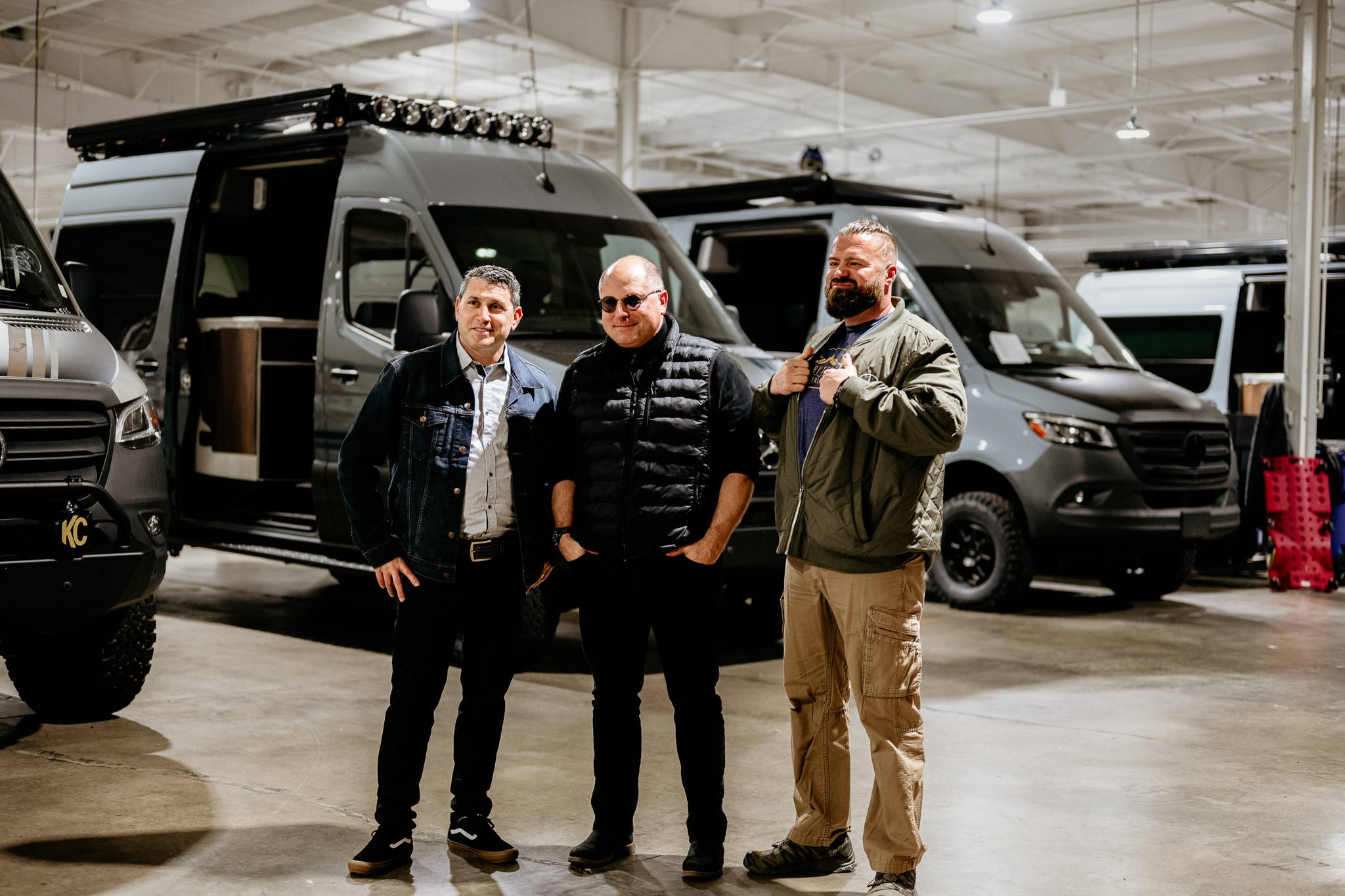 As tightly knit as the Storyteller network is on the road, the folks back at headquarters feel the same way, from the manufacturing team to the three founders. Take, for example, the sales team: a happy-go-lucky (plus dedicated and focused) group bearing whimsical nicknames such as "Captain Morgan" and "Hot Sauce." Andrew maintains this makes his crew much more memorable for busy dealers and vendors — and brings an important element of fun to every day for everyone involved.
"We want to be where people matter and where relationships matter," Andrew points out. "When I interview dealerships as potential partners, the most important thing is the tenure of employees. We're with the most successful family-run dealers in the country. The owners all look you in the eye and shake your hand."
Because Storyteller has gained incredible momentum since its founding a few short years ago, it seems many more stories are on the horizon. And, by the way, these stories are sure to come from travelers of all kinds — digital nomads and traveling nurses; newlyweds and retirees.
"The thread among the Storyteller network is not a certain demographic," Lee comments. "It's an adventurous and youthful spirit. These people have a twinkle in their eyes, no matter their age."
"If you ask me about our work now, it's finding ways to put the puzzle together for a complete customer journey — how we can add value and inspire our customers in the wild," Jeffrey adds.

"We knew we wanted Storyteller to be authentic, spread joy and invite people to discover a more adventurous life. And we made big promises to ourselves about what we would release into the world — something creative and innovative, something that inspires people to be the hero of their own story."
"We knew we wanted Storyteller to be authentic, spread joy and invite people to discover a more adventurous life."
-Jeffrey Hunter, CEO