We've officially landed at our new Intergalactic Headquarters!
The new office building, located at 428 Industrial Lane in Birmingham, Alabama, is not only a bigger space fit to house our growing team. It's also a quirky, one-of-a-kind place meant to foster community and creativity.
We hosted an Open House on Aug. 20 and invited hundreds of our closest friends to come tour the place and hang out with us.
A lot has changed since the last time we held an open house. Three years ago, on one of the hottest days of the year in Birmingham, Alabama, we opened the doors of our West Park Drive facility. Despite the heat, everyone was gracious to be there and was highly anticipating – get this – the whopping nine total vans that we had in production. We only had a little over one dozen employees on payroll.
"Everything else in that room was pretty much hopes and dreams," said CEO Jeffrey Hunter at the most recent open house. "It was a lot of aspiration and a lot of – at the time – probably unjustified and unmerited confidence."
Thankfully, even then, we had a community of people who believed in our vision. Since then, Storyteller Overland has grown from 15 employees to more than 150.
"Adding to the team, growing the business and extending the reach of the brand, what that means is hopefully we're doing things right and with a sense of purpose. And we're hopefully making people's lives a little bit better along the way with each van that gets released into the wild and each new story that gets released."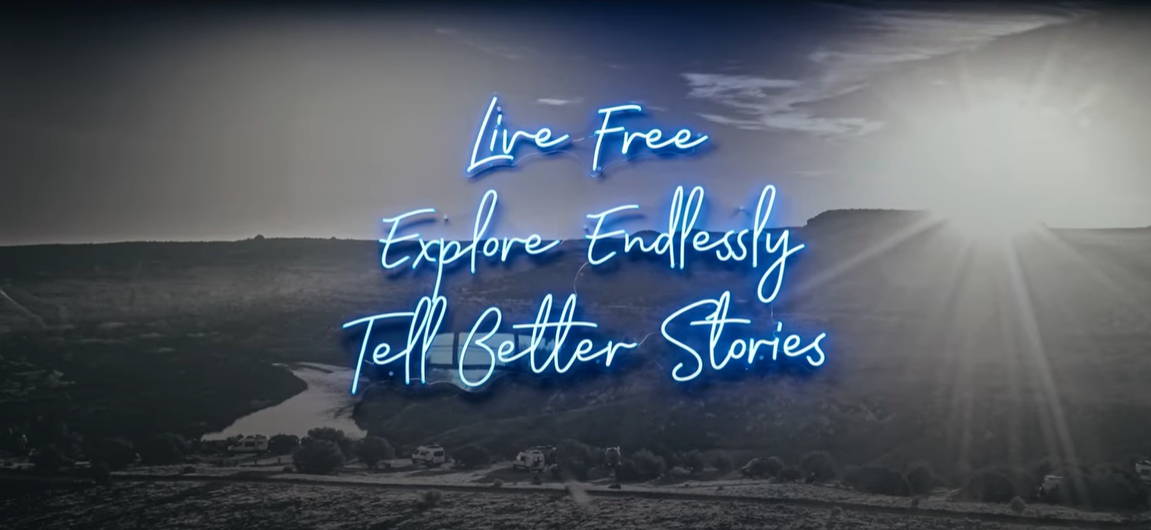 Walk up to our double doors and you'll instantly know you're at the right place. Our brick is painted the classic Storyteller navy, and the wooden slats that make up the roof are painted red, orange and yellow stripes.
When you walk in, there are a few things you'll notice right away. First of all, there are candy jars everywhere. Second, every inch of the hallways is filled with artwork.
Some of the artwork features pictures of our favorite MODE owners going on various adventures. Some of the artwork was designed by our Art Director, Tori Riddle, using Storyteller-branded elements, such as the rock 'em sock 'em vans. Some of it is just silly, like a picture of Mona Lisa that reads, "I'd wish you the best, but I am the best."
Take a right and you'll want to stop and take a picture in front of our perfectly Instagrammable blue neon sign, which says, "Live Free. Explore Endlessly. Tell Better Stories."
Keep going and you'll pass by our conference room. Sounds pretty boring, right? Nope, Tori made sure our conference table was anything but boring.
"The conference room is very clean, so this design needed to stand out and counterbalance that," she said.
Tori's favorite part of the project was asking team members which funky elements they'd like to be incorporated into the table. For example, a hot sauce bottle represents Tanner Carroll. A hammer represents Thor Audiss. A smiley face represents Tammy Cox.
"Everyone at some point uses the conference table, and then they can see if they can find their own addition to it. Who doesn't love a search and find?" Tori said. "I think it's really special that everyone can be a part of the design coming together, and seeing the spark people get when they see their ideas come to life is really magical."
Walk past the conference room and you'll eventually run into our Groove Lounge. It's a meeting room, a place to relax, and an inspiring place to create ideas. Its main piece of furniture is a cozy navy velvety semicircle couch, but don't let that distract you from all of the other unique pieces of furniture, such as a table that looks like it's melting away into drips of metal. It's got a big window looking out to our outdoor patio, but if that's not enough light, have no fear: it's also got twinkle lights all over the ceiling that give off a "starry night" vibe.
If you're looking for a more traditional break room, we've got two. One is near the Groove Lounge and features a very large photo of a kid admiring a doughnut. The other is in our production facility and has enough couches and navy blue chairs to make sure everyone has a seat at the table. (At least for now. We are growing awfully fast!)
For every inch of the new Intergalactic Headquarters, the question was asked: How can we make this match the Storyteller Overland vibe? That's the reasoning behind the classic red, orange and yellow stripes that follow along the back hallway. Even the bathroom fits the vibe and has an entire wall of concert posters from your favorite classic rock bands.
Jen Matthews, the mastermind behind almost every quirky detail in the new building, said her favorite element is a gold table in the Groove Lounge. The table's legs are actually octopus tentacles, and from the floor, a golden octopus stares up at you with buggy eyes. On top of the table is a statue of an astronaut waving –
goodbye or hello? We're not sure.
"We wanted every room to feel like 'Oh my gosh,'" she said. "It's not just more of the same."
Finally is the new production space. This is where the magic happens, where dozens of MODE vans are built every week. A pterodactyl hangs from the ceiling to inspire and protect.
The Storyteller crew has been working in this space since just before the 1,000th van celebration. But at the Open House, it was such a special moment to see the hallways filled with our favorite friends in this community as they "ooh"ed and "ahh"ed at every element.
When Jeffrey Hunter was about 12 years old, he thought that if he learned how to quote poetry, then he would become a "person of substance."
He picked up a book his dad had laying around, but as he flipped through the pages, none of the poems made any sense to him. Then he found one that was just a few sentences long and thought, "This is my jam. I can do this." The poem was "A Man Said to the Universe"
by Stephen Crane:
A man said to the universe:
"Sir, I exist!"
"However," replied the universe,
"The fact has not created in me
A sense of obligation."
He didn't completely understand when he was 12 – and still doesn't at 47 years old – but it popped into his mind when Storyteller Overland became a thing.
"When we started to cry out to the universe and let the world know that we existed, we had no idea who would be listening. But if we could have hand-picked the exact community that would revolve around that, if we could have chosen the people we would want to listen and be a part of this, this is it. This is everybody we could have possibly hoped for.
"So all of that stuff that I didn't know how to interpret as a 12 year old trying to be deep and interpret poetry – this is the poetry. This is beginning to give us all an understanding of why we build what we build and where we can go from here."
We at Storyteller know that we couldn't have gotten here alone. Whether you've been with us since day one or you're just now seeing what we're all about, thank you for being a part of the journey!
We hope that through our continued growth we can continue to build a community of people who can "Live Free, Explore Endlessly, and Tell Better Stories."
Cheers to the road ahead!
Team Storyteller