They're professional triathletes, they're Youtube vloggers, and for three weeks, they were vanlifers in a Storyteller Overland Beast MODE.
FEB. 6, 2023 | BY INGRID SCHNADER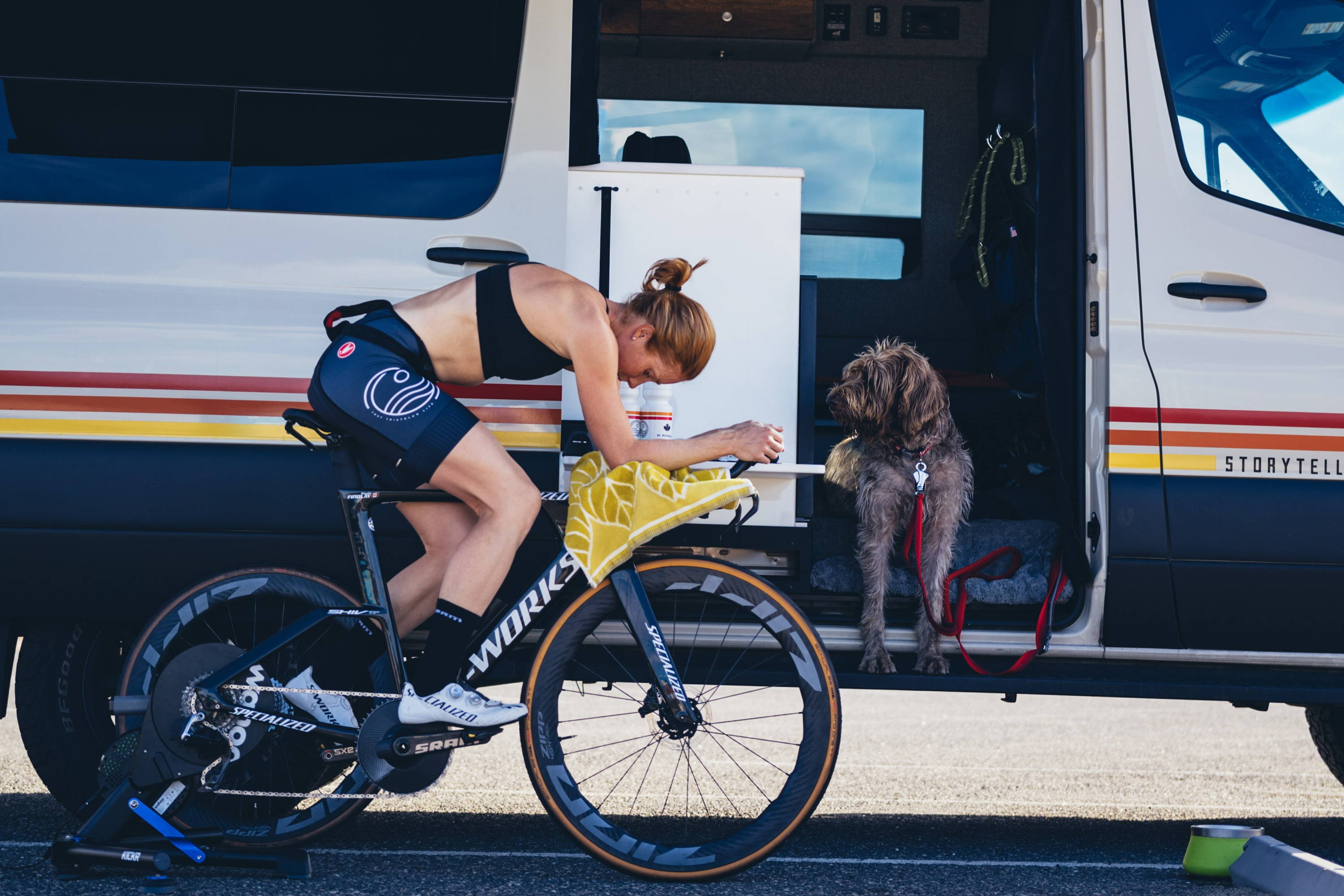 As Paula Findlay approached the finish line of the Ironman 70.3 Indian Wells race, time seemed to slow down. It was the end of the season, and she hadn't won a race yet that year. She grabbed the vinyl banner with both hands and lifted it above her head as the audience applauded her victory.
After taking pictures at the podium and getting sprayed with celebratory beer foam, she and her partner, Eric Lagerstrom, headed back to the place they were renting.
Luckily for them, that place wasn't a faraway hotel or an AirBNB – it was a Storyteller Overland camper van parked just a few blocks away. Within five minutes of stepping off the podium, Paula's bike was stored away in the van's garage, and she was rinsing off the sweat and beer residue in her van's hot shower.
"I would have paid $500,000 for this shower right now," she told Eric, laughing. "Being fully reset within an hour after a race is such a luxury."
Paula and Eric are professional triathletes and regularly post videos to their YouTube channel,
That Triathlon Life
. They were in the process of selling their 2008 Dodge Sprinter when someone at Mercedes-Benz USA reached out and asked them if they'd be interested in a brand new AWD Sprinter van.
They decided to test out their options on the Mercedes Sprinter chassis and started out with a Storyteller. They picked up the Real Beach Beast in Oregon (
which is available to rent here from GoCamp!
) and headed out for a three-week journey.
Their previous van had all of their necessities: a portable shower, a cooler, a portable stove, and space for their bikes. It was like a rolling garage.
But it didn't have heat or air conditioning, so they couldn't camp in weather extremes or leave their dog alone inside for too long. It also didn't have all of the safety and comfort features of a newer van model.
"Ignorance is bliss," Eric said, laughing. "Now imagining not having it is painful."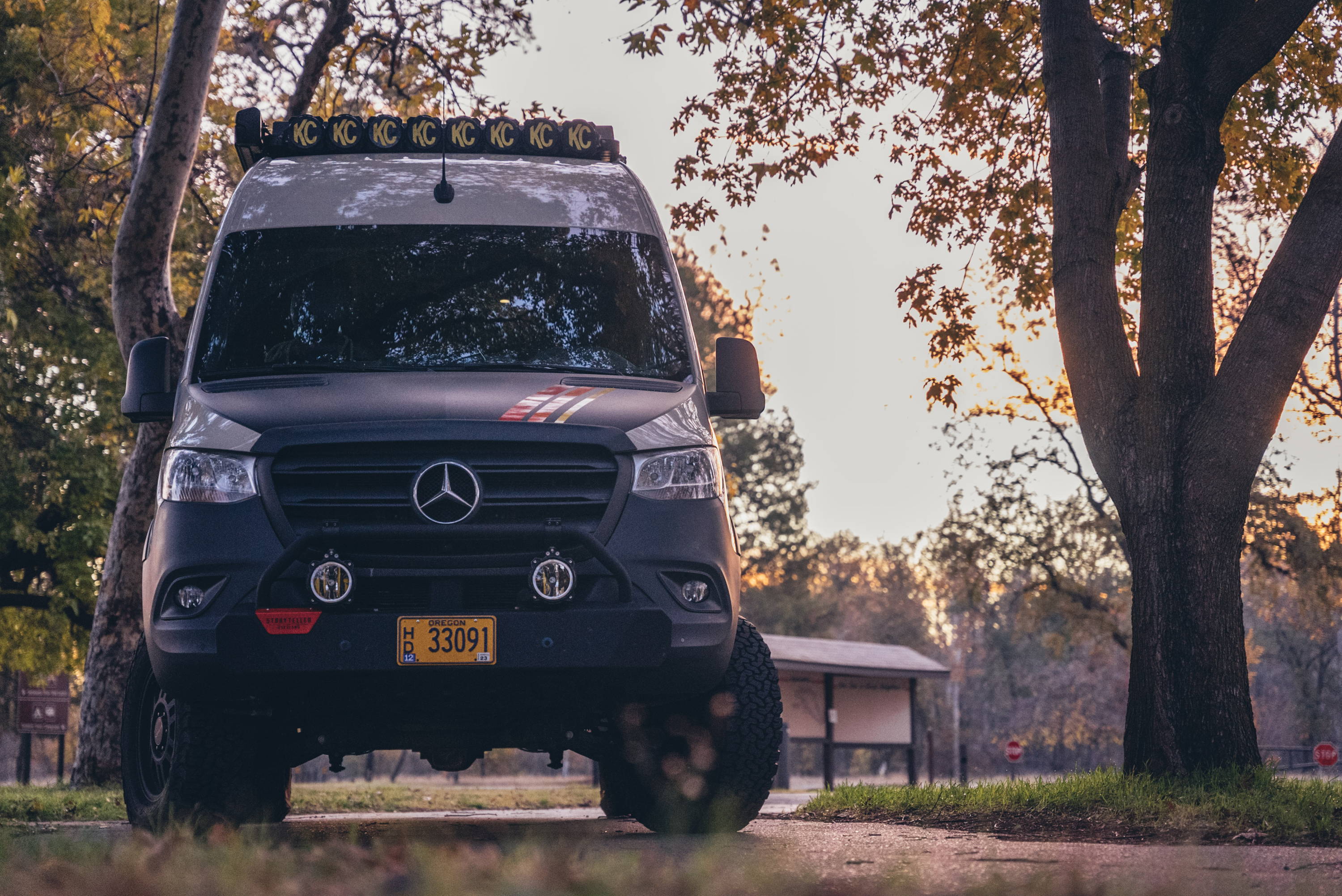 Having a van-slash-mobile garage is a huge benefit when you're a triathlete.
"It's really nice for us to be able to go out and do an open water swim in a lake somewhere, but then we can bring our bikes and our shoes and our dog out," Eric said. "We can make a whole day out of it. It's like taking your whole training base with you to a new location."
"And it's extra advanced when you can have a fridge and a way to cook meals in between workouts," Paula added. "And it's climate controlled, so we can leave our dog in it and have a nap if we need to.
They love how there's a space for everything. They kept three bikes stowed away in the van's garage, and then there were plenty of other cabinets and drawers for their other gear.
"It has a very thought-out layout," Paula said. "It helps me train better when everything is organized."
At the end of their three-week trip in the Storyteller, they felt sad to go home, Eric said.
"We would love to just keep sleeping in this thing – we slept amazingly those three weeks," Eric said.
"We love our house in Bend and we love coming home, but I never had the feeling of needing to go home to resume some normal life," Paula said. "We felt like we could live normally from the van."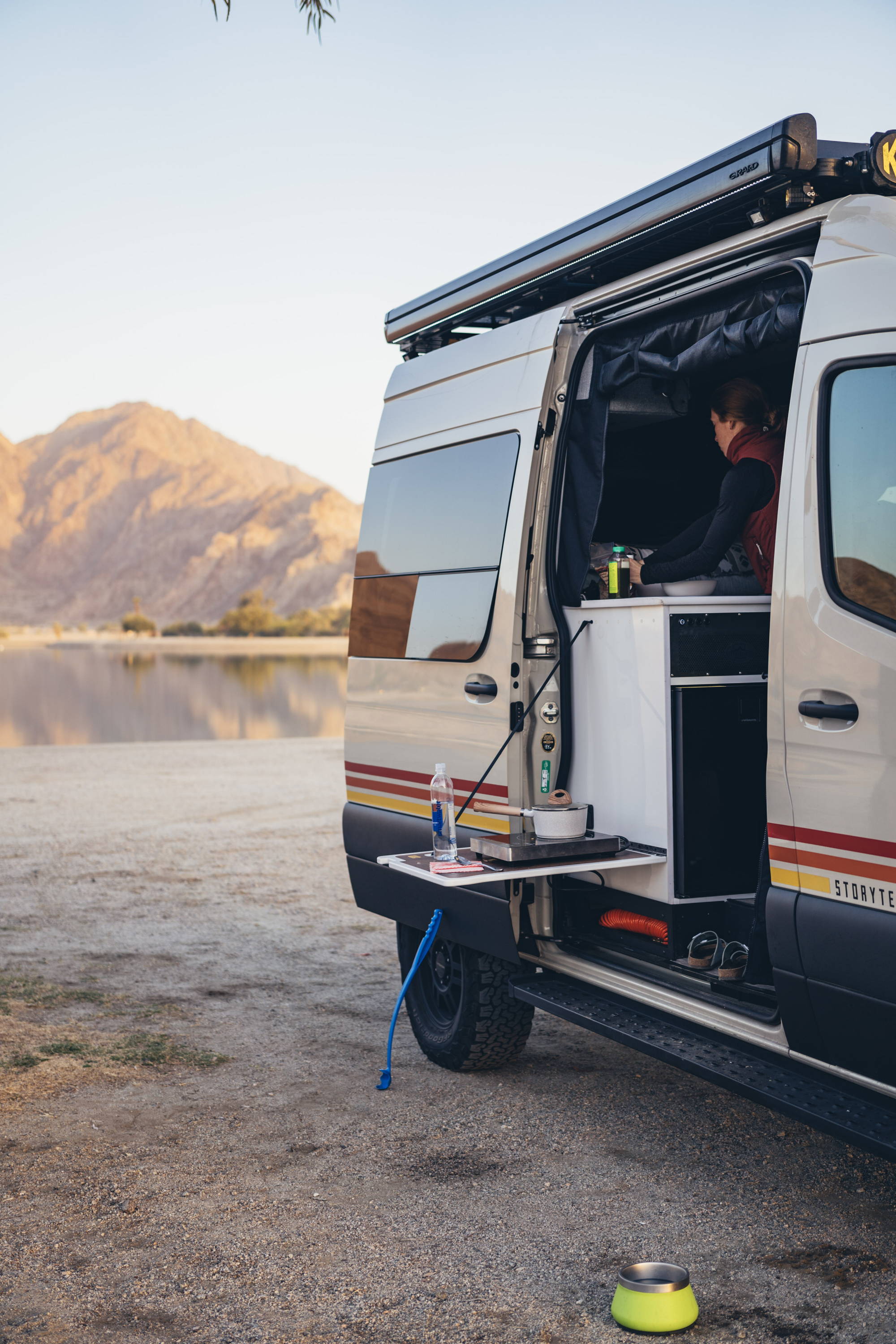 Paula and Eric have some logistics to figure out before picking out which van they'll get next. While the Storyteller is their dream van, they want to try out at least one more van before making their decision.
"But part of the reason I love Storyteller is its company, values,
community
and support they can offer besides just building us a van," Paula said.
Thank you so much to Paula and Eric for spending time in our
Beast MODE
and for all of the kind words. No matter what van you end up in… Cheers to the road ahead!