Stealth MODE Owner uses her camper van to save a family of stray dogs
DEC. 14, 2022 | BY INGRID SCHNADER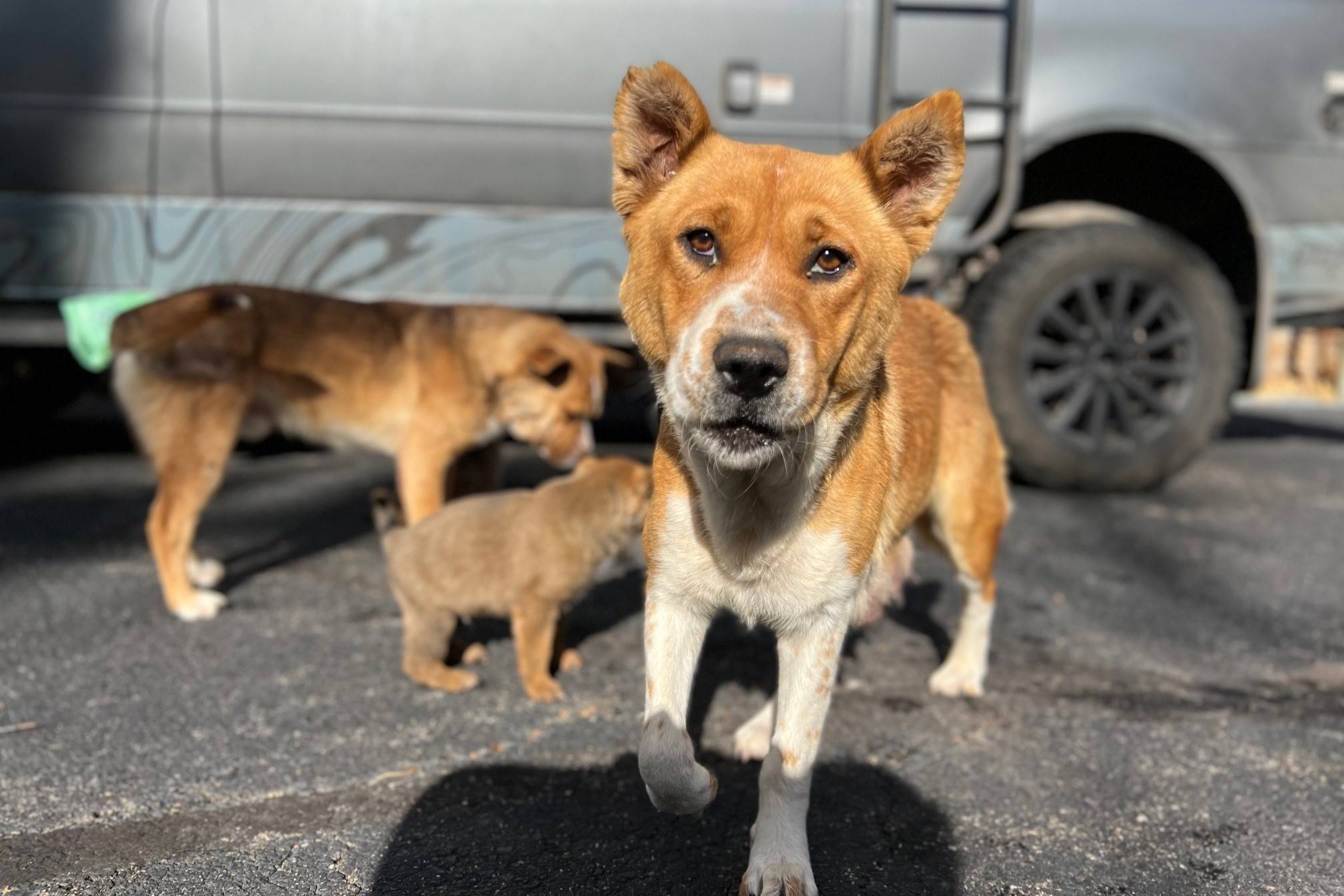 Betsy Wagner pulled into Fort Defiance Mobile Home Park in her camper van. Her eyes were scanning the area for stray dogs – she was on a rescue mission. She didn't see any of the pups, but she did see a bag of dog food on the side of the road next to a culvert. Maybe the locals were feeding them, she thought.
Suddenly she spotted what looked like the momma dog running toward the back of the park. She followed the dog slowly, hoping it would lead her to the rest of the family. The dog circled back to the culvert, and once there, she sat down.
Betsy parked her Storyteller Overland
Stealth MODE
and waited, feeling a bit out of place in her adventure van with gear on top. Betsy had just come from visiting her family in California for Thanksgiving, and just before leaving, she saw a Facebook post from Soul Dog Rescue urgently asking for help rescuing seven puppies in Arizona. It was right along her route home to Colorado, so she knew she needed to take on the job.
The mobile home park was located off Route 12, a busy highway with two lanes of traffic in each direction. This made it a "ticking time bomb" for the puppies, who didn't understand the danger of crossing the highway.
Finally, Betsy saw a couple of puppies scurry out of the culvert and knew she was in the right place. She unloaded two kennels, which she had just purchased hours ago for the rescue mission. But the second the puppies saw Betsy, they ran deep into the culvert, totally out of reach.
So Betsy set up a kennel near the culvert and tossed in some cat food, often the secret to lure stray dogs. Within 30 minutes, they couldn't resist any longer and jumped in. Closing the door behind them, Betsy loaded them up into the safety and heat of her van.
Next, it was time to save the momma dog.
Throughout her time trapping the puppies, Betsy saw the momma dog running back and forth across the four lanes of traffic. Thankfully, timing was on her side. They were in a school zone, so the afternoon speed limit was 15 m.p.h., giving cars enough room to slow down and keep from running her over. The dog was hard-headed and scared of Betsy's rescue efforts.
Betsy put a smear of cat food in a kennel. The dog came to eat it, but every time Betsy scooted closer and closer to trap the dog, she would inevitably get too close, and the dog would run away again.
"How can I make sure this dog is safe, how can I get her out of here safely?" Betsy thought to herself. "She was stubborn. She was not going to let me close."
It was freezing cold outside, and Betsy took a break in the warmth of her van. While she sat inside, she watched as kids being let out of the nearby high school would walk right up to the dog to say hi and move on.
A realization hit Betsy: She was on Navajo Nation land. She looked a lot different from the people whom the dog was used to seeing.
She considered asking one of the high schoolers for help, but finally, animal protection pulled into the park. They easily walked up to the momma dog and helped load her up into Betsy's van.
"If they hadn't showed up, I would have been out there for a long time," Betsy said.
Only one dog was left: a male who had been silently and anxiously watching the rescue mission.
This dog wasn't on the original Facebook post, but when Betsy approached the property manager, she asked Betsy to take him as well and give him a better life. So she loaded up the fourth rescue pup in her van, with the rest of the rescues.
"The post had originally said there were seven puppies," Betsy said. "I'm hoping that early on, when that post went out, other rescuers had gone and grabbed the rest of the pups. I just picked up whoever was left. I got the difficult ones."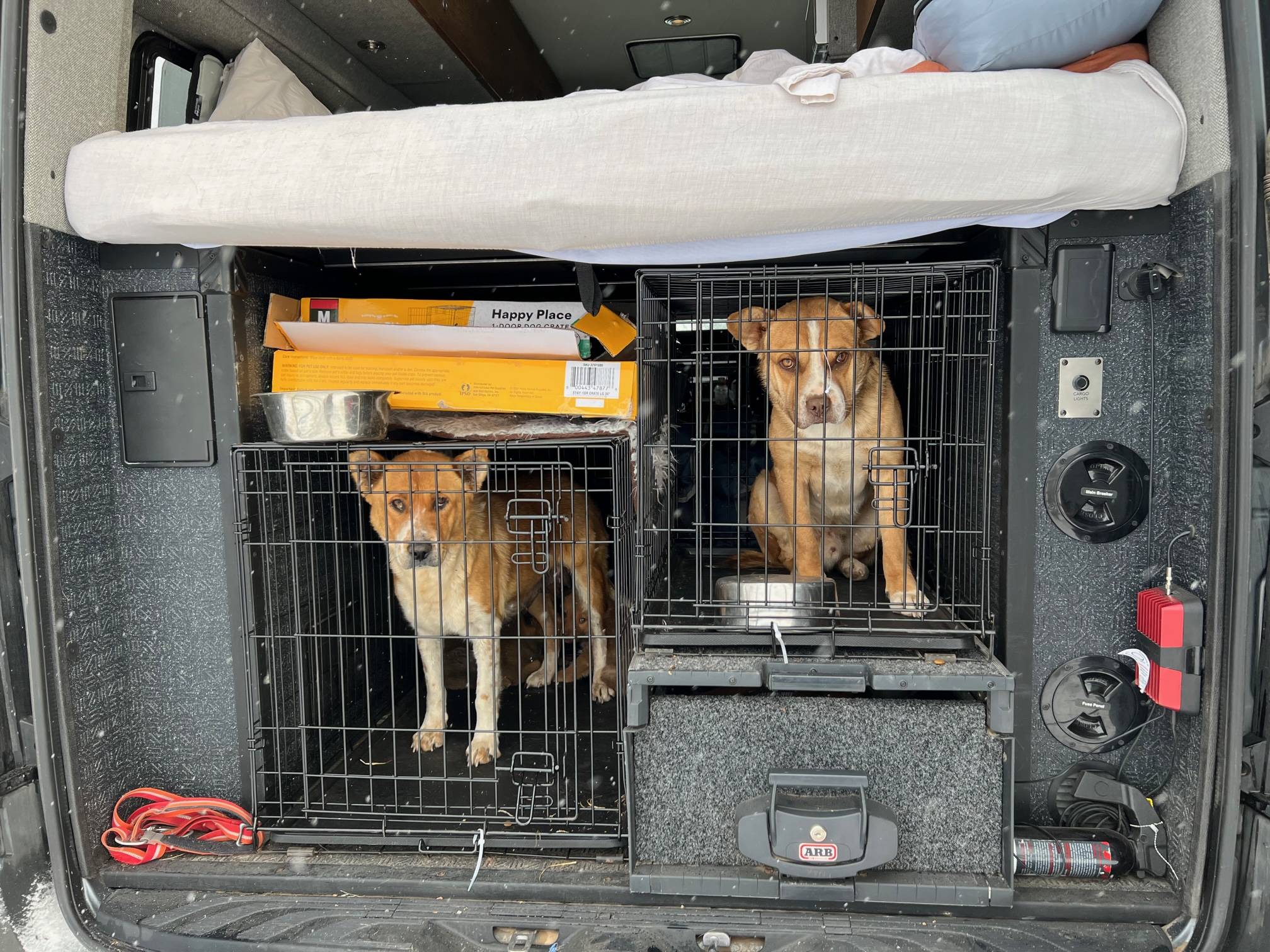 Betsy has been fostering dogs for four years now, and she estimates that she has fostered about 30-40 dogs so far. She also has three of her own dogs – who also came along for the rescue mission, bringing the total number of dogs in the van to seven – so you can definitely call her a dog lover.
But this was her first time ever doing a rescue mission.
"I mostly travel alone, which is what makes the Storyteller community so awesome – you just make friends with everybody," she said. "But because I was alone, it wasn't easy capturing dogs that didn't want to be picked up," she said.
Now, back at home in Colorado, the dogs will continue to live with Betsy and travel in her van while they build immunity from their vaccines. In mid-December, they'll be available for adoption or fostering.
Although they were scared of Betsy during the capture, all four dogs now totally trust her and are showing Betsy their sweet side.
She calls her Stealth MODE her "rescue base." It isn't too crowded, even with seven dogs living in it, and the powerful heating system keeps them completely safe from the elements (even during a blizzard). As others have said, Storyteller vans are truly the
ultimate dog-friendly camper vans.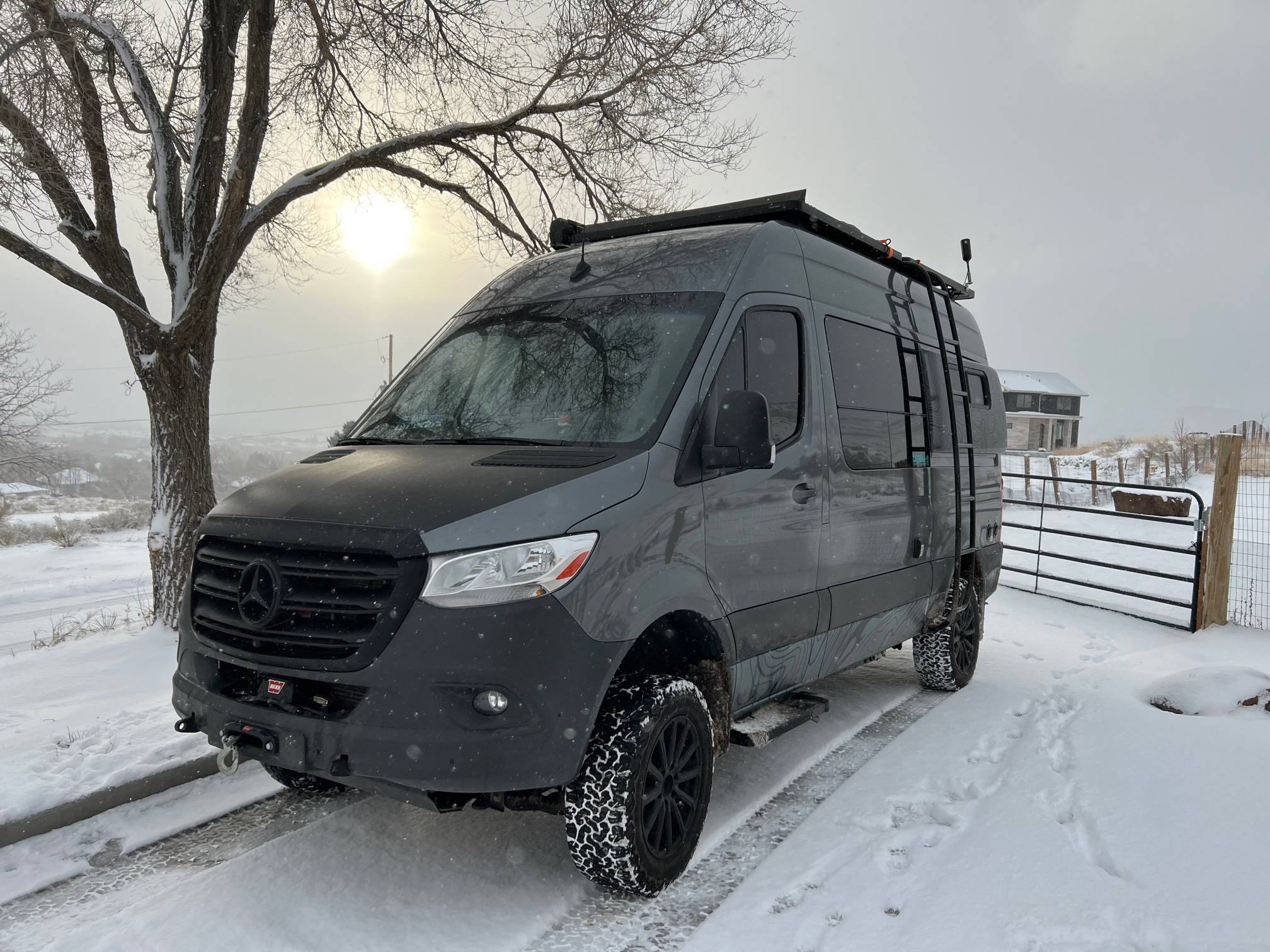 Betsy has a request for fellow Storyteller owners and van lifers:
"When you have a chance to help, step up," she said. "These vans can do so many incredible things and can go into areas that regular vehicles can't, and we should take advantage of that, whether it's helping animals, doing food bank runs, organizing beach cleanups and more."
"I think we have so many opportunities to use these vans in ways that are not only fun and adventurous, but in ways that make a difference in our world. It gives us an opportunity that others don't have, and I think that's pretty amazing."
In addition to this rescue, another example was during the Marshall fire last year in Boulder. Soul Dog was the only rescue organization on scene while the area was still locked down, trapping and helping owners find their pets. It was the middle of winter, snowing and freezing temperatures, so Betsy cranked up the heat in her van and monitored traps, ensuring captured animals didn't freeze after everything they had already gone through.
"I could have done it in a car, but it would have been uncomfortable," she said. "These vans give us a unique opportunity to make a difference in so many ways. I can only imagine how many turkey dinners you could fit in that thing to help an organization like Meals on Wheels."
For those in the Four Corners region and Colorado, she recommends checking out
Soul Dog Rescue
. The organization focuses on providing low-cost spay, neuter and vaccination clinics, and they never say no to a dog. "I love that they're trying to cure the systemic issue of overpopulation," Betsy said.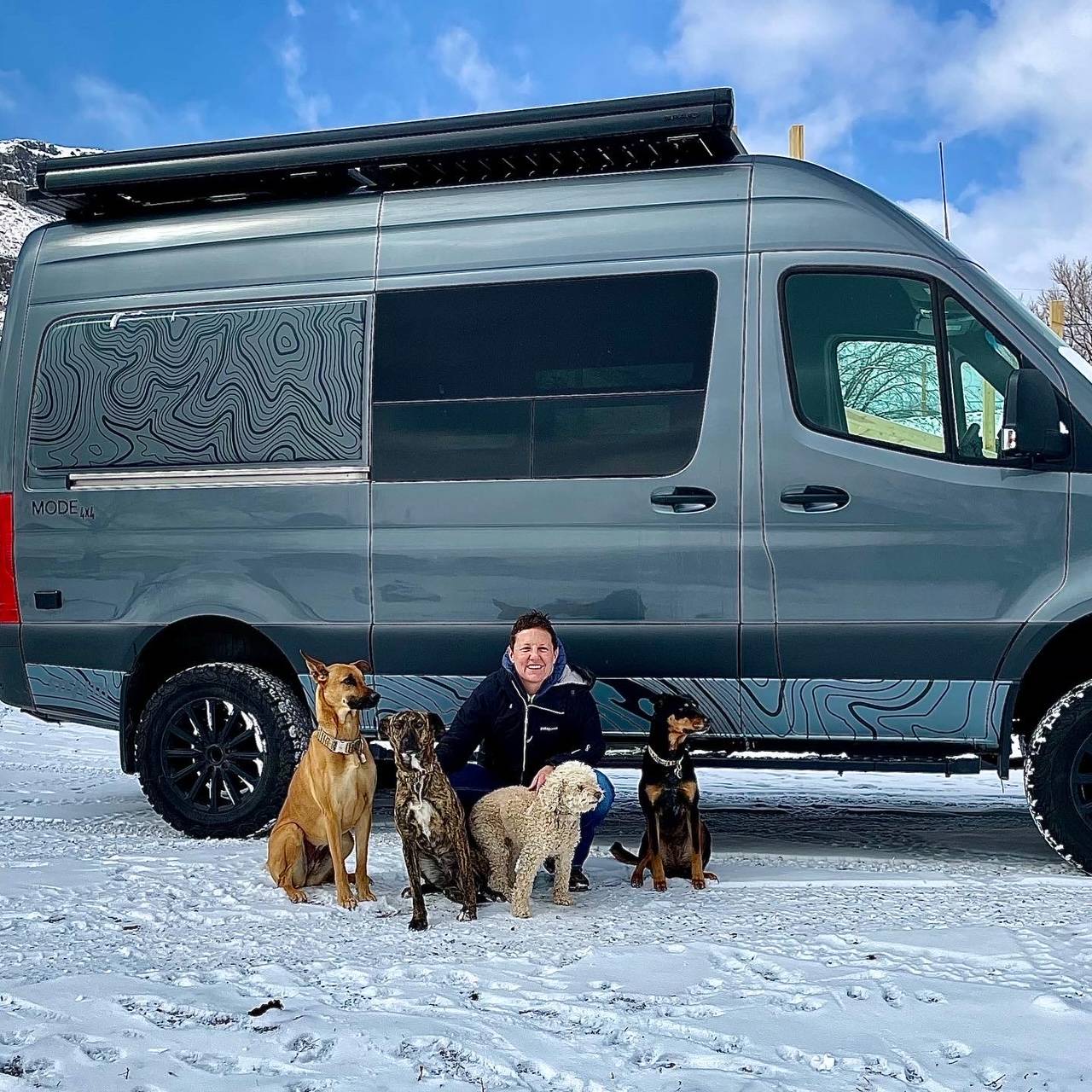 A huge thank you goes out to Betsy for using her Storyteller van for good. It's our goal to build a better world, and we couldn't do it without people like you!
If you're looking for a Storyteller Overland for sale, visit our
Find a Dealer
page. We're based in Birmingham, AL but have dealerships across the country.
Cheers to the road ahead,
Team Storyteller