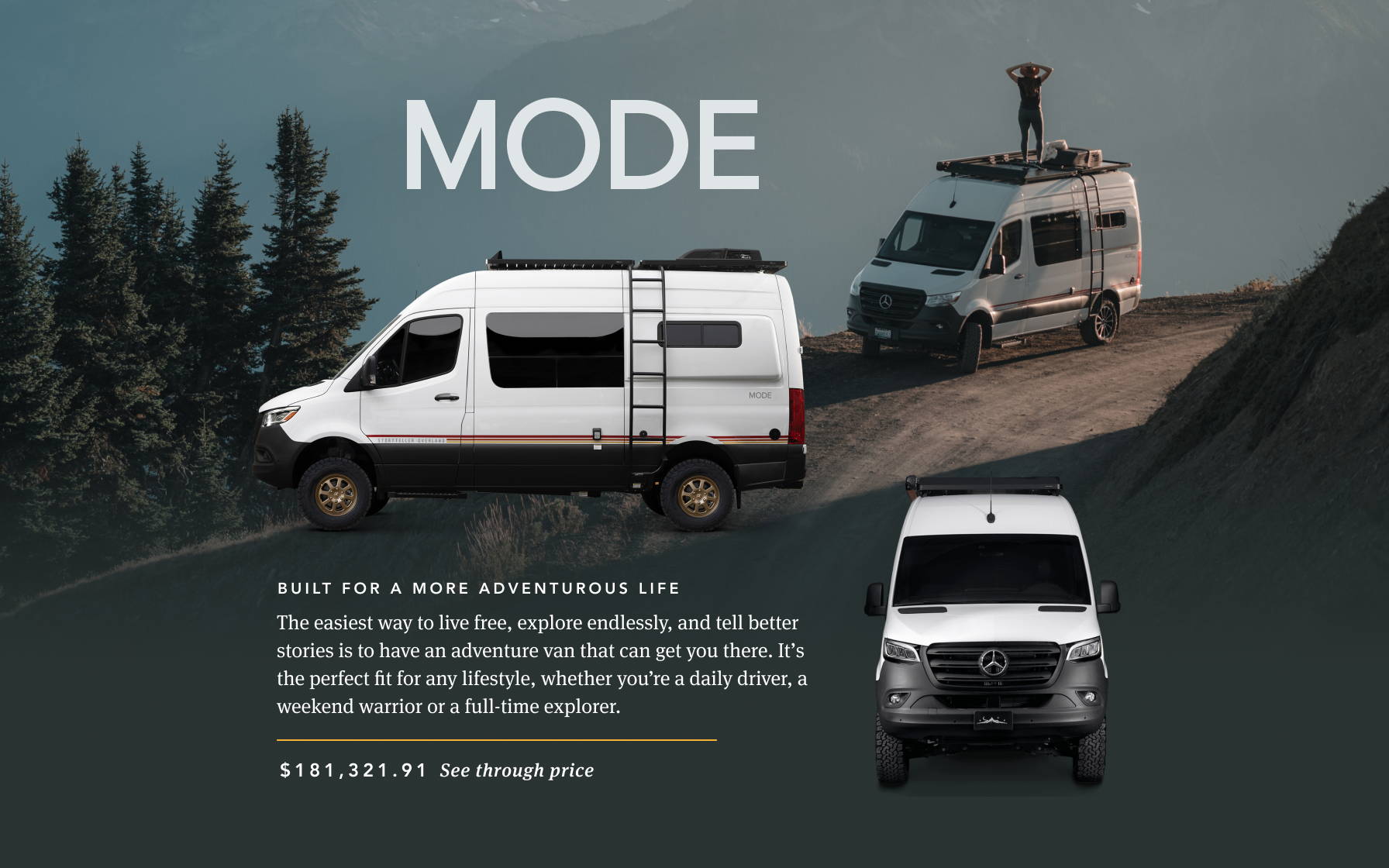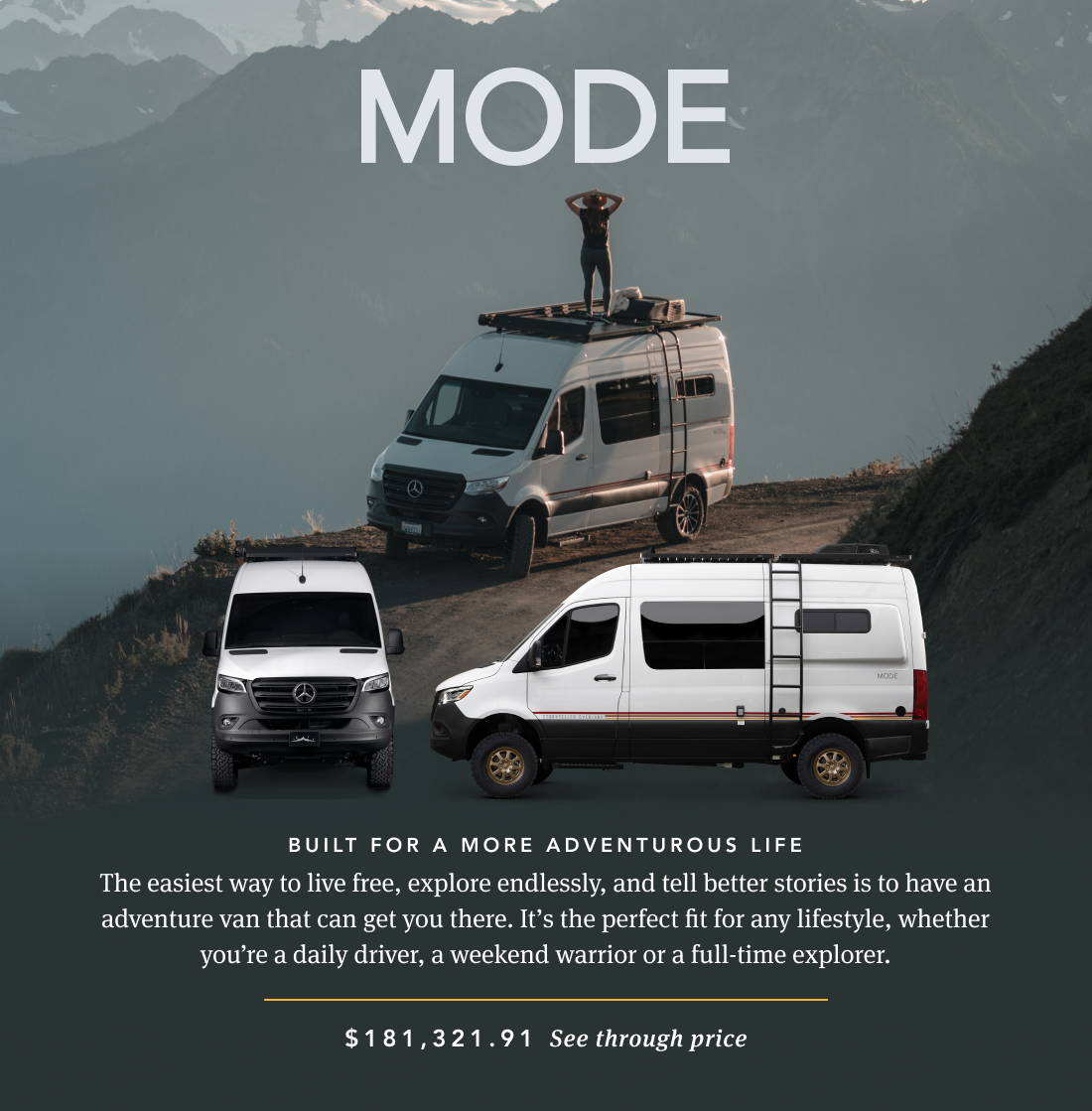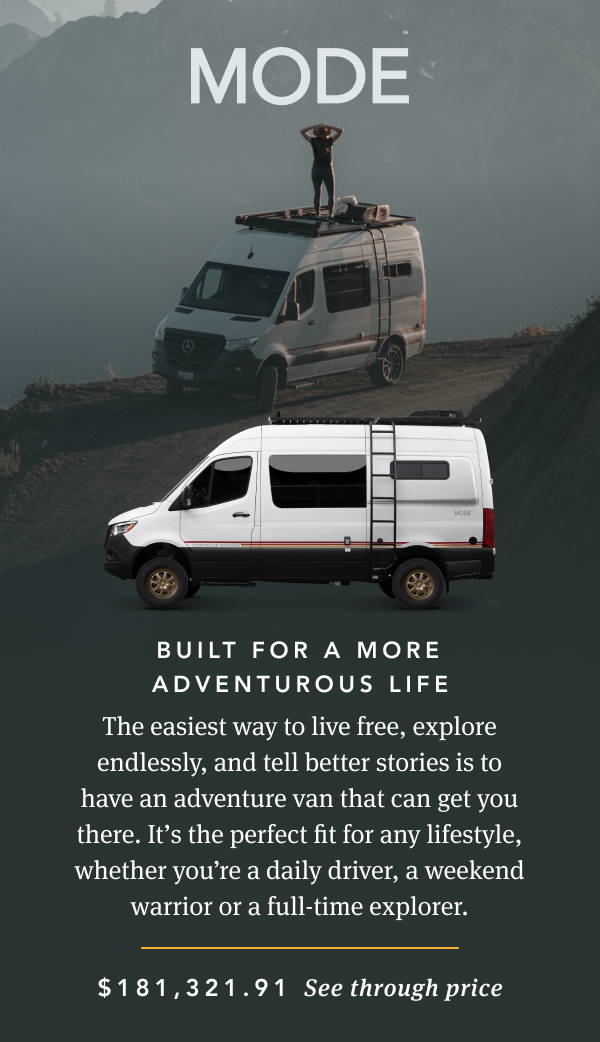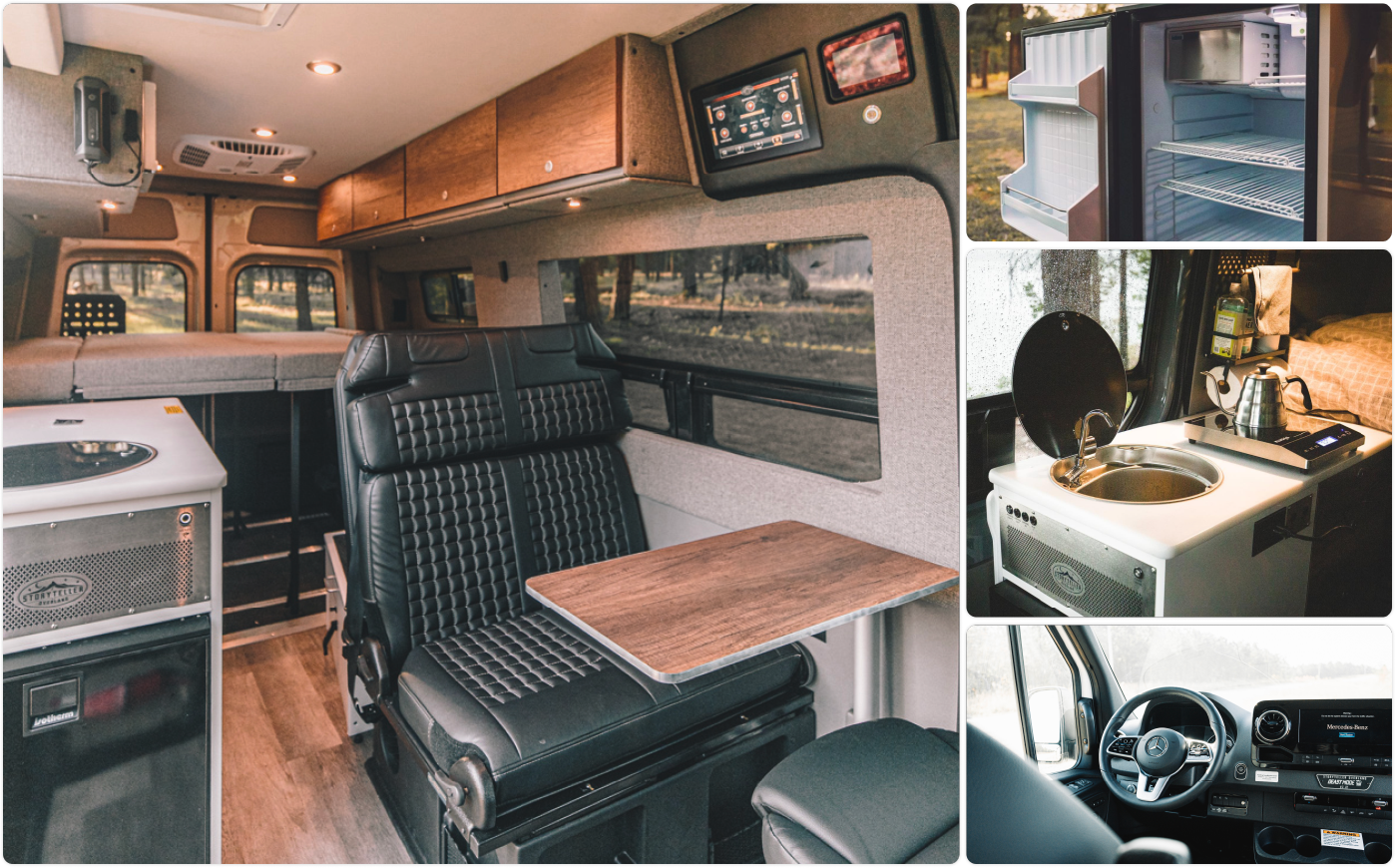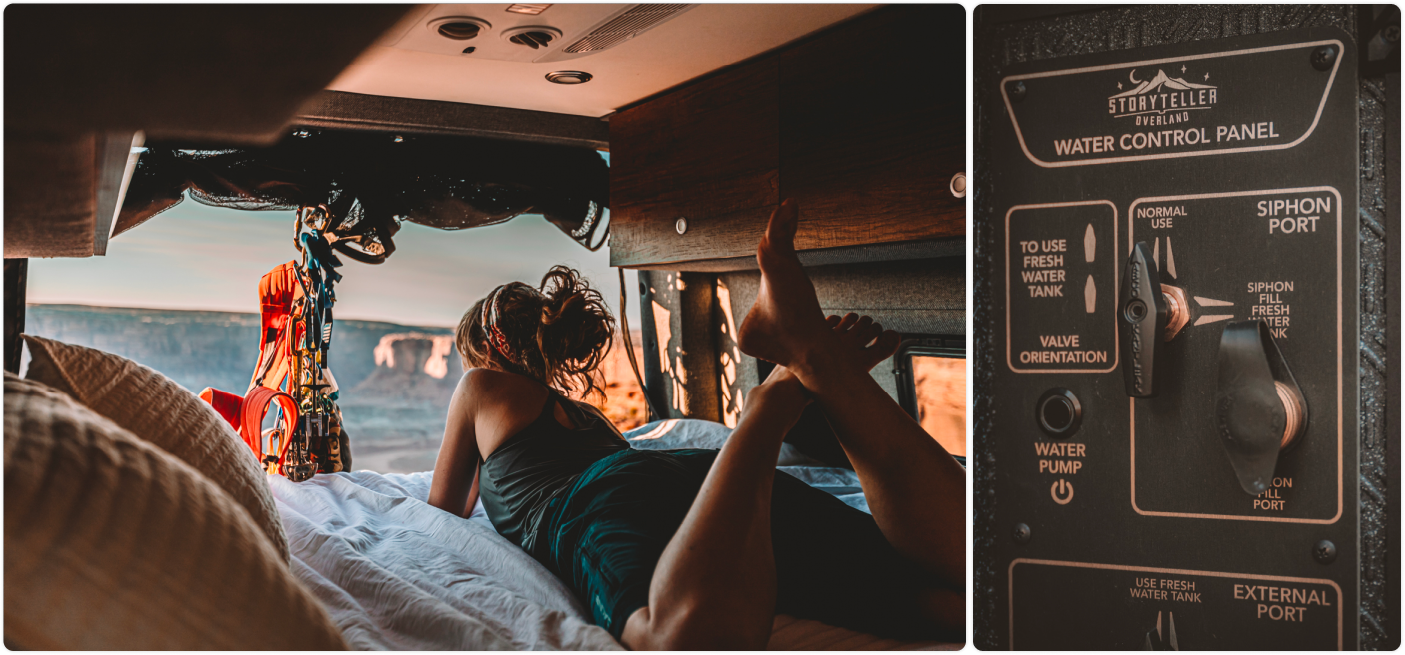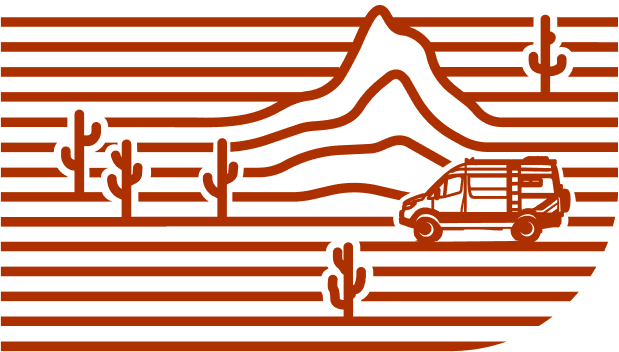 Made for the road less traveled.
The Classic has everything you need and nothing you don't, making it purely and simply an ultimate getaway vehicle. It's the ideal blank slate for you to make into your own.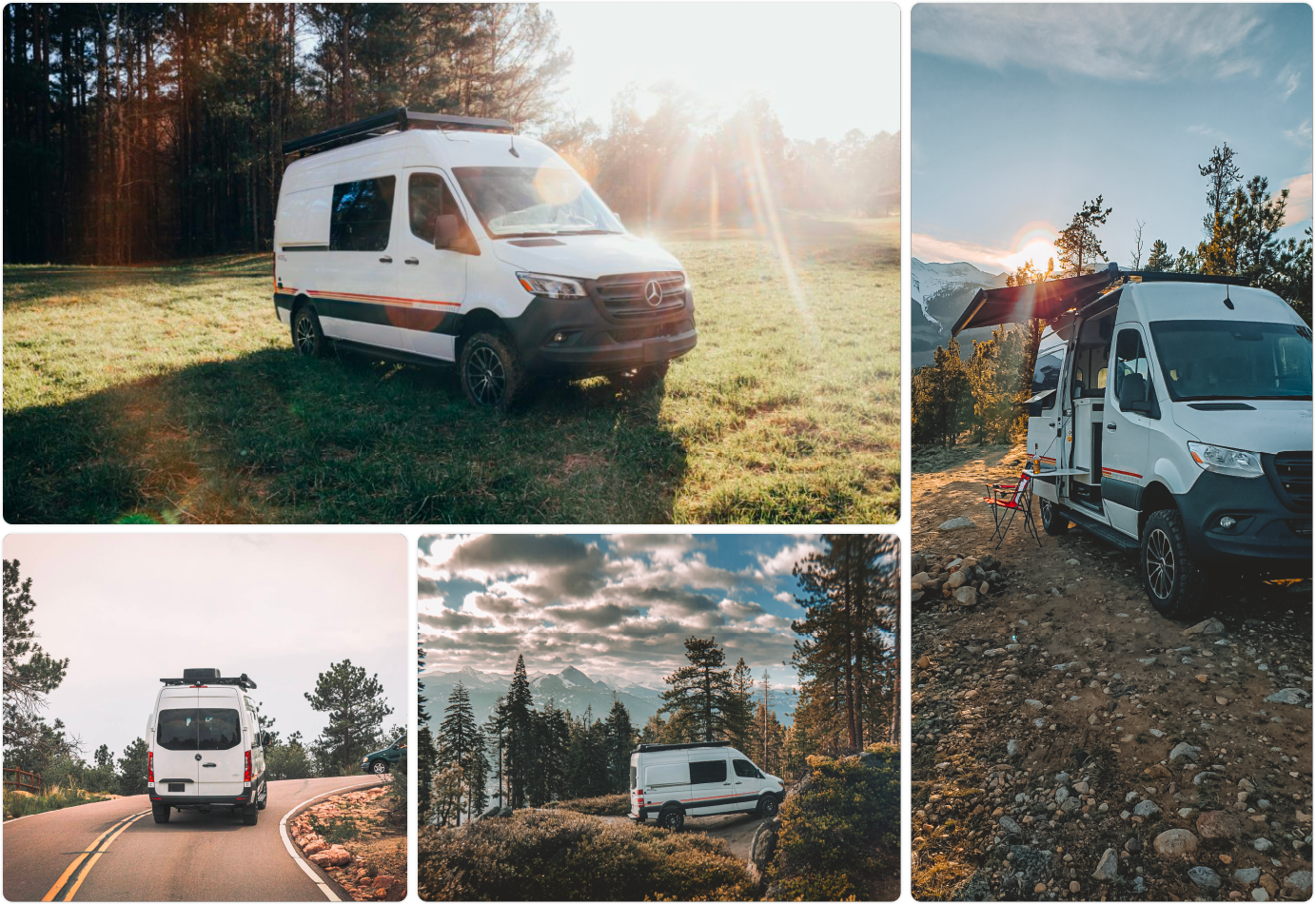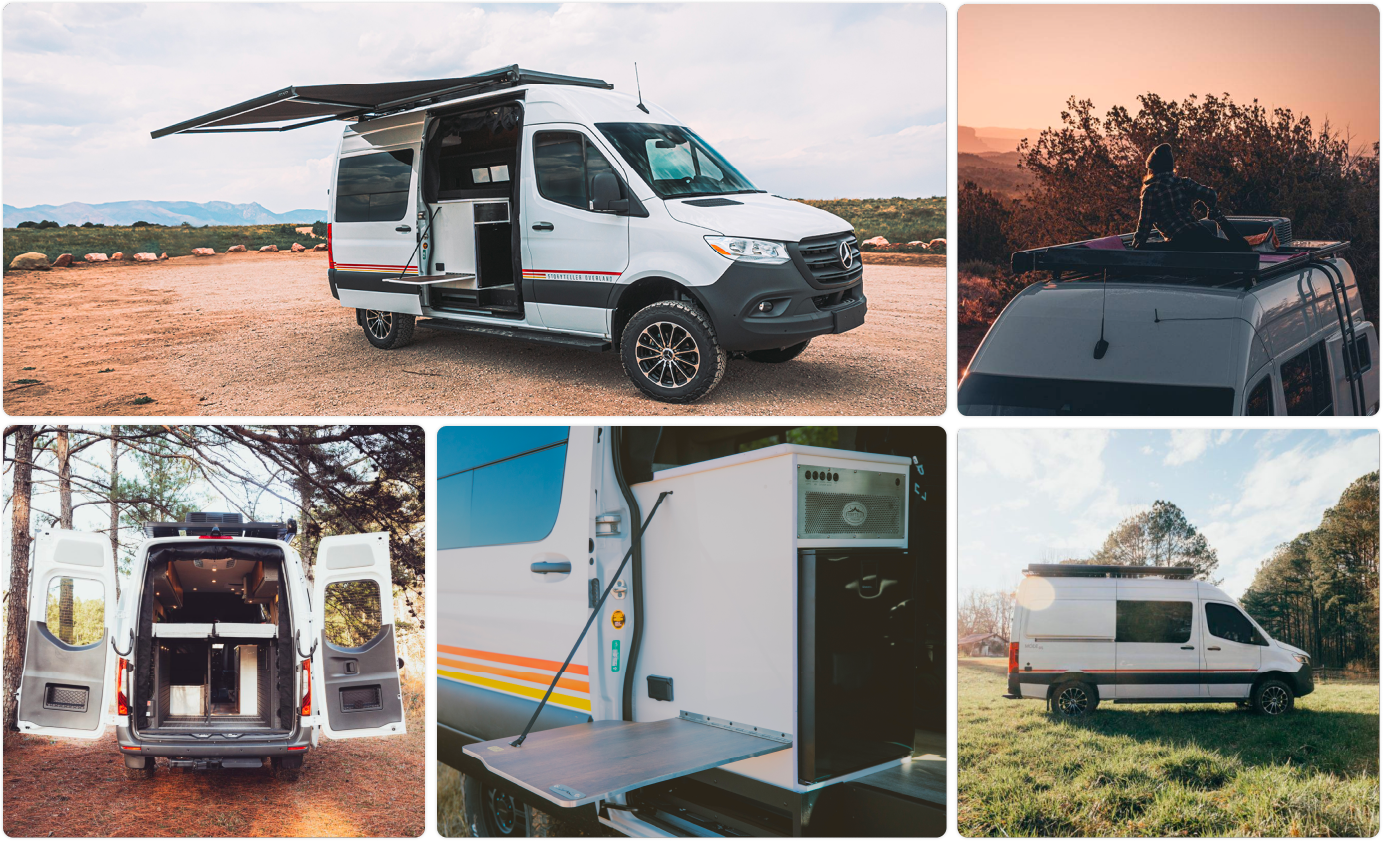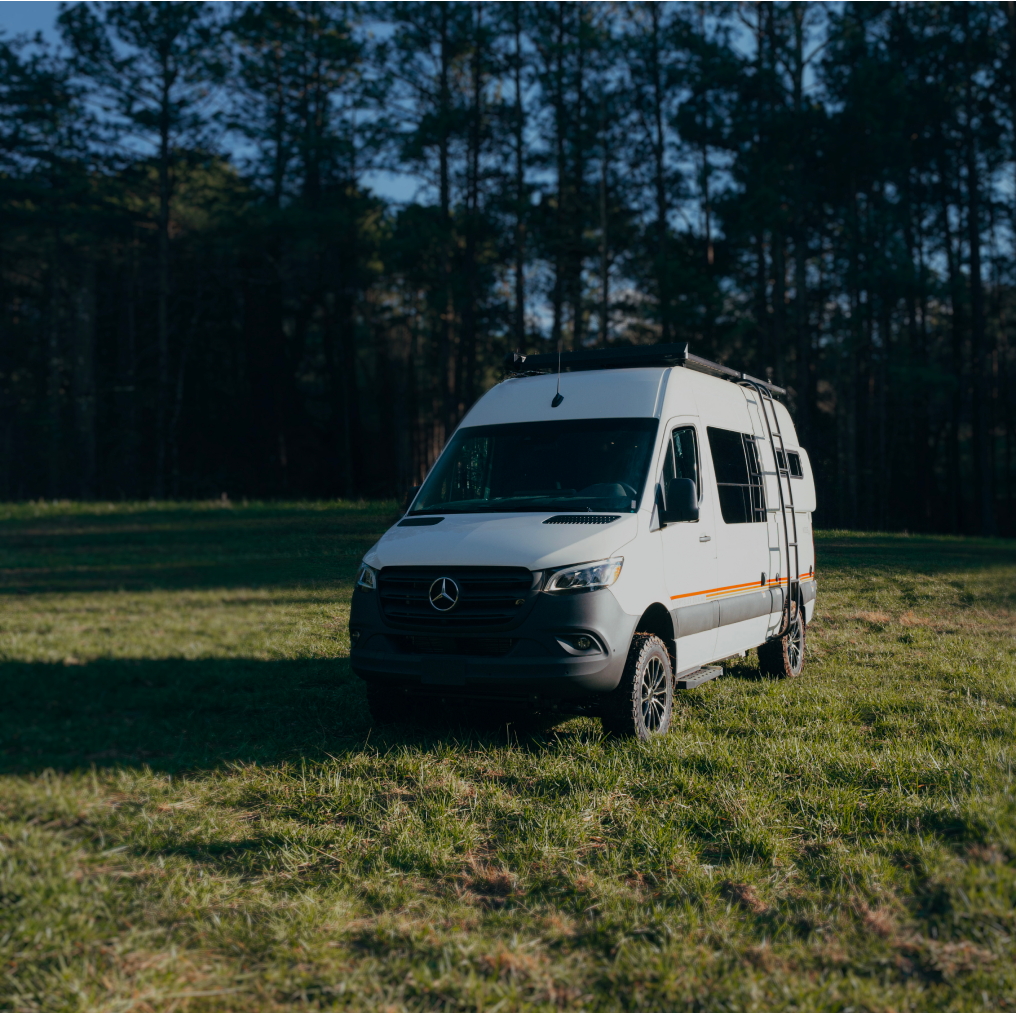 New Bug Screens
Moved galley 110 outlet to C Pillar, above galley
MODE Comm Firmware updates
Updated Window Shades
Fan Cover will be standard
Classic MODE Exterior Length – 20'
Classic Exterior Height – 10'0"
Awning Width – 10'
Awning Extension – 7'
MODE Interior Height- 6'3"
MODE Flare Width- min 6'4"/max 6'7"
MODE Ground Clearance to Diff – 9.5"
Freshwater Tank Cap- 21 gal
Grey Tank Cap- 24 gal
Water Heater Cap- Continuous
Portable Toilet Cap- 2.6 gal
MODE Wheelbase – 144'
MODE GVWR – 9,050 lbs.
Sprinter Fuel Cap- 24.5 gal
144" Wheelbase, High Roof
2500 4-Cylinder Diesel High Output AWD
LED High Performance Headlamps
Fog Lamp w/ Cornering Light Function
Heated, Swiveling Driver and Co-Driver Seats Rain Sensor
Rear Glass Tint and Defrost
Heated, Electrically Folding Mirrors
MBUX Multimedia System w/10.25" Touchscreen Parking Package w/ 360° Cameras
Satellite Radio
Intelligent Navigation
Smartphone Wireless Charging
Active Lane Keeping Assist
Active Brake Assist
Traffic Sign Assist
Assist Handle, B-Pillar
Dreamweaver™ Bed/Convertible Work Surface
GrooveLounge™ 2-Seater Convertible Sofa Bed
MODE COM 11″ Full Color Touchscreen Control System
Removable Upper Cabinetry
High Powered Ceiling Intake/Exhaust Fan
Dimmable LED Ceiling Lights
Dimmable LED Under Cabinet Lights
Dimmable LED Cargo Area Lights
Cabin Air Conditioner
Diesel Fired Heating System
Water Control System
(8) 110V Outlets
(6) USB Ports
(3) 12V Outlets
Garage Cargo Area w/ L-Track
Side and Rear Door Bug Screens
Privacy Shades for All Windows
Portable Bluetooth Speaker
Sheep's Wool Insulation
Roof Rack w/ Sonic Wedge Wind Deflector
Tubular Side Mount Ladder
Lower Solar Port
Powered Awning w/Dimmable LEDs
Running Boards
21 gal Fresh Water Tank (in Cabin)
24 gal Grey Water Tank w/Heating Loop
City/Fresh Water Connection
Heavy Duty Shore Power Inlet
(4) 110V Outlets
Volta Touch Screen Display
3200W inverter, 6400W peak
Intelligent Power Distribution Module (Managed by MODE COM)
High Output Auxiliary Alternator
90W Solar Panel, expandable up to 600W
30A Power Cord
Smoke / CO Detector
Fire Extinguisher
Ground Fault Circuit Interrupter
Stainless Steel Sink w/ Folding Faucet
Exterior Fold Down Table
Dual Voltage Refrigerator/Freezer
Stainless Steel Microwave
Portable Induction Cooktop
Halo Interior Shower™ System
FlexSpace™ Concealed Shower Pan
Exterior Shower
Portable Toilet
Gasoline/Diesel Fired Water Heating System
Hot Water Recirculation System
Storyteller Warranty:
1 Year/15,000 Mile Storyteller Overland Limited Warranty
Volta Warranty –
3 Year/1,000 Cycle Warranty on M-Power™ Energy Storage System (Powered by Volta)
Mercedes Benz Warranties:
3 Year/36,000 Mile New Vehicle Limited Warranty
5-year/100,000 Mile Federal Diesel Emissions
5-year/100,000 Mile Powertrain Limited Warranty