5 Creative Ways to Use Your Adventure Van Roof Space
When you're traveling in a 20-foot adventure van, you need to make use of all the space available.
All Storyteller Overland vans come with a usable roof rack space. Depending on your hobbies and interests, there are many creative ways you can make use of this space.
Here are five of our favorite ways that we've seen Storyteller owners utilize their roof racks.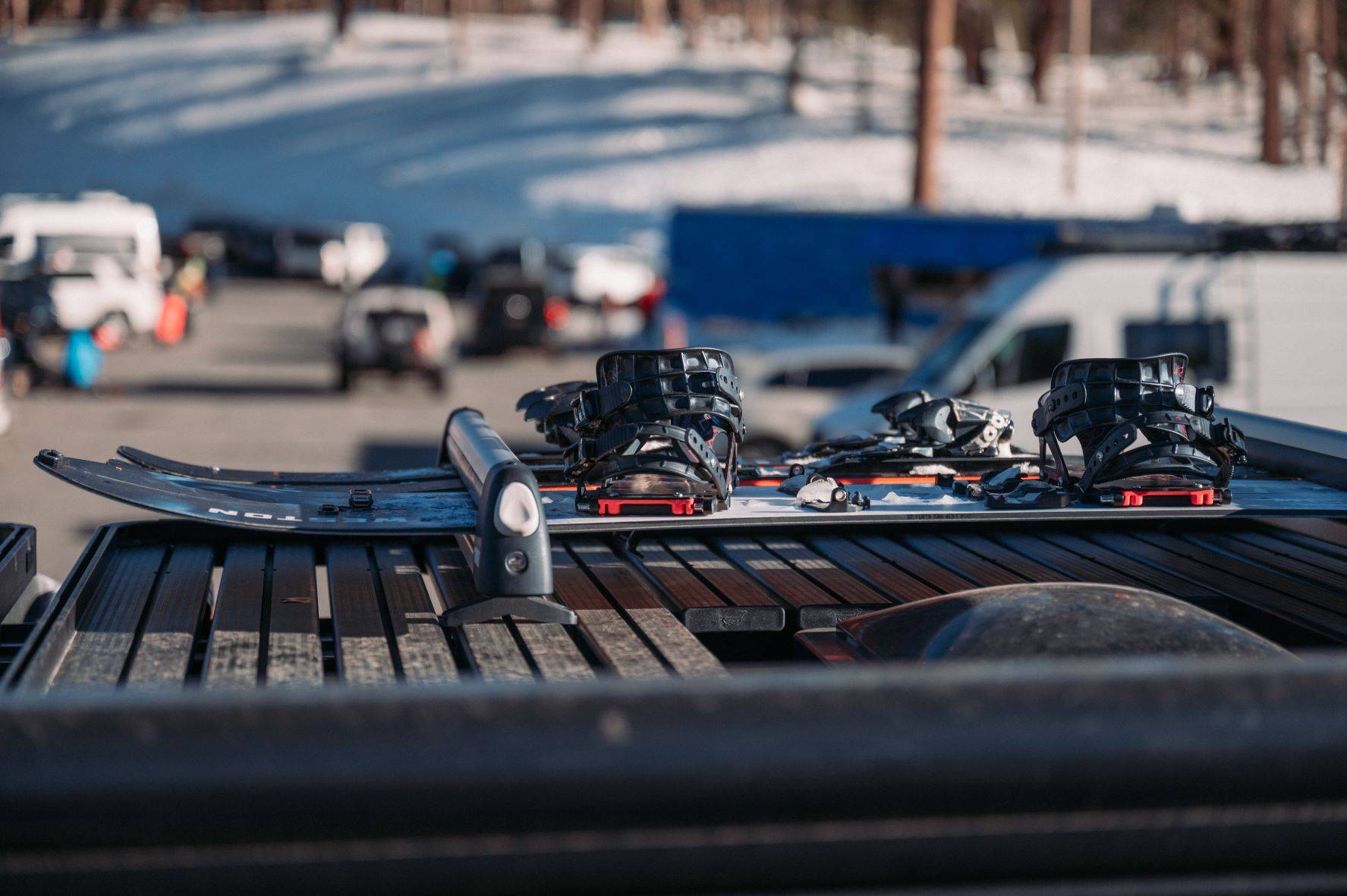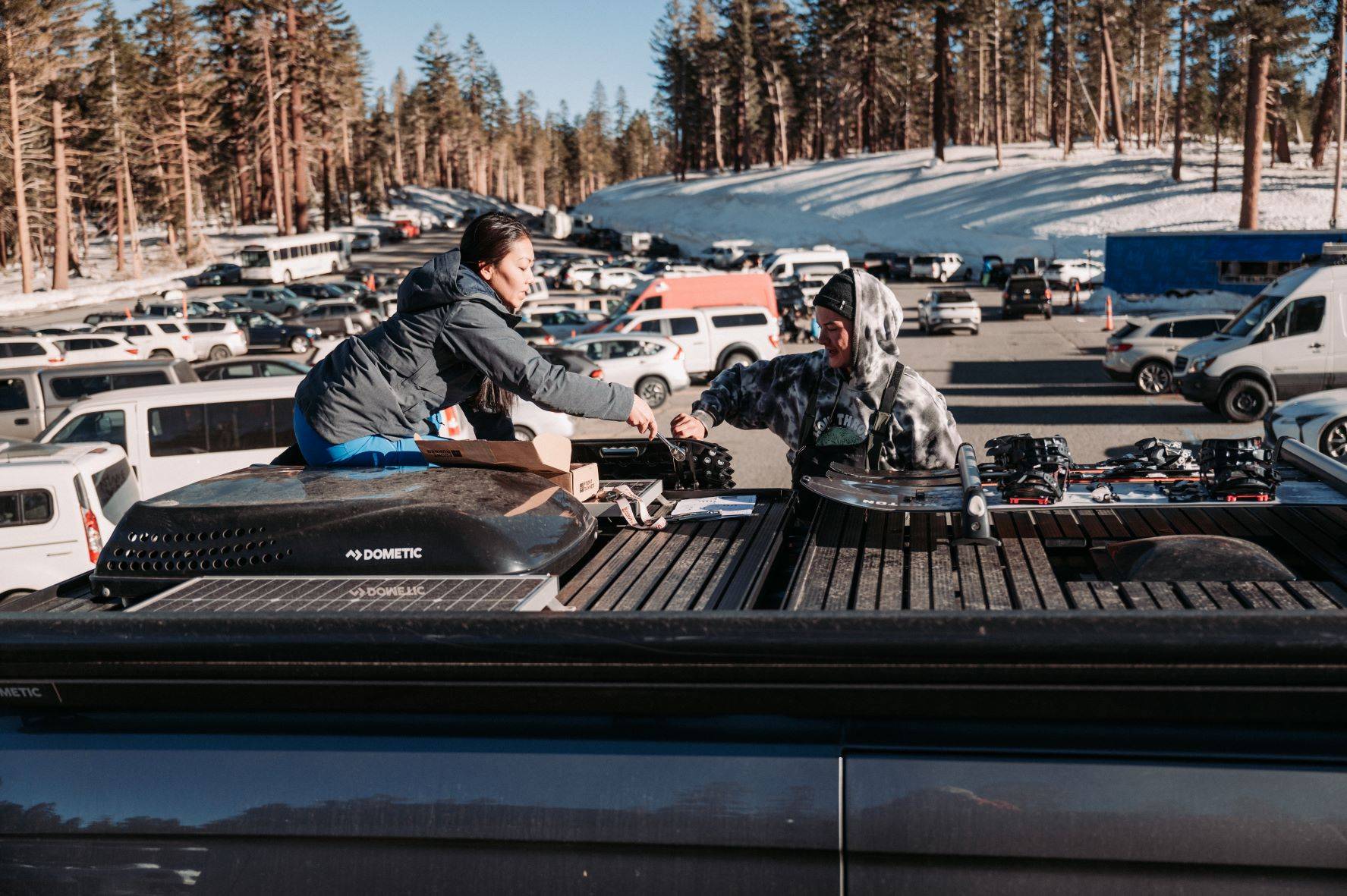 It makes sense that people who have adventure vans also typically have a ton of adventure gear.
Fear not: all Storyteller adventure vans have a spacious garage area and a handful of cabinets for storage. But whether you're a full timer or you just have too many hobbies, you can use your roof rack for that extra gear.
Above, full-timer
Kayden Phan
gets ready for a day of snowboarding at Mammoth Mountain.
"Sometimes you don't want that snow dripping in your garage," Kayden said. "It's just more flexible and modular with your gear on the roof."
2. As A Patio Seating Area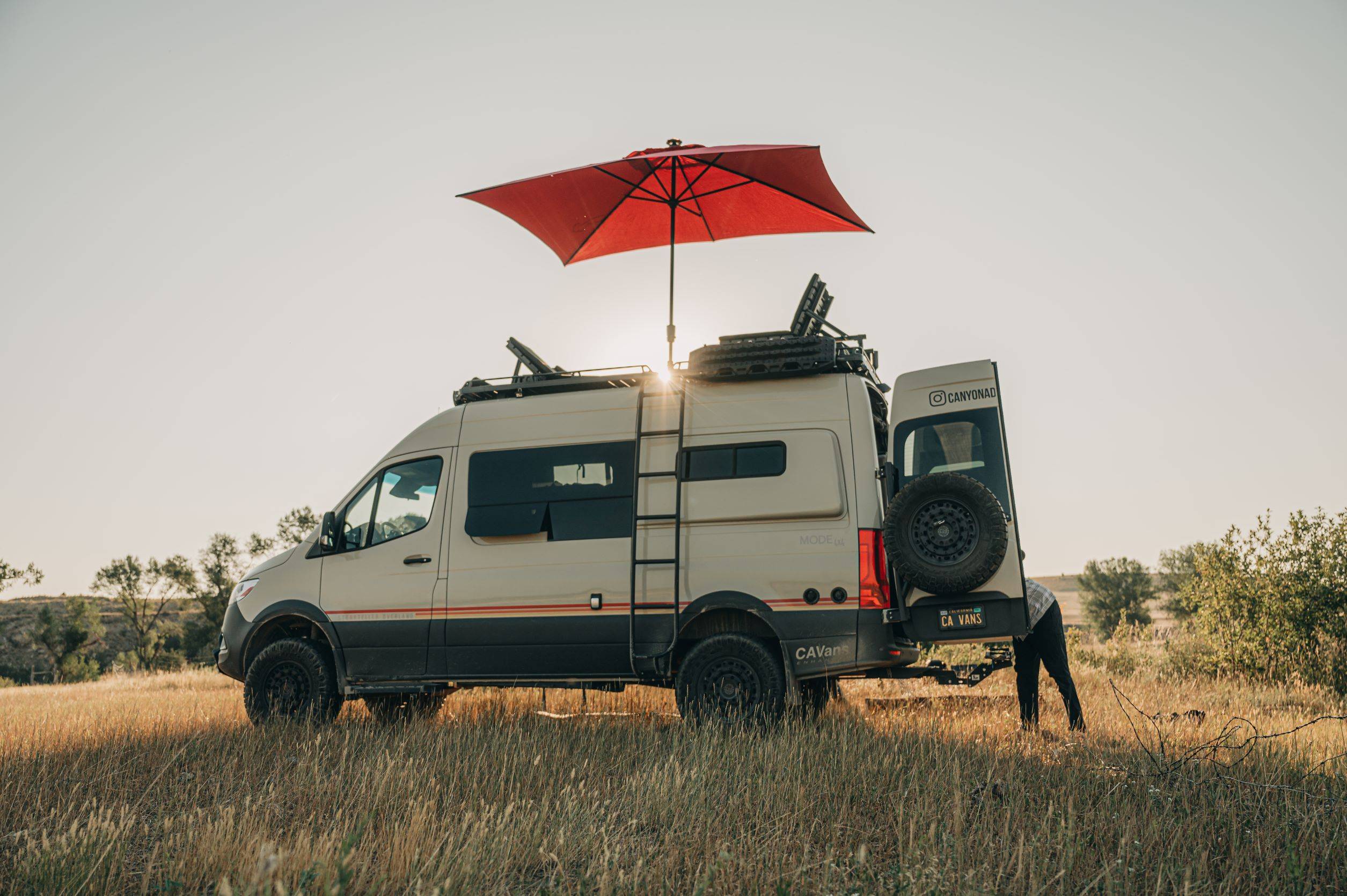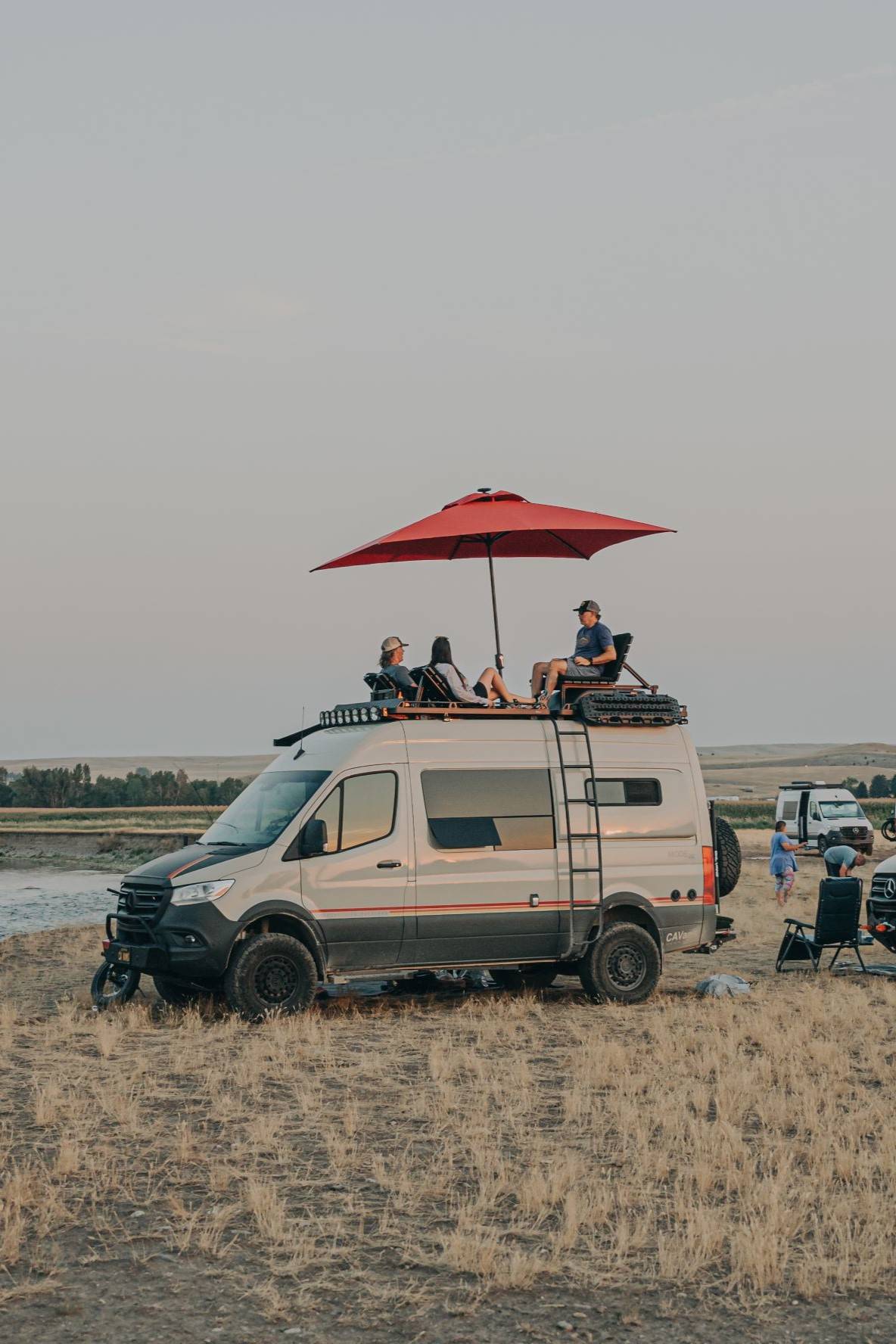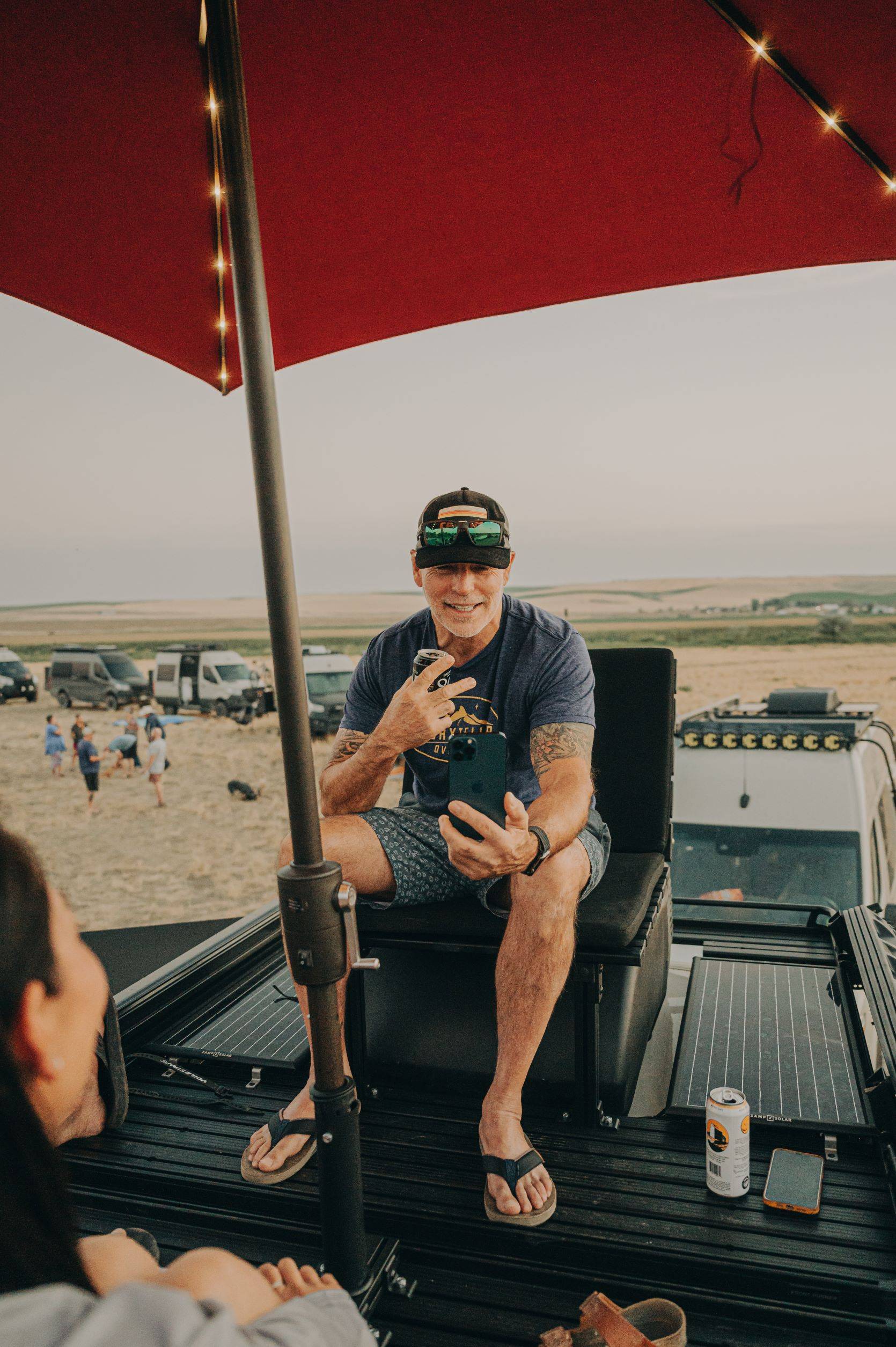 Emma Walmsmith said she was on of the first customers to have a UDSS installed on her
Classic MODE
. She recently switched to an
LT
and got the UDSS installed on that van, too.
"When I first saw the umbrella up on Jason Vigil's van in Logan, Utah, at an Adventure Van Expo, my first thought was, 'That's ridiculous,'" she said. "But once I climbed that ladder, I thought, wow. This is a whole new usable space on a 144" wheelbase. It's like having a beautiful front porch you can sit at your house."
3. To Belay Your Rock Climbing Partner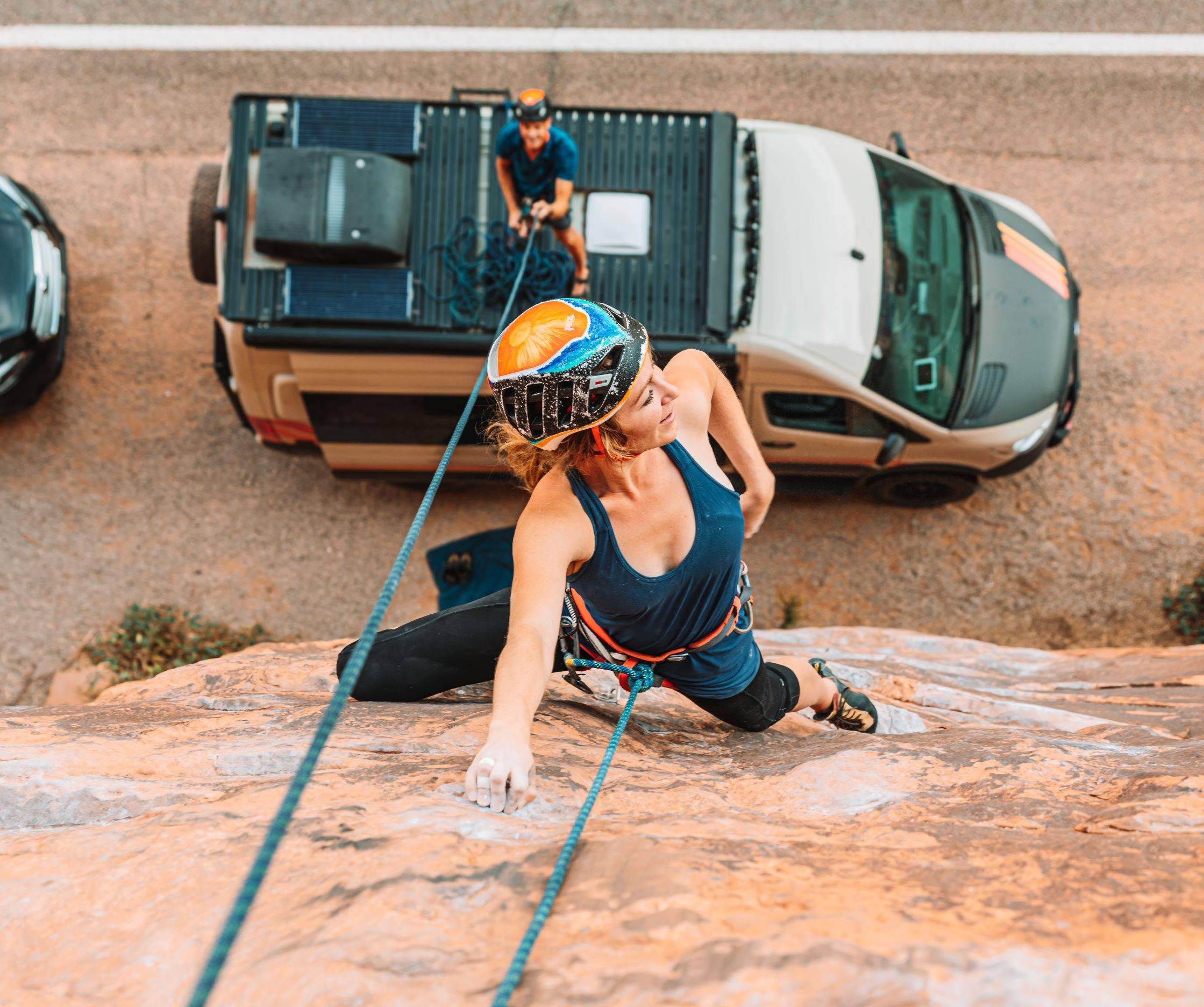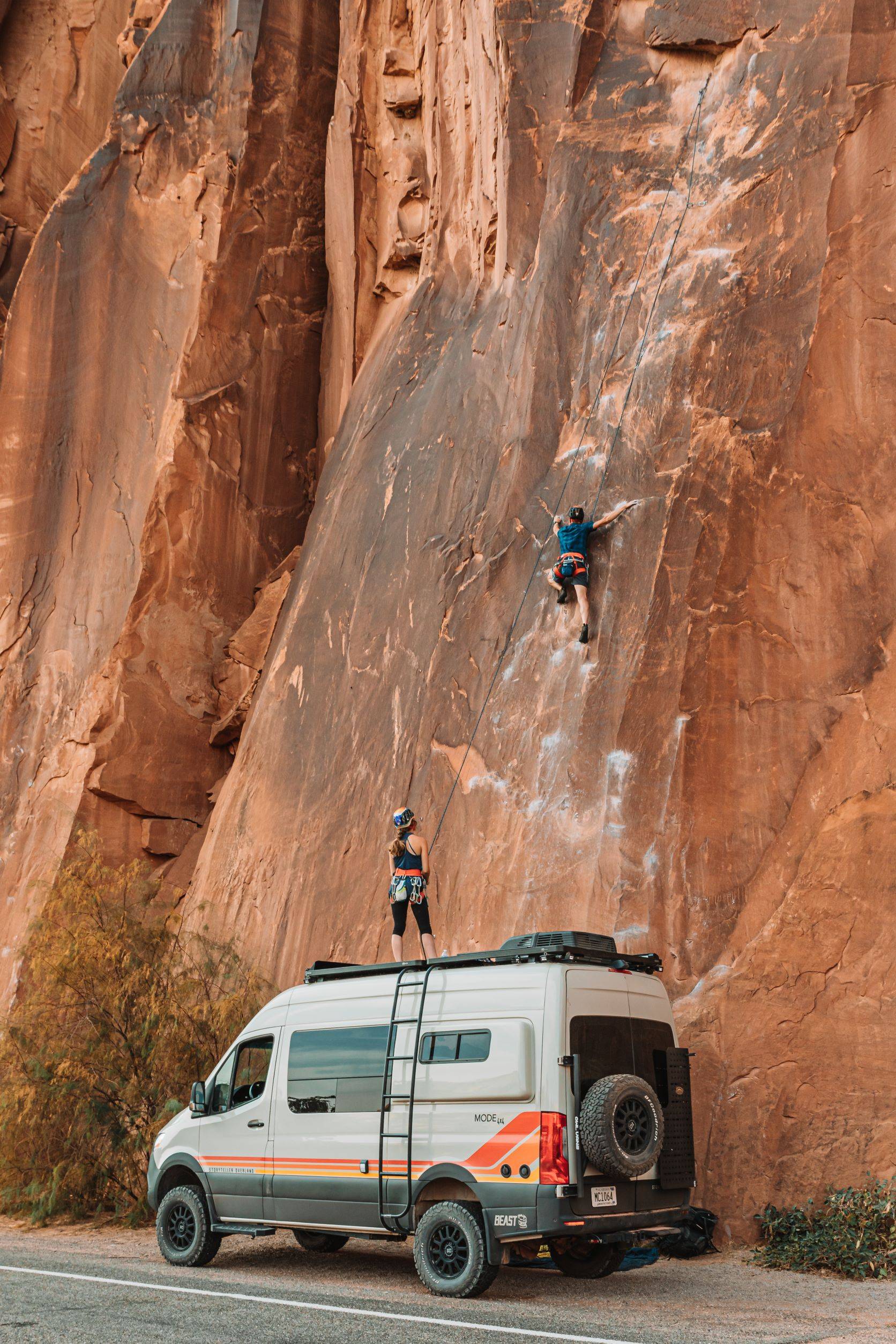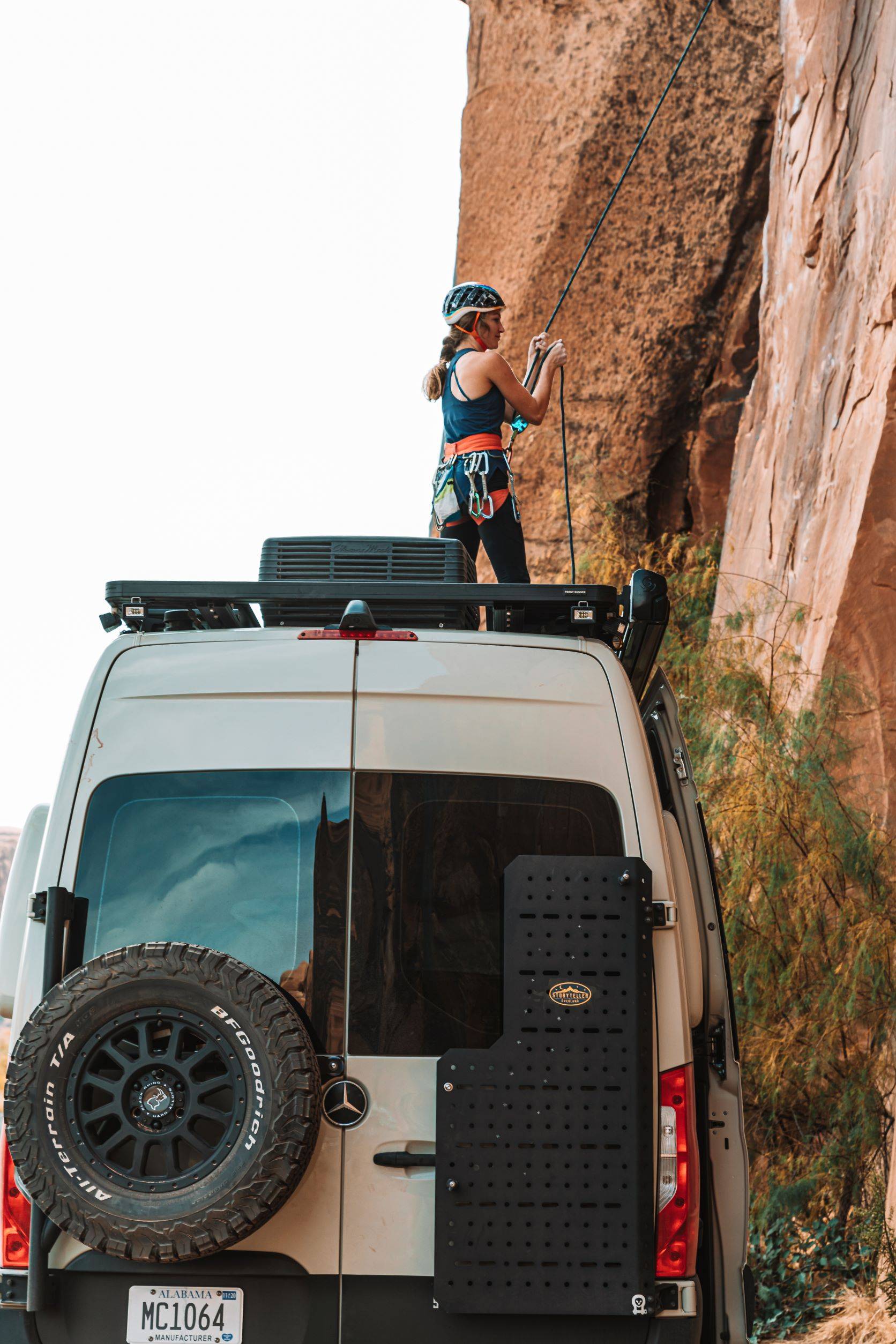 Honey and Dusty Davis
are a world-traveling father-daughter climbing duo. We met them in Moab, Utah in 2021 to hear their story and capture some of their talent on video.
"Wall Street is famous for being able to climb some incredible routes from the very road you parked at, so of course, we had to use the
Beast MODE
," said Creative Director Amy Sibert.
This photo was also recently featured on the cover of RV-PRO magazine –
check it out
!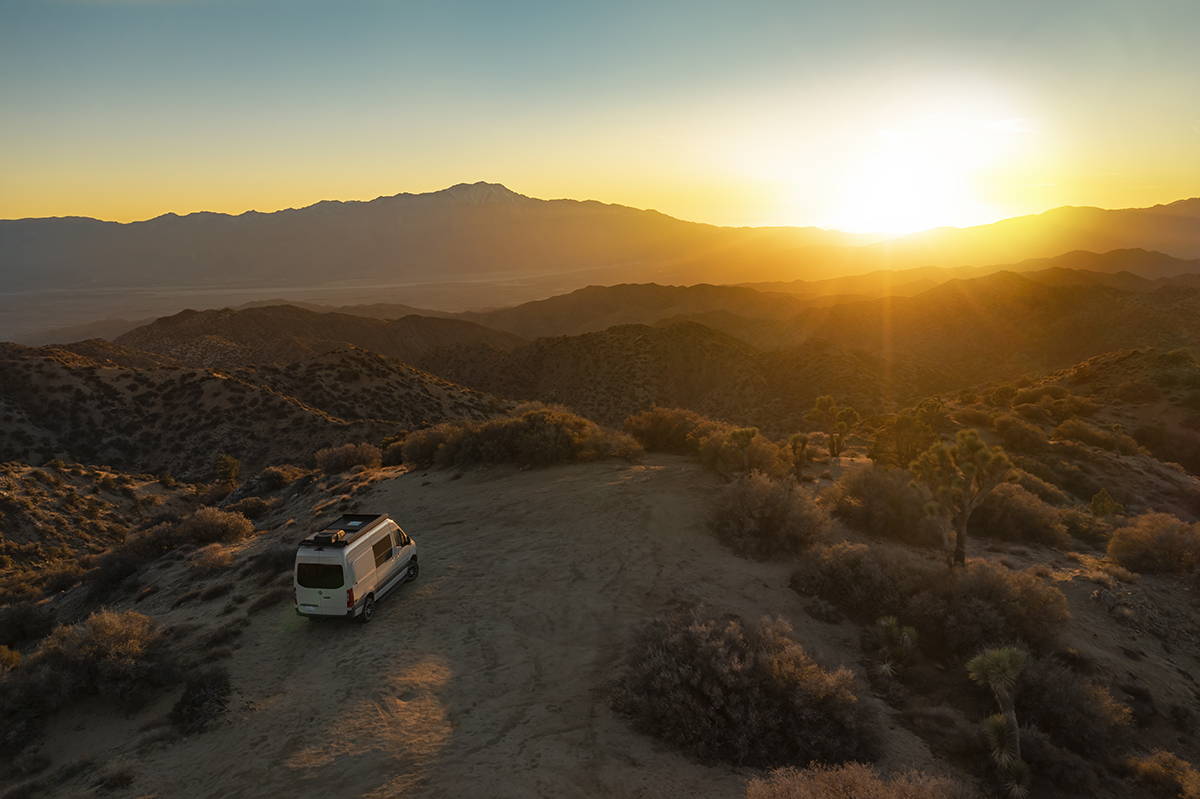 Classic MODE owner
Peng Shi
, who affectionately calls his van Doughboy, is a travel photographer who shares his van with his sister, Jing.
Sometimes when he's taking a photo, he realizes he needs to be higher up to get the best shot. He can climb up the ladder to his Storyteller Overland roof rack to do just that.
"If your shot angle is too low, you can't see much, but if you stand up at a higher angle, you get a little more dimension," he said.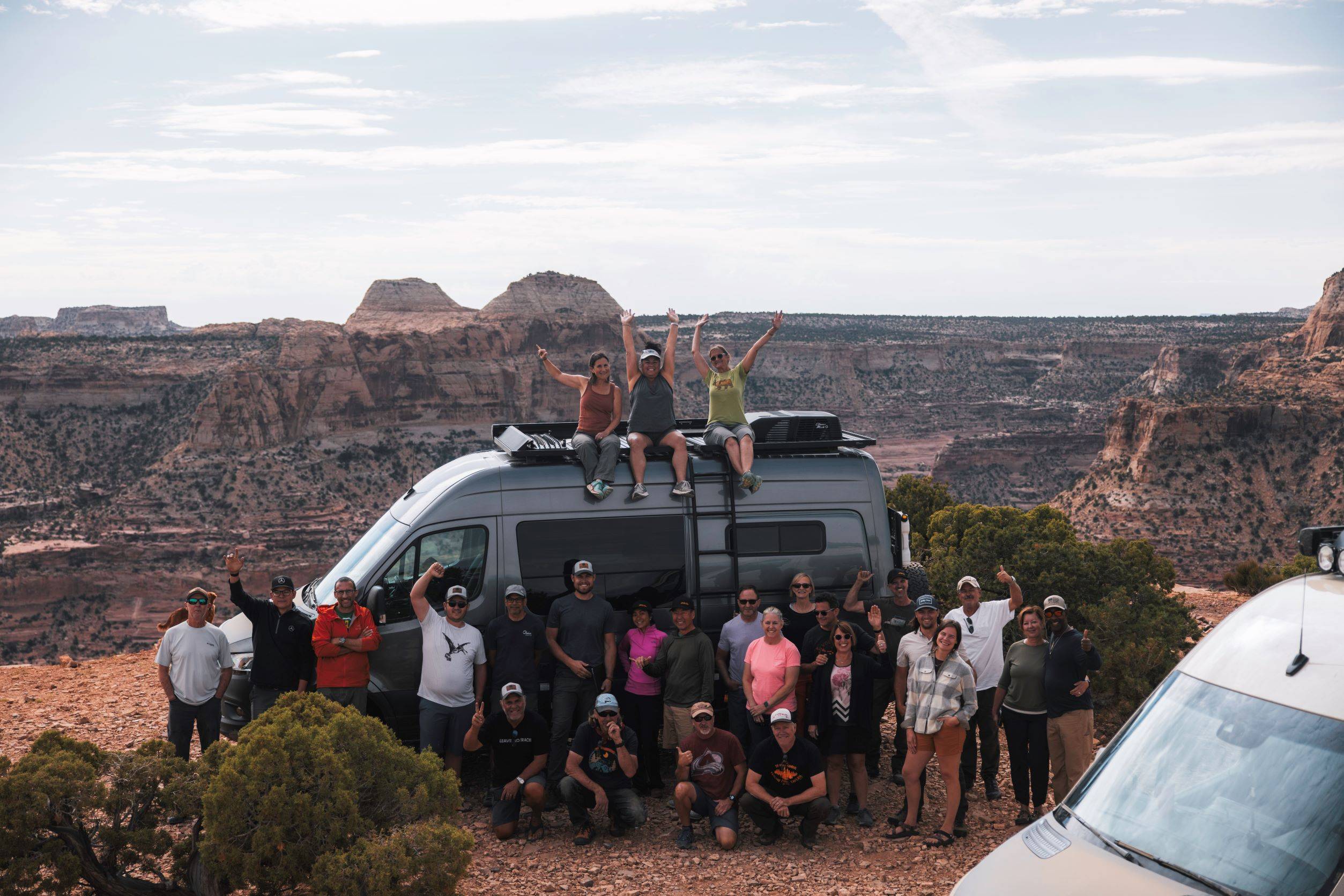 Taking a big group photo? Get a few of your friends to pose from the roof rack for a more epic shot. The above picture is the September 2022
Beyond the Pavement
group spending a weekend overlanding and building community in Utah.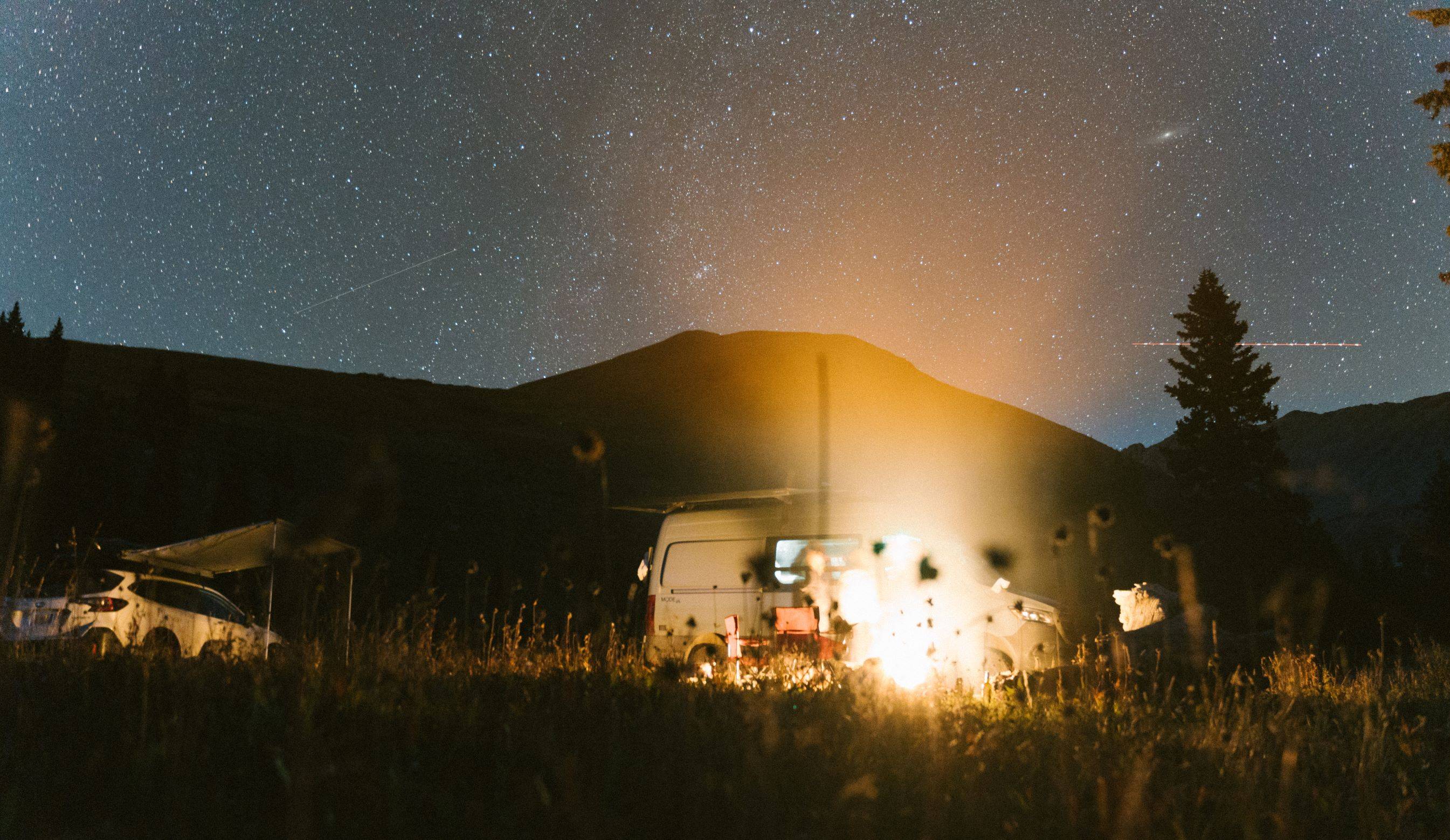 One of the best things about vanlife is being able to spend the night far away from civilization. This typically means less noise and better views of the night sky.
"T
he stars were breathtaking, and all you could hear was the sounds of nature in the night air," she said.
How do you use your Storyteller roof rack? Let us know!