How to find places to camp in your van
From BLM land to national parks and truck stops, you can find thousands of places to camp in your van all over the country.
SEPT. 11, 2023 | BY INGRID SCHNADER ELLIS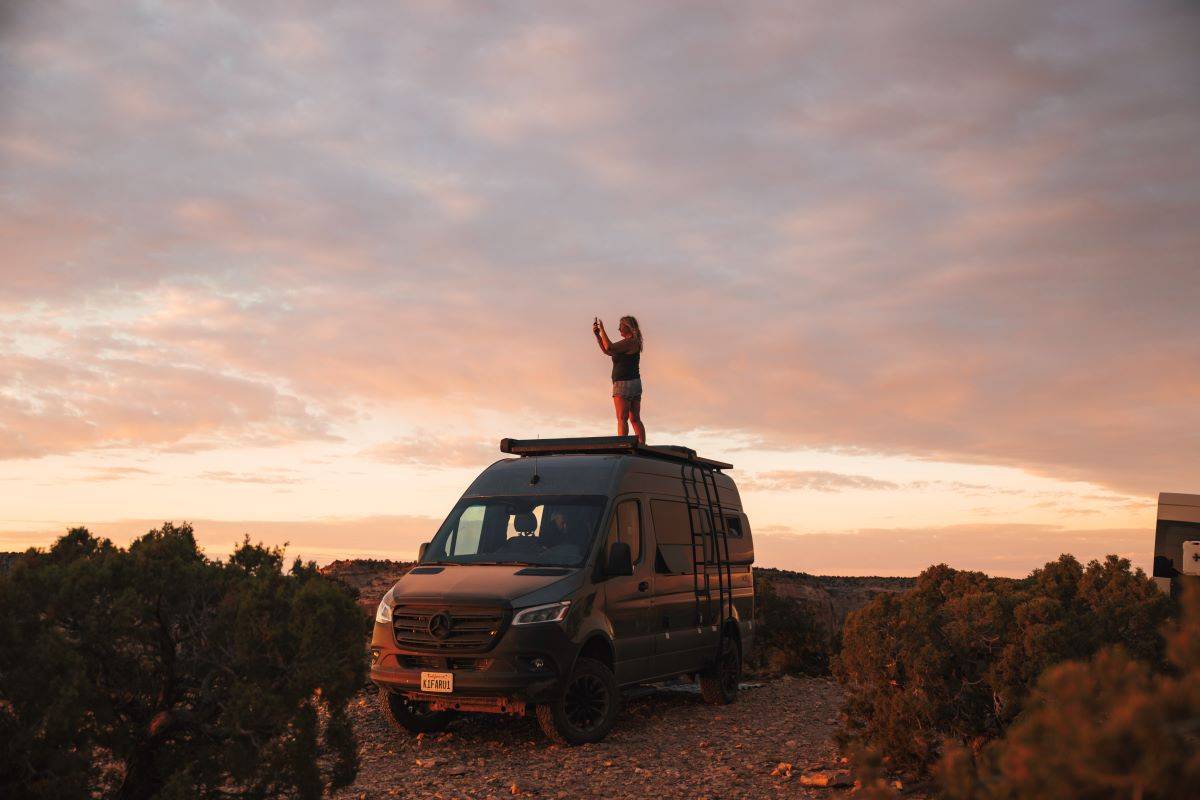 Sunrises over Yosemite. Cool ocean breezes blowing in while you make your morning coffee. Waking up at the base of a rock wall you plan to climb.
No matter where you wake up, one of the best parts of vanlife is being able to camp wherever you want.
If you've spent your whole life sleeping in houses, the thought of finding a place to sleep might be a little overwhelming. Have no fear — here's a breakdown of how you can find places to camp in your van.
Pros: You'll have a dedicated space reserved. Typically also has amenities like bathrooms, showers, and sometimes wifi.
Cons: You'll be around other people. You need to book in advance. Can get expensive.
By dedicated campsites, we mean campsites at national/state parks, private campgrounds and more that you can book in advance.
If you're wanting to stay at a popular national park, like Yosemite, you'll need to check when reservations are open for your date and try to be first in line. These campsites can sell out in seconds! You'll have an easier time booking campsites at less popular national parks and at most state parks.
Staying at these dedicated campsites is great because once you have your reservation, you don't need to worry about finding a spot. You can just pull into your reserved space and get cozy. There are also typically bathrooms, showers, security, and sometimes even wifi.
If being around people isn't your thing, though, this may not be the campsite type for you. Although campers are generally respectful of noise levels (and there are typically posted quiet hours), you'll probably be around a lot of people, and sometimes the campsites are close together.
Plus if you're a last-minute person, it may be hard for you to find open reservations at dedicated campsites.
Here are some websites for finding dedicated campsites:
Pros: More personal than dedicated campsites. You can get to know your hosts and others in the RV/vanlife community. There are thousands of available locations to camp across the US.
Cons: You'll need an annual membership and will be expected to shop at the host's business, so there is a little cost involved.
Harvest Hosts
is a membership-based RV camping platform that allows you to stay at farms, wineries, breweries, and more all over the country. Membership pricing starts at $99 a year, which gives you over 4,800 possible boondocking locations. Although you don't have to pay any additional camping fees after the membership cost, it is encouraged for you to shop the host's business in some way, such as buying a bottle of wine or some local produce.
"For us, Harvest Hosts is great for those times we're driving cross country and need a place to stay along our route," they said in their review. "A Harvest Hosts experience is so much more enjoyable than staying in a Walmart parking lot, overnight parking at a truck stop or boondocking at Cracker Barrel. Plus, we get to experience whatever our host has to offer and we haven't been disappointed yet."
Another thing the Russos love about Harvest Hosts is the built in community (and
community
is what we're all about at Storyteller Overland!). "We've met some great people along the way that we stay in touch with," the Russos said. "Especially if you're new to RVing, it's a great way to find and build community on the road."
Pros: You can *typically* stay up to two weeks without leaving at no cost
Cons: No reservations, so your ideal campsite could be crowded. Typically no amenities. Requires research to find good spots.
Dispersed camping is camping on free land, away from dedicated campsites (and people). This is great for those who want solitude and beautiful scenery without having to pay a fee.
There are a few different types of free land where you can find dispersed camping:
You'll need to do a little research to find the good spots. Our friend
Merrisa Petersen
said she parks her van in dispersed camping most often, and she uses an app called
iOverlander
to find camping.
"Most places have a 14 day max," she said. "I don't often get to enjoy all 14 days though, usually after a week or so I need to go into town and restock on supplies, or I need to drive and recharge my van. Then it's on to the next spot!"
The great thing about dispersed camping is it's totally free. No reservations either – just show up and set up camp.
Depending on where you are though, this may not be an option. It's almost impossible to find dispersed camping in more developed areas of the US, such as the East coast.
Another thing to keep in mind about dispersed camping is that you'll need to be 100% self contained. There won't be any RV hookups, filtered water, or places to dump waste available. You'll need to leave no trace. This is no problem if you're in a van like Storyteller Overland's MODE vans, because you'll have heat, A/C, running water, a hot shower, bathroom and more. But if your setup doesn't have any amenities, you'll be roughing it at a dispersed camping site.
Pros: No cost, typically easy to find along your road trip
Cons: These businesses could have different rules at different locations, so you'll need to look out for signs banning overnight parking. Not typically scenic.
Public parking lots all over the country allow free overnight parking. Here are some examples:
Cracker Barrel
Walmart
Truck stops (like Flying J, Love's, Pilot and more)
Highway rest areas
Bass Pro Shops
Cabela's
The great thing about sleeping in public parking lots is that these lots are typically right off the interstate, making them great for long road trips where you don't want to go too far out of the way. And there might be a 24-hour restroom available, depending on the type of public parking lot.
You need to pay attention though and look for any signs banning overnight parking. For example, while some Walmarts are totally fine with overnight parking, it's banned at other locations. You could also call the store manager ahead of time and check with them.
These lots aren't exactly scenic either, so if you got into vanlife because you wanted to wake up to amazing views, you might be disappointed by these camping spots.
Another con is noise and light pollution. Especially if you're at a 24-hour spot, like a highway rest area or truck stop, there could be people driving or walking past your van all night long. Storyteller Overland vans come with excellent window covers and insulation, but you may be easily disturbed by outside lights and noises if you're traveling in another type of van.
5. Your friend's driveway
Pros: No cost, plus you get to see your friends
Cons: You don't want to overstay your welcome ;)
When
Nick and Mal
took a year long sabbatical in a Stealth MODE van, they spent many of their nights staying on the curb or driveway of their friends and family all over the country.
"We laugh about how we get the opportunity to be their neighbor for a few days," Mal said. "We would go in, have meals with them and hang out, but then we'd come back at night and sleep in our 'home.' So that's been fun, feeling like we're neighbors with our friends and family."
You'll get to use some of your friend's amenities while you're there. Plus it's an excellent excuse to reconnect with people you haven't seen in a while.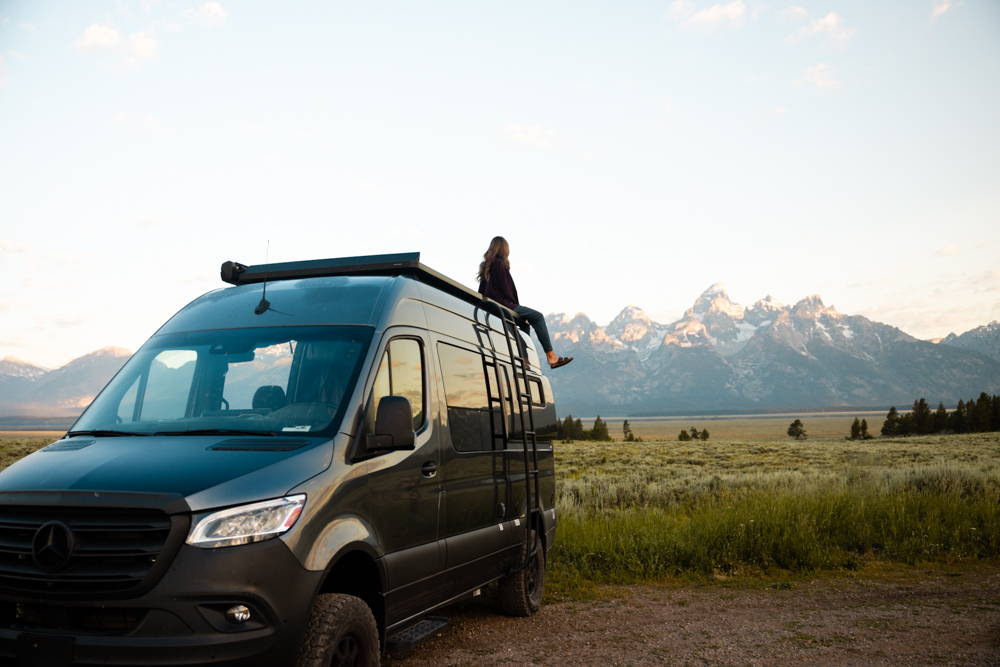 Are you ready to see for yourself what it's like to travel the country and wake up in unique places? Click the button below to find your dream adventure van!