Storyteller Overland Featured on Front Cover of RV-PRO
John McCurry recently spoke to Storyteller's CEO Jeffrey Hunter and CRO Andrew Cooley for an article that appeared on the front cover of RV-PRO's October issue.
We know we're biased, but we think this may be the raddest cover ever. The photo features Honey and Dusty Davis climbing up a rock face in Moab, Utah.
Read the story below or click the cover photo to read the story on RV-Pro.com!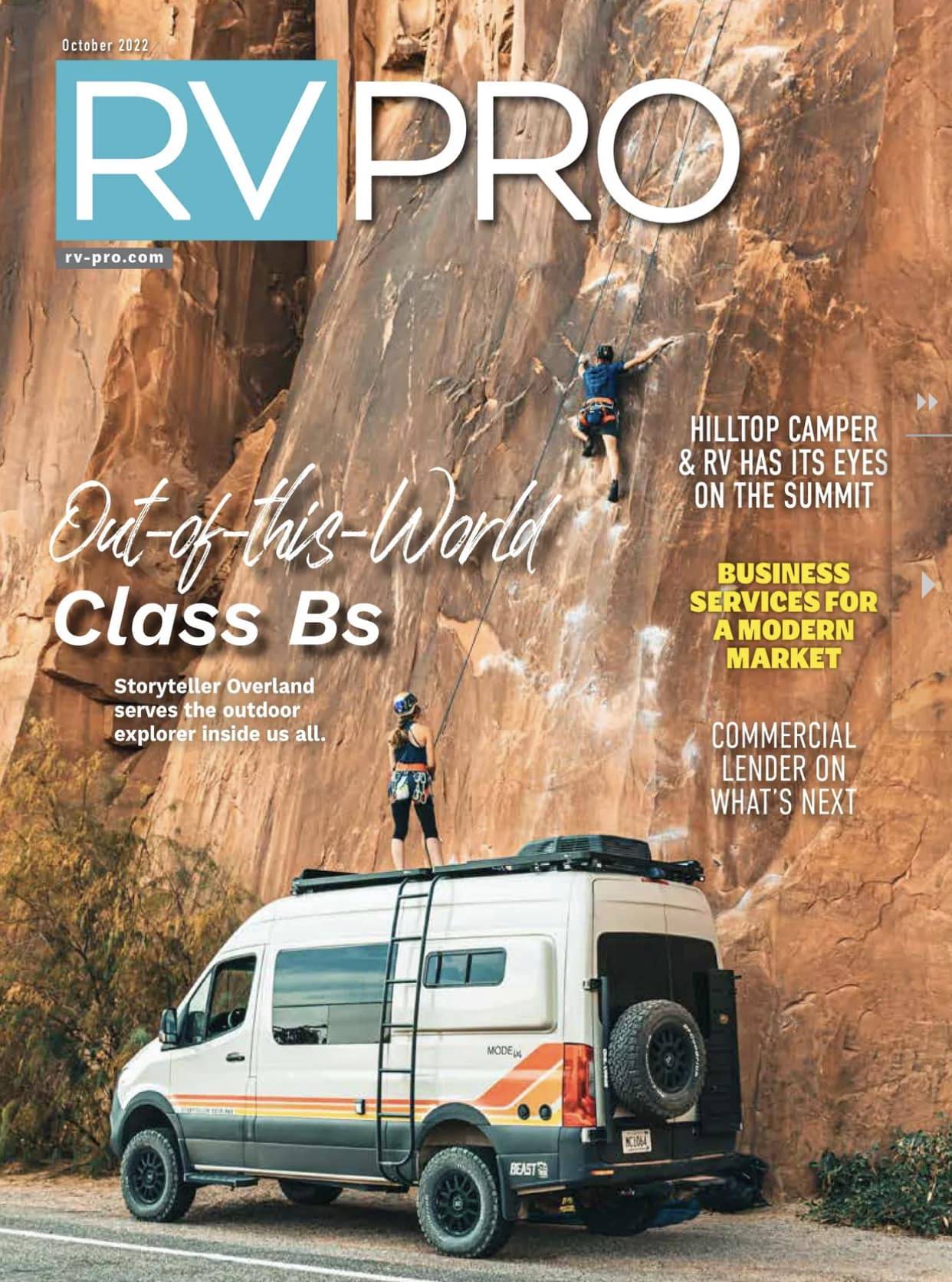 Out-of-this-World Class Bs: Storyteller Overland serves the outdoor explorer inside us all.
Live Free. Explore Endlessly. Tell Better Stories.
The catchy slogan of Birmingham, Alabama,-based Class B RV builder Storyteller Overland aptly sums up the attitude of the fledgling firm's founders and its growing customer base. Founded in 2018, the company has rapidly made a name for itself in the luxury adventure van segment.
Andrew Cooley, a company co-founder and its chief revenue officer, describes Storyteller's customers as being anyone open for new adventures. These modern-day explorers typically don't care to stay at traditional campsites.
"They want to go to the places that no one else goes to," Cooley says. "They want to be able to run everything while they are there. There is no certain demographic or pattern. Our customer is anyone who is seeking adventure and wants to explore the countryside."
Popularity of adventure vans is increasing rapidly, and the trend seems to be moving eastward. Most customers have been located in the West, but Cooley says the number of aficionados in the East is growing.
"The European influence and the influence of the younger generation is building interest in having a small space they can park anywhere," he says.
Storyteller produces four models, or MODEs, as the company refers to them, with MSRPs ranging from $171,429 to $218,620. Each one has a unique trim level and no options, making it simple for dealers to sell, according to Cooley
The lineup of 4X4 vehicles starts with the MODE LT, built on a Ford Transit AWD. The name is a play on words, paying tribute to the Ford Model T. The other three models are built on Mercedes-Benz Sprinter vans. The Classic MODE was the first Storyteller model and the Stealth MODE offers a stealthy look with dark trim features, Cooley says. The Beast MODE is the top-of-the-line model with every available feature.
"Our vans harken back to the first RVs, because they are small, 19.5 feet," Cooley says. "They have to do multiple things in a small space. There are several flex spaces. You can flex the bed up and out, you can flex the shower in and out. We want the van to fit any mode of life that you find yourself in."
Storyteller is a Mercedes-certified master upfitter, a designation the company relishes.
"We look at that as a point of pride, that someone like Mercedes Benz looks at us as a manufacturer that is doing things differently," Cooley says. "When you send a chassis to Storyteller, it actually improves the RV ecosystem because of how they are sold."
The Origins of Storyteller Overland
Storyteller Overland is the brainchild of Jeffrey Hunter, who previously served as executive officer with McSweeney Designs, a second-stage automotive company that focused on high-end custom vehicles. Looking for new challenges, and keenly aware of the uniqueness of the van community, he was inspired to develop something new.
"We were thinking that if you really came up with a flexible adaptive interior, and you used the best of the best materials, and you made it easy to buy and easy to insure and easy to service, then you could take a lot of the headache and heartache out of that pure custom process," he recalls.
Hunter says he and his partners were drawn together due to a personal interest in the outdoor lifestyle community. They wanted to develop an RV where someone could "just turn a key and follow a compass direction and pursue their adventure, instead of spending all their nights and weekends trying to figure out how to build their own van."
In addition to Cooley, Hunter's other co-founder is Lee Conn, who has an extensive background in motorcycle manufacturing. Conn serves as COO. Hunter connected to Cooley through his dad, long-time Alabama RV dealer Jim "Dandy" Cooley. The elder Cooley is now chief investor in Storyteller and a member of its board of directors.
The younger Cooley is a fourth-generation RV dealer who brought youthful energy and forward thinking to the effort. Hunter credits Cooley's "tireless research" and industry connections as a major reason for the company's success.
"We wanted to build the organization from Day One to be directly responsive not just to the sales side, but to partner effectively with the dealer network to set up a sales and service network, and to build infrastructure to be immediately responsive to the customer with tech support and warranty needs," Hunter says. "That was what we saw as a real missing piece in the industry. He built what we consider the most well-crafted nationwide dealer network that anyone has ever started out with."
Hunter credits Alabama's strong automotive industry for providing a foundation for the RV sector to flourish. That helps establish a pool of skilled workers.
"Alabama has been stellar all around as a place to do business for us," he says. "They have attracted world-class manufacturers to the state, such as Mercedes Benz and Toyota and Honda. A lot of great companies are right in our backyard. It has helped to cultivate a group of highly skilled, qualified and creative craftsmen and technicians."
Hunter attributes the company's success to the creation of a great team of designers, engineers and marketers who carry out the founders' vision. He describes his role as setting the compass for Storyteller's direction and creating the brand's philosophy. He then lets his team execute the strategy and run day-to-day operations.
Adventurers and Explorers
The company's name has an interesting origin. Hunter says it was a response to what he heard from the RV community who desired this type of vehicle and type of travel.
"You could hear it in the voices and the passion of the people, those who are looking for new adventures out beyond the edge of the map, and to commune with people who are on the same type of journey," he recalls. "They are people with diverse and fascinating backgrounds who want to share their stories. We want to inspire and equip the next generation of storytellers."
Cooley says Storyteller views its dealers not as customers, but as partners, serving the shared customer. That philosophy helps set Storyteller apart from other manufacturers.
"Most manufacturers look at the dealer as their customer," Cooley says. "All of our programs have been designed in a way to support a sustainable pathway to profitability for our dealers, while simultaneously being just as advantageous to the consumers."
Storyteller currently has 53 service locations and nine dealers across the U.S. Units are sold at 36 of the service locations.
"We are a small manufacturer, and we may never produce more than 1,400 to 1,600 units per year," Cooley says. "We want to ensure that the dealers get four turns a year from our product."
Stellar Features
One aspect of Storyteller units that sets it apart, Cooley says, is its power system.
"Our unique power system allows you to have full power when you are there," Cooley says. "Now, everywhere is your campsite and there is nowhere you can't go. We call it an energy system. It can run your AC unit for 10 to 12 hours, even in the southeastern heat and humidity. As you drive down the road, an additional alternator recharges your engine. That way, you have power in national parks, where you are not allowed to run a generator."
Cooley touts the quality of materials Storyteller uses to build its van as being crucial to the company's appeal.
"Our goal was to get custom-level fit and finish to the marketplace at a mass-produced price," he says. "I feel that we have nailed about 60% of what people are looking for, and our customers love to customize our vans, and make them uniquely theirs. They can continue to customize after purchase as well."
Increased demand for Storyteller units made it possible for the company to move into a new facility in August. Cooley wryly refers to the 100,000-square-foot building as the "Storyteller Intergalactic Headquarters." The company's former headquarters will be home to Global Expedition Vehicles, an adventure truck builder the company purchased in January.
"We are already looking around our new space and wondering if we need to expand," Cooley says. "It's a good problem to have."
To Infinity and Beyond
Hunter and Cooley agree that 2022 is shaping up as Storyteller's best year yet, barring supply chain interruptions.
Hunter says Storyteller spent its first four years building a strong foundation and is now ready to build on it.
"We believe our best ideas are ahead of us," he says. "It's fun to take our unique and creative mode and build on it. We want to listen to our customers and see where we want to head next. We hope to be a good steward of the industry we are a part of, and the outdoor lifestyle and adventure travel community we serve."
Production increases in 2022 validate the founders' optimism. In August, Storyteller was building units at a rate of 50 to 55 per month. Cooley expects that to rise to 75 to 90 per month by the fourth quarter.
"We believe the best is in front of us," Cooley says. "All the things that are happening in the world today has made the mindset go from 'I don't want to end up living in a van down by the river,' to now it's more like, 'Wow, I wish I had a van down by the river.' Just to turn everything off and get away, to get back to real life."