Road tripping in a VW bus and a Storyteller Overland van
In this road trip, Hunter and Hannah (@packthebus on Instagram) got to experience where vanlife started and where it's headed.
JUNE 5, 2023 | BY INGRID SCHNADER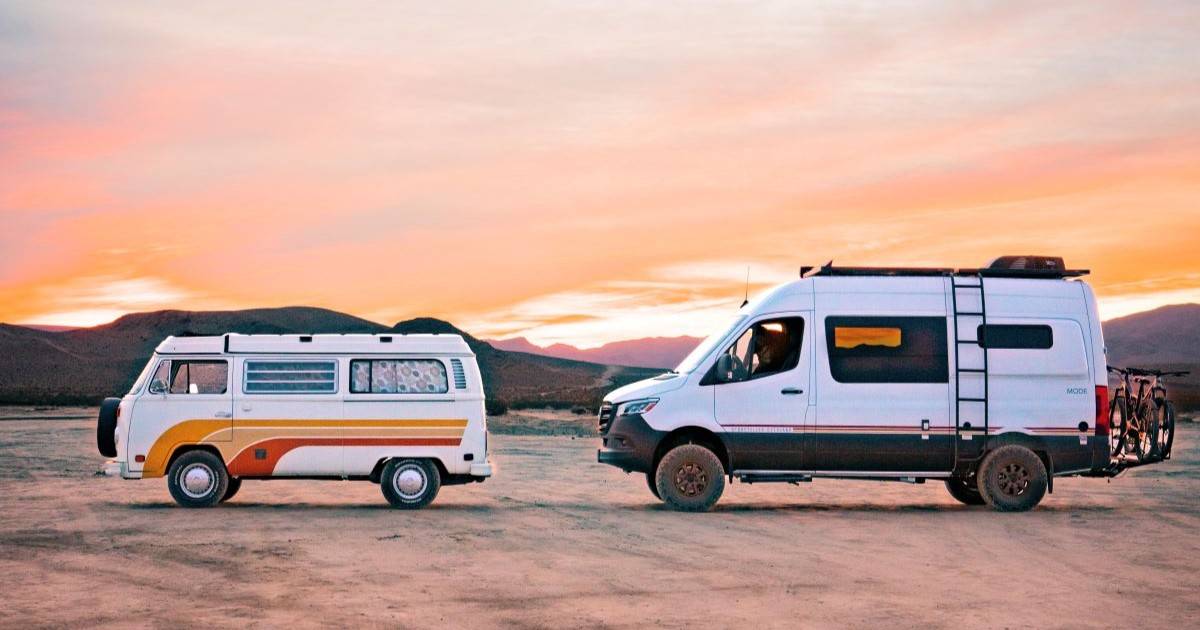 Hunter and Hannah know firsthand where vanlife started. Their 1974 Volkswagen Westfalia Bus, named Luna, has its original cabinetry and looks almost the exact same way it did 50 years ago, albeit with the addition of some retro orange striping on its exterior. They've been traveling in Luna for more than a year now, exploring national parks and documenting their adventures on Instagram at @packthebus.
So they've seen where vanlife started… next, they wanted to see where vanlife is headed.
They borrowed a Storyteller Overland Classic MODE and went on a two-week road trip with Hunter's parents, caravaning together through California, Nevada and Utah.
"My parents used to take me camping, but we haven't gone together in a long time," Hunter said. "The last time I remember camping with them was 20-something years ago."
One of the first national parks Hunter remembers going to was Zion National Park, so they decided that would be the destination for their road trip with Hunter's parents.
"We got to flip the script," Hunter said. "They took me to my first national park, and now we got to take them back and show them how we travel and what vanlife is like. It was such a rewarding experience to take them back to a familiar place."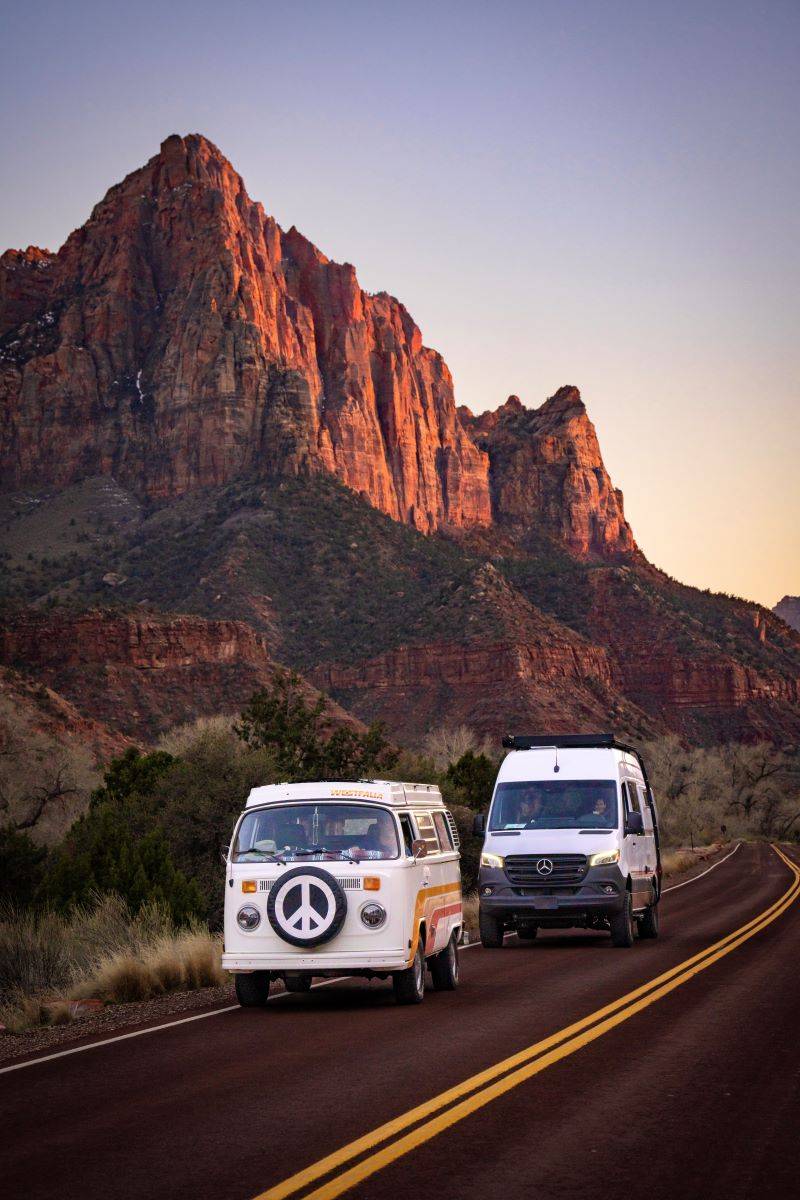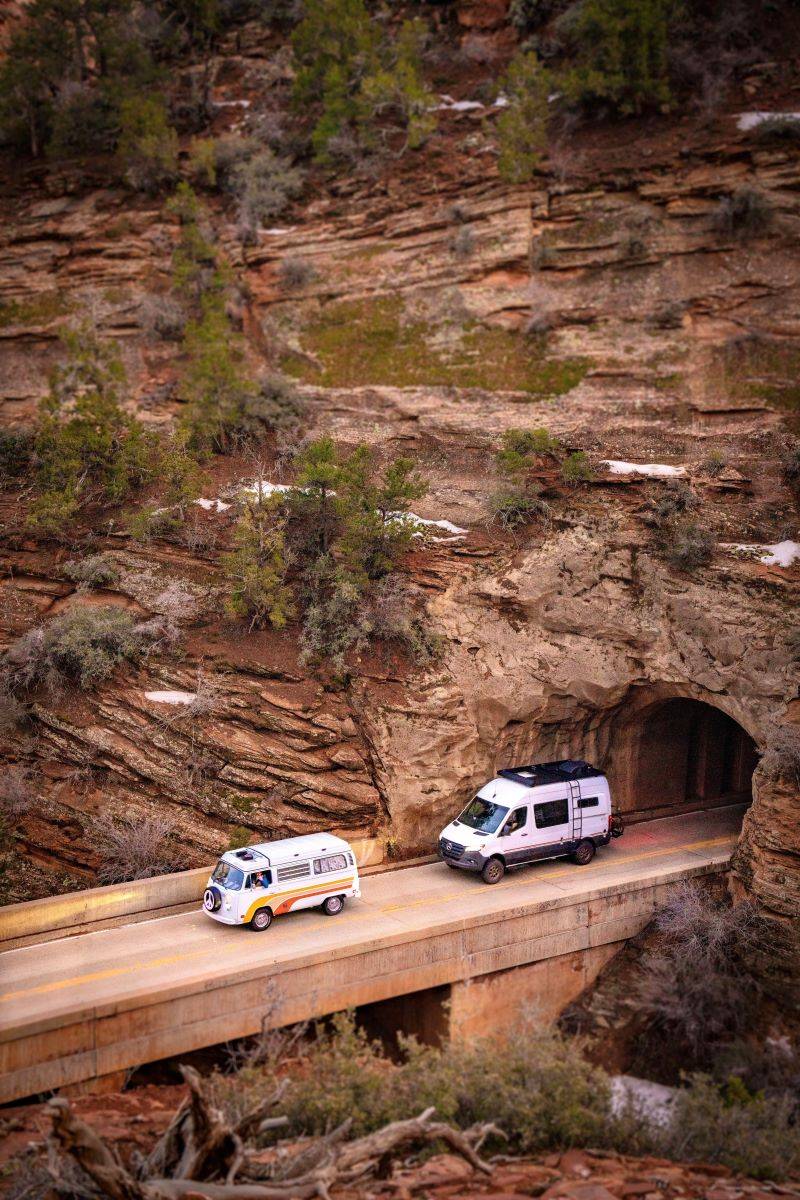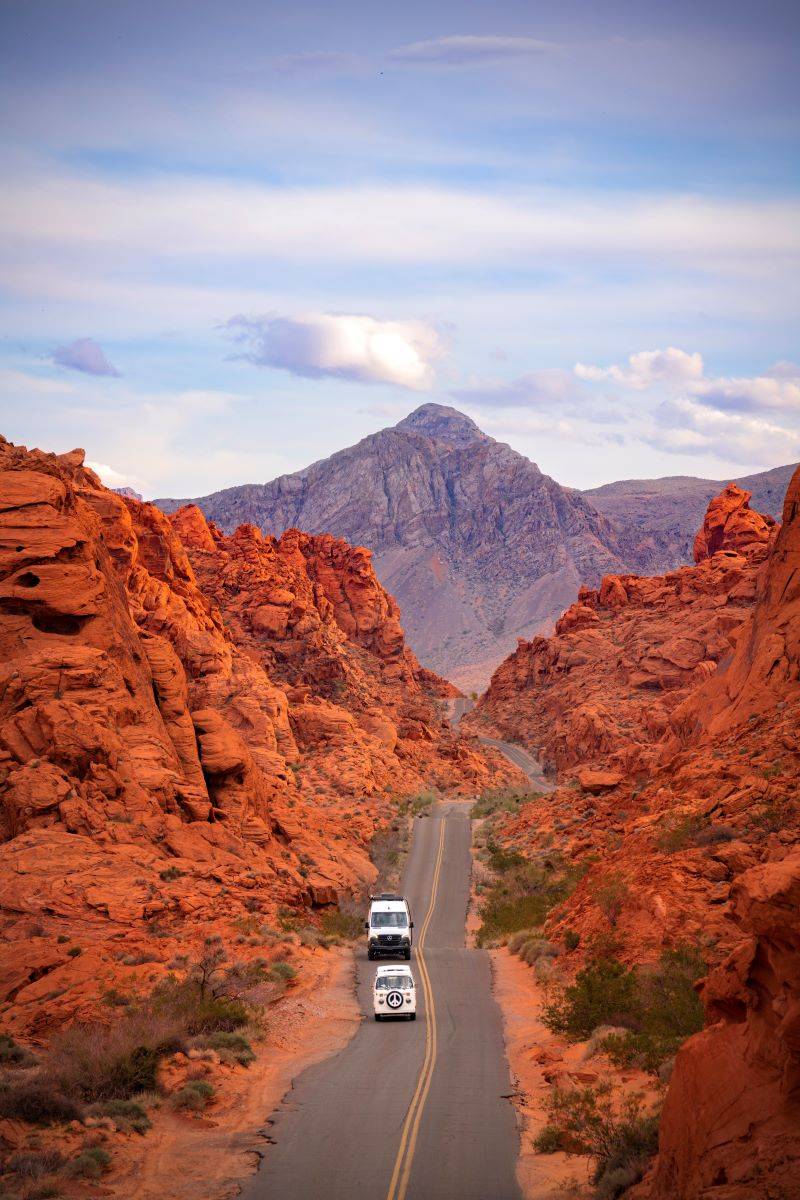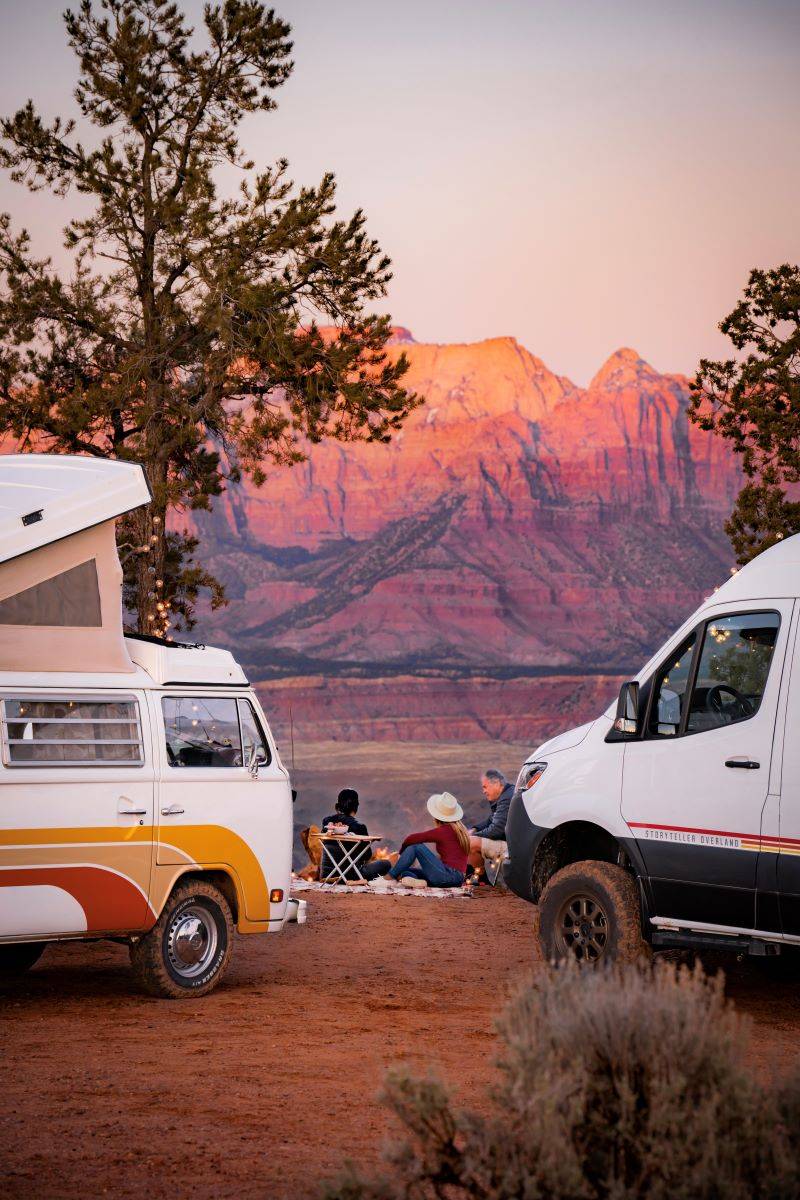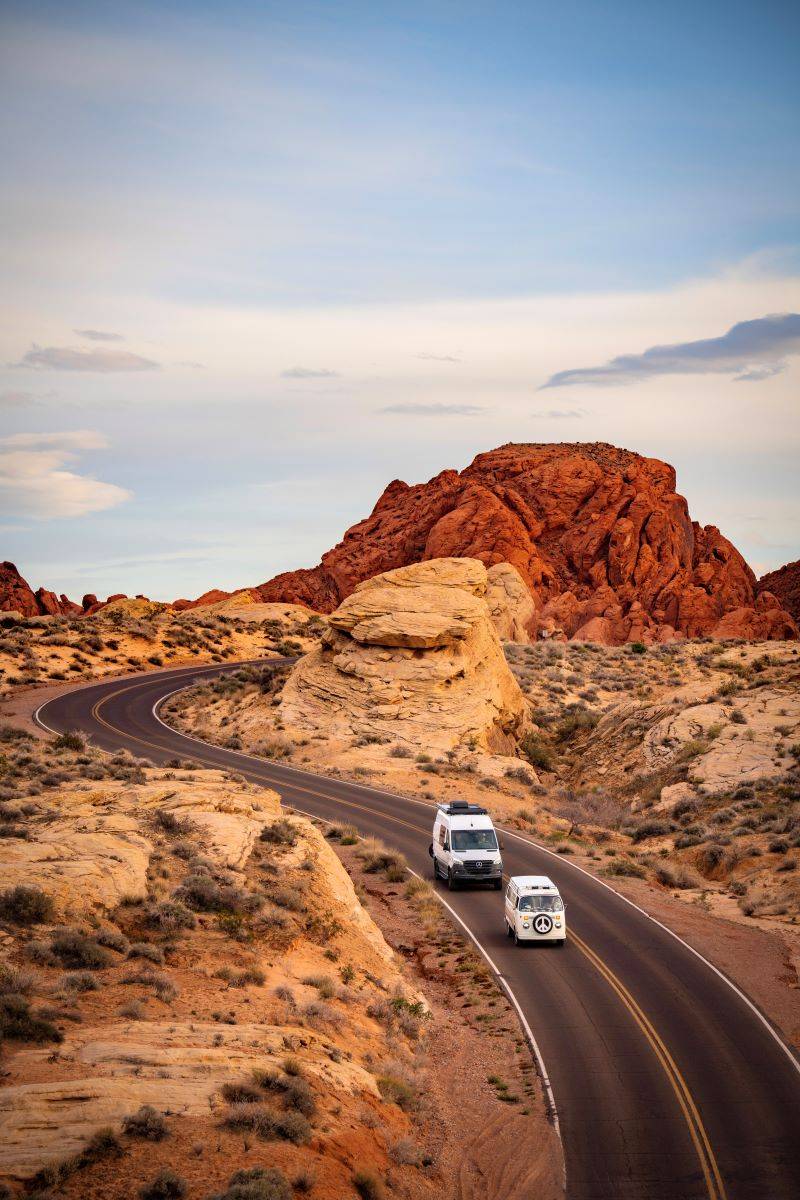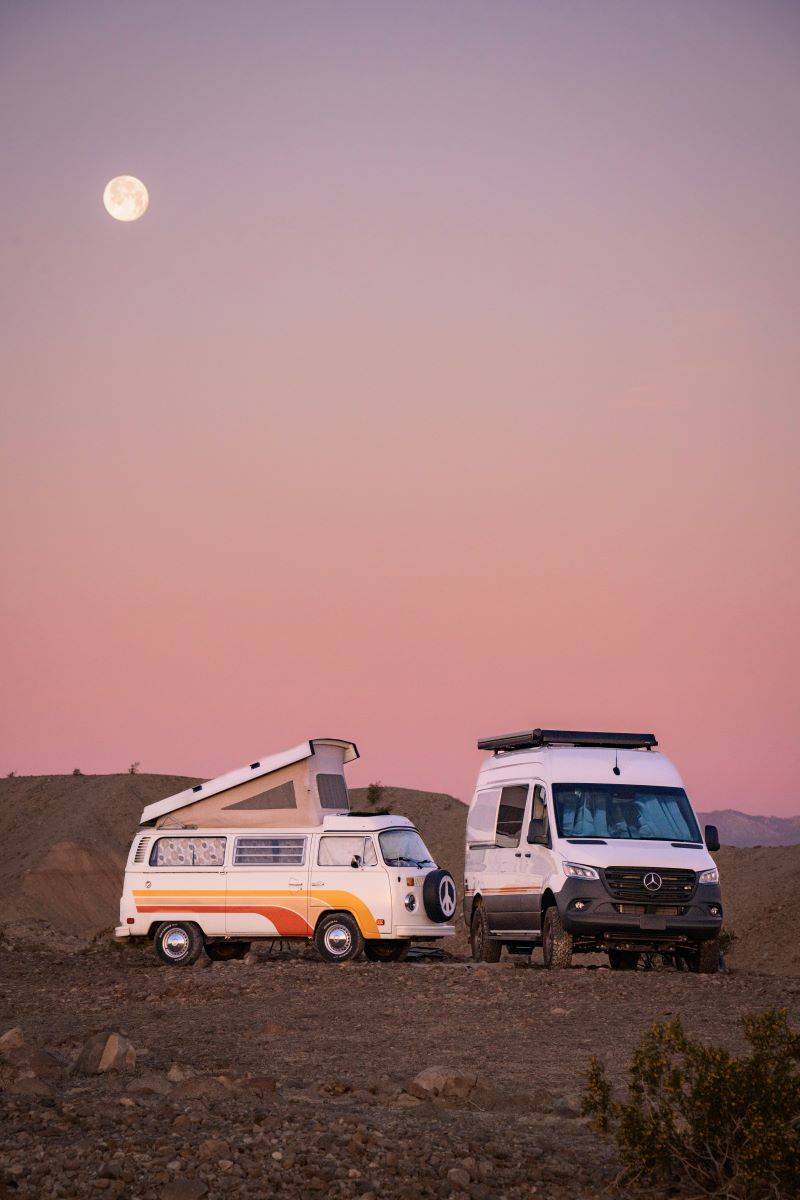 Although the Storyteller Classic MODE and the Volkswagen Bus are very different, one thing Hunter says they have in common is that they're "both built complete by extraordinary van builders." Similar to Storyteller Overland, their Volkswagen rolled off the lot in the 1970's ready to go camping, no further modifications necessary.
"A lot of people think that in order for you to get into the vanlife world that you have to go through the DIY process of completely gutting a van and starting from scratch," he said. "While that works for a lot of people, a lot of other people just want to get on the road and start experiencing life immediately.
"When we bought our van complete, we hit the road instantly, which was one of the biggest gifts we could have had. We were able to skip all the long nights sitting in the driveway working on the van and start our adventure."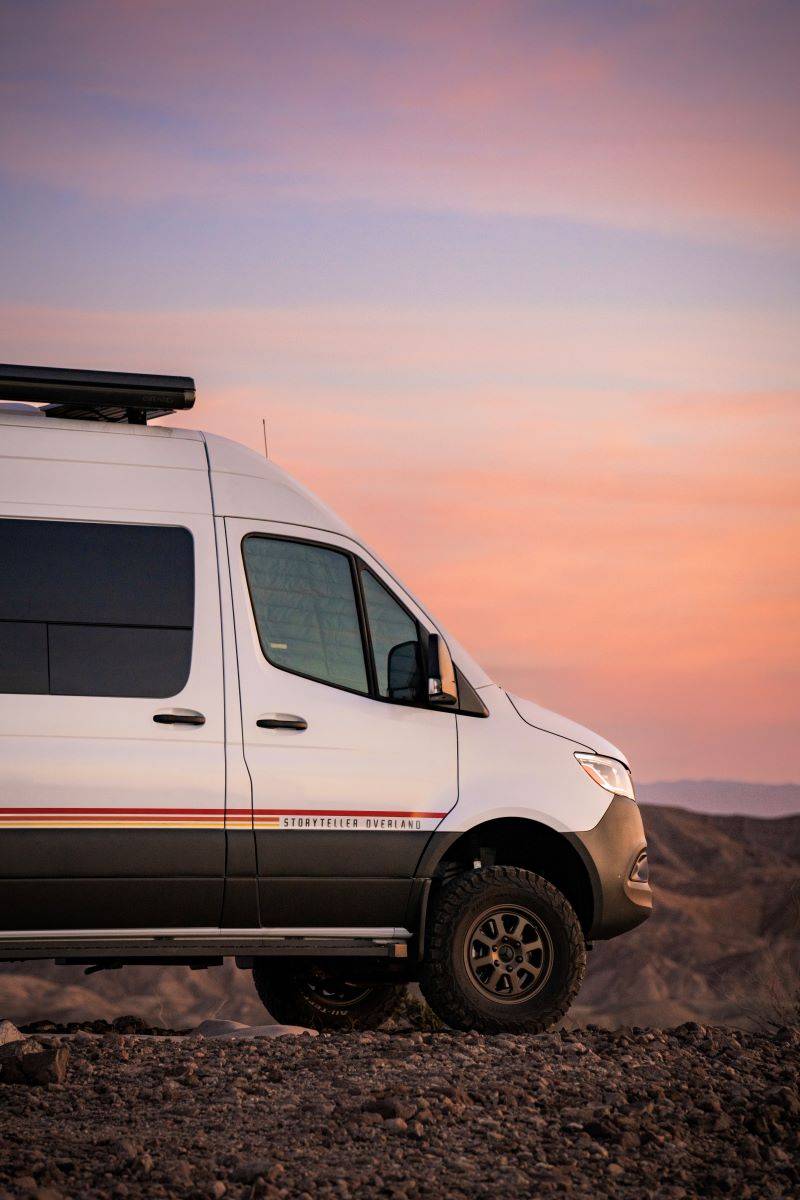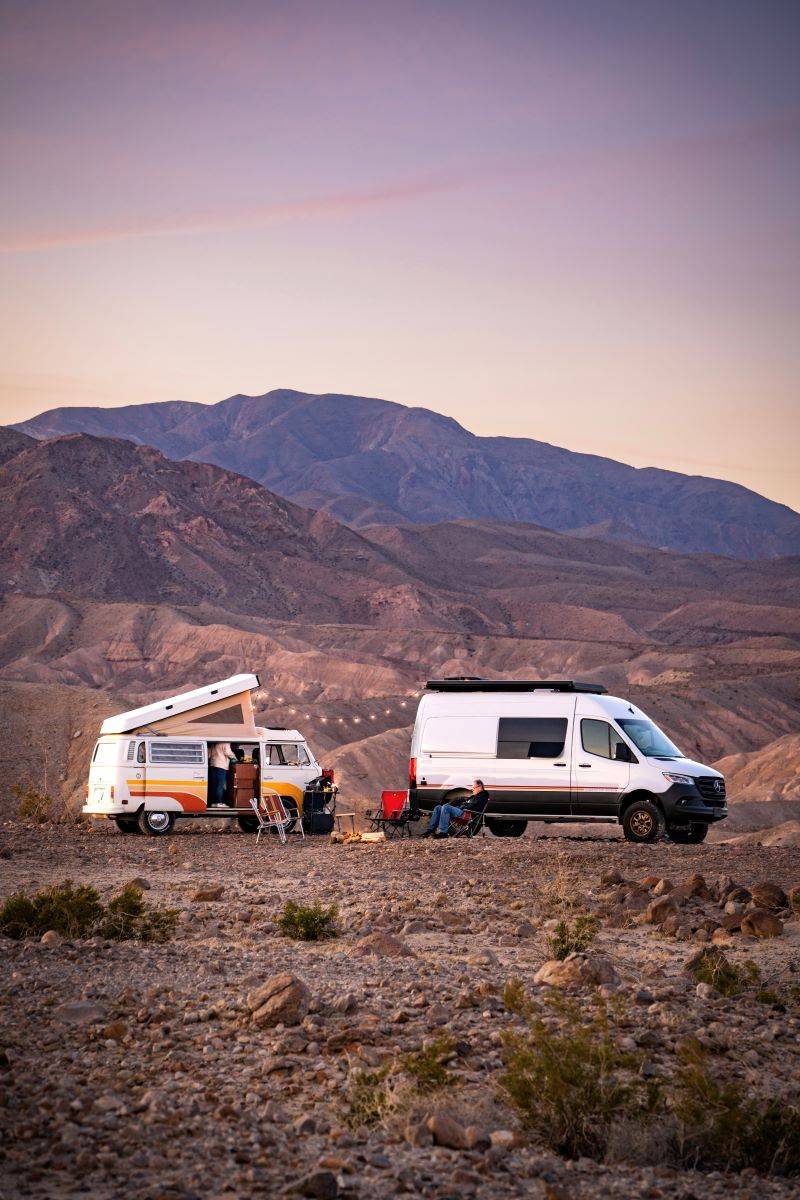 When it comes to differences, though, Hannah said the Storyteller van felt more like a "house on wheels."
"No matter what the temperature is outside, you can be super regulated in the Storyteller, where Hunter and I are sleeping in a rooftop tent, so we really feel like we're camping and can feel every degree of weather outside of our van."
But in the Storyteller, Hunter and Hannah realized it didn't matter what the weather outside was – they were comfortable in the van no matter what because of the van's climate control.
They ate dinner with Hunter's parents every single night. "We would make food in our van or outside, then it was like we were visiting the in-laws. We would knock on their door and instantly be 70 degrees and comfortable after sitting outside cooking in 40 degree weather."
When packing for the trip, Hunter said his dad was looking all over his house for his sleeping bags. Hunter said he laughed and told his dad, "You're not going to need sleeping bags. We'll need our 15-degree sleeping bags, but you're going to be able to press a button and set the temperature."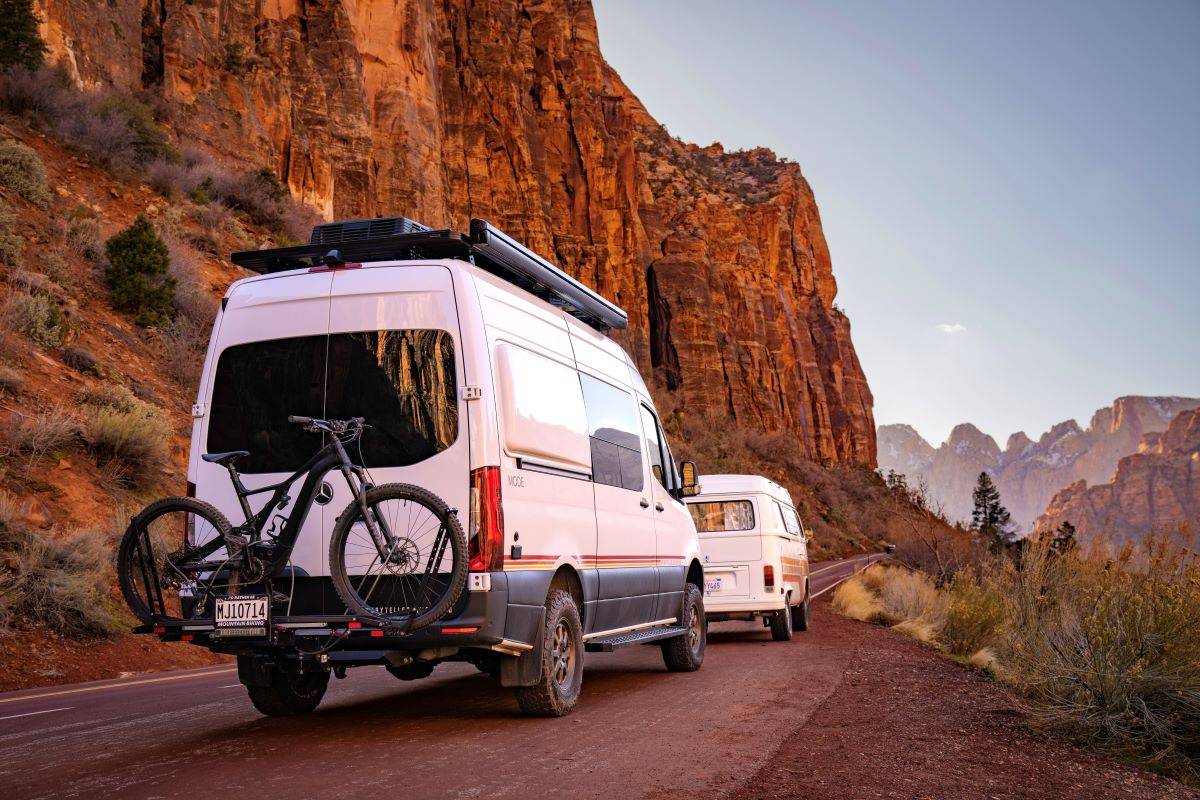 But despite not having hot water or a shower, Hunter and Hannah love their VW bus for its pure nostalgia and sense of adventure.
"We feel so fortunate that we get to travel in one because it just evokes so many emotions in people," Hunter said. "It's just fun. It shows that when something is made with love, it can span the test of time and continue to stay on the road."
Hannah said joining the VW bus community has been a perk too, and they've gone to a lot of events and meetups. She said she didn't expect going into it to be part of such a big group of Volkswagen enthusiasts.
"We've realized that Storyteller has the same kind of thing going on," Hannah said. "People we've met with Storyteller vans, even if they're off living vanlife by themselves, they're never really alone. Storyteller has a really strong network and support system."
Something else interesting about having such a classic vehicle is that they've been able to follow Luna's journey through previous owners. A family in Kansas owned the bus until the early 2000s, and then a Volkswagen enthusiast from North Carolina found it. He repainted it and repaired the rust for his daughter's sweet 16 present, but when she turned of driving age, she didn't want it.
A couple similar to Hunter and Hannah bought it in 2014 and drove it for four years, going coast to coast to some of America's most beautiful national parks and other hidden places. "It's really neat because we can look through old pictures on Instagram and see where our van has already gone and places we haven't before," Hunter said. "It's almost like our mountain sherpa, our guide."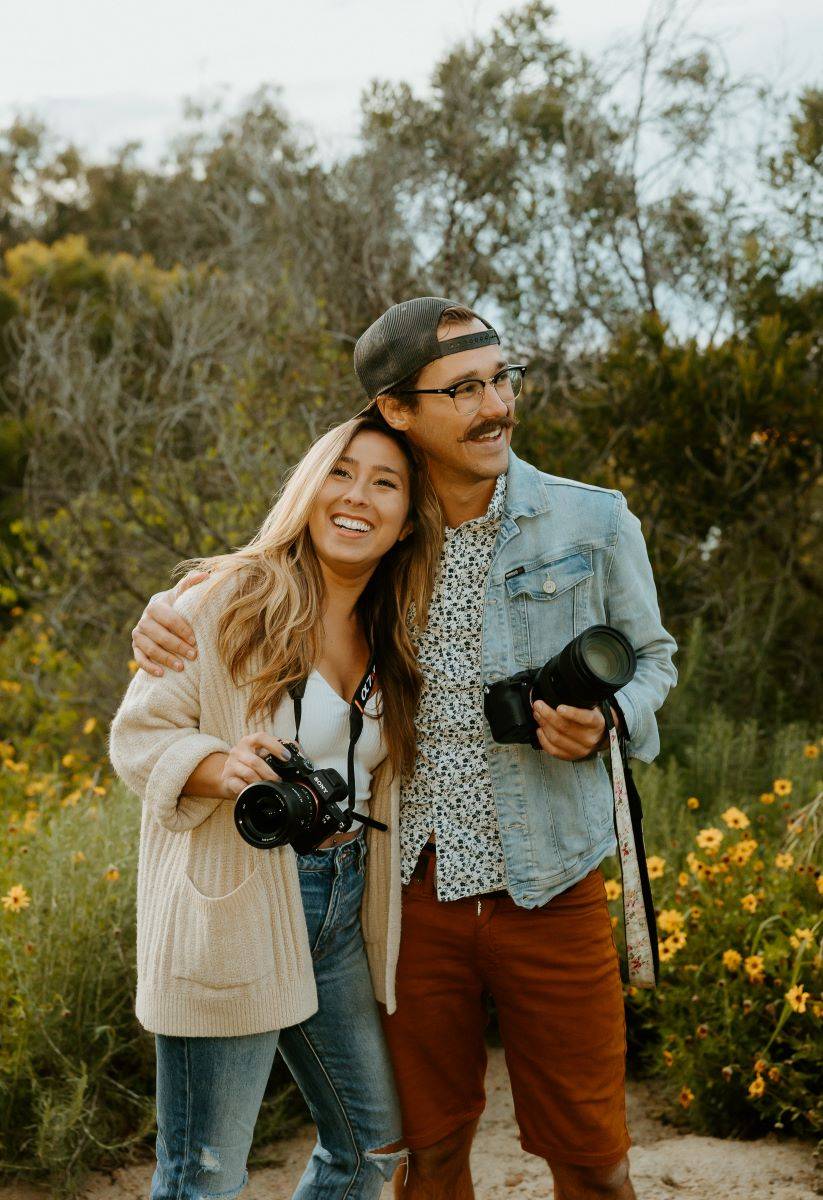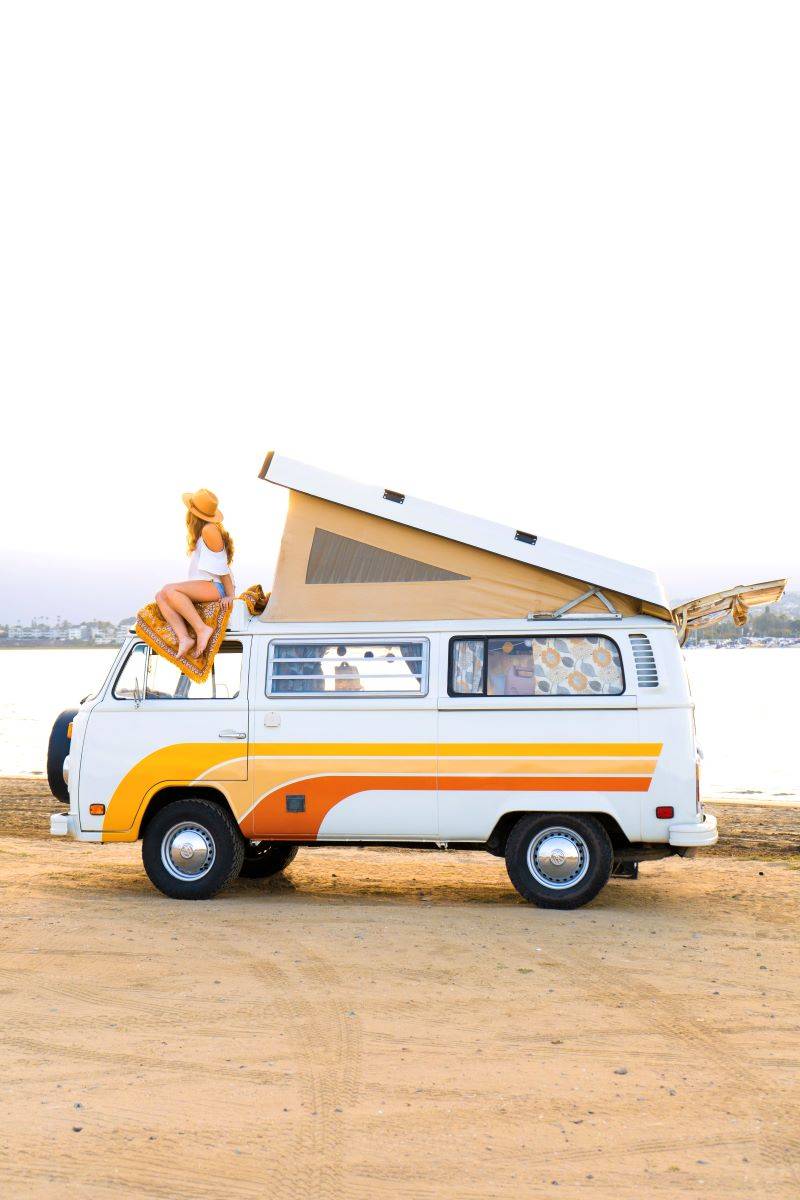 They both agree that it was special to show Hunter's parents a window into what vanlife can be.
"It can be us in our vintage vehicle with our simple system, or it can be something very comfortable and very ready to go," Hannah said. "But I think the adventure at the end of the day is the important part. So being able to show them what it means to be able to get out there and do so much with a little home on wheels that's ready to take you wherever you want to go is really cool."
Ready to check out Storyteller Overland at a dealer near you? Click the button below and we'll help you get started!