High five for five years!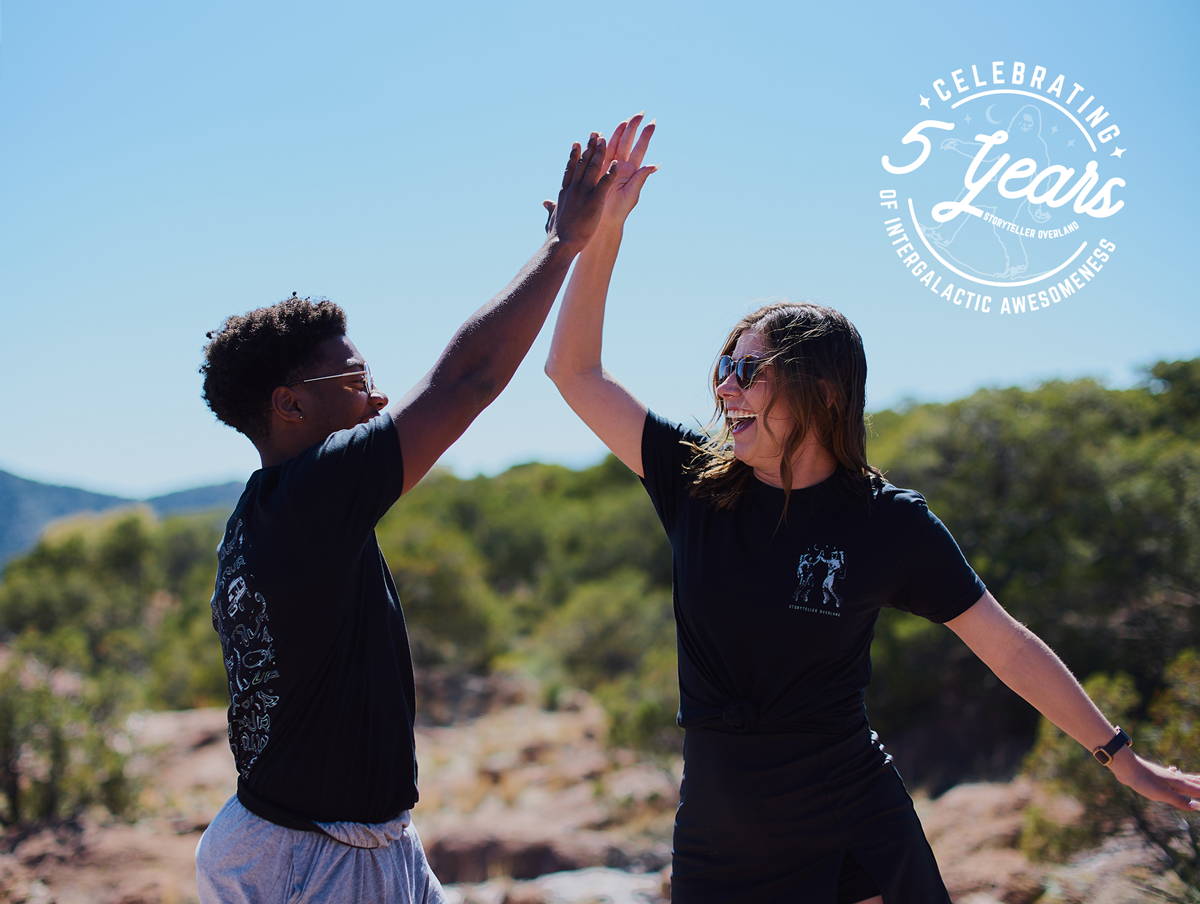 From a company with a handful of employees and one adventure van model… to an industry leader with three adventure van trims, a new truck line, three subsidiary companies and over 170 employees across the country… Storyteller Overland has come a long way since its inception.
When Storyteller launched in November 2018, it only had seven employees and some really big dreams.
"It was never about making a cooler van," said CEO Jeffrey Hunter. "This was an acknowledgement that this was a movement, a community. And if we got it right, we would be impacting people's lives in a meaningful way. We would be unleashing people to give themselves permission to be more adventurous. That seemed very satisfying."
Everyone on board understood that while it would be a crazy pursuit, it was nonetheless worth pursuing, Jeffrey said.
Now that it's November 2023, we're celebrating our fifth birthday. Our favorite way to celebrate
big milestones
? Taking a trip down memory lane, of course. That's how we met
Tim and Jeanne Spellman
, some of the first-ever Storyteller Overland MODE owners.
Since driving home in their 2019 white Classic MODE, the Spellmans have put over 80,000 miles on their odometer.
"We have used it hard," Jeanne said. "We've taken it down rock staircases in Colorado. We've taken it down to the Rio Grande and Big Bend. We've taken it up to the mountains in New Hampshire on really rocky dirt roads. We've really used it hard, and it still runs beautifully. People still admire us and are always stopping us like, 'Tell me more about your van!'"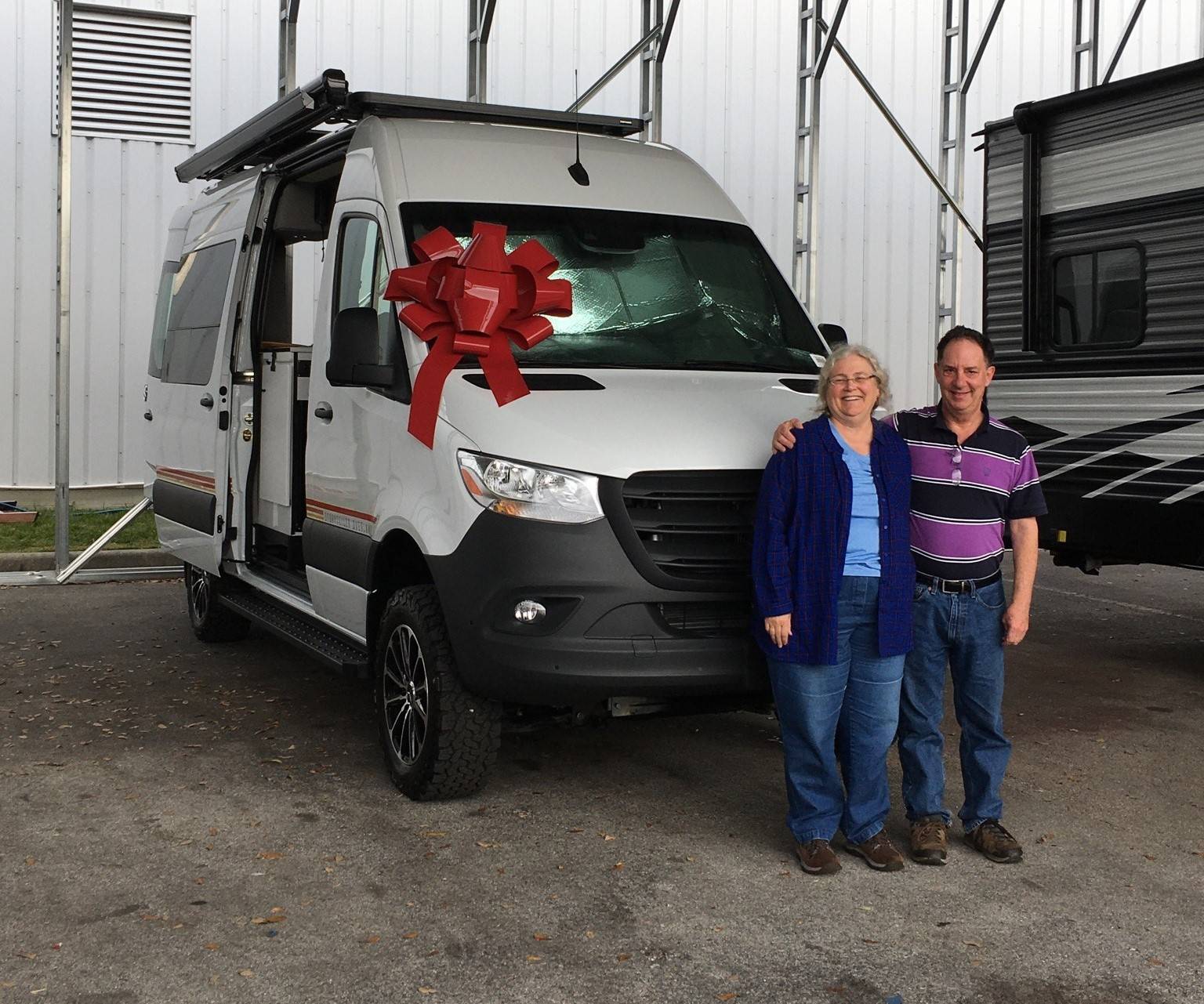 The Spellmans saw their first Storyteller Overland adventure van at the Rendezvous in the Ozarks Overland Rally in October 2019. They already had a custom Mercedes Sprinter on order, but they still spent a couple of hours hanging out in the van with Storyteller CRO Andrew Cooley.
"He graciously showed us everything and answered millions of questions that I had," Jeanne said. "By the time we finished that, I knew I didn't want the machine we had on order, I wanted the MODE. It was just so superior for the electronics, the features, the floor plan, the heating, the insulation. Just a vastly superior machine."
But they were stuck, she said – they'd already put a huge deposit down on the other Sprinter van, and it was too late to back out. Until they got a phone call in January.
"They called us back and said they couldn't get us a 2019 vehicle, and we'd have to get on the waiting list for 2020."
So they got their deposit back and immediately got on the phone with a nearby Storyteller dealership who had one Storyteller van in stock. "We want to buy that, hold it for us!" they told the dealership. And within three hours, they were getting ready to sign paperwork.
Funny how life works out like that, huh? Sometimes plans don't work out, but what you end up with ends up being what you wanted all along.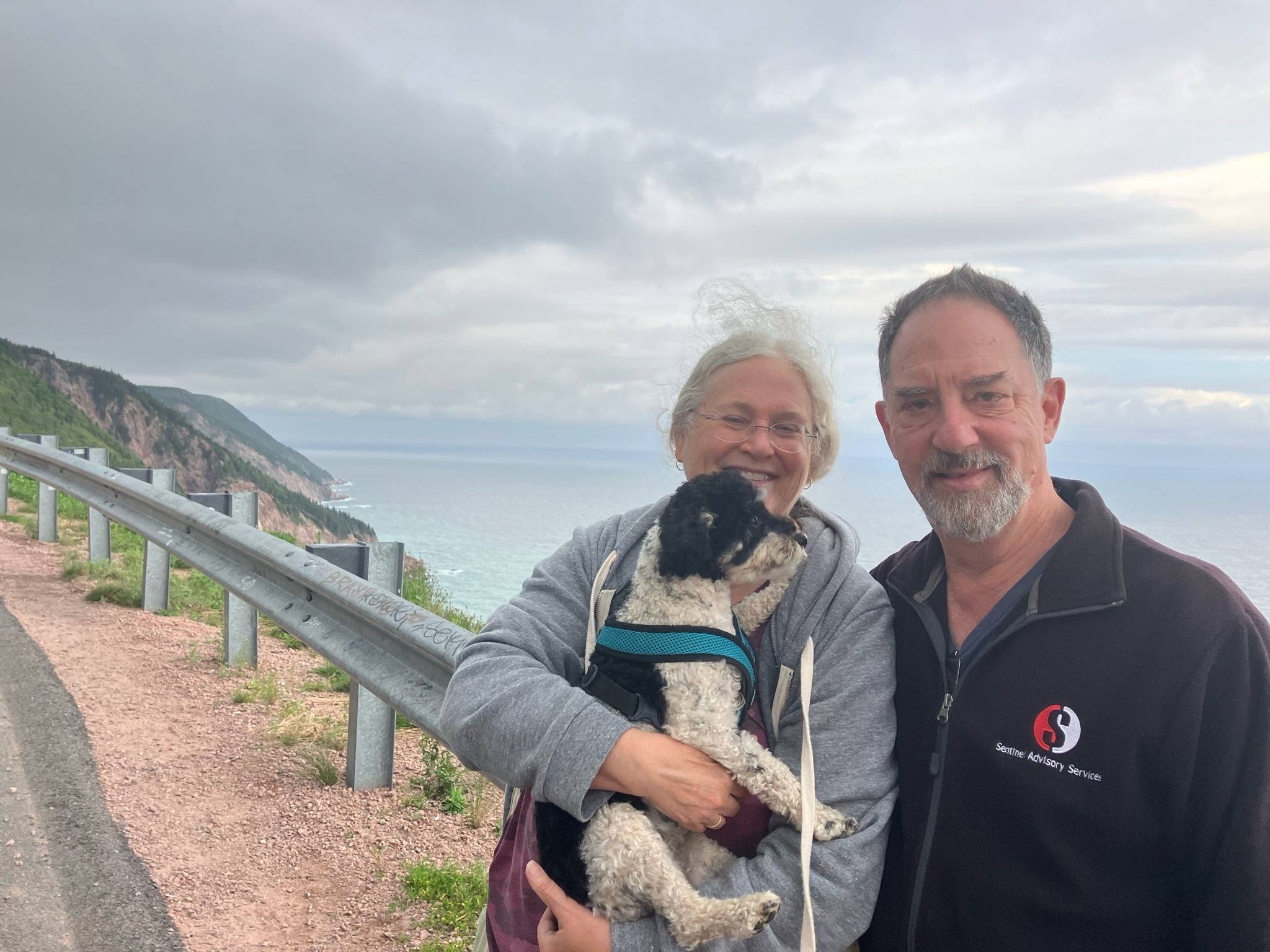 Tim and Jeanne are New Englanders, but they travel all over.
"On the East Coast, we drive a lot over sand, like Outer Banks and Assateague National Seashore," Jeanne said. "We like to find the really remote beaches that Storytellers are perfect for.
"We spent years lugging all our stuff to the beach, and then having the beach be crowded. Now we just air down our tires and drive out to the beach and have everything with us, and we can be so far away from anyone. The Storyteller is wonderful for that, especially for the East Coast."
They also participate in a lot of New England area meetups, such as one at a Vermont ski resort last summer. They love going to balloon festivals, such as the
Albuquerque Balloon Fiesta
. They've also gone several times to Nova Scotia and New Brunswick – "great locations for a machine that is so suited to boondocking," Jeanne said.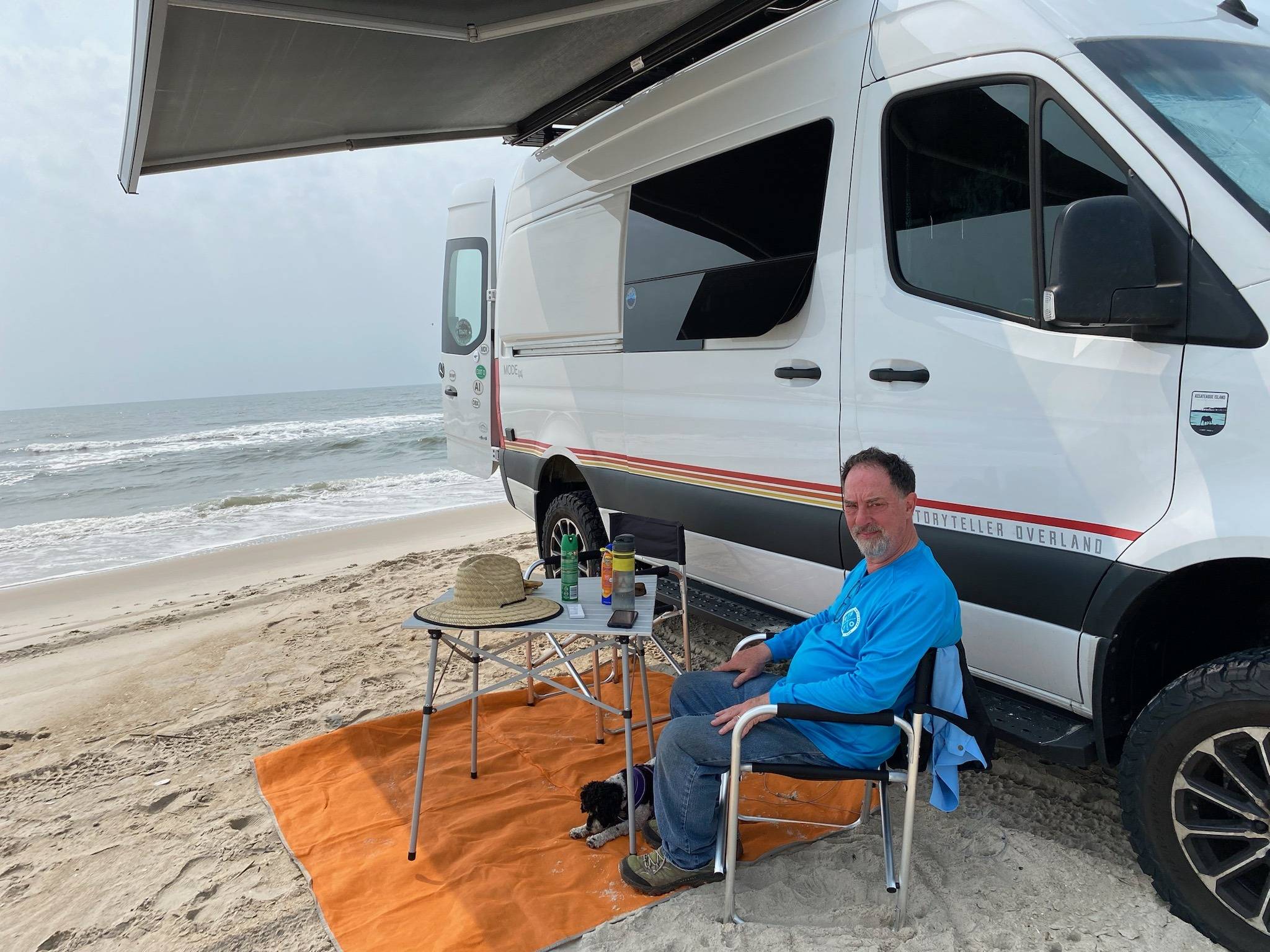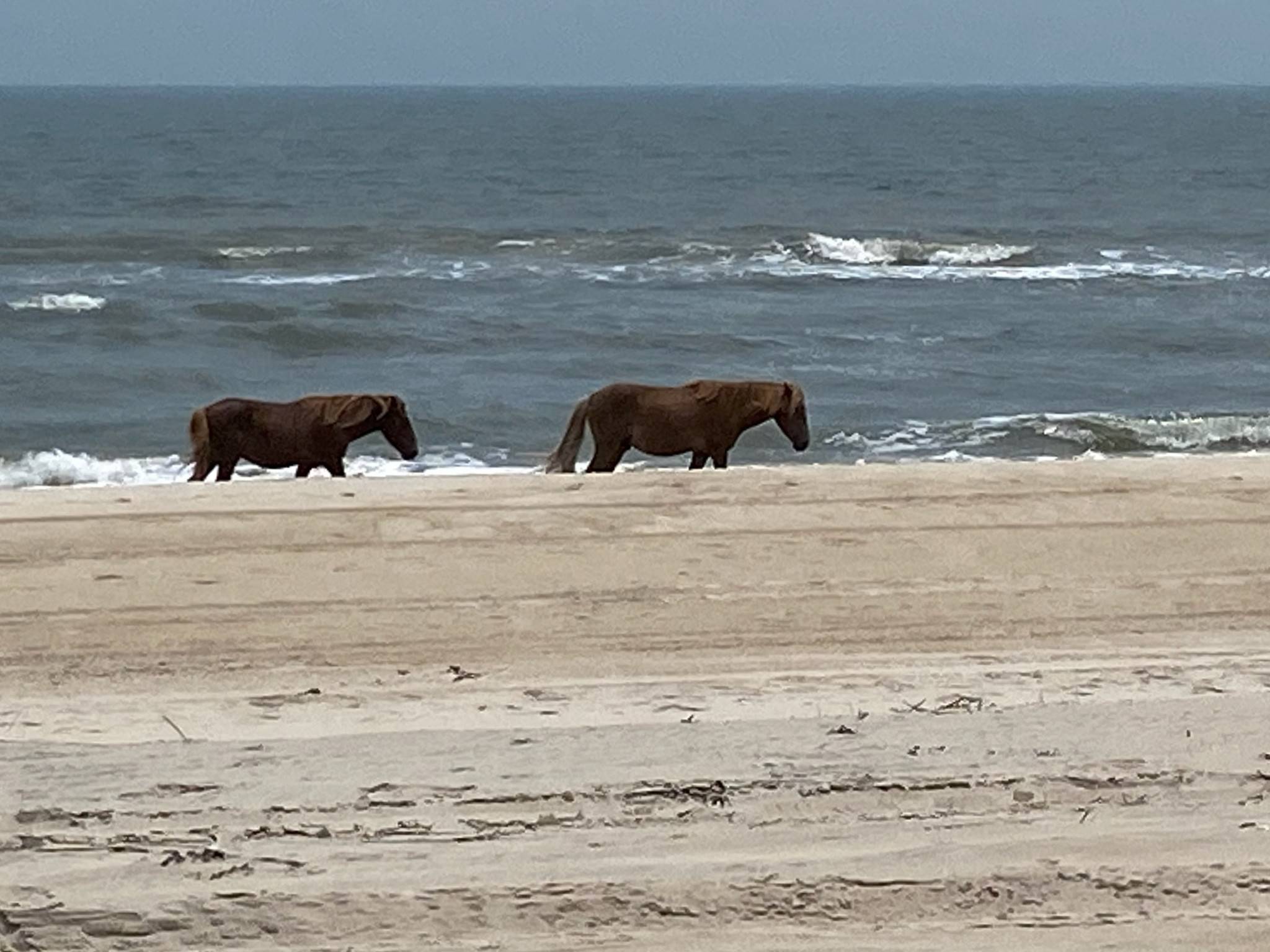 Here at Storyteller, our goal is to be in the business of changing lives. For Jeanne, one life-changing aspect about Storyteller Overland and adventure vehicles in general is how it's helped her manage her Celiac disease.
Jeanne travels a lot for her work and volunteer work, and before having an RV, she would get sick every time she flew to a conference. "I couldn't trust the restaurants, I never got enough sleep, and it made it really difficult."
Now with the Storyteller, she can travel anywhere on the continent and feel perfectly at home. "I have my desk, we have wi-fi. It gave me the ability to do more for my work. I can participate and be healthy. The bed in the MODE is more comfortable than my bed at home."
---
Tim and Jeanne join a community of over 2,000 Storytellers – and it grows more and more every day. These are the people who push to the edge of the map, who take risks, who dare to live outside the box and who break the norms.
And somehow, this collection of the country's raddest individuals have all found Storyteller. We're incredibly grateful to every individual who has joined the movement in the past five years.
We've got a lot of fabulous milestones to look back on – just two months ago we launched our first ever adventure truck – but we at Storyteller believe the greatest ideas are ahead of us, not behind us.
And speaking of… we've got a birthday surprise that'll be announced tomorrow. Sign up for our email newsletter, and you'll be the first to know!
Cheers to the road ahead,
Team Storyteller