Storyteller Goes Up Up & Away
"I'm just on a high coming off this trip," said Kayden Phan, who coordinated the Storyteller Overland meetup at the Albuquerque Balloon Fiesta. "I'll probably have this high for a while."
BY INGRID SCHNADER ELLIS | OCT. 26, 2023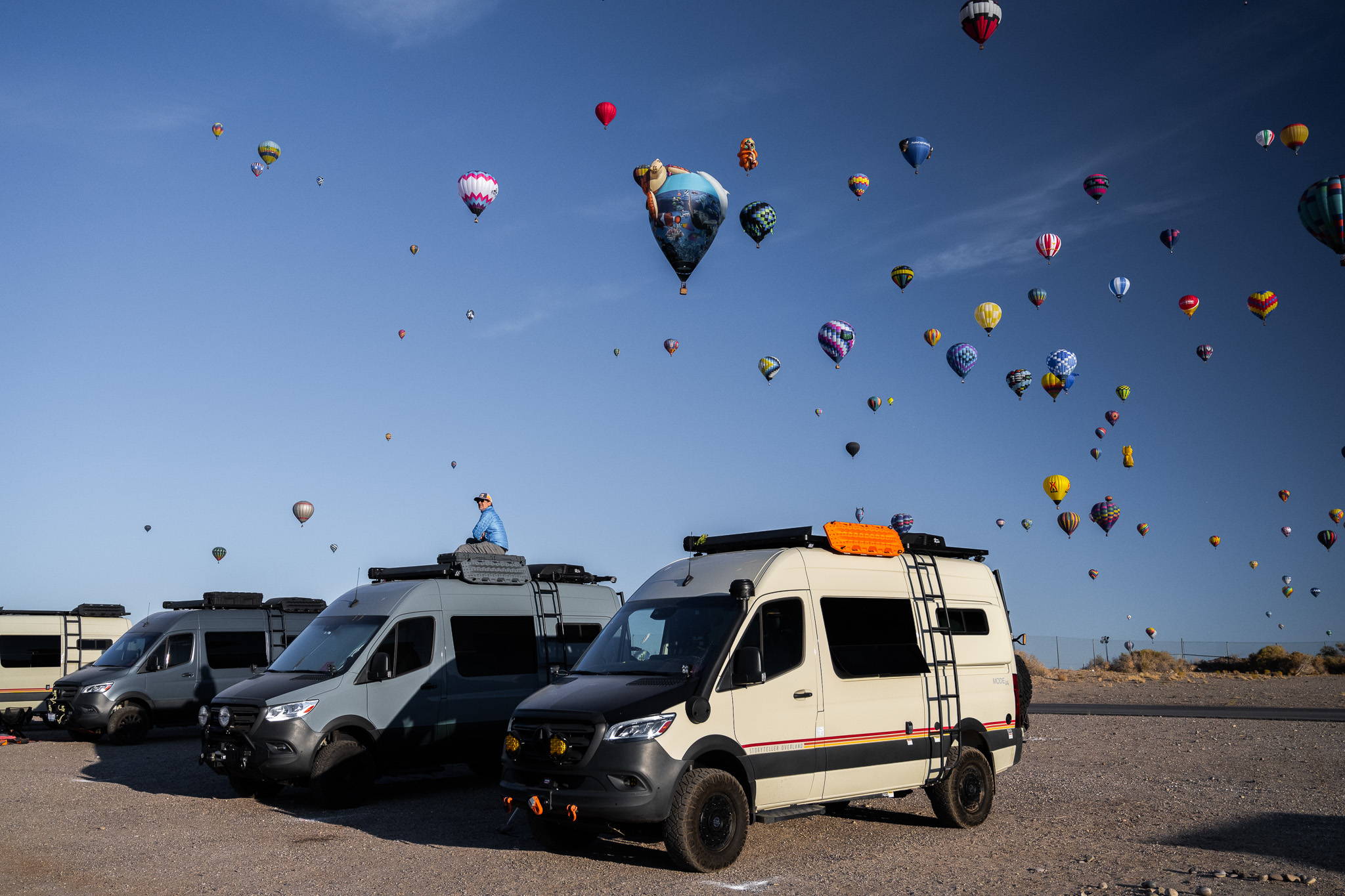 Storyteller Overland owner meetups are what make us so much more than a van manufacturer. Seeing people come together to create new experiences with each other is the real magic of Storyteller. And we love to see photos of a dozen or more MODE vans lined up at a campsite.
But a meetup in Albuquerque, New Mexico this month took things to the next level. First of all, it wasn't just a dozen vans – it was over 100 vans total, all parked next to each other. Secondly, they weren't just parked in front of a scenic overlook – instead, they were parked at the largest balloon fiesta in the nation with 550+ of hot air balloons peppering the sky around them.
"I'm just on a high coming off this trip," said Kayden Phan, who coordinated the Storyteller Overland meetup. "I'll probably have this high for a while."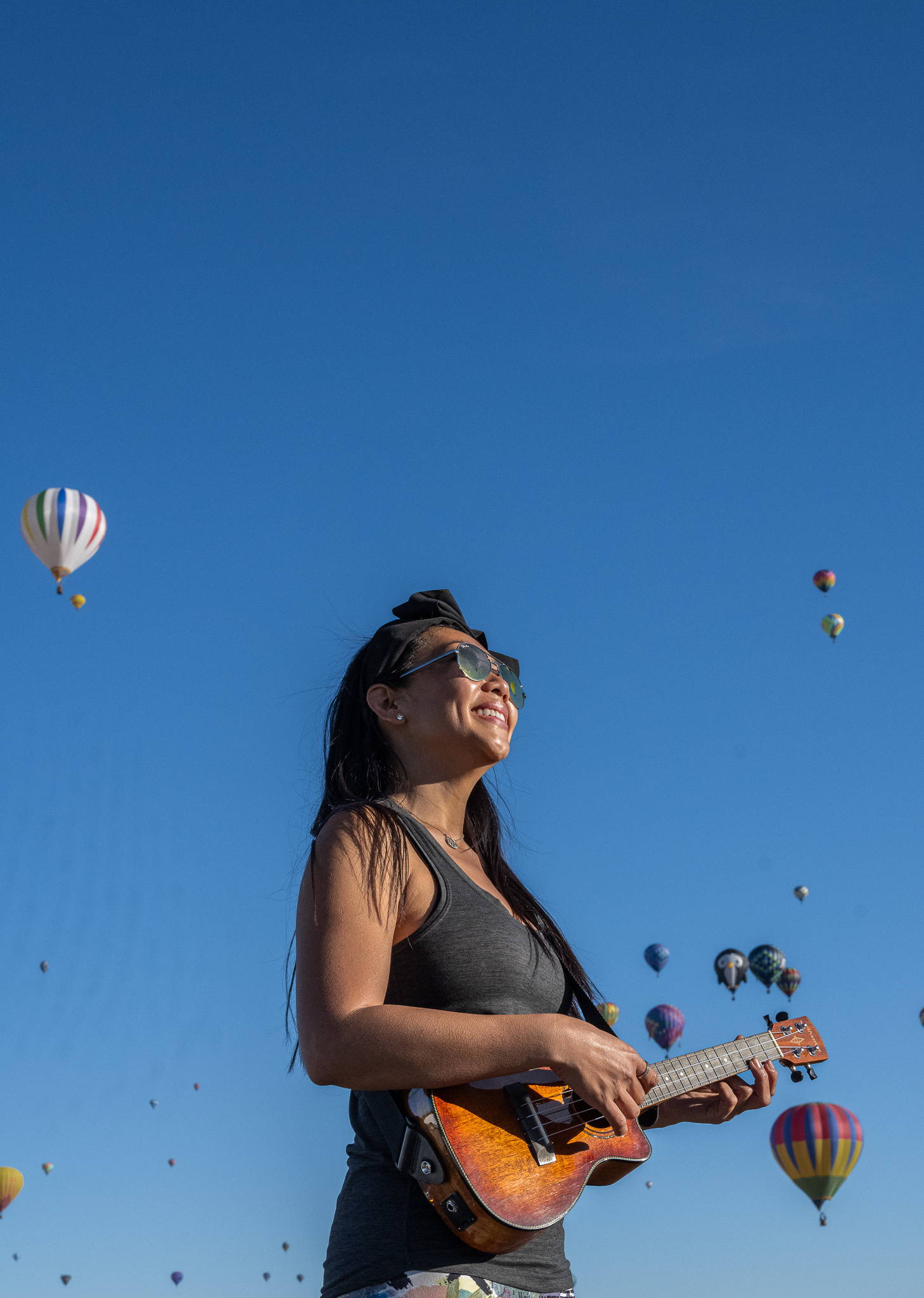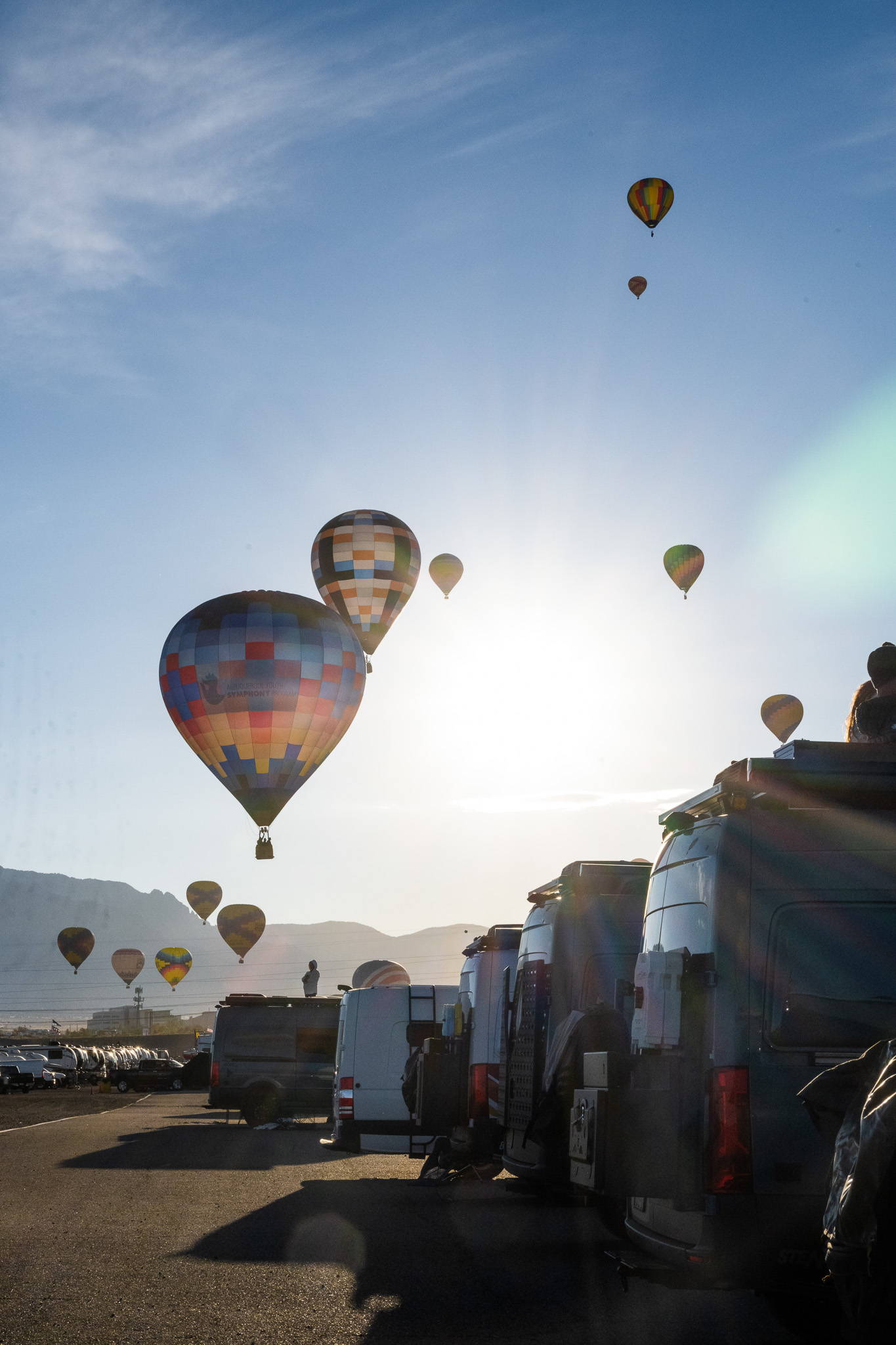 Kayden is one of our original MODE owners, so she knows firsthand how important it is to foster the MODELife community. Before she got into vanlife, she spent so much time working that she didn't have much time leftover to foster deep friendships. "Now I have a community of people I can really lean on and love spending time with."
Kayden has helped out and co-hosted many events for the community in the past, but the Storyteller meetup at the Albuquerque International Balloon Fiesta was the first meetup she had orchestrated herself.
"It was always on my bucket list to ride in a hot air balloon," she said. "The 2022 event had just ended, and I saw posts from it and thought, 'This is a bucket list thing I want to do, and I want to share this experience with my van family.'"
Her friend's mom is one of the event's board members, so he connected Kayden to someone who helped her reserve 80 camping spots. In order to make sure the entire community would be able to camp together, Kayden needed to book this reservation almost a year in advance, putting her own money down in hopes that the community would be interested in sharing her bucket list dream and buy tickets from her.
The response from Storyteller Overland owners and other members of the van community was overwhelming – so much so that Kayden ended up accommodating 100+ vans.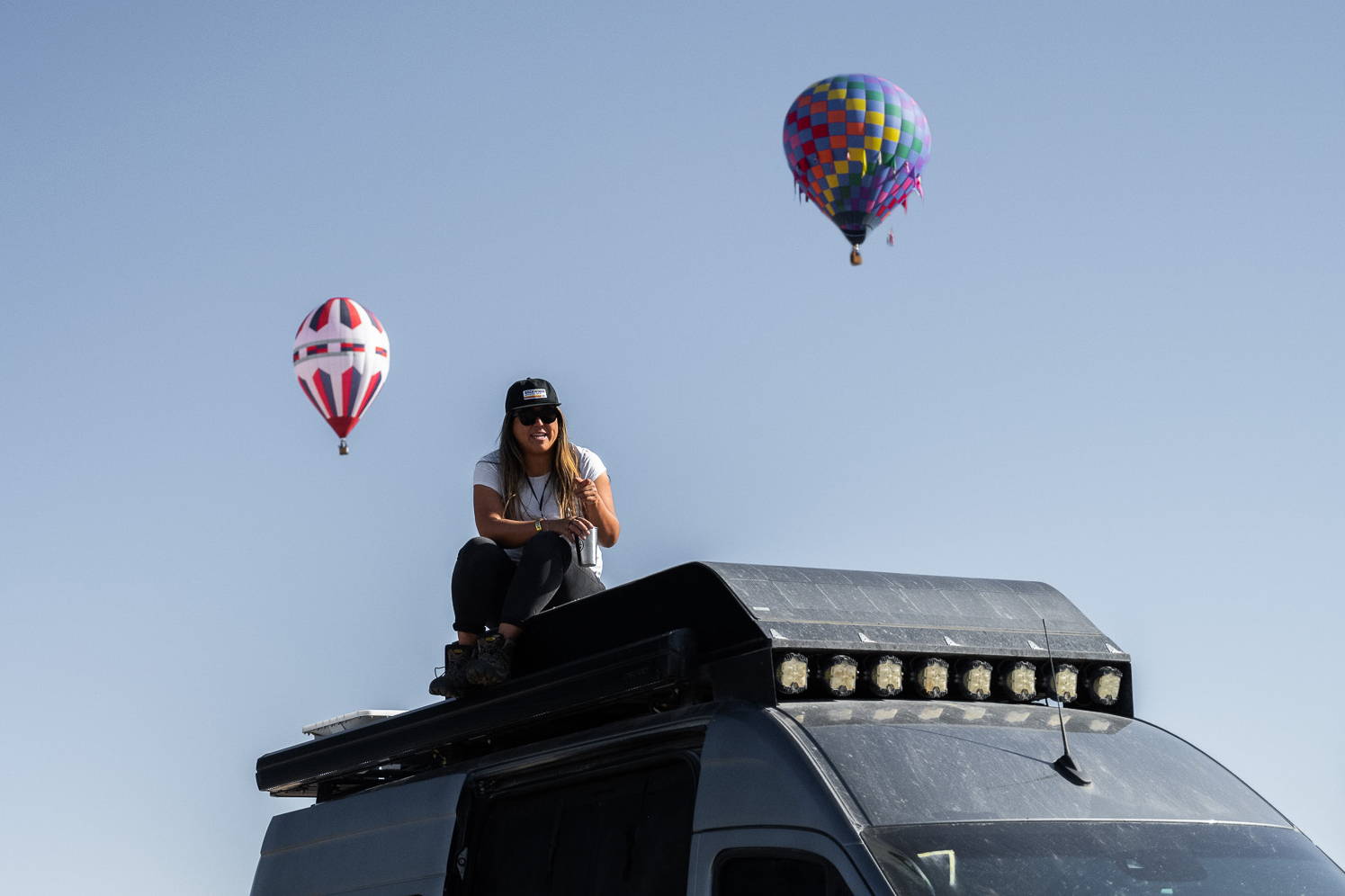 Once the sites were booked, Kayden went to work making sure this would be an event that the van owners would never forget.
She secured raffle prizes such as a bumper, ladder, a 4x4 excursion, a water filtration system, organizational soft goods, and other vanlife products. In addition to the raffle, owners also brought handmade goods and unused mods to give away.
She also worked with Storyteller Overland to create an exclusive fanny pack only available to those who attended the meetup.
"I love that the fanny pack was exclusive because I want to make my van family feel special," Kayden said. "When I do more events in the future, I hope to keep doing something exclusive to each event."
She also wanted to make sure that those who attended the balloon fiesta would instantly have something to talk about, so she spent many hours and late nights designing name tags for each attendee. Each tag had a unique tagline having to do with the type of rig that person drove or some other quirky personality trait.
"It makes for a fun opening to get to know other owners, especially if you are new to the community," she said. "I want owners new and old to feel very welcome and bond at my events."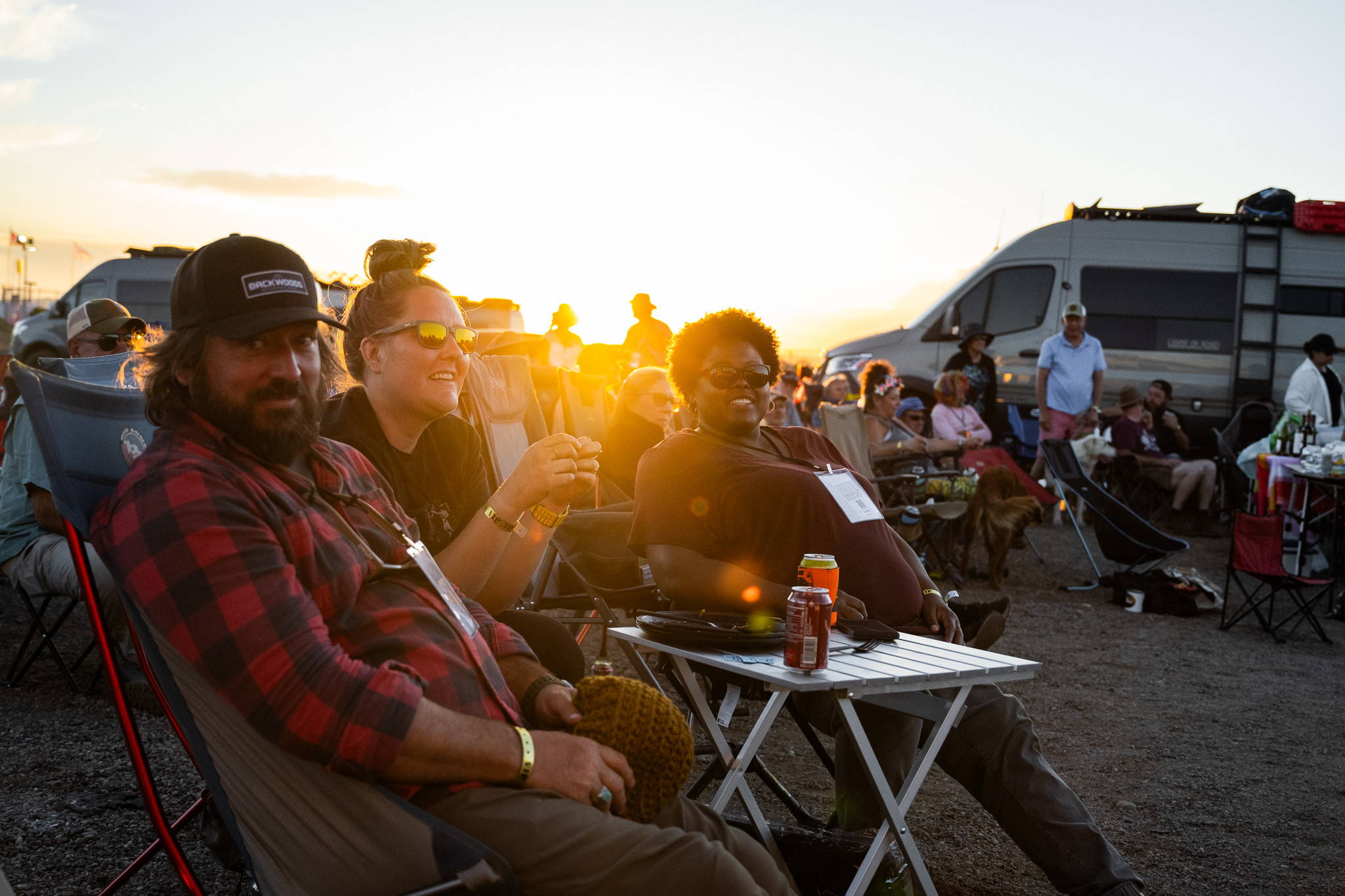 Although many owners told Kayden they didn't know what to expect when they got to the event, she got a positive response from people telling her it was one of the best van events they'd ever attended.
Because Kayden reserved the spots so early, their campsite was front row to all of the hot air balloon action, Black Hawk helicopter shows, fireworks and more.
"I wanted everyone to have a VIP experience – I'll go the extra mile to ensure these events are top notch," Kayden said.
The event space was huge – over 52 football fields huge – and many of the 850,000 plus attendees had to walk thirty minutes or more from their car to get into the event. The Storyteller van owners had the advantage of having all the comforts of home – like a bed, kitchen, bathroom and more – right in the heart of all of the action.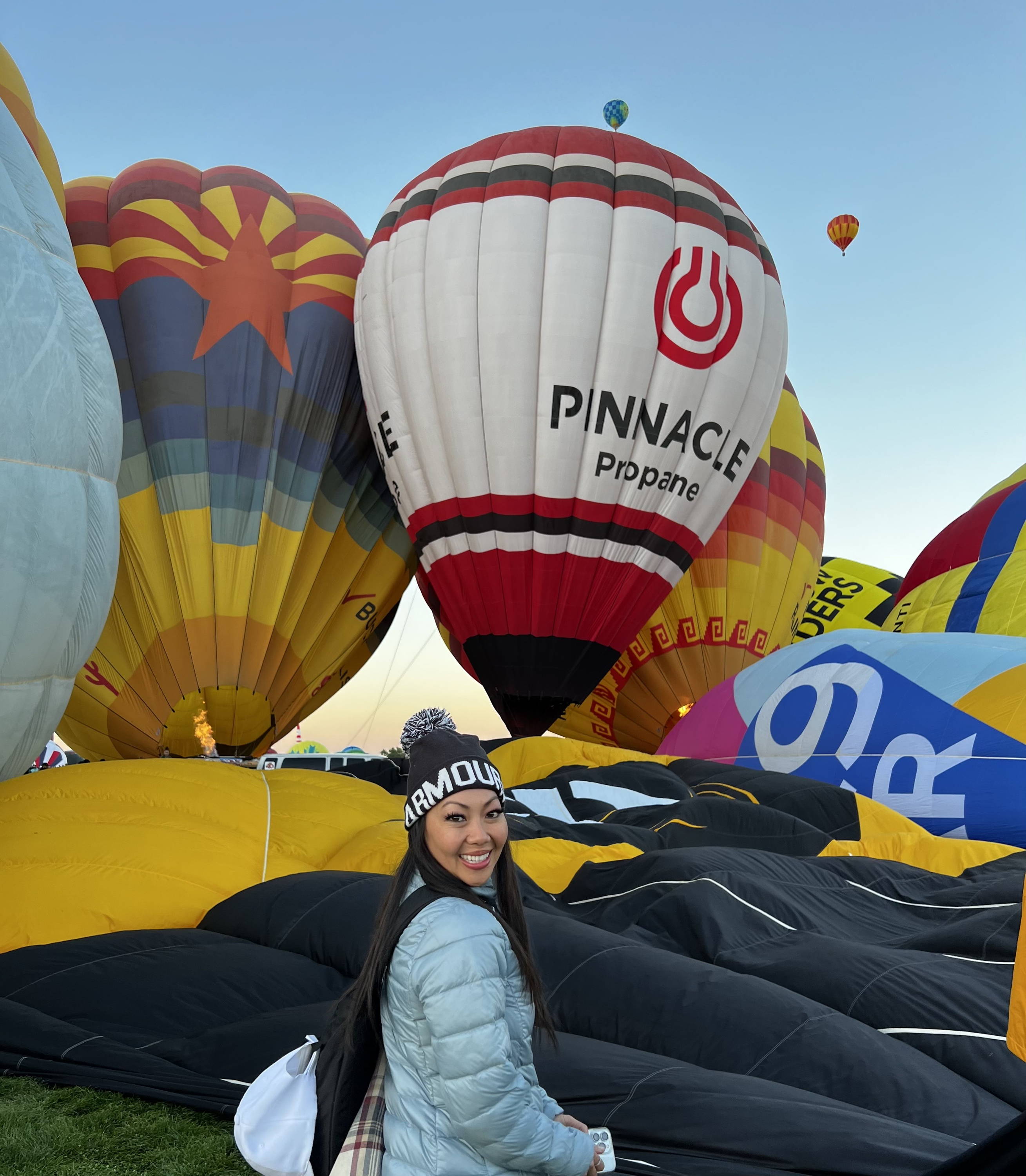 Kayden was able to cross off "ride a hot air balloon" from her bucket list.
"You're just gliding through the sky," she said. "When you're flying in a plane, everything looks so tiny, and there's so much noise. In a hot air balloon, when the fire stops, you're just floating. It's the coolest, most peaceful way to experience the world from another viewpoint. I even got to see a pack of coyotes just roaming about and people coming out of their homes to wave at us."
In addition to hot air balloon rides, attendees could watch professional skydivers put on a show with fireworks as they fell from the sky, balloon glows both morning and evenings, car exhibits, live chainsaw wood carving, check out the balloon museum and more.
Plus Kayden planned a few events exclusively for her community in addition to the balloon fiesta itinerary. A potluck themed "Taste the Rainbow" included dishes from van owners such as rainbow bread, rainbow jello and more.
"I loved seeing how creative the owners were with their meals," Kayden said. "You can cook so many fun, colorful dishes right from your van."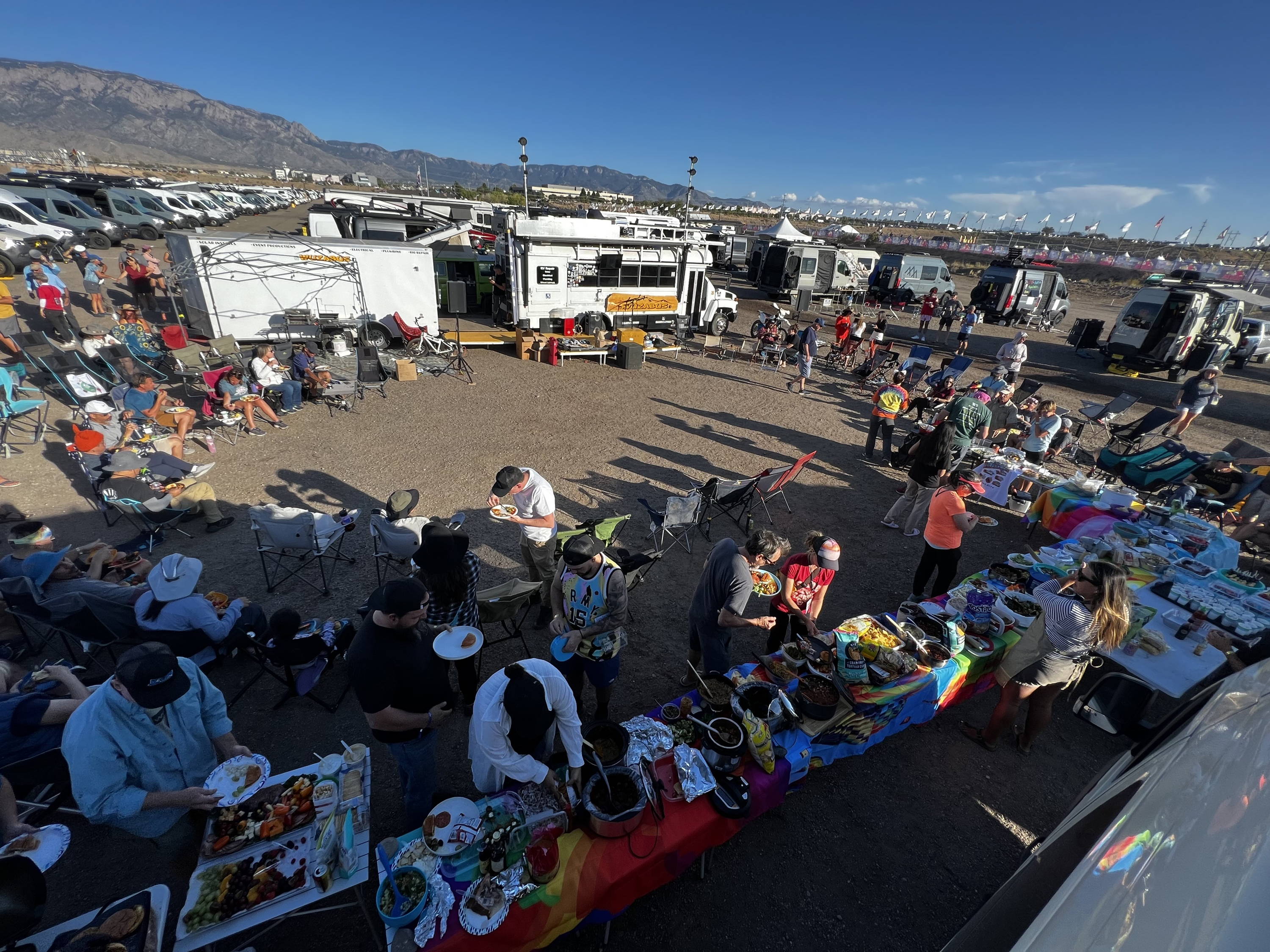 Kayden loves live music, so she invited not one but five musicians who donated their time to play for the community, and the guests also sang karaoke.
"A lot of the vendors told me they loved the event because it was a chance for them to hang out with van enthusiasts without it being salesy," she said. "They were able to make genuine connections with the community and make memorable life experiences."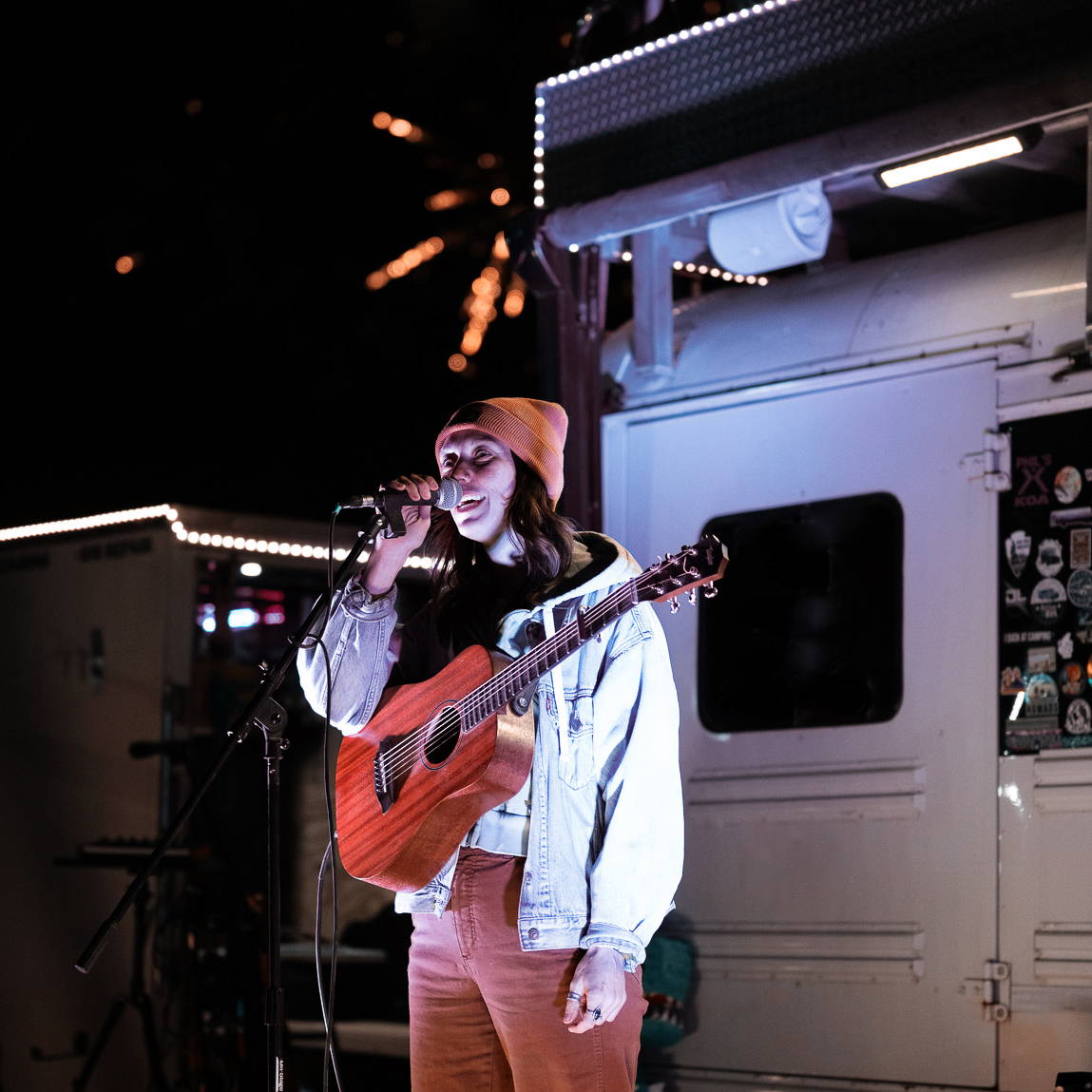 Because Storyteller Overland vans are meant to go off-road, Kayden and her co-host Adam coordinated an off-road course for 17 of the rigs a short distance away from the fiesta.
And after the event, a few people went to a hot spring and then caravaned together to The Journal of Lost Time's Moonlanding event. It was like people could choose their own adventure, Kayden said – they could stay with the group and go to another event that Kayden co-hosted, or they could hit the road back home.
"I'm the type of person who feeds off other people's energy, and although it's so draining to host a meetup this massive, it's so rewarding to see everyone so genuinely happy," she said. "And I feel like that's how it is with anything I set out to accomplish in life – when you put so much hard work into it, it's that much more rewarding. These people will never forget this event for their entire lives."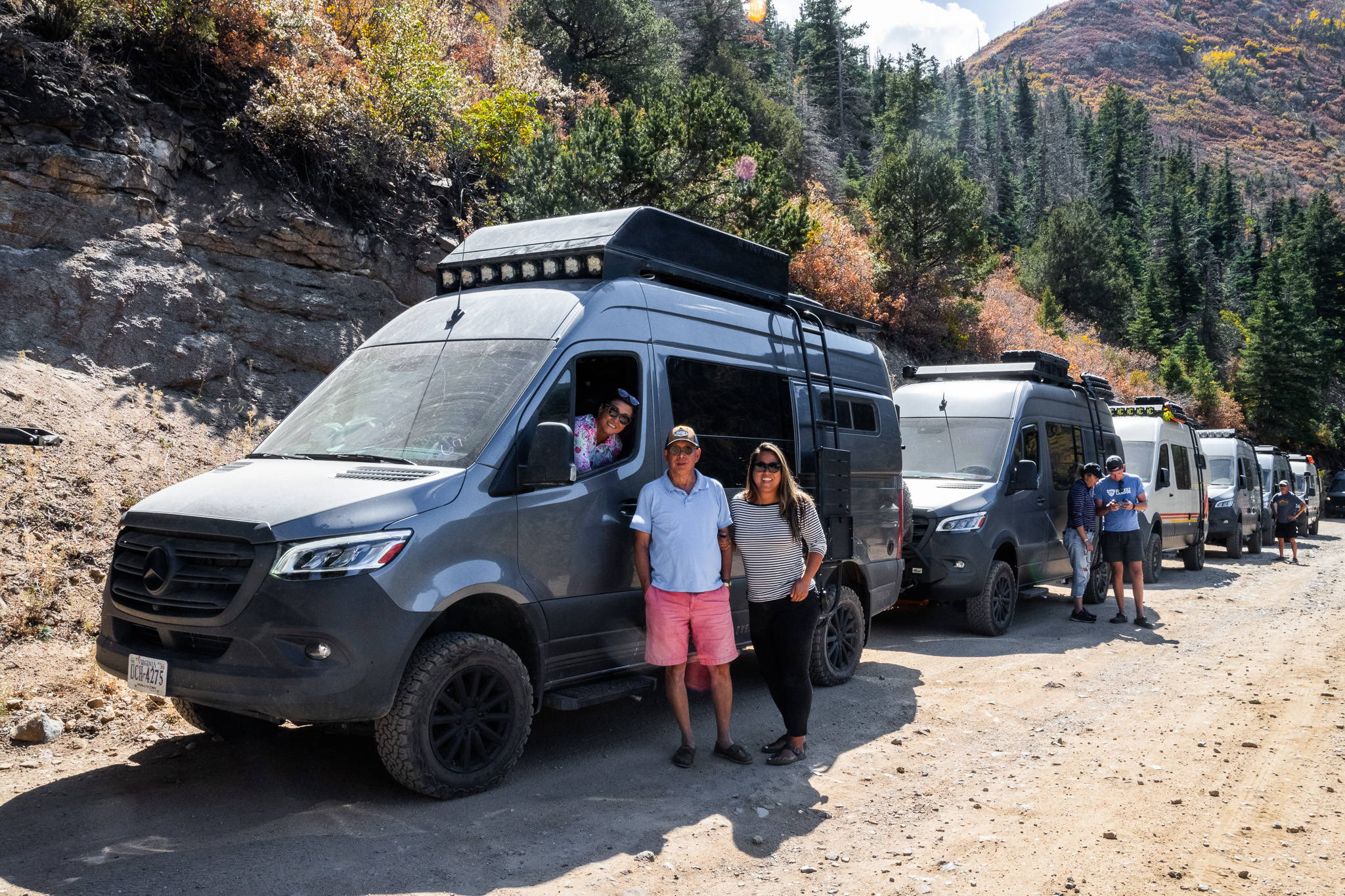 As our tour season comes to a close, we're already so looking forward to next year's tour season and more opportunities to see the world's raddest community in person.
Huge thanks to Kayden for putting together such an unforgettable event for our owners! Your dedication to this community is such an inspiration.
If you want to join Kayden at future van meetups, follow her on Instagram at @kaydenphan! She typically secures discount codes for her followers to use (For example, she got her followers 33% off at Moonlanding!)
Cheers to the road ahead,
Team Storyteller