'Don't Sweat The Little Stuff'
Through years of adventures and misadventures, Paul and Meredith Pritts have learned that it's all about enjoying the time and the moment you're in with your person.
FEB. 14, 2023 | BY INGRID SCHNADER
Paul and Meredith at Arches National Park in November 2020, one of the first trips they took in their Storyteller Overland Classic MODE van.
There's nothing more embarrassing than getting caught staring at someone. But Classic MODE owner Paul Pritts couldn't help himself – his Match.com date, Meredith, looked amazing in her pair of black slacks as she left the coffee shop.
When Paul's eyes traveled up, though, he realized Meredith was staring right at him and had just caught him checking out her rear end. Turning a shade of red five shades darker than his usual skin tone, Paul smiled and shrugged.
"I was so busted," Paul said. "She blushed and smiled, but she texted me later that day, so it wasn't a total loss."
Their relationship grew from there over many more cups of coffee.
"We were both single parents working full time, so it was usually late-evening coffee get-togethers," Meredith said.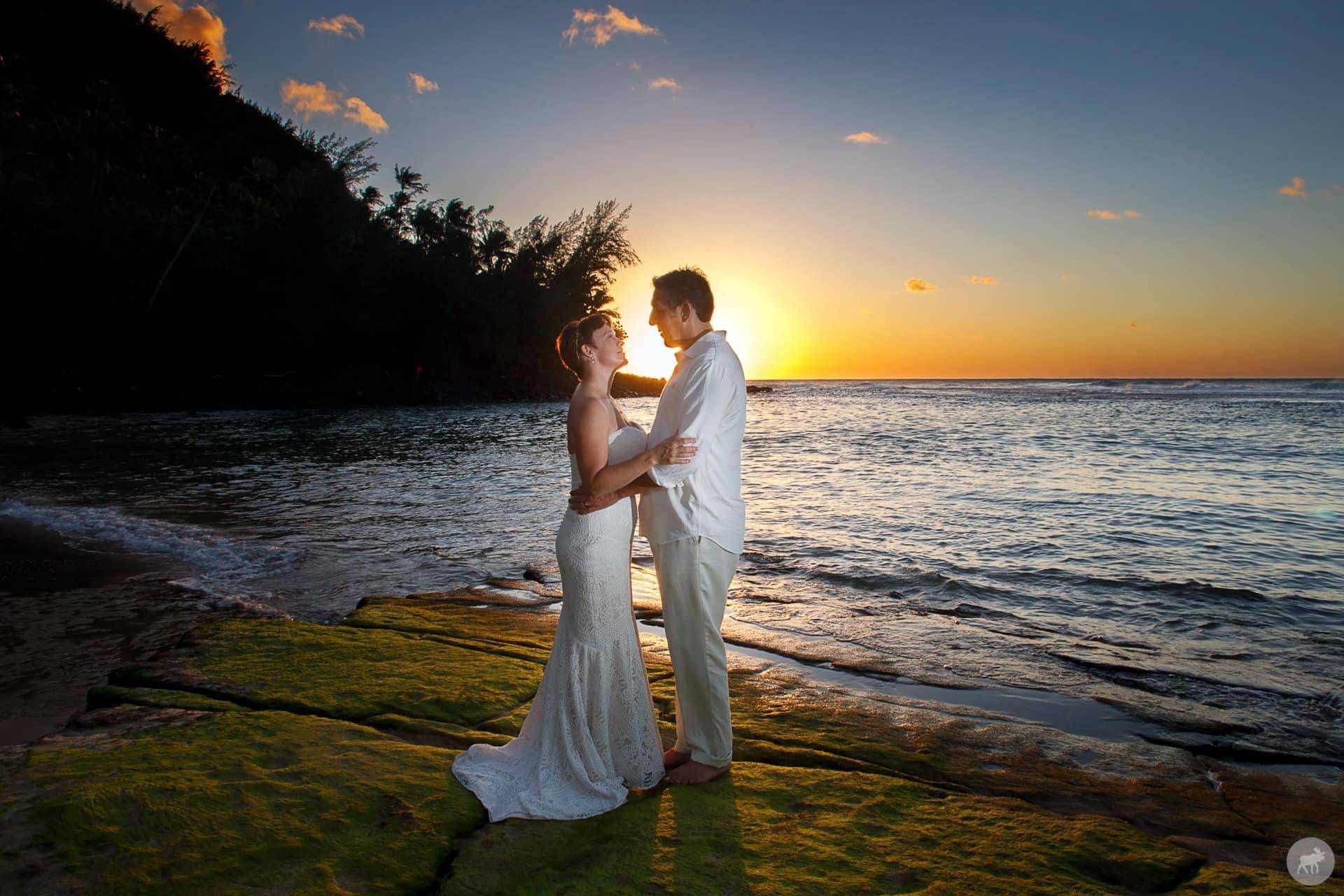 Paul and Meredith at their wedding in Hawaii in 2016.
When you're clicking with someone, you have to be open to trying new things. Meredith brought Paul to her personal development book clubs, and Paul asked Meredith if she enjoyed going off-grid and camping. Meredith hadn't been camping since she was 13, but she said, "I love camping."
So Paul took Meredith to Knoll Lake in Arizona, which has a campsite only accessible by a 25-mile dirt road. "It's out in the middle of nowhere," Paul said.
They decided to go on a walk around the lake and explore its connecting trails. Paul packed water and some snacks – and thank goodness he did, because they got lost.
"Our little hike that was supposed to be like two miles turned into a 12-mile walk," Meredith said, laughing.
Paul chimed in, "We weren't really lost, per se. I knew exactly where we were."
They finally returned to the campground and started prepping for dinner. Meredith spotted a magazine laying out and went over to inspect it.
The first thing she saw was an article titled, "How to know if you have a keeper," and the text read, "You may have a keeper if they don't freak out when unexpected circumstances happen."
Meredith, laughing, looked at Paul and held up the magazine. "Was this a total set up?"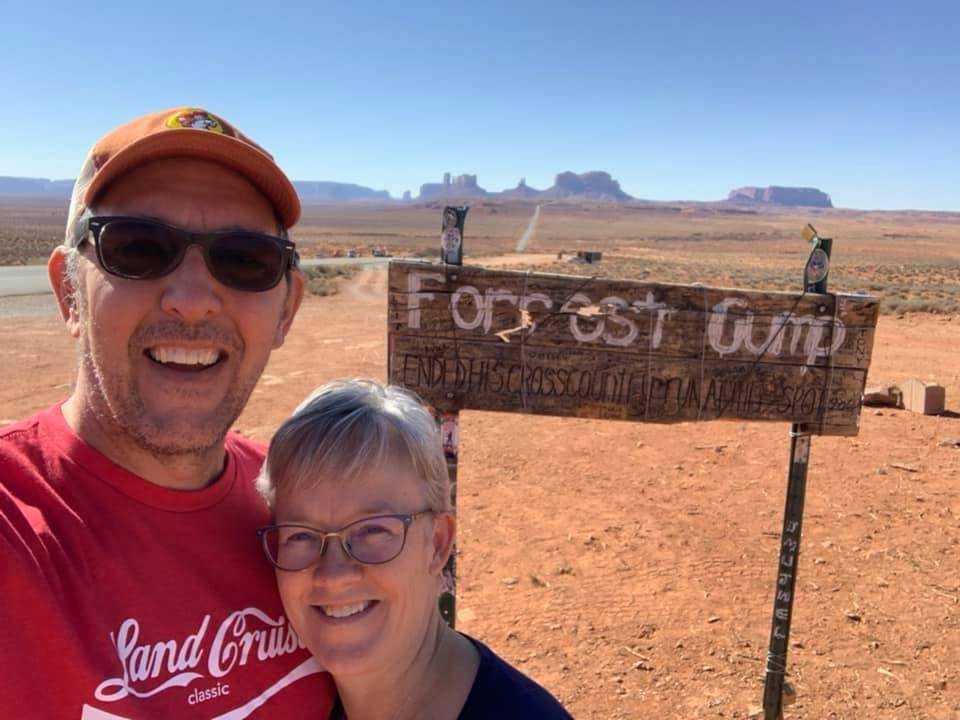 For the big proposal, Paul took Meredith whale watching in Southern California over Thanksgiving. He brought the ring with him on the boat, waiting for the perfect, romantic moment to propose after seeing a whale.
But there was one problem: they didn't see any whales.
"Well this is lame," Paul thought. "I don't want to propose if there aren't any whales. Because then that'll be the story: we went out, we didn't see any whales, but we got engaged. That's a lame story."
They got back to their hotel, which was on top of a hill overlooking Dana Point Harbor. They sat outside on the hotel's adirondack chairs and watched the sun set.
"I had the ring in my pocket, and I was petrified," Paul said. "I knew she was going to say yes, but I was sweating, and there's all this nervousness."
Just as the sun was setting, he got on one knee and proposed. What he didn't realize is that half of the hotel guests were out on their balconies, also watching the sunset.
"Oh my god, he's proposing!" Paul heard from behind him.
"Did she say yes?" he heard from another direction.
Paul and Meredith looked up and saw hundreds of hotel guests watching the proposal.
"Yes, I said yes!" Meredith called up to their spectators. All at once, hundreds of people erupted in applause, cheer and laughter.
"It was the craziest thing ever," Paul said. "I never could have planned that."
The couple has a blended family with five children total, and "having grandchildren is amazing," Paul said.
The couple got married in 2016, and they became a blended family with five children. Despite getting lost on that first camping trip, they continued to go tent camping together – until they had a minor bear scare.
Then they tried rooftop tent camping – until Paul drunkenly fell off the ladder one night.
So they began their search for the next camping/overlanding solution. They saw an early prototype of a Storyteller Overland van at Overland Expo in 2019, and a year later, they became owners of a Classic MODE.
When deciding which model to get, Paul looked at the upgrades on the Beast MODE and thought, "Well I'm pretty thrifty. I can do a lot of that myself and make it my own." With every upgrade, he shared updates to the MODELifers Facebook group. Now, most people call him the "mod master" or "mod king."
The Prittses are also known for their annual MODE meetup in the fall at Baja, Mexico. The event had 12 vans in 2021, then on their second trip last fall, they had 48 vans.
"When we bought the van, we thought, 'Cool, we're getting a van,'" Paul said. "We didn't realize the community we were getting with it. I think the icing on the cake was being able to help the shaping of that community as it came out of the ground. It's been an amazing bonus for us."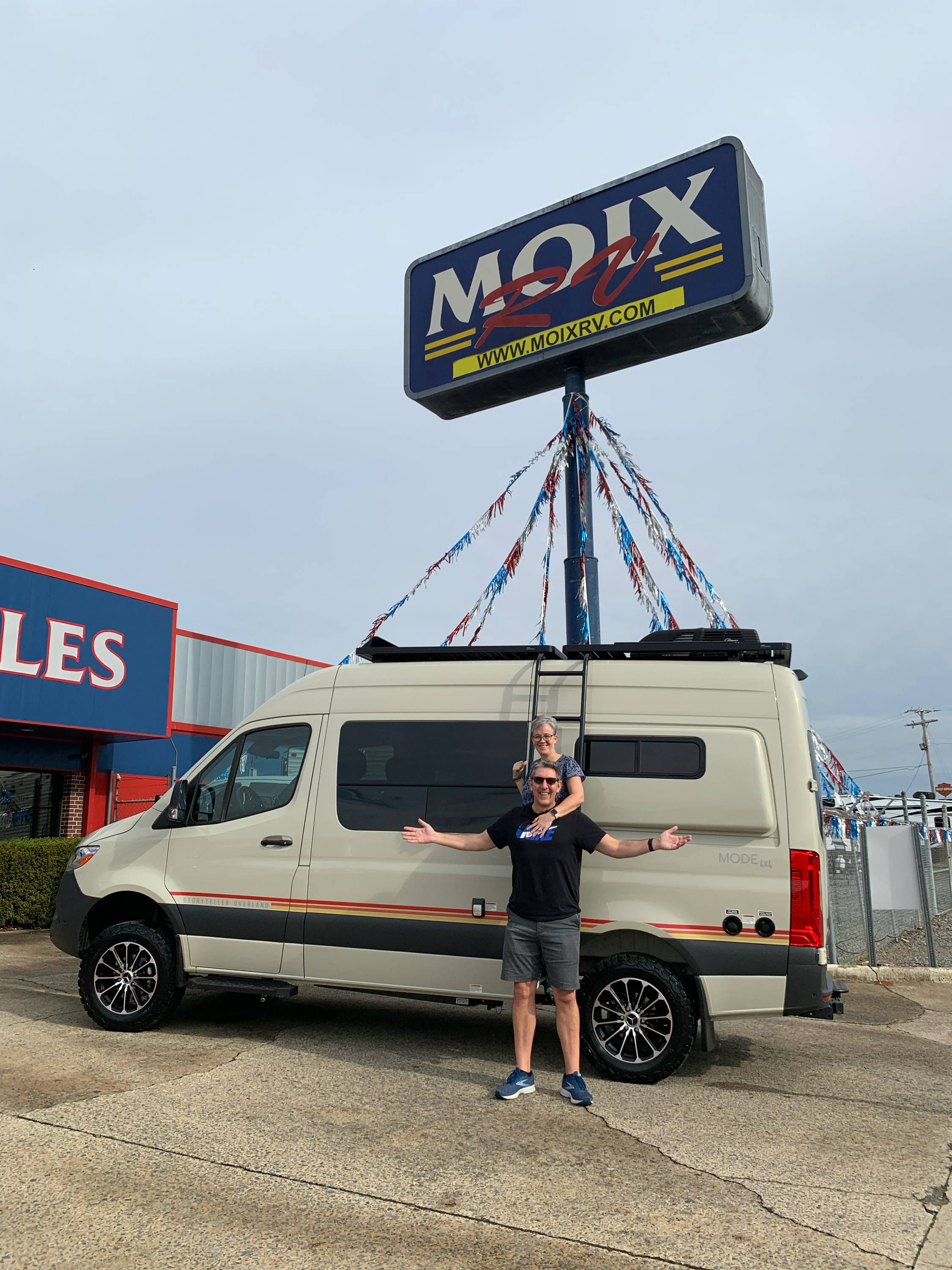 Paul and Meredith Pritts picked up their Classic MODE in 2020.
Their relationship with each other has been successful because of their willingness to communicate, Meredith said.
"We both have lessons learned from previous relationships," she said. "If there's something on our mind or heart, we talk about it and don't let it fester."
Paul agreed. "Don't be afraid to admit that you've said something wrong. And check in often."
My biggest takeaway from the call was how much time they spent laughing as they told their stories. Every misadventure worked out for them in the end – from getting lost at camp, to a foiled proposal plan, and even Paul getting caught staring – all these things contributed to their hilarious love story.
"Don't sweat the little stuff," Paul said. "Who cares? Just enjoy the time and the moment you're in with that person."
Happy Valentine's Day to Paul and Meredith! Thank you for everything you do in being a part of this community.
Xo,
Team Storyteller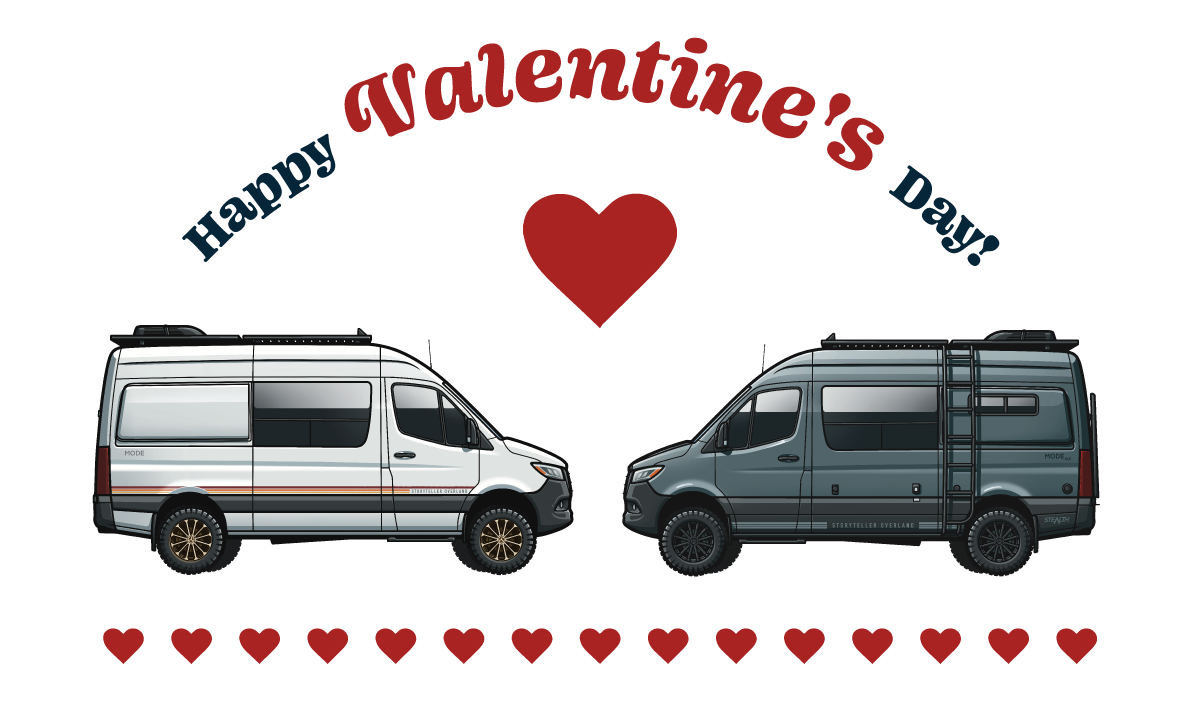 Check out these other stories from MODELifers in love: