7 Reasons Why Storyteller Overland Makes The Perfect Camper Van For Skiing
Craig said the Storyteller van allowed him and his dog to be "warm, cozy, well fed, and super happy" on a recent ski trip to Lake Tahoe, CA.
FEB. 28, 2023 | BY INGRID SCHNADER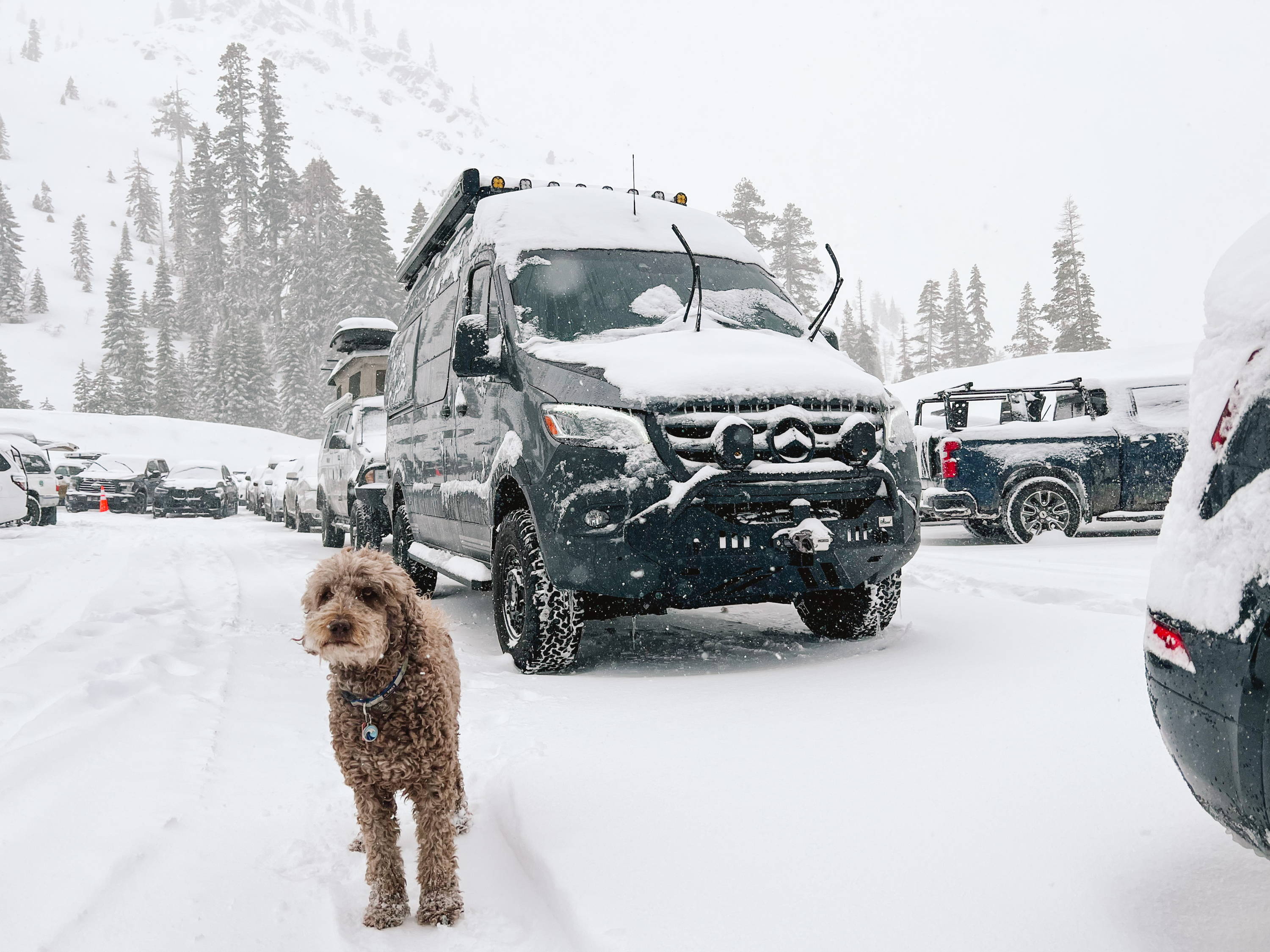 Craig Arant has been skiing for more than 40 years, mostly staying at ski leases or hotels during the season, but he's always dreamed about taking a camper van on a ski trip.
In November 2022, he got a Storyteller Overland Stealth MODE adventure van, which he named Cypress.
"It's so much more than I even thought it would be," he said. "It changed the way I camp."
He finally took Cypress on its first ski trip in early February, getting caught in a snow storm on Lake Tahoe, California. Cypress enabled Craig and his dog to be "warm, cozy, well fed, and super happy."
Here are seven reasons why Craig believes Storyteller Overland makes the perfect camper van for skiing.
Stealth MODE owner Craig Arant and his dog, Gracie.
1. You don't have to fight for a parking spot at the ski resort.
It can be really hard to secure a parking spot at a popular ski resort, especially on the weekends. The trick is to get there early, Craig said.
The Storyteller Overland van takes all the rush out of getting there early. At the ski lease, he had to rush through breakfast and getting ready so that they could get there early enough to find a parking spot.
Now he can park his van, then make breakfast and get ready for the day. Plus he loves that it's warmer than a car and that it's tall enough for him to stand up.
2. You can bring your dog with you.
Storyteller Overland camper vans are totally dog-friendly, meaning Craig can ski whenever he wants without worrying about finding a dog sitter.
Many ski resorts don't allow dogs, he said. With Storyteller, he's able to come back to his van throughout the day and check on his dog, Gracie.
"She loves it in there, and she's safe," he said. "And in a snowstorm, I can let her go out and go wild with the zoomies. She dives into the powder, just whatever she wants to do. And then she's got this warm place right there."
3. You'll be surrounded by better scenery.
In Craig's recent trip to Lake Tahoe, the weather forecasted eight to 10 inches of snow – instead, Craig watched as up to two feet of snow piled up around him.
"I'm a nature lover," he said. "With the ski lease, we always went inside to hang out, which is fun. But with the van, we get to park right on the lake. The views are fabulous."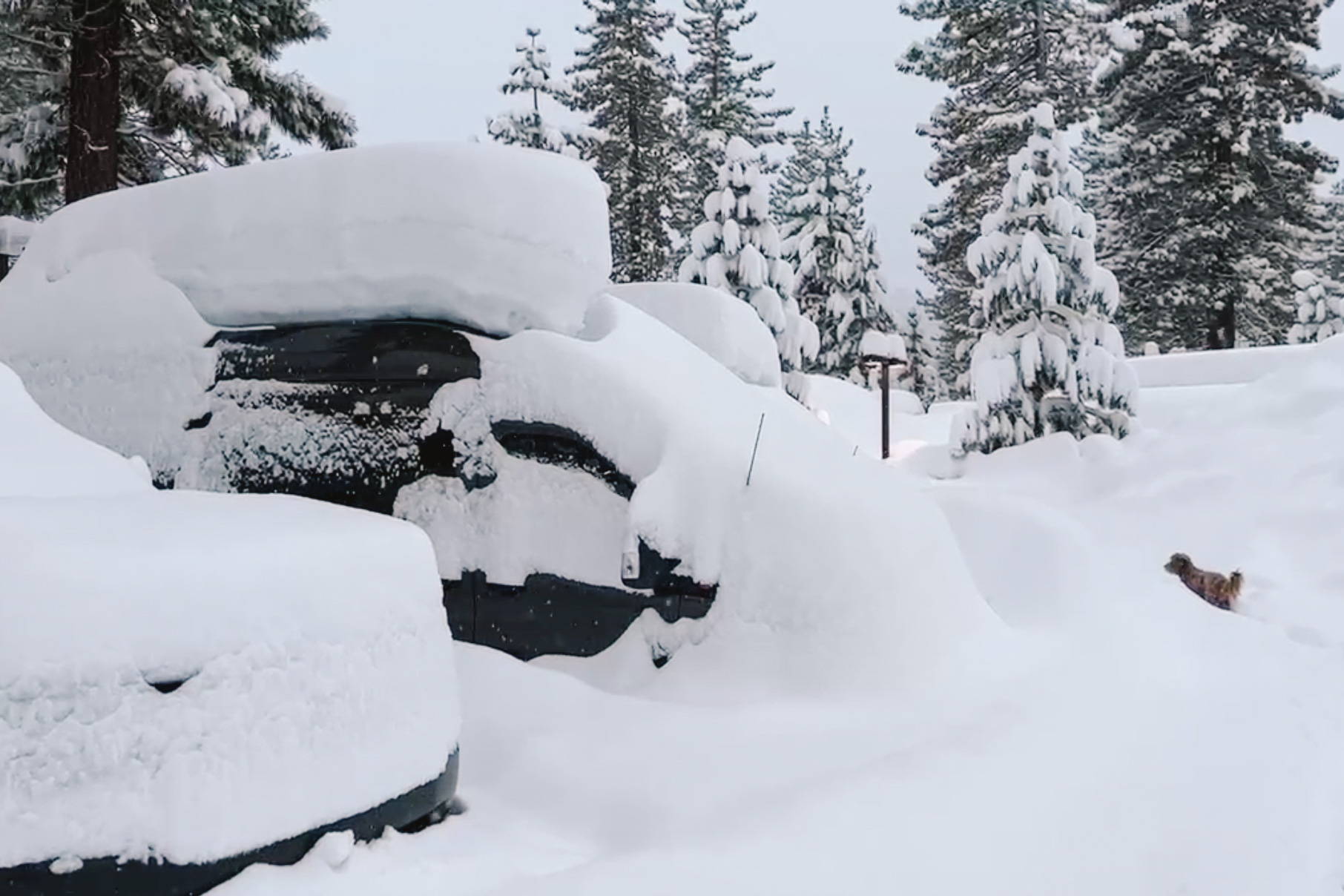 Craig's Stealth MODE stayed warm and cozy, even under two feet of snow.
4. You'll be warm, even in freezing temperatures.
Even though temperatures were in the 20's during Craig's trip, he didn't need to winterize the van's systems. In addition to being insulated with sheep's wool, Storyteller Overland vans also have a 12 kwh battery that powers the heating and air conditioning system, which is meant to keep you comfortable all day long. Plus your dog will be comfortable, too.
5. You'll be able to carry all of your ski gear.
Storyteller Overland vans have an open-concept layout that has plenty of space for your adventure gear.
Under the murphy bed is your garage area. The best part about this space is that you can fold the bed up into the wall when you're not using it and stand tall in the garage. Other van models with beds that lift up into the ceiling will take away this headspace.
Storyteller Overland also has a usable roof space on all its vans – since the battery system is so powerful, we didn't have to take up too much space with solar panels. This means you can store your skis up top, too.
Craig didn't even need to use his roof space though – he fit his skis, poles, board, snow shoes, ski boots, and other winter gear inside.
6. Plus you'll be able to dry your gear, too.
Not only did all of Craig's gear fit inside, but it also was able to air dry in his van, too.
"I left the hot water and the furnace on the entire trip, mostly to keep it a comfortable temperature for Gracie, but I was able to hang my jackets and place all of my gear inside the van. Every single morning, my gear was warm and dry when I put it on.
"In some of the ski leases, you take your gear off on the lower level, and then the heat rises. Then when you put it on the next day, it can still be a little cold and damp. Not in the van."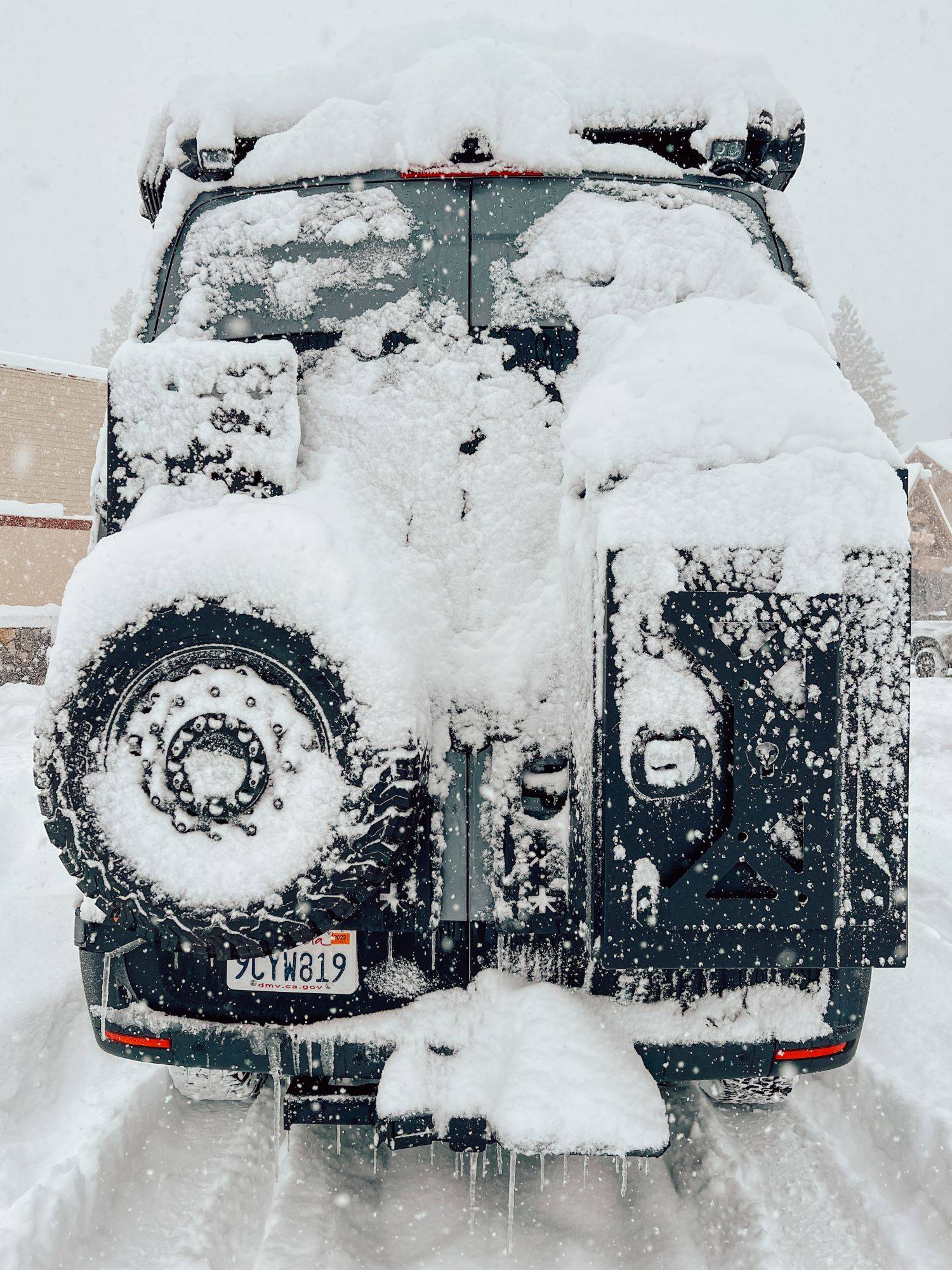 In addition to plenty of indoor storage, you can also store your gear and a spare tire on the NVADER rack, available from Flarespace and included on every Stealth MODE.
7. It's rugged and capable, even on unplowed roads.
Another issue many vanlifers have in the wintertime is driving on unplowed roads. Craig said the Storyteller Overland van was perfect for driving in the snow.
"I come from the offroad world, so I know what a capable vehicle can do," he said. "This thing just stuck. It was all traction. I wasn't uncomfortable at any point – snow was absolutely coming down, and I just plowed my way through."
Are you ready to see how a Storyteller Overland camper van can change the way you ski? Click the link below and we'll send you more information!