Storyteller comes back to earth after a stellar No Gravity Tour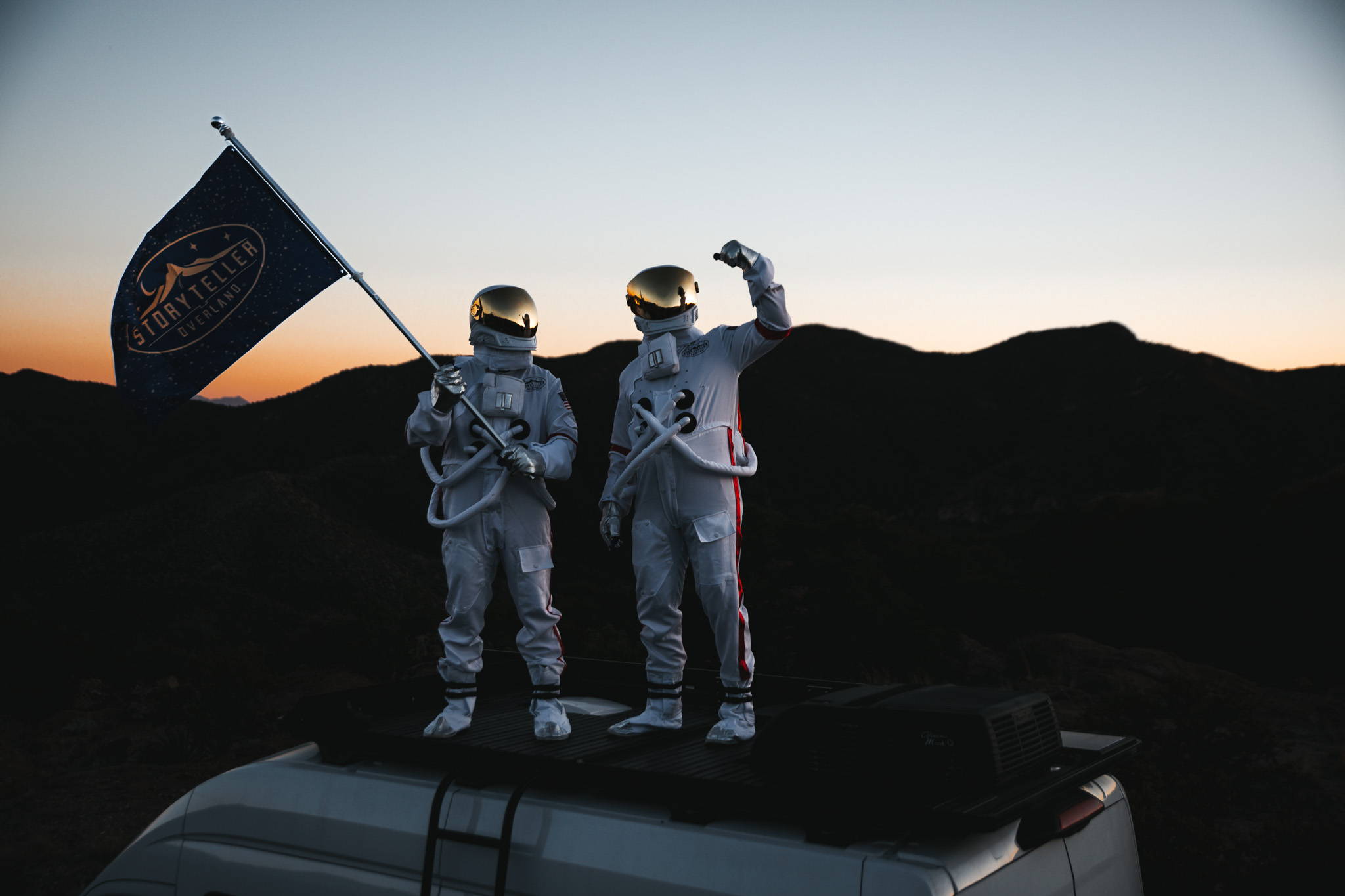 It's always sad to see the end of an era. The Adventure Van Expo in Big Bear, California, was the official last stop of Storyteller's No Gravity Tour, and now we're all hibernating for winter. (Just kidding, things are busier than ever here at HQ!)
Our tour season isn't just about bringing our demo vans closer to you and giving you a chance to meet the team. The magic is in the side quests – the things that aren't planned, the after-sundown hangs and getting to know every facet of our community.
Here were some of our top moments.
1. No Gravity shoot overlooking Bisbee
Weird Wild West
in Bisbee, Arizona felt like the kickoff for the No Gravity Tour. Hundreds of Storytellers met us in this old yet colorful mining town with plenty to do: mine tours, eclectic shopping, mouthwatering eats, tarot card readings and more.
A few Storyteller creatives snuck away from the festivities and traveled up a dirt road, landing at a picturesque spot overlooking the town. We had two Storyteller owners in tow – our astronauts for the day.
Although the view of the city was great during the daylight, the real magic happened after the sun went down. With the astronauts inside of the Beast MODE, we turned on a fog machine and neon lights. After the van filled with smoke, the astronauts opened the sliding door as smoke poured out of the van and pooled around their feet. With an interstellar playlist on Spotify and the cameras rolling, we felt like we were on set of our favorite sci-fi movie.
2. Dave and Merrisa's birthday celebration
Dave (from Owl Vans) and Merrisa bring so much joy and laughter to our community, so we wanted to return the favor at Adventure Van Expo Hood River, a weekend that was close to both of their birthdays.
We stuffed a chili pepper pinata with candy and goodies. We had been using a mannequin during our No Gravity Tour to wear a space suit, but he was falling apart, so we gave Dave and Merissa each a mannequin limb to hit the pinata. And of course, they were blindfolded with
No Gravity bandanas
.
We all doubled over with laughter as Dave and Merissa whacked the chili pepper with an arm and a leg – mostly though, they hit Ty from Backwoods Adventure Mods, the unfortunate holder of the pinata.
We enjoyed our candy as the sun went down, and as it got colder, we warmed our hands by the fire pit at the Canyon Adventure Vans booth.
3. Tattoos at AVE Evergreen
Colorado is home to many of our friends in the van space, including tattoo artist Brian Henry (
@bhens
). So when the expo ended, a few of us climbed atop Canyon Adventure Van's demo van (which is decked out with the
Upper Deck Seating Solution
) and got some new ink.
Here's what Merrisa said:
"You know you're in the right community when you can make the best memories out of the simplest things," she said. "Looking down at my friends sitting around the campfire while I'm getting tattooed on the roof of a van (I mean… come on!) will always be a core memory. It was something that was so spur of the moment and that's what I love most about it. The best stories come from going with the flow and setting aside all expectations and plans."
One thing we wanted to prioritize in this year's tour was side quests: events put on by members of our community. One of these events was Up Up & Away, a meetup at the
Albuquerque Balloon Fiesta arranged by Stealth owner Kayden Phan. Over 100 vans attended!
In addition to the event festivities, Kayden planned a few of her own events at the meetup: a rainbow-themed potluck, an off-road driving course, a raffle giveaway, live music and karaoke. She also invited attendees to follow her to a hot spring and then Moonlanding after the event. The response from attendees was overwhelmingly positive, Kayden said.
"I'm the type of person who feeds off other people's energy, and although it's so draining to host a meetup this massive, it's so rewarding to see everyone so genuinely happy," she said. "And I feel like that's how it is with anything I set out to accomplish in life – when you put so much hard work into it, it's that much more rewarding. These people will never forget this event for their entire lives."
5. Spur-of-the-moment karaoke
A few of the ladies on the No Gravity tour team were able to travel to Palm Springs, California, in March for The Journal of Lost Time's first-ever event for women, called
A Roam of our Own.
The whole weekend was packed with activities that were reminiscent of summer camp: volleyball, crocheting, breathwork, dancing and more. But on the last night, we broke out into a spur-of-the-moment karaoke party as the sun set pink behind the desert mountain tops.
Not only did many women grab the microphone and sing (or was it screaming?), but one attendee brought out her saxophone and played in tune with the music while dancing, eliciting plenty of cheers from the audience.
When we finally were too exhausted to go on, we said, "Who wants s'mores?" We were greeted with a chorus of yeses.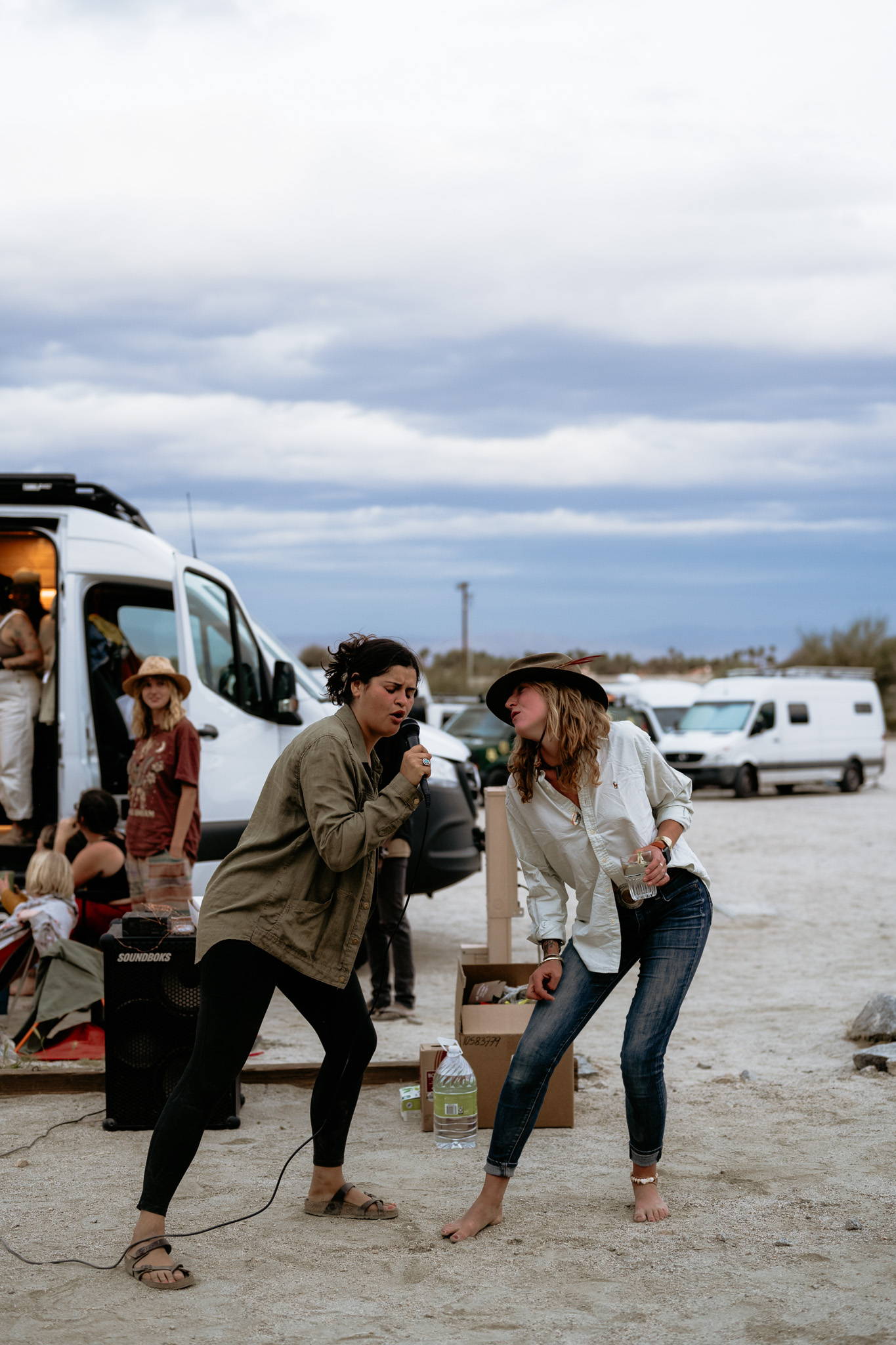 What's next for Storyteller Overland? We've got a few months to prep for next year's tour, which officially starts in January with the Tampa RV Supershow. First though, we need to decide on a new tour name.
Let us know
if you have any ideas.
Cheers to the road ahead!
Team Storyteller