We met Anne Marie at Adventure Van Expo Hood River while she was spinning Samoyed fur into thread, which she can later use to make clothes or to trade with others.
JULY 10, 2023 | BY INGRID SCHNADER ELLIS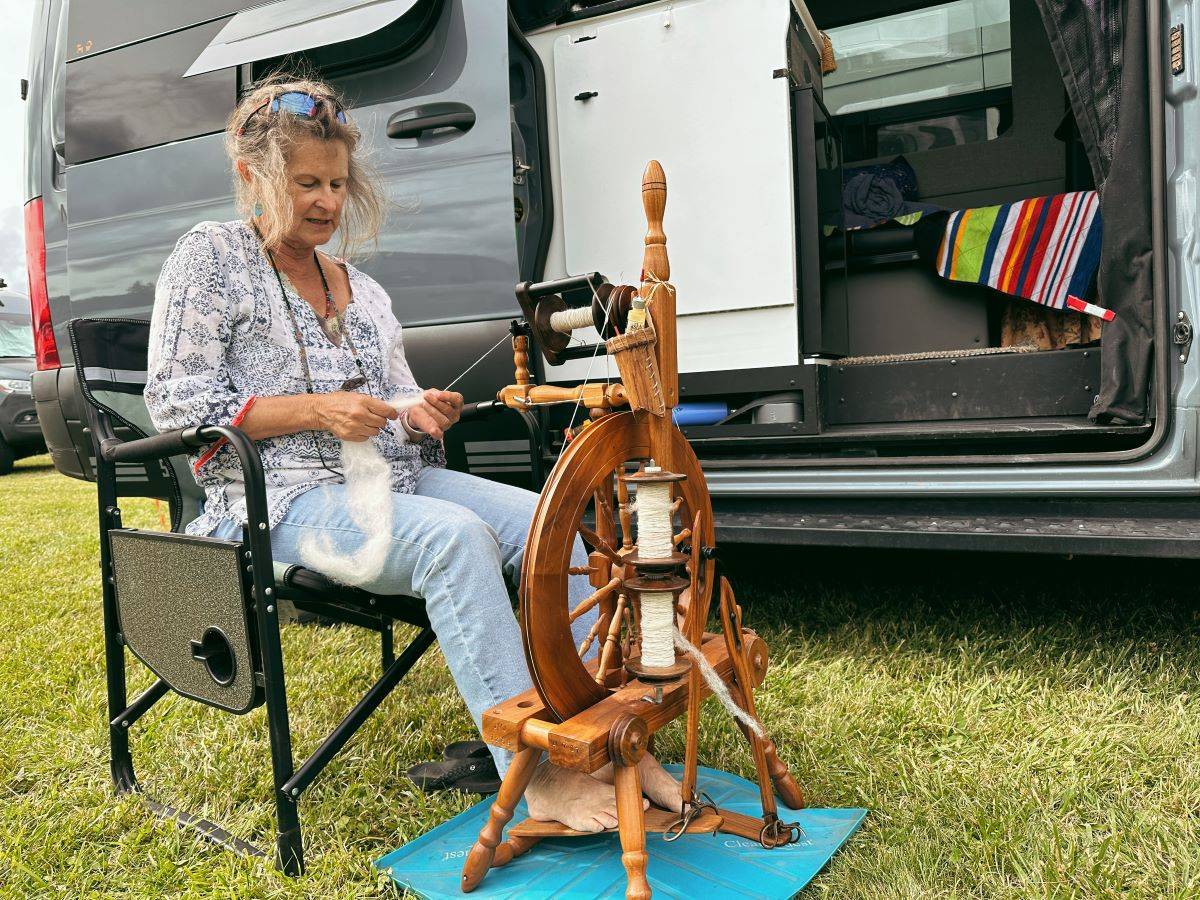 Anne Marie Ehrentraut pulls into her favorite spot by the creek outside of Hood River, Oregon. She grabs her spinning wheel from the back of her Storyteller Overland Stealth MODE's garage, and after setting it up next on a mat next to her camp chair, she takes off her shoes and sits down, her dog settling in next to her.
She grabs her fibers – sometimes the fibers are made from things she's found out in the woods, sometimes people give her dog hairs, and she's even traded with Diné for things to spin. Then she pedals, and the thick, poofy fibers spin into a thin cord, which can be used later for a knitting project.
Sitting under a willow tree as the water flows by, Anne Marie is able to cool off on a hot day. The spinning wheel makes a soft "squeak, squeak" sound back and forth as she pedals. Sometimes she plays CDs, other times she just listens to the river.
"This is medicine," she said. "And you're doing it with herbs and plants, the hair from your dog or cat, the hair from the people or animals who are important to you. It all goes into this, a little piece of them."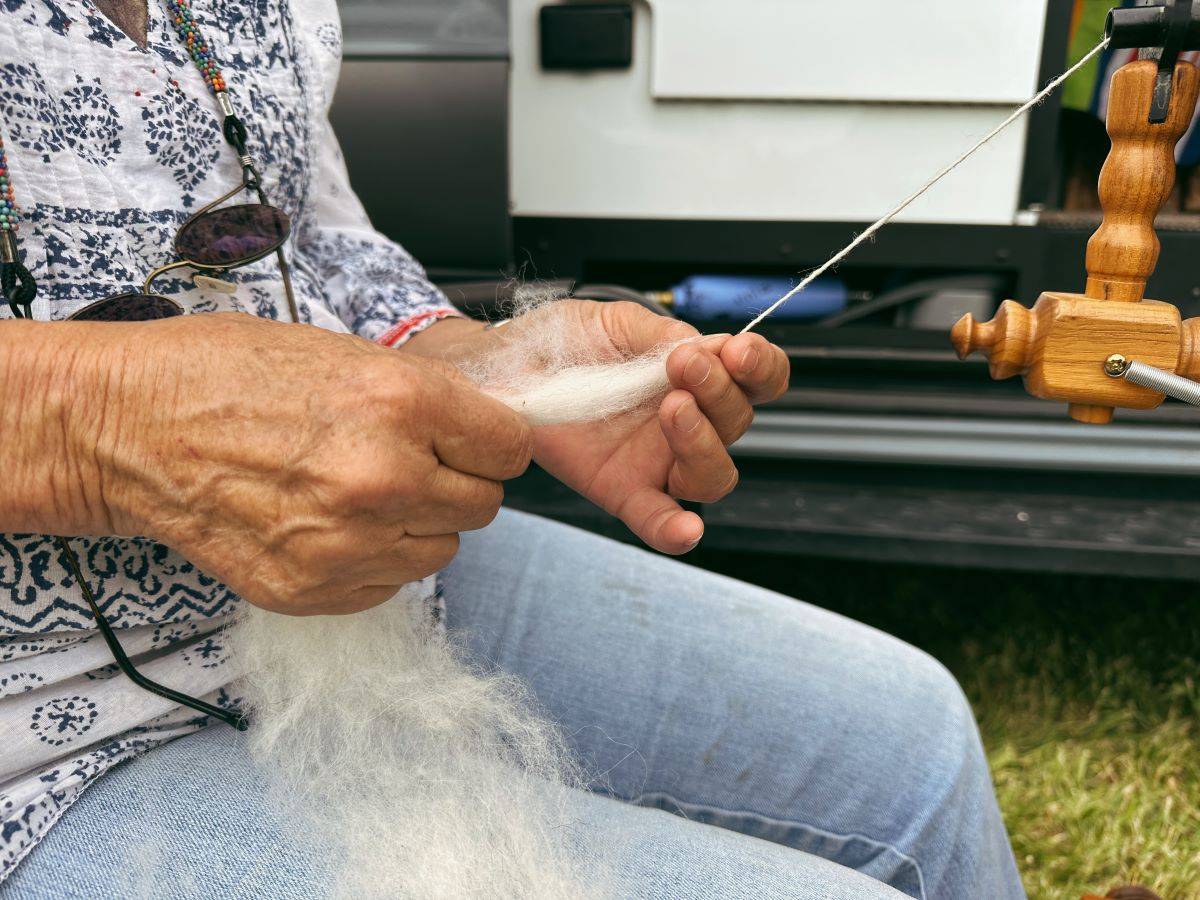 We met Anne Marie at the Storyteller camping area at the Hood River Adventure Van Expo. She showed us her setup there and gave us a crash course in the art of spinning, a practice which she says is over a thousand years old.
The thread she spins is from a Samoyed, "so it's a little fuzzy," she said. "But it's very soft. So once it's close to your skin, it'll feel really nice."
She dyes the fabric by hand with mushrooms, plants and lichen.
"I take the lichen from the trees and pick different walnuts and other plants," she said. "I simmer the walnuts to get a very dark brown dye. And then there's many different types of dye for different colors."
She keeps a book under her bed with instructions to achieve different colors of natural dye. "So you spin with white, and then you can get all these variations of color."
Then she travels in her van and can trade. "I trade with the Native Americans. Since I was coming from the north, I brought the Diné walnuts, pear leaves and lichen. And then they showed me some of the stuff they dyed with."
Listening to Anne Marie talk about the things she's learned and experienced through spinning is like taking a step back into history, a time before shopping centers and two-day shipping.
"It's a trip," she said. "It's really fun."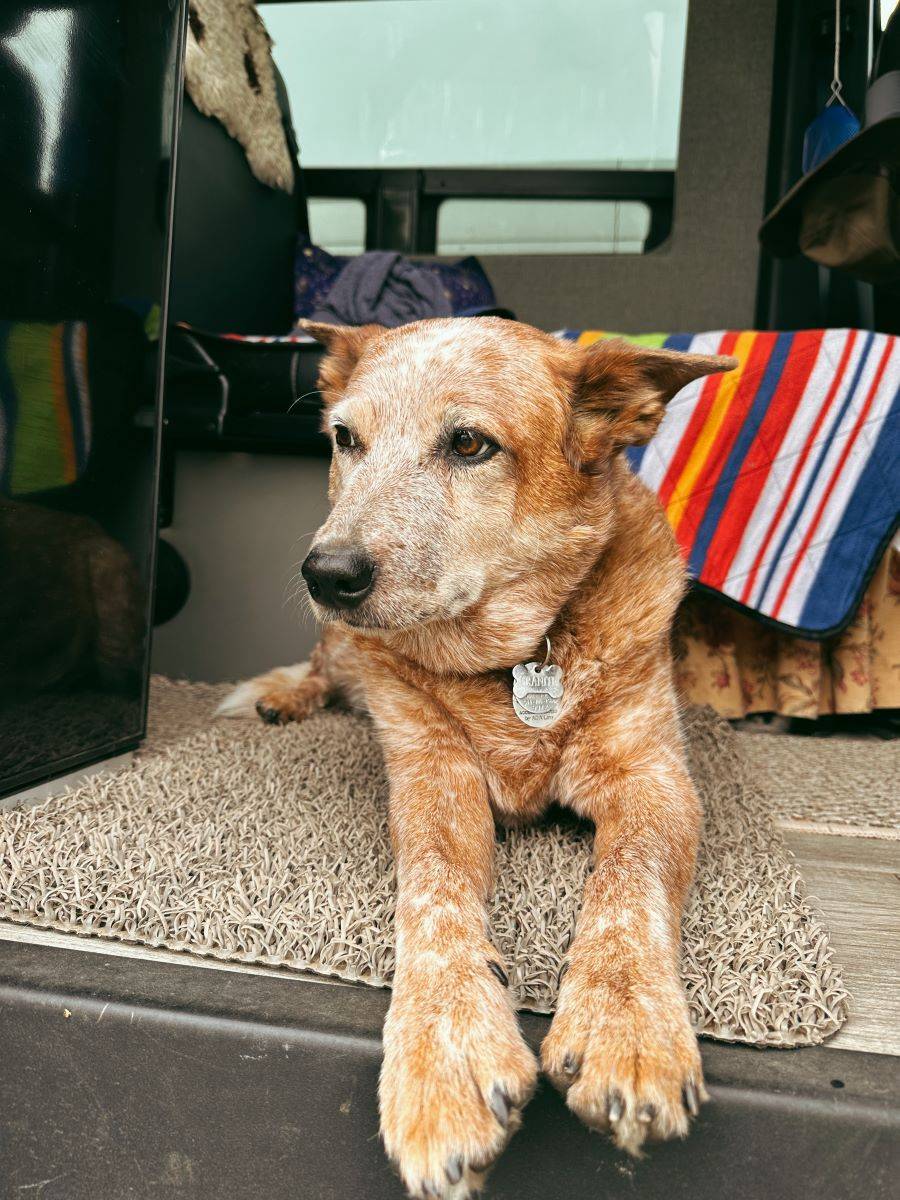 Not only does Anne Marie love her adventure van from Storyteller so that she can spin in unique places – she also says she keeps everything packed in her van so she can drive away if there's ever a wildfire in the area.
She chose Storyteller Overland because of its all-day air conditioning so that her dog can feel comfortable joining her on adventures.
"I can go onto Chaco Canyon for two hours to hike, or if I need to go shopping at the grocery store or something, I can leave her in here and not worry about it," she said.
But the best part of Storyteller Overland is its built-in community. She made a friend at the Hood River Expo, who she then taught how to spin, and soon they're planning on going to Toledo together.
Storyteller Overland is based in Birmingham, AL but has a dealer network all over the US. Click the button below to find a dealer near you!