Using the Bathroom in a Storyteller Overland Camper Van
We designed toilet and shower spaces that completely tuck away when you're not using them.
NOV. 7, 2022 | LAST UPDATED MAY 9, 2023 | BY INGRID SCHNADER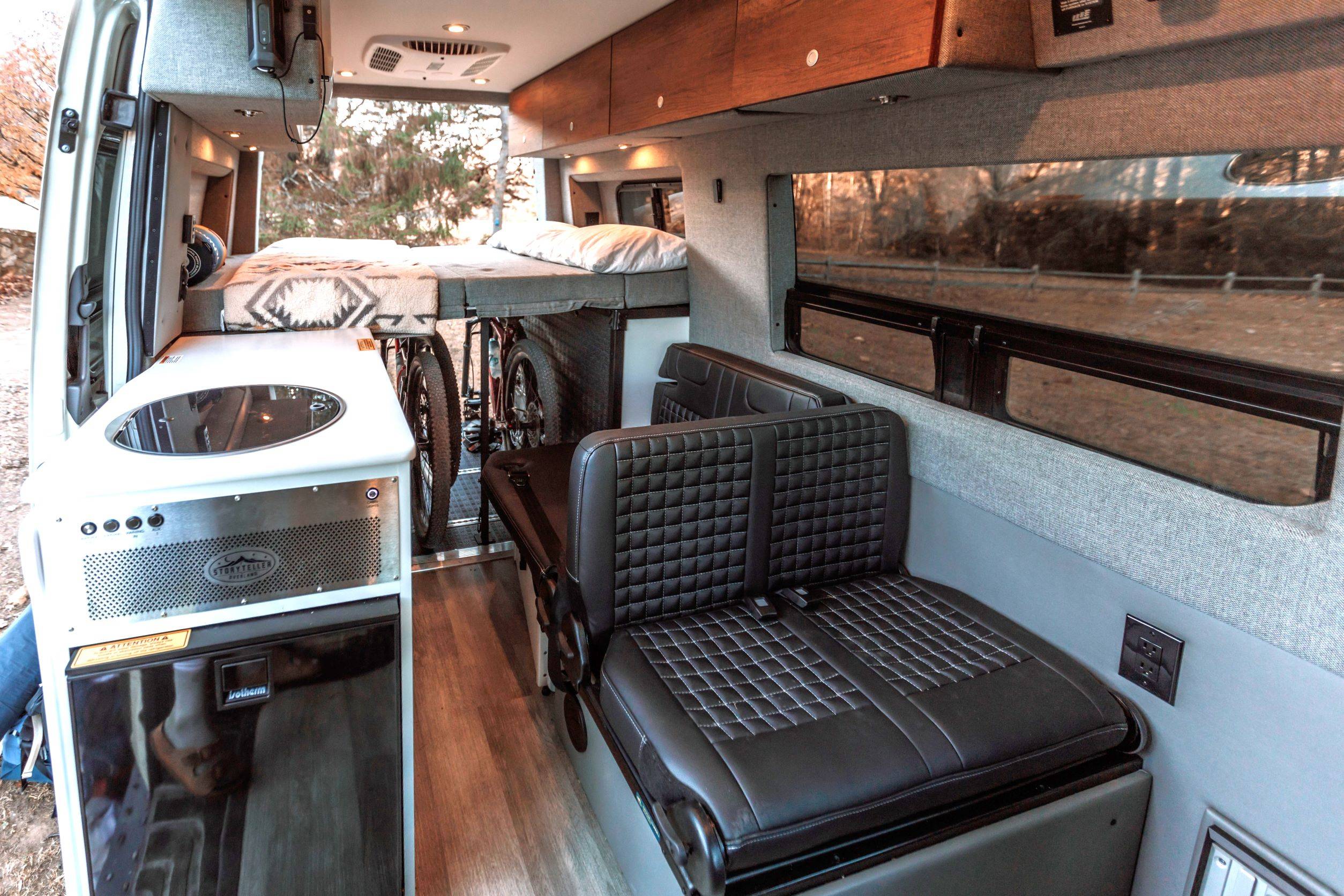 Look down the galley of the Storyteller Overland camper van pictured above. Can you spot the bathroom?
Don't be frustrated if you can't see it. It's actually tucked away under the GrooveLounge. By lifting up the back of this
convertible sleeper sofa
, you'll find the FlexSpace, which stores this camper van's shower pan and Dometic 970 Series portable cassette toilet.
In a 20-ft van, we believe that open floor plans are the best way to maximize your interior space. To create walls for a bathroom, you would be dedicating a huge chunk of your floor plan to an activity that you only spend a fraction of your day doing.
That's why we designed toilet and shower spaces that
completely tuck away
when you're not using them. This blog focuses on the toilet, but read this blog on our
HALO Shower System
for more information on the shower.
Our owners have found that between public restrooms along the way, plus asking your partner to go outside if you need more privacy, the lack of four walls quickly becomes a nonissue.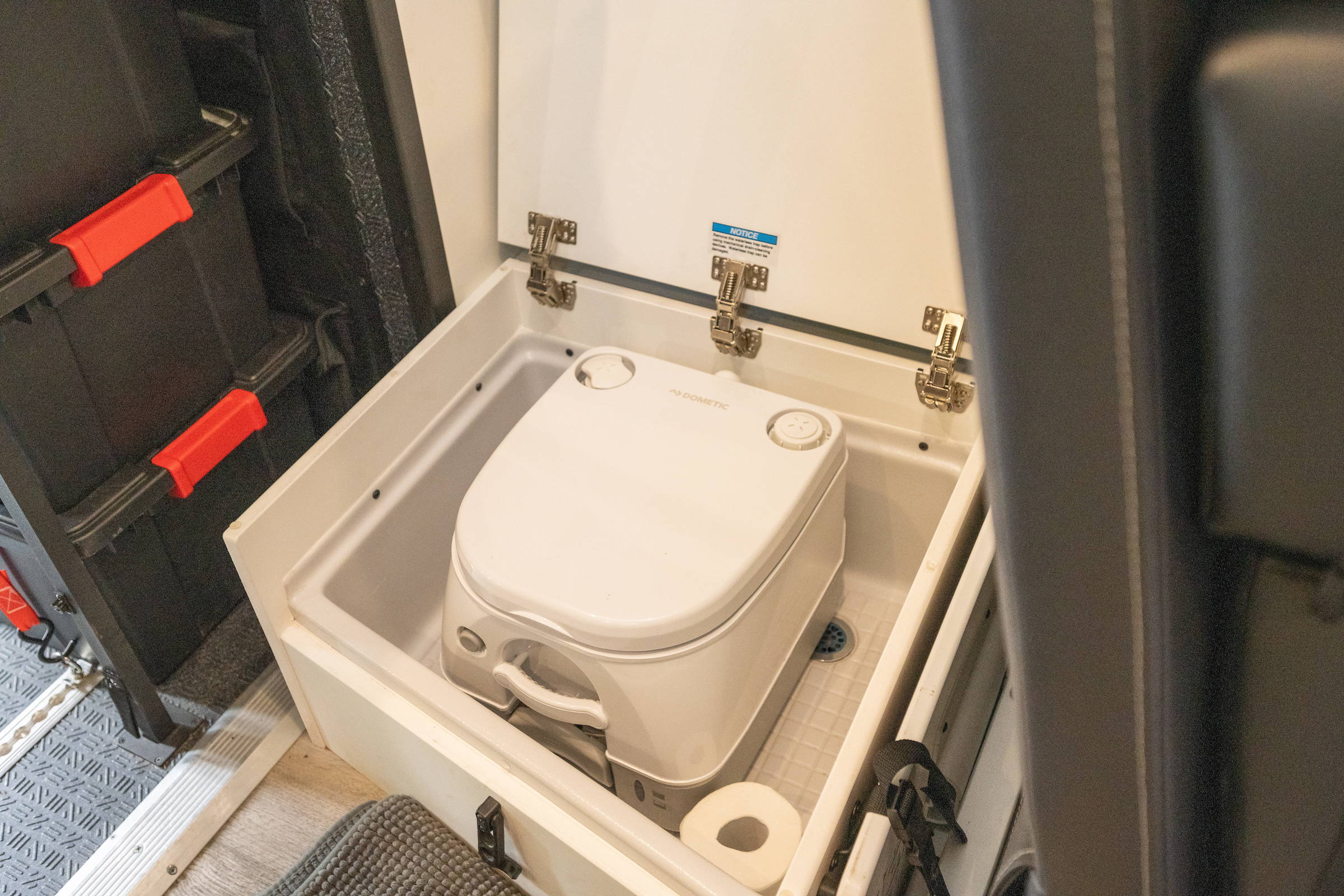 Pros of a portable toilet
As we mentioned before, the main pro to a portable toilet is that it maximizes your space.
When you're not using it, you can stow your portable Dometic toilet in your Storyteller FlexSpace, which is also the shower pan when you're using the HALO Shower. This means that your guest could be sitting on your GrooveLounge in couch mode and would never even know that there's a toilet below them.
Plus, when you are using the bathroom, not being surrounded by walls means that you're really in a 20-ft-long bathroom. Nothing worse than feeling claustrophobic when you're doing your business.
Another pro is that you don't have to worry about a black water tank since the toilet is a cassette. Instead of dumping black water and paying fees to do so like you would do in a traditional RV, you can carry a cassette toilet into a gas station bathroom and just dump it into their toilet. And since it's only about 2.6 gallons, you can do this while still being discreet.
Cons of a portable toilet
If a pro is having more space in your van, the main con to having a portable toilet is that you don't have a dedicated bathroom space. You might need to rearrange furniture or ask guests to leave the van so you can do your business.
Another con is that you'll need to manually empty the cassette. Thankfully, it's not too heavy or bulky since it's a 2.6 gallon tank. But this size does mean you'll need to dump it pretty frequently if you're using it for most of your bathroom trips.
How to use a cassette toilet
It's of course not ~that~ much different from using a regular toilet. A lot of the differences actually just have to deal with dumping the toilet.
Check out the video above from our friends Chad and Paul to see it in action.
First thing's first, you'll need to fill your toilet's water tank.
Use the pump on your toilet to build up pressure for when it comes time to flush.
Do your business (No. 1 and No. 2 are both fine) and press the flush button. You can flush toilet paper, so long as it's thin singly-ply, like the specialty RV toilet paper. You can also add some RV waste digester to the bowl in between flushes to keep everything smelling fresh.
When it's full, remove the cassette and empty the tank in a regular toilet (one at a gas station is fine). Look away and cover your nose as needed.
If you can, rinse out the cassette tank before reinstalling it to your toilet.
Other bathroom tips + tricks
Use an RV digester in between flushes or after emptying your tank. This keeps things extra clean and smelling good.
If you're not a fan of emptying the cassette frequently, you can reserve the use of your toilet for emergencies only. Here's an anecdote from Ingrid, the Communications Specialist at Storyteller: "Our marketing demos don't have usable toilets inside, and these are the vans we take to meetups and expos. I never feel like I'm missing out though because there's always a public restroom. I love stopping at Love's Travel Stops, Buccee's, or rest stops when I'm on the road."
Feel free to replace your toilet with something that fits your lifestyle. For example, Classic MODE owner Peng Shi upgraded his to a Thetford Porta Potti 565E because it's taller and has a larger seat size.
You could also consider lining the toilet bowl with a waste bag. Then instead of emptying a tank full of waste, you can tie up your bag and properly dispose of the waste after each use.
Can you do both No. 1 and No. 2 in a portable toilet?
Yes!
Can you flush your toilet paper?
Yes, as long as it's thin singly-ply paper, such as specialty RV toilet paper.
How often do you need to dump? With regular use with No. 1 and No. 2, you'll want to keep things clean and fresh by dumping every couple of days. You can certainly make this last longer, though, by stashing your TP in a plastic bag or going in the woods.
Does it stink? The benefit of the Storyteller layout is that your cassette toilet is stowed away in the Flex Space instead of out in the open, so you really won't even know it's there. Plus if you use air freshener and an RV waste digester, you'll keep things smelling extra fresh.
Is it comfortable? Depends on your preferences. The toilet we provide with our MODE vans is pretty small. It also sits pretty low if you use it while in your shower pan, but depending on your business, this could be an advantage! You could also close your shower pan and place it on top for a more elevated experience.
We met a MODE owner at an Adventure Van Expo recently who had some wise words to say.
"Stop worrying about the toilet," he said. "Before you get the van, you spend all this time obsessing over whether it'll be enough. But once you get in, you realize it's not that bad, and you don't spend that much time in the bathroom anyway."
Ready to find your camper van with a bathroom? Find a dealer at the link below!