Winnebago Revel vs. Storyteller Overland with Talon Sei
Longtime Revel Owner Talon Sei recently made the switch to Storyteller Overland. Here's what led to his decision.
LAST UPDATED JULY 20, 2023 | BY INGRID SCHNADER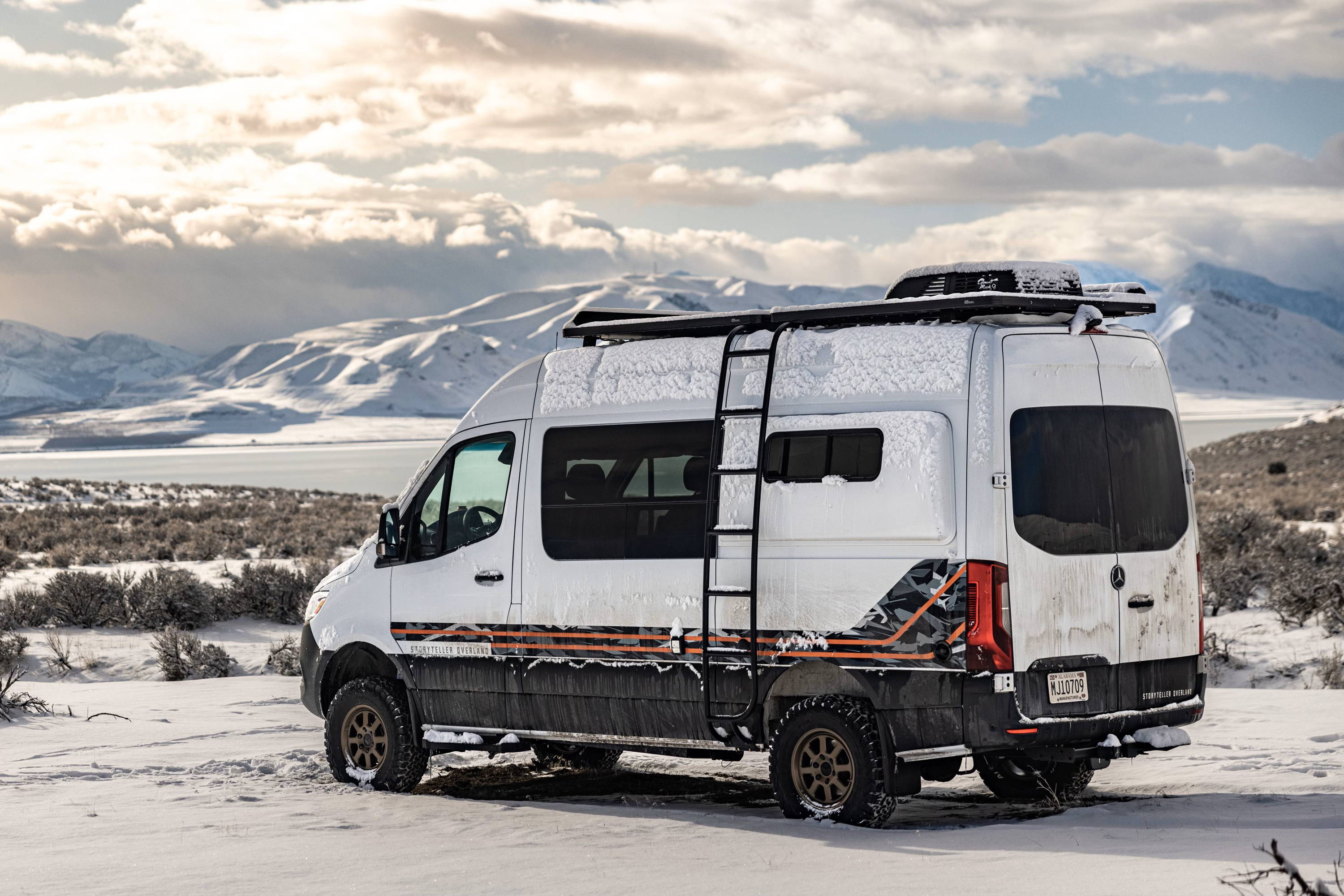 Talon Sei compared Winnebago Revel vs. Storyteller Overland after making the switch to a Storyteller Overland Classic MODE adventure van. His new van, shown above, is a Classic MODE with stripes on the exterior that he customized with Lucid Wraps in Denver, Colorado.
After owning a Winnebago Revel for years, Talon Sei made the switch in February 2023 to a Storyteller Overland adventure van.
When looking at a Winnebago Revel vs. Storyteller Overland van, the two have a lot in common: both build on the 144" Mercedes-Benz Sprinter chassis (Storyteller also has a model on the
Ford Transit chassis
), and both can go off road.
Talon initially went with the Winnebago Revel because it was one of the only turnkey options on the market at the time. This was 2019, and Storyteller Overland was just getting started as a company.
Here are some key differences between Winnebago Revel vs. Storyteller Overland that led to Talon's decision to make the switch.
The Revel has a wet bath, whereas the Storyteller RV has a stowaway cassette toilet and shower.
When Talon first got his Revel, he loved having a wet bath and how it doubled as a closet.
"But that mindset has completely changed," he said. "Having a bathroom built in with walls all the time really doesn't make sense for me when I'm only using the bathroom or shower like one percent of the time that I'm in the van."
The Storyteller layout has modular furniture and an open floor plan.
Not only does the bathroom tuck away when not in use, the
GrooveLounge can convert into a twin bed
or a couch that seats three to four adults, plus it has two crash-tested seatbelts. The Revel, on the other hand, has fixed dinette seating for two.
"We had the heat going and a fridge full of drinks. The Storyteller van is better for hosting other people who want to come exploring with you."
The Murphy bed is also modular: when not in use, you can fold up half of the bed to make a workbench, or you can fold up both sides and stand tall in the van's garage. The Winnebago Revel has a power lift bed, but taking away this headspace means you will have to crouch in your garage when the bed is up.
"I really enjoy the open floor plan of the Storyteller vans because it feels like you have more space and it's better for entertaining," Talon said. "We were skiing with friends in Tahoe this past weekend, and I had six people in the van when we finished skiing. We had the heat going and a fridge full of drinks. The Storyteller van is better for hosting other people who want to come exploring with you."
With the Revel, Talon said he could host four people "somewhat comfortably." Any more than that and he would need to lift the bed up and set up chairs in the garage area.
"The Revel just felt a little more claustrophobic than the Storyteller," he said. "The Storyteller van feels huge compared to my old van, even though it's the same size. It just feels more open."
Storyteller's house battery holds a charge longer than the Revel.
All Storyteller adventure vans come with the class-leading
12kWh M-Power Energy Storage System
, powered Volta. This adventure van battery system has enough energy to ditch the generator and the propane tanks and simply use the battery to run the air conditioner, fridge, microwave, cooktop, exhaust fan, 110 outlets…everything.
"I spent a lot of money on my Revel basically trying to make it have the same functionality that these Storytellers now have right from the factory," he said. "Being able to run the A/C all day is insane. I never have to worry about power."
Both van's house batteries can be recharged by driving. But since Storyteller's battery can last multiple days on a single change (depending on how much power you're using), Storyteller vans are better suited for boondocking.
Storyteller is a smaller company with a close-knit community.
Storyteller was founded in 2019, and the company's newness has allowed us to put a strong focus on community. We love meeting van owners all across the country (
see our tour list here!
)
"It's nice to finally be a part of the Storyteller community," Talon said. "I've been an outsider looking in for the past year after I borrowed a
Stealth MODE
. I got some pretty good feedback already from Storyteller owners who watch my videos. They were excited that I'm in a Storyteller now, and I'm stoked to run into them on the road at events and expos all over the country."
Ready to start your adventure with Storyteller Overland?
Storyteller Overland has adventure-ready vans
available now
at dealerships across the country. Click the button below and we'll get started!