Storyteller Overland Brings Home ADDY Awards
Our in-house marketing team won four Silver ADDY awards in this year's competition.
MARCH 1, 2023 | BY INGRID SCHNADER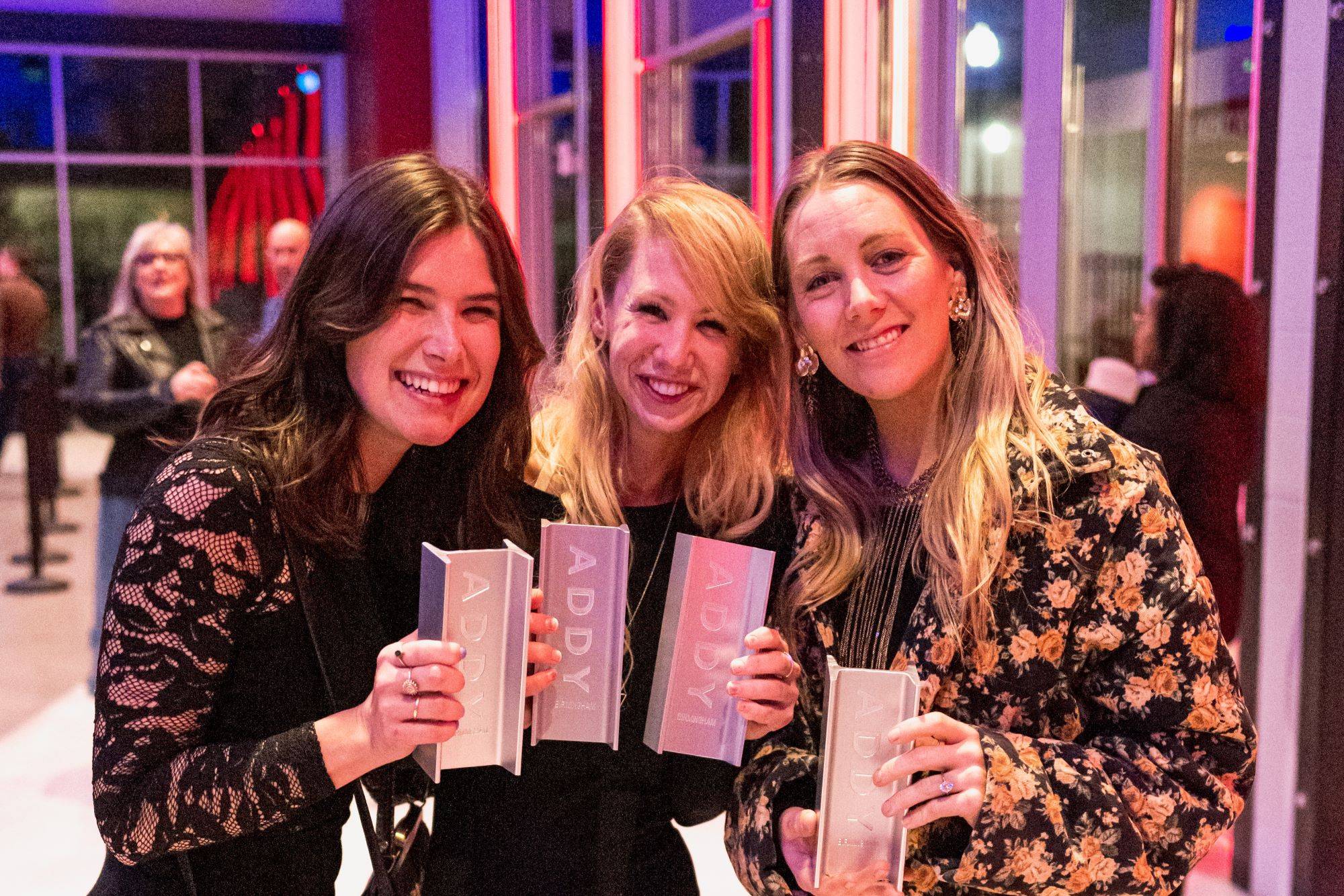 Communications Specialist Ingrid Schnader, Art Director Tori Riddle, and Creative Director Amy Sibert at the 2023 American Advertising Awards in Birmingham, Alabama.
Birmingham's most talented creative leaders gathered at Red Mountain Theatre on Feb. 24 for the city's 65th Annual American Advertising Awards. In the midst of The Magic City's most established creative agencies, Storyteller Overland's in-house marketing team felt like the underdogs. We knew we had won at least one award – the AAF sent us an email saying so – but we weren't sure how many or in which categories.
But by the end of the night, we proudly held four silver ADDY awards. We were the only in-house marketing team to win a Birmingham ADDY award in this year's competition.
Storyteller Overland won an ADDY Award in these categories: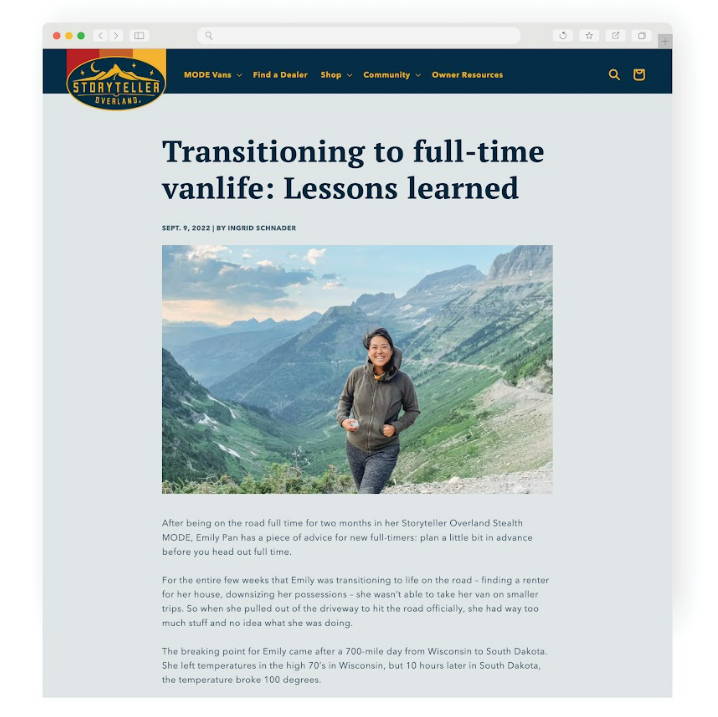 Digital Publications – Campaign: "Owner Stories"
Credit: Ingrid Schnader, Communications Specialist
Amy Sibert, Creative Director
When I joined the Storyteller team in April 2022, we officially got in the business of storytelling. I come from a background in journalism, so I love talking to people and telling their stories. This expertise was perfect for the Storyteller mission of Living Free, Exploring Endlessly, and Telling Better Stories – now I'm the person who writes those stories down.
We submitted three Owner Stories for the ADDY Awards, featuring Kayden Phan, Emily Pan and Jay Terrado. Each MODE owner told me about how the van changed their lives in meaningful ways.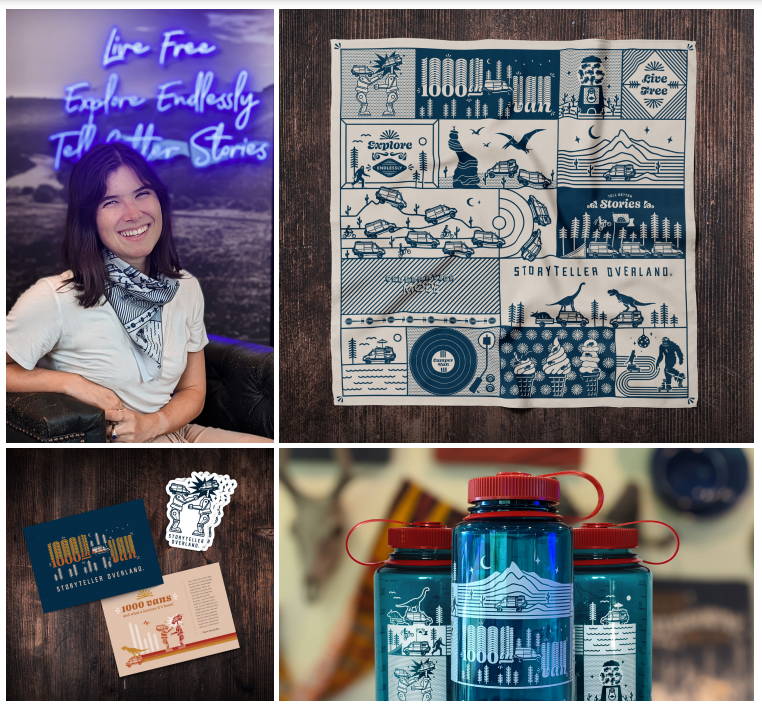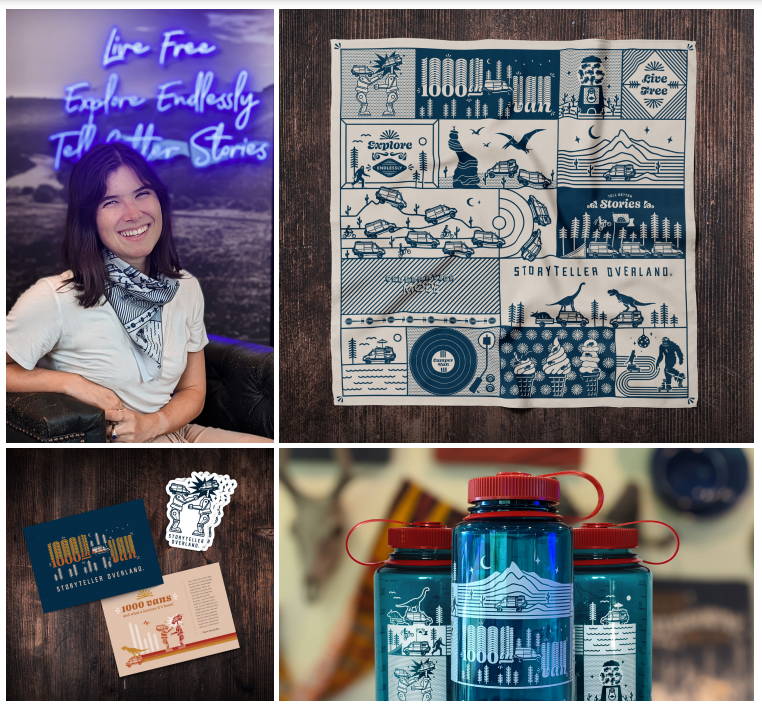 Art Direction – Campaign: "1000th Van"
Credit: Tori Riddle, Art Director & Animator
Amy Sibert, Creative Director
On June 9, Storyteller celebrated its 1,000th van rolling off the production line. We invited our 100+ employees, plus some investors and early dealer partners, to celebrate the milestone with us at our new HQ in Birmingham.
Tori Riddle designed a whole campaign around the milestone. Elements of the design included two rock 'em sock 'em vans, bigfoot, and an Evel Knievel-esque stunt cyclist. We had a 30-second animation playing on a loop at the event, and we also gave out water bottles, bandanas and stickers that incorporated the graphics.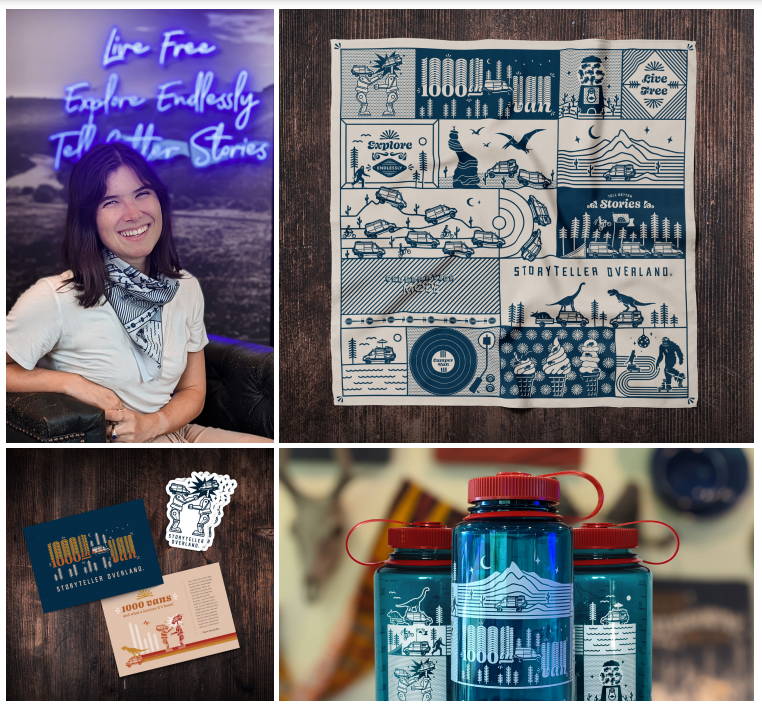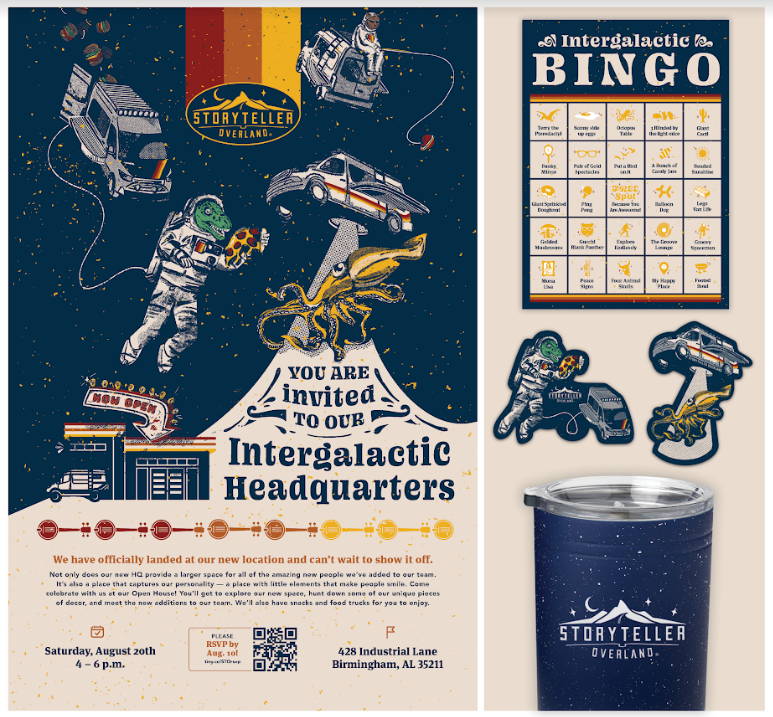 Art Direction – Campaign: "Intergalactic Open House"
Credit: Tori Riddle, Art Director & Illustrator
Amy Sibert, Creative Director
On Aug. 28, we officially "landed" at our new Intergalactic Headquarters, celebrating with our closest friends and family with an Open House party. Playing off our headquarters' nickname, Tori created intergalactic van designs, which were included in our Open House invitation and on stickers.
She also created an Intergalactic Bingo card, so visitors could search around the office and find some of our most unique decorations.
Advertising Industry Self-Promotion Film, Video & Sound: "Tis the Season"
Credit: Amy Sibert, Creative Director
Harrison Tarabella, DP/Cinematographer
We celebrated Christmas last year with an outrageous video shoot in Grand Junction, Colorado. We had a tall bike, a dirt bike, dancing dinosaurs, and a Santa Claus. We "decked the vans" with red bows and string lights. I drove a Beast MODE while my friends and coworkers balanced precariously on the roof and attached trailer.
We ended the night with hot cocoa by the fire. I love how the video encapsulates so much of what vanlife is all about: goofing off with your friends and then telling stories by the campfire while you oooh and ahhh at the sunset.
It was an incredibly creative year in 2022, and we are so honored to be recognized by the American Advertising Federation for our team's hard work. The best ideas are ahead of us, so stay tuned for more upcoming projects!
Go behind the scenes with Ingrid, our communications specialist, from the weekend at the ADDYs!